POV Holder:
Paul
POV Competition
Aug 20th
POV Used
YES
POV Ceremony
Aug 22th
HOH
Natalie, Meech
Next HOH
Aug 25th
Original Nomi1nations:
Victor AND Paul
After POV Nominations:
Victor AND Corey
Have Nots
Victor and James
Watch the next week of the feeds for FREE – 1 week Trial!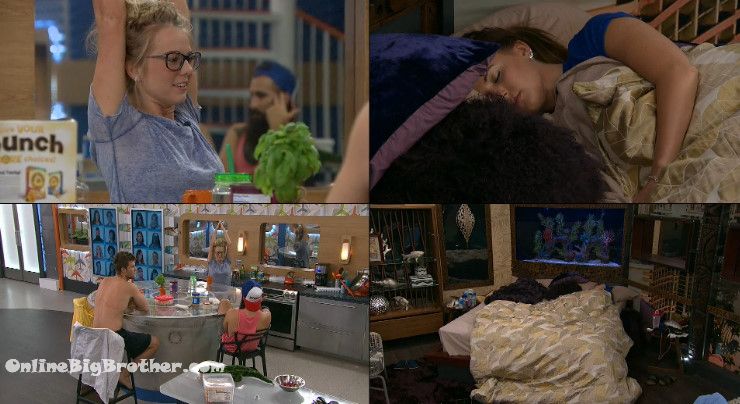 2:10pm Nicole, Corey and Paul
Twitter and Instagram follower conversation. (this seems to be what Big Brother is turning into a dating show with everyone wanting to get 100K followers)
Talk moves to Zach
Paul asks her what is Zach's personality like
Nicole – hot and cold.. my best friend sometimes then yelling at me.. I've never known someone like that..
Nicole – he's very sweet.. I never not liked him.. he could do anything to me I would forgive him in a heartbeat..
Nicole – "BB16 was a great cast, It was like summer camp"
Nicole says Frankie knew everything that was going on in the house he predicted everything and told them so there was no surprised. (AKA production)
Nicole goes on about how smart Frankie was, "3 majorssssssssssssssssss", "he was pure muscle and really balanced because he was a Broadway dancer"
Nicole says she was pretty boring in her first season she could watch it.
Nicole says Da'Vonne probably had the best Diary rooms.
Paul and Corey agree that Zakiyah was brutal on the DR they think she would "Shred" on people.
Nicole – you guys…
Paul – she probably verbally killed you in the DR
Pau llets them know that Zakiyah and PAulie had s$x 5 times. Nicole is shocked says she feels a little sketched out by Zakiyah now after she would say she always felt alone.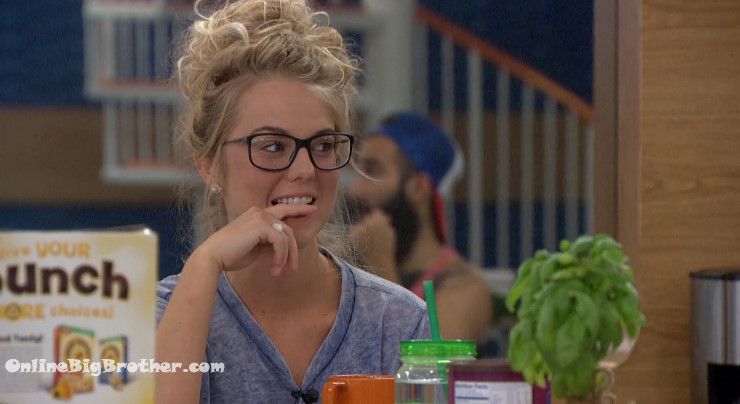 Memory wall glitch #BB18 @DawgsBigBrother pic.twitter.com/IzZPhMvnmL

— OnlineBigBrother.com (@bigbspoilers) August 24, 2016
2:32pm Nicole and Natalie
They agree the prize should be increased to 1 million for all the stress this season has put them thru. (i was thinking 250K)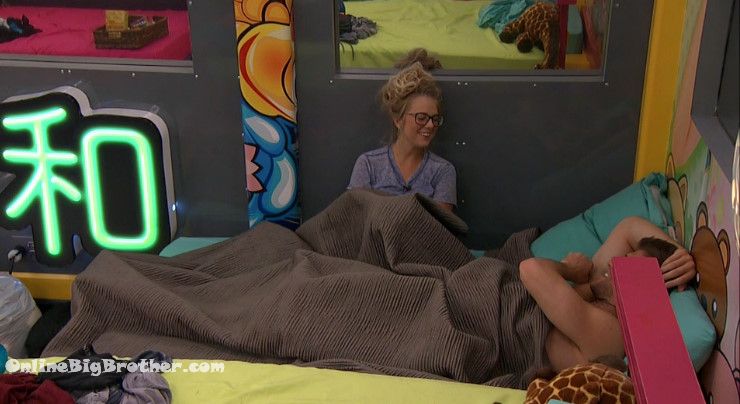 2:46pm Tokyo room Nicole and Corey
Chit chat..
Nicole – Whattttttttt why are you so mad at meeeeeeeeeee
Production – Corey please put on your microphone
Nicole warns him to NOT get too cocky or confident about tomorrow.
Nicole starts asking him "scenarios" with a girl
Nic – "So .. you are … you had a rough month but not that rough.. Anddddddd you are at workkkkkk anddd there's this girl there that is much older"
Nic – shes like 6 years older than you
Corey – wow ok
Nic – anddddd she's… 31.. Ok.. anddddddd she just is very flirty with you persistent like wanting your attention like you can tell..
Nic – she the girl that just goes for it, she knows you have a girlfriend she knows like .. she knows all that crap. (ok is this what happened between her and Hayden, corey asks her and she says not)
Nic – anyways you go to a Holiday party and you bring your girlfriend and she's there.. anddddd.. you know she's kinda staring at you the whole time and you know she likes you but you don't tell your girlfriend about this girl
Nic – so you know.. she has no idea this girl as been overly flirty.. you might be oblivious to it but shouldn't be oblivious to it.
Corey starts laughing.. "Oh my gosh.. make it a little more obvious.. just tell me the story"
Nicole – this is a scenario I'm making up
Corey – ya right.. I know you are not making this up 10000%
Nic – so…. umm… so a couple weeks later lets just say, how would you feel about this girl.. A couple weeks later you and your girlfriend break up..
Nicole – it doesn't have anything to do with this girl but now she knows you broke up she's was a stage 4 she's now a stage 5
Nicole – do you like the persistence of this girl.. you turned her down like 7 times but she keeps asking.. how do you feel about this situation.
Corey – why don't we just go for lunch that would be our hangout.
Corey – am I attracted to her
Nicole – no
Corey – than no.. I wold totally blow it off.. Like..
Nic – she's writing all over your Facebook
Corey – I would let her keep doing it.. I wouldn't egg is on but I wouldn't entertain it either I would like what she said or comment back.. I would let her feel like she's a lone with this flirting escapade.
Corey adds he would always talk abotu him seeing other girls, "I would let her know I'm not interested"
(UGh)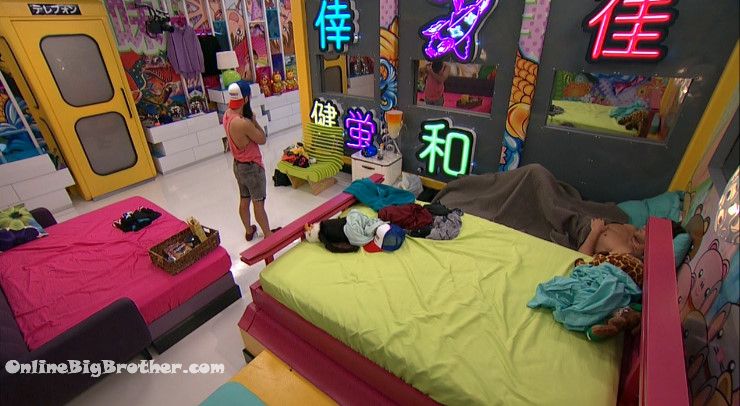 3:00pm Corey and Paul Yokyo room
talking about after this week it'll be Paul and Corey or paul and Victor. They wonder about the care package and HOH..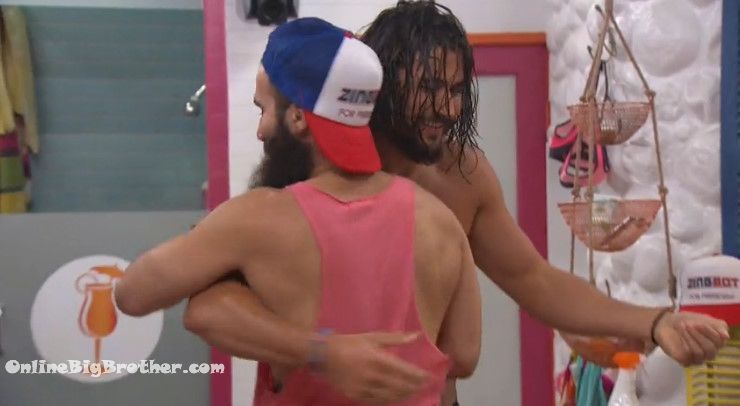 3:04pm Bros..
Paul says he's been up since 6 talked to the live feeders for 5 hours then Corey and Nicole for another hour.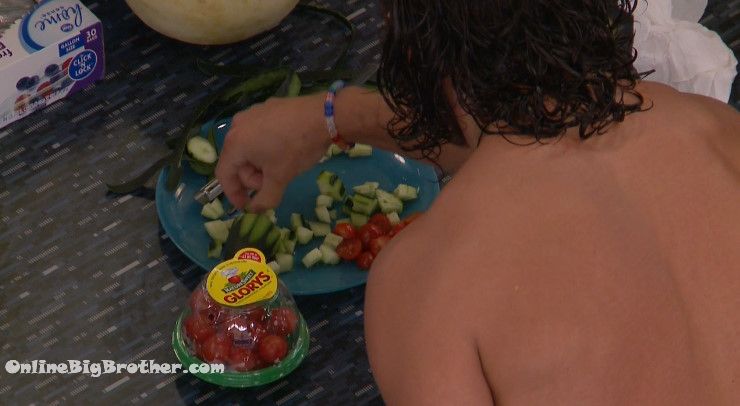 3:08pm natalie says there's beard hair everywhere.
Victor looks "ewww.. I'll take that out for you"
james says it looks like little pubes
Paul comes by says "How do you know it's my beard hair"
James- it was long and Curly
Natalie laughing.. 'it was your DNA"
Paul – I'm sorry.. how did that happen
James- fell outta your beard..
they start laughing trying to figure out whose beard the hair come from.
Natalie – it was funny.. it's all fun
Paul again apologizes, "look it could have been Vic could have been anyone"

3:55pm Slow…
More pranks…. #BB18 @DawgsBigBrother pic.twitter.com/CSb4WxuHQj

— OnlineBigBrother.com (@bigbspoilers) August 24, 2016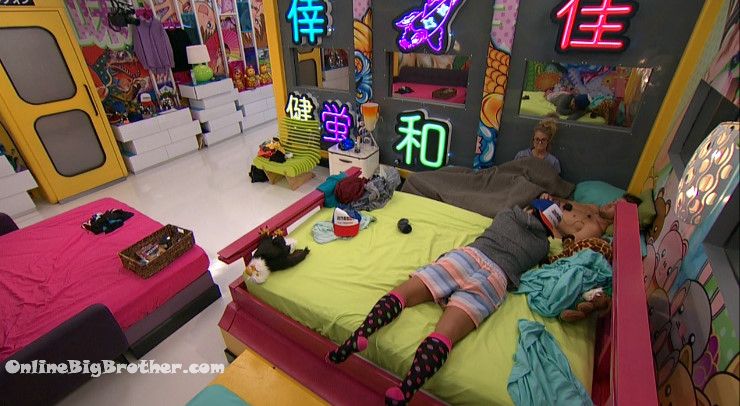 4:14pm talking about the slip n slide HOh competition.
Corey – Dang…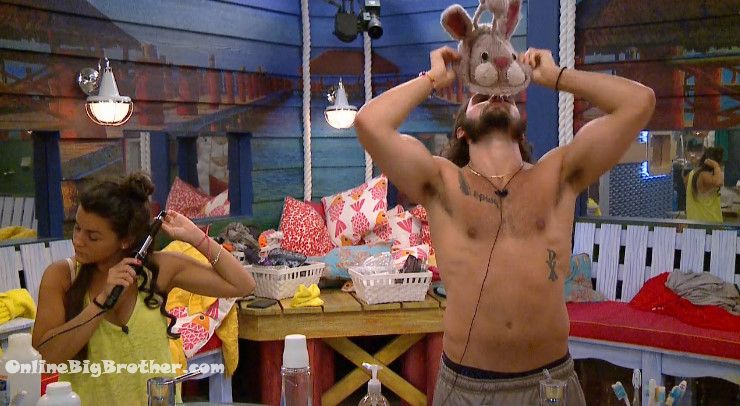 4:11pm Bathroom Natalie and Vic
Natalie – whats wrong with Paul today, he's gettign sick
Victor he's been sick for a couple days maybe it's nerves.. we've been in here a long time.
Vic – so BIG MEECH thinks there will be a Jury Buyback (ugh) … f***g crazy
Nat – ya
Vic – someone coming back into the house
Nat – I don't honestly, umm.. I don't think there is goign to be one.. because what's her name.. Julie Chen.. said this.. the… umm… you will not be coming back into the house.
Nat – she told that to everyone before they opened their cards (Roundtrip)
Vic – that is true as well
Nat – if there was a Jury buyback (Ugh) it would be weird.. umm.. .because it would be like from people that were evicted recently.. You know
vic – ya
Bat – she said specifically.. she was specific with her words.. They will not be entering back into the house.
Vic – that is true..
Victor isn't convinced
Nat – even Nicole said she was very specific with her wording.
Natalie says she's not going to get sick it's just a game. (if Paulie comes back you)
Corey and Vic #BB18 @DawgsBigBrother pic.twitter.com/TLYqA44wrI

— OnlineBigBrother.com (@bigbspoilers) August 24, 2016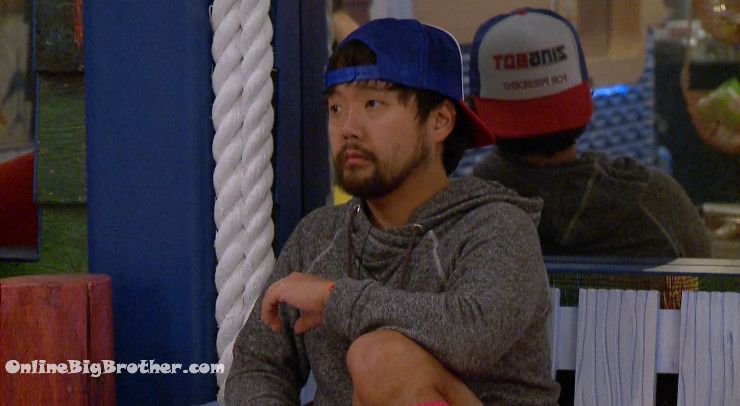 4:23pm Bathroom Natalie and James
Nat – Quick question for you if I wanted to keep Vic would you keep him..
James – depends on your argument.. is there something I should know.. you wanting to keep him
Nat – having my doubts.. you know.. stuff I've heard about Nicole saying and stuff.. I haven't worked with Nicole and Corey and hearing stuff they said about me too makes me worried.
Nat – I know it's better for you game to keep Corey.. it's not really better for my game.. I wouldn't be surprised Corey and Nicole won and they put me up..
Nat – what do you think… you not going to say anything..
Natalie gets pissed at james because he won't say anything.
Natalie – I trust you and I trust your judgments..
James getting pissy that Nicole has a soft spot for Victor..
Natalie says she wants Nicole, Paul and Corey out, "Nicole has said some not cool things about me James"
Natalie says Nicole swears up and down she never said anything bad about her.
James says it's about winning comps they have to get rid of the person that
Natalie says she can't trust Nicole and Corey she knwos James can but Natalie can't
James says Paul is in Victor's ear, "those 2 have to be split up Corey and Nicole you can work with.. Paul and Victor are strategic they want to win win win win 100% all they see is that Trophy"
Natalie – I'm scared you are goign to screw me over.. I'm gettign nervous.. just knowing Nicole cuddled with you.. you are always defending her to.. that makes me feel being played.
James- she's a great.. I don't know.. She can be trusted more than Paul..
Natalie – do you hav a final 2 with Nicole
James – swear to god I don't have a final 2.. all I have with Corey and Nicole is that 4 (they promised to never put each other up or vote each other out)
James says they both can beat Corey and Nicole in Comps bu they can't beat Victor.
Natalie says why wouldn't Corey and Nicole put them up becuase they are the only other couple. what if there is a jury member returning.
James says there will be no returning player. every decision he makes is for them.
4:48pm James- you think Corey will put up you and me if Paul's still in teh house? hell no
James- Corey and Paul they are not going to win every HOH they won't win every Veto.. paul just won a veto the chances of him winning another HO are kinda slim.. if he doesn't win this HOH he'll be in trouble.
Jame says if Paul wins the Veto and Corey/Nicole have HOH Michelle will have to go.
Natalie – that's fine.. (HAHAHAHA)
4:51pm james- that all guys alliance helped us get where we are at.. if there was no guys alliance who knows how many times you would have been the pawn.. how many times I would go up
Nat – do you value my opinion
James – in my heart this is the best decision for us to do..
james adds his gut, heart and Brain area ll saying they have to get Victor out.