POV Holder:
Big Meech
POV Competition
July 23rd
POV Used
NO
POV Ceremony
July 25th
HOH
James
Next HOH
July 28th
Original Nominations:
Frank AND Bridgette
After POV Nominations:
Frank AND Bridgette
Have Nots
?
CBS All Access: Live feeds are only $5.99 per month – Try it FREE for 1 WEEK!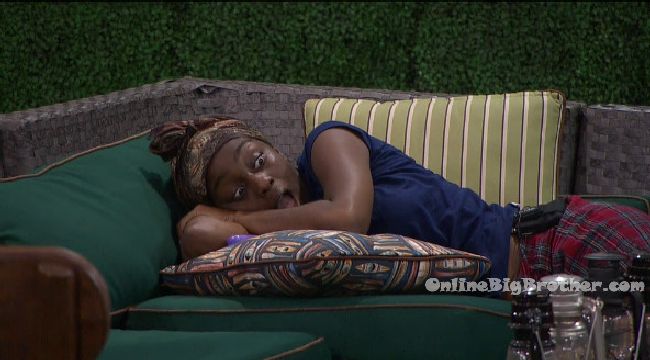 12:10am Paulie and Paul playing chess. Meanwhile out in the backyard – Nicole is talking to Da. Nicole asks has Frank tried to campaign to you at all? Da says no. Nicole says same but he's making me uncomfortable. Da says I've heard he's been talking to everybody else. Nicole says me too. Da asks did he campaign to Corey? Nicole says yeah .. and he told him not to trust me! I'm dunzo with him! Its hilarious because literally I've done nothing to him. I'm just going to do nothing about it.. just sit here and take it and pray that he doesn't have the round trip ticket. Apparently he is thinking about talking to me to get me to trust him. I will never trust you Frank! Never! Ever! Ever! EVER! I was having a really good day until I saw him trying to campaign to people like Z. Da says that was weird .. didn't you (Frank) just say you didn't like her!? Nicole says he (Frank) does it when she (Bridgette) isn't looking. Da says I almost want to tell her. Nicole says Paul said he wants to tell her. Nicole says he wanted you (Da) to go so bad he thought he could sway me and when he realized he couldn't thats when he threw me under the bus. Da says that's crazy. Frank joins them.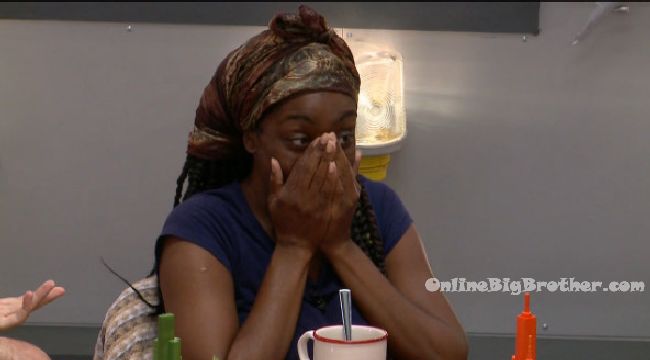 1am – 2am Paul tells Paulie I want to see if there's a painting in the Paris room. Paulie says he tried it and it didn't work. Paul says he just tried it and it does work. Paulie says maybe it just works for you because you were the first to find it. If I ever find anything out I will just tell you and no one else. Paulie says yeah. Paulie says that Corey has always been siding on the side of what Frank has said. I wants DaVonne out eventually after Tiffany. Paul says I definitely know Nicole has something shaddy going on. Da joins them. She tells them how Nicole said she would never trust Frank. Paulie says I say once Frank and Bridgette are gone I say we put up two pawns and then back door her. (Nicole) Da says she build a friendship with me. You're (Paulie) attached to Corey .. you wouldn't put her up. Paul says none of us would put them (Nicole & Corey) up. Paulie says the only way to know for sure is to put them both on the block and see what they talk about. If they throw anybody under the bus. Or see who Corey acts if Nicole is on the block by herself with someone else. Da says I feel like she would break before Corey does. Paulie says the reason why Nicole put me on the block was because she said she couldn't trust me. Da says she (Nicole) said she was afraid of you because of her relationship with Cody. Da says she (Nicole) didn't play sketchy in her season. Paulie says maybe Thursday we tell Bridgette that Franks been campaigning against you. Da says or go full throttle and tell her that we've flipped the vote Because Frank was campaigning against her. She would sh*t. Frank was telling everyone you wanted to go home so we flipped the votes. Da tells Paulie he should go to Frank and tell him you want me to get you the votes .. you need to tell me what is going on with Nicole. Da says we've got two goals that we're trying to reach .. one we're trying to get Bridgette to know what the f**k is going on so that she will open up and two we're trying to find out what this sh*t is about the four. They head down stairs. Paul tells Nicole we're about to stir sh*t up.. we're about to tell Bridgette what Frank said. Nicole asks about her wanting to go home? Paul says yeah go tell the boys.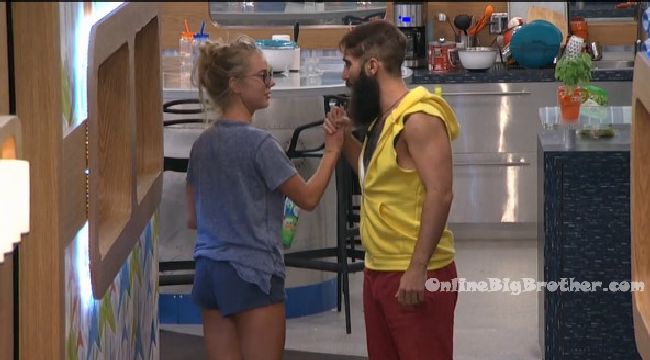 3am – 3:25am Paulie and Frank are talking in the safari room. Paulie says I know you think that Nicole, James and Da have something. Da said something about Nicole, Corey, you and Bridgette. So I wanted to talk to you about it first because I'm trying to flip the votes on Bridgette. But at the end of the day 1 of you are staying .. and hopefully one of you have the round trip ticket things and both of you stay. You know I trust Corey. Is he down with everything? Frank says he (Corey) said I'm voting however I want to this week despite what the house wants and that means I'm voting to keep you. Paulie says I'm voting to keep you. Da was really confident that Z is voting you out. I would really have to force my hand to get her to keep you. Is Bridgette really wanting to go home? Is Nicole definitely someone we can't trust. Frank says I don't think so. I think Da, Nicole and James are a lot closer than we think. Paulie says I've always trusted Corey .. we just need to clip Nicole. Frank says I would rather clip James and Natalie. I don't like the way he is playing the game. He's a floater. Right now I want Da out and Nicole out. Paulie says I really think we can get the votes to keep you. I think I can convince Michelle.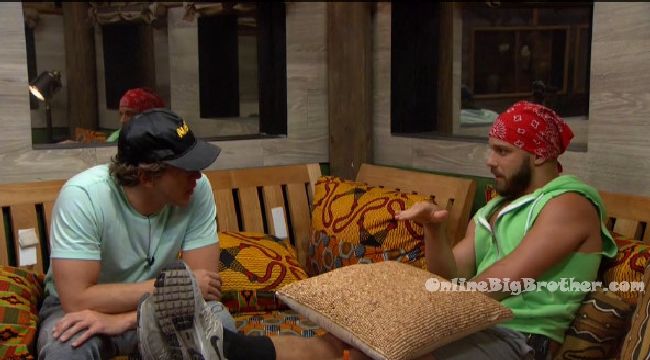 3:15am Hammock. Paul tells Bridgette about how he was talking to Da and Paulie and Paulie brought up the fact of flipping votes because Bridgette said she was okay with going home. Bridgette asks who said that? Paul says Paulie. And I said I'm sorry who has been telling you that Bridgette is okay with going home? Paul says Paulie said Frank. Bridgette says of course I don't want to go home. I don't want to go home. From my understanding the whole house was voting Frank out. I wanted to talk to you and find out why you're just rolling over belly up and wanting to go home. Bridgette says that agreement was we weren't going to campaign against each other. Paul says I know in the past you've been bullied before. Now they're trying to flip the votes. Paul says my understanding is that the votes are flipping and you're going home. Bridgette says he's been telling me he's a dead man walking. Paul says the whole house is under the impression you want to go home. Bridgette says of course I miss my home and my family. Paul says there is no strategy here .. one of you are going home. If we send someone home because of none factual things then that sucks.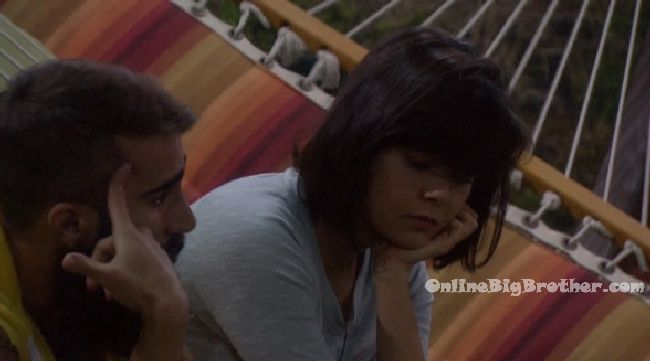 Paul says if you want you can call him out here right now and I'll get right in his face and tell him the same thing. People's distaste for you went up when you started hanging out with him (Frank). You can't be that ignorant that 1 person is only telling you the facts. Paul says you know that POV .. I threw that to you for you to take Bronte off. Who got in your ear, who put Bronte on the block? Did you know Frank want to take you three to the end because he knew he could house all of you and pluck you off one by one. I bet you didn't know that either… but instead you choose to listen to one person. This is all information that I've heard. If you want to throw me under the bus to Frank I will gladly say all of this sh*t to his face because I am probably the only person in this house that is not afraid of Frank. Who is not uncomfortable around Frank. Who hasn't been bothered by Frank. Everybody else has been bothered by Frank. Which is what makes me see a bully. Frank is not funny to me. Frank is a bully! And I don't accept that. He slapped Da's a$$, he slapped Z's a$$! Do you know how disrespectful that is?!!? He called both of them sluts .. I heard it! Bridgette says he said he didn't. Paul says I HEARD IT!! Many people heard it. This is me watching you from a distance and shaking my head. But after I heard this I had to tell you because you've been oblivious to a LIAR! Frank was a dead man walking He is a manipulator. He bullies people to the point where they're afraid of him and then he manipulates them. Come on I know you're not a stupid person!!! When he convinced you it was in your best interest to stay up on the block, I almost slapped you. Bridgette says I tried to win the veto.
So if there is any information that we can leverage against Frank this is what we do. There is no splitting a wedge between you two .. one of you is going home. Betrayal sucks but leaving this house sucks more. Bridgette says okay lets do something. I need to talk to Nicole and Corey. Paul asks why I need to know why to know if its a good idea or not. I need to talk to Z and Da. Paul asks why Nicole and Corey. Bridgette says because it seems they're playing both sides. Paul asks which sides .. to my knowledge that was is a majority and then you and Frank. Paul says you can trust Da, Paulie and I think you can see you can trust me.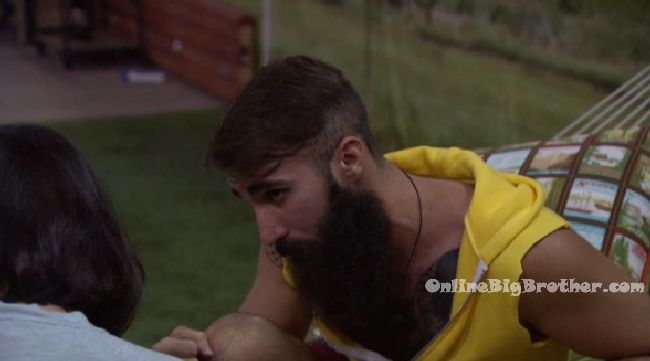 4:30am Z, Da, Vic are talking to Bridgette about how Frank has been saying you want to go home. Da says he made us feel like you actually wanted to go home. Bridgette says I don't want to go home! I didn't know he called you and Z a sl*t. I am really truly sorry I didn't defend you. Paul said he heard it with his own ears. He made it sound like it was a ploy against him.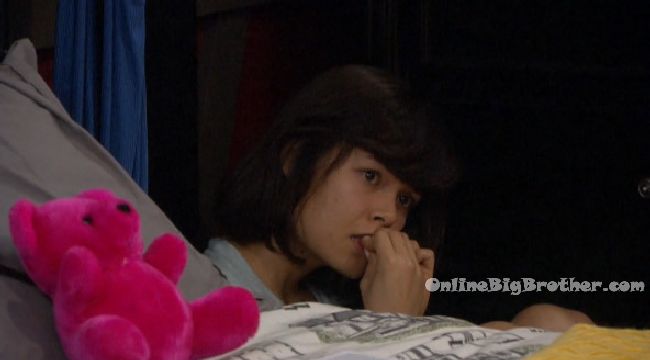 In the backyard – Paul tells Frank about how he told Bridgette about the things he's heard about him telling people she wants to go home.
FLASHBACK and watch everything you missed: CBS All Access FREE Trial!
5:10am In the kitchen – Frank tells Paulie that Paul told him he's been hearing that I've been going around saying Bridgette wants to go home. I haven't been saying that to anyone. Paulie says yeah I've been saying it. Frank says yeah I know. But she doesn't think I'm the one saying it does she. Paulie says she thinks you're campaigning against her. Frank says I'm more worried about her being upset. If I have to go home, I have to go home. Paulie says I'll tell her I'm the one saying it. Frank's my boy. The guys a f**king legend .. he's not going to not try and get the veto used on him or not try and not go out of this house.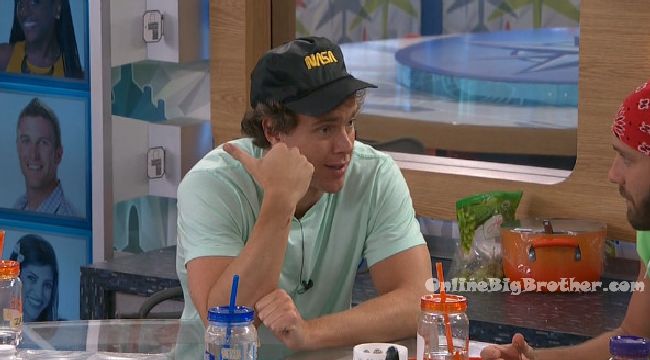 5:45am – 6:20am Frank tells Bridgette to talk to him. You think I'm campaigning against you? Bridgette says yeah. Frank says I have not told anyone you wanted to go home. Bridgette says I just feel silly. Frank says I've only asked 2 people about their votes. I asked Nicole and Z. Z asked me does Bridgette want to be here? And I said we both want to be here. Paulie just said he was the one that said you want to go home. He just told me and he will tell you. I never told anyone you wanted to go home. He heard both of us saying we miss home and he's running with it. You're my best friend in the house. DO you think I'm bullsh*tting you?! You should trust in the fact that I'm not bullsh*tting you. Bridgette says okay.
update coming they really haven't been up to much today….
[polldaddy poll=9477458]
[polldaddy poll=9477456]