POV Holder:
Big Meech
POV Competition
July 23rd
POV Used
NO
POV Ceremony
July 25th
HOH
James
Next HOH
July 28th
Original Nominations:
Frank AND Bridgette
After POV Nominations:
Frank AND Bridgette
Have Nots
?
CBS All Access: Live feeds are only $5.99 per month – Try it FREE for 1 WEEK!
People just started getting up at 3:15pm.. For most of the day Natalie was the only one up..
11:00am Natalie is the only one up Cleans the bathroom and kitchen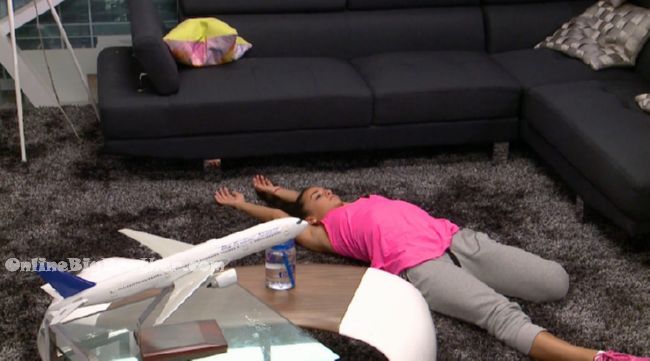 12:12pm Natalie on the ground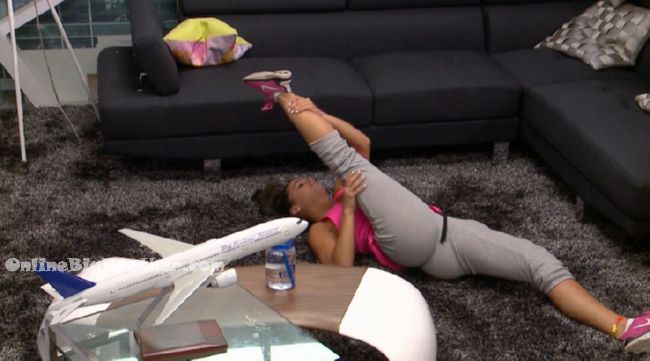 12:20pm Natalie stretch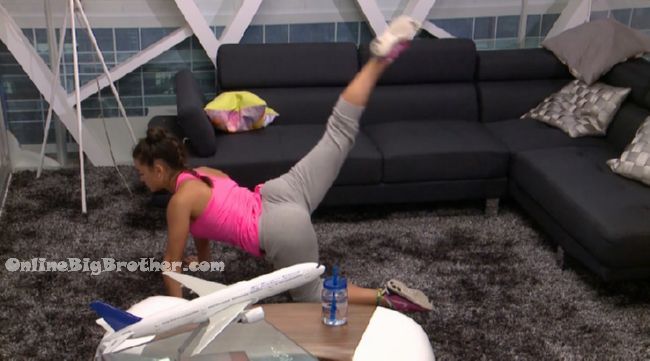 12:30pm Natalie kickbacks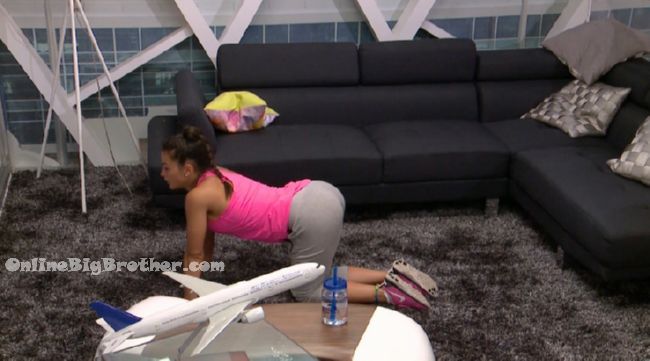 12:43pm Natalie cat and Camel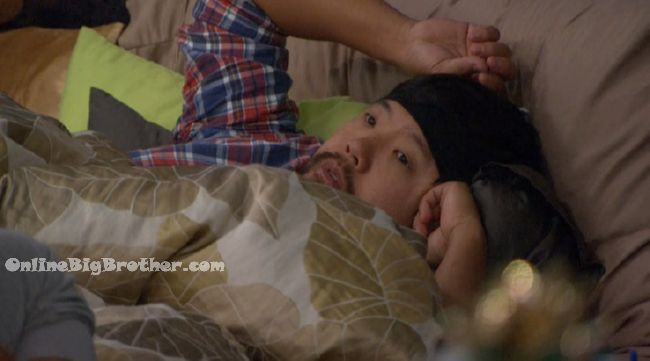 2:03pm HOH James and Natalie
Natalie says Paul told Bridgette that Frank is campaigning.
James – is Bridgette mad
Natalie – she cried said I feel so alone
James- that is what people are trying to tell her.. damn, Frank's in this game for himself, he was using her
Natalie – He was using her to get ahead.. he's fine with throwing her under the bus
James says Frank was using Bridgette as strategy
Natalie – You give me good advice he gives her advice that makes her a target
James – Next week should be real easy as long as Bridgette doesn't win.. If Bridgette doesn't win we have another week of coolness.
Natalie – I'm going to try and win
Natalie doesn't think Nicole will try and win
James says Da is going to try and win. James says Bridgette is going up along with whoever the house wants.
If Da wins she'll put up BRidgette and maybe someone she secretly doesn't like. (Nicole)
Natalie is scared to be going up as a pawn.
James assures her she is safe.
James – when I go missing.. I'm talking game. I'm in a room with people… (lol)
James says she needs to keep her social game up and be good with everyone in the house in case he gets out and she has to fend for herself.
Natalie – am I liked
James – You're a playful bubbly person
Natalie – Nicole is playing Dirty and Corey does whatever Nicole does
Natalie – I think theres an all girls alliance and I'm not in it.. I think there is
James tells her Victor or Paul will be the general pawns.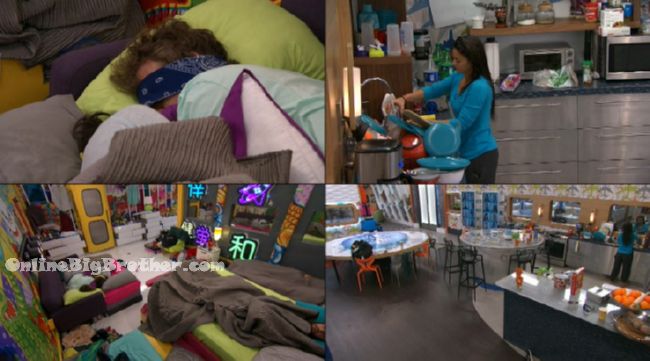 3:30pm People slowly getting up.. OMG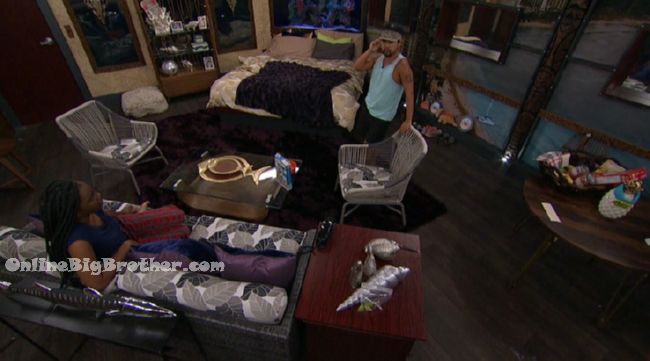 3:40pm James and Da HOH
Da is saying Nicole was the one that tried to form up the alliance with Frank and Bridgette, Corey was dragged in.
Da – it was Nicole the whole time..
Da – they gunning for Nicole now.. Zakiyah is mad because Zakiyah had a friendship.. Paul and Paulie feel played..
Da – She's been doing a lot of sneaky stuff… Apparently it's supposed to be Bridgette than Victor is supposed to take out Nicole then we take out Victor
James – then probably Nat Nat huh
Da – I'm trying to prevent that as long as possible.. I'm like No there's bigger things to do
James asks if Bridgette is mad at Frank for campaigning .
Da'Vonne says she saw Bridgette and Frank laying by the pool watching the sun rise. So she's not sure Bridgette us upset with Frank.
James- she's just oblivious now.. They are girlfriend and boyfriend..
Da'Vonne says Bridgette told her Nicole confirmed everything Tiffany told her about what Zakiyah and Da'Vonne was saying .
She's been Trifling all across the board
Da'Vonne says Nicole was panicking last night because everyone was talking and not to her, "Her face is all red.. She's scared"
James says if Frank comes back they will have a strong group, Nicole, Corey, Frank, Bridgette
Da'Vonne – She did something to Frank he's going around saying Don't trust her
Da – Apparently if she wins HOH she's putting up Nicole and Victor .. Paul cleared all of our names
James says he can't handle Victor
Da – he's getting on my nerves.. Legit.. On my nerves..
James says Natalie wanted to backdoor Victor this week
Da – She hates him
James – I wouldn't say she hates him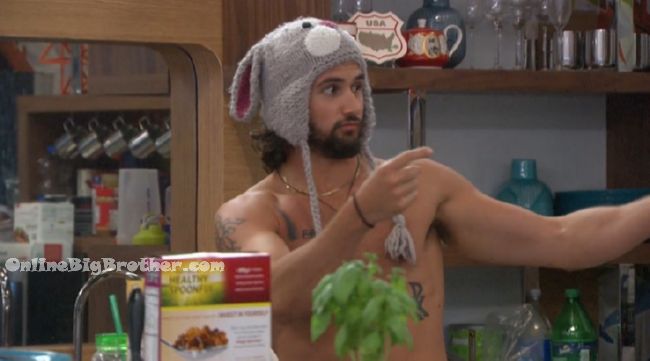 3:57pm Victor and James Victor Filling James in on the nights events.. Basically says Paul told Bridgette Frank is campaigning to stay and Paul told Frank he's not voting for him and he wants Frank out.
James says he slept in. "his wife" woke him up early "She said I can't date someone that doesn't get up for work"
4:14pm Corey, James and Victor Kitchen
James heard the crew building the set in the backyard they said "That's not going to fit pound it harder"
4:43pm Victor is making tacos using Turkey meat that is suspect. James mentions how it smells bad, Corey and Victor both smell it but Victor doesn't care he's cooking it. They all joke about them having diarrhea tomorrow.
James- dude that don't smell too good bro… some of that stuff been sitting out for awhile.. It's up to you I dunno.. it's not supposed to smell like that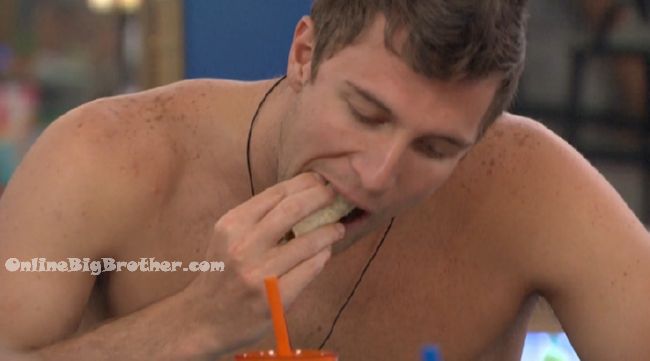 4:55pm The rotten meat taco tastes alright
Victor – I get diarrhea with normal tacos anyways.
Corey and Victor agree the tacos taste fine.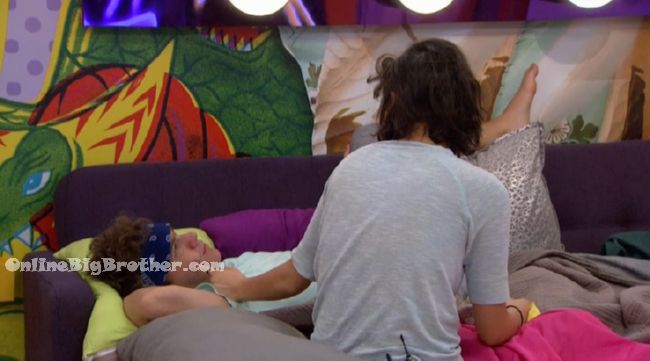 4:58pm Frank and Bridgette
Talking about Frank calling Da'Vonne/Zakiyah sl*ts. Frank says there was just the 2 times he doesn't use that word.
Frank is saying the other side is securing their position in the case Bridgette wins HOH, "what she's saying is Bridgette don't put Da'Vonne up"
(Feeds cutting in and out of this conversation)
[polldaddy poll=9477458]
[polldaddy poll=9477456]
[polldaddy poll=9477457]