POV Holder:
PAulie
POV Competition
July 30th
POV Used
?
POV Ceremony
Aug 1st
HOH
Paul
Next HOH
Aug 4th
Original Nominations:
Bridgette AND Paulie
After POV Nominations:
? AND ?
Have Nots
Natalie, Paulie, Corey, Zakiyah
CBS All Access: Live feeds are only $5.99 per month – Try it FREE for 1 WEEK!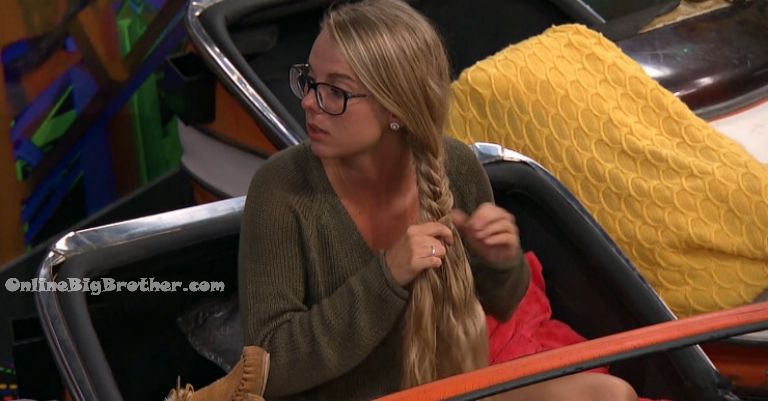 9:16pm Have nots Nicole, Zakiyah and Michelle
Michelle is talking about Natalie mentioning that you can sometimes get discount plastic surgery.
Michelle – I want to get my lips done..
Michelle says Natalie's chest was a discount it cost her like 5K when is was supposed to be 10 K
Zakiyah – sh1t that's more than I got in the Bank..
Zakiyah says her chest will be BIG wants she starts having babies, "Everyone in my family has big b**b!es they come in their mid 30's"
Nicole – I haven't talked to anybody..
Michelle – the guys haven't been telling us anything
Nicole – I feel like they don't know..
Michelle- I don't want Bridgette to frickin stay…
Nicole telling them to stay calm they have no idea what is going to happen and they don't want to make anyone mad.
Michelle is pissed because she wants Bridgette to go. Goes on about how they have no idea who Bridgette is targeting. Michelle says she had a chance to use the veto on Frank but she didn't because everyone promised her that the Bridgette will be going htiw week.
Nicole – I still think she (Bridgette) is going.. We need to Chill I haven't been poking and probing people for any information at this point.
Zakiyah – I feel like that is going to happen.. DA is going up..
Michelle – they don't tell us anything that sucks…
Nicole – I'm going to try and see what is going on..
Nicole – I've never been mad at you two..
Nicole leaves.. (Whispers under her breath "GIRLS" )
Michelle – She seems like she knew stuff.. And now she's going to run and tell Corey.. Great.. Lets eat and come back here..
9:20pm Hammock Nicole, Paul and Corey
Paul – She's (Da) sketch Broh.. Never cared..
Corey – Never cared..
Nicole joins.. "I have some information"
Nicole – I was cooking with Bridgette, I knew Meech and Z were really upset about it.. They are super upset I'm even talking to Bridgette.
Nicole says the girls are freaking out saying the boys are acting sketch they want to backdoor da.
COrey – we'll there two votes who cares..
Paul – How does Michelle know that information
Corey – you said it last night
Paul – no I didn't
Nicole – it was Z..
They agree it was Z that was told and told Michelle.
Paul – look I want bridgette gone but it doesn't matter what I say
Nicole – they were like Bridgette is going to put me and Z up on the block and Da wouldn't do that.
Paul – oh my god
Nicole about Michelle – We gotta keep DA in the house
Paul – well you play dumb
Nicole- I have been playing dumb.. I was saying REALLY
Nicole – they didn't tell me what they think Da'Vonne is the replacement nomination.
Nicole – they said they've been trying to get information about the boys. If they knew I knew anything I would be in a lot of trouble.
Paul is going to ask MIchelle and Zakiyah if they want to go up as a pawn…
Nicole says she warned the girls to stop acting sketch before the veto is even played.
Paul is going to talk to them, This scare Nicole that they will find out she knows something and start "Gunning" for her
Paul – NICOLE noone is gunning for you. I am gunning for you
Nicole – they are very much protecting da
Paul – never cared they can protect these nuts..
Nicole – they are acting weird.. They tried to corner me to ask me how I would vote. I know exactly how I'm voting… I'm saying I'll do what Paul wants.
Nicole – I'm trying to play dumb twiddling my hair the camera is like [Makes a zooming sound]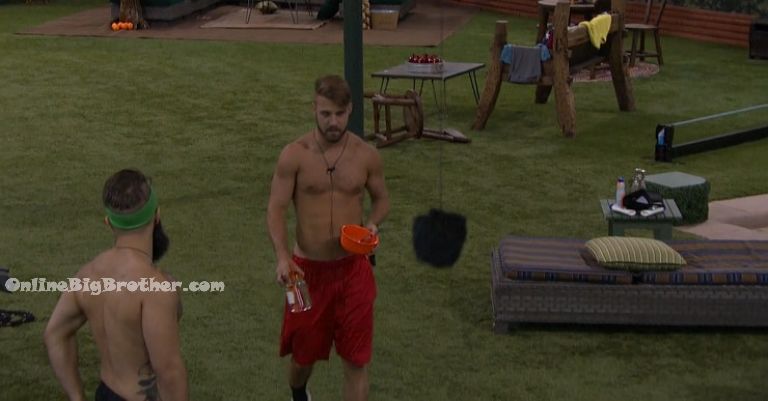 Paulie joins them
Nicole says Zakiyah and Meech are worried about Da going up they think she's going up as the replacement. They got sketchy because she started making stir fry with bridgette.
Nicole – I've been playing dumb
Paul – Z and Meech are onto our sh1t ..
Paulie says he told Zakiyah already she should know Da is probably going up
Nicole – I know she's lying to me
Paul – I'm going to go up to Z and be like Hey you want to go up as a nom, can I put you up as a nom… They will shit their pants.. Done..
Paul leaves..
Nicole – they were like you want her out.. You were talking a lot to her today.
Nicole – She's a freaking person we're making stir fry.. She's a human, I hated when people neglected me in the house.. They shouldn't be that mad at me..
Paul – Nicole, they got mad at me when I wanted to wrap Bridgette's ankle.
Zakiyah and Meech come out..
Paulie – MEECH
Corey – MEECH
Paulie – Big Meech
Corey – MEEeeeeech
Nicole – they are frazzles as frick
Zakiyah sits with Nicole, paulie and Corey Chit chat.. Awkward..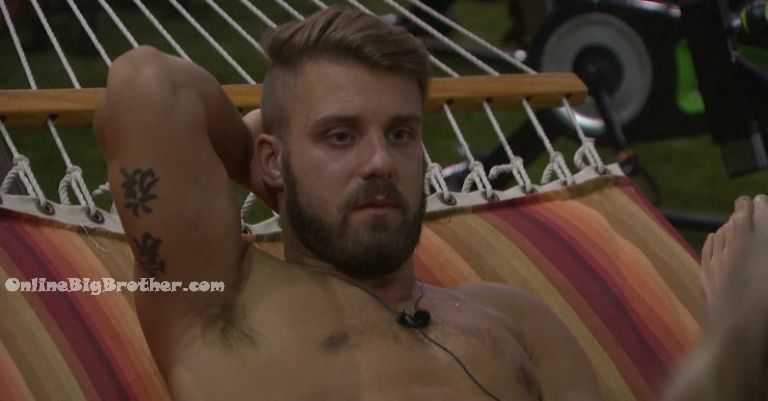 9:40pm Corey, Paulie and Nicole
They are going to stick with the story that DA is the target this week.
Nicole says otherwise Michele and Zakiyah are going to flip out tonight. "They do not want Da gone"
Nicole – they told me to try and come out here and get information from you.
Nicole – Paul can tell them he wants Bridgette home that can comfort them. (Z and Bridgette)
Nicole is worried they have "something" the three girls (Da, Zakiyah and Michelle)
Paulie doesn't think they do.
Paulie says Da was saying "weird" things about Nicole to Meech, "Basically paranoia about you.. She was trying to run with the whole Frank and Bridgette thing… "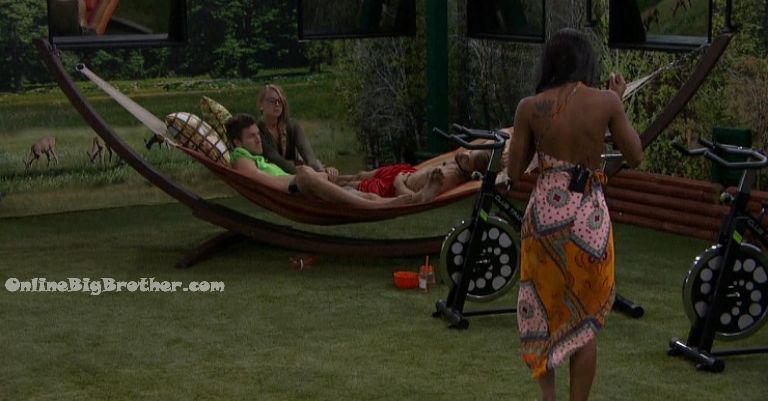 Zakiyah comes back..
Paulie – Big Meech
Corey MEECH..
Paulie -where's MEECH…
Corey MEEEEeeeech
Nicole – Ok boys what is going on this week..
Paulie – I would love to have da on the block and I've been pushing that with Paul.. I don't care if Bridgette ior Da go home to be honest.. I want to see her on the block see what she does to be honest.
Paulie – I know everyone wants bridgette out because she's a threat but right now she's aint doing anything with a bum ankle and a bum knee.
Points out her confidence is shattered..
Paulie and Corey saying that Da has mentioned both their names, "A lot"
Corey says Meech knows that Da is shady..
Paulie says they have 4 votes, he wants to see how Da reacts, and if she starts calling people out, "I personally would like to ask her hey have you said our names and if she says no I know she's lying"
Corey – funny she said my name to you.. And Paul.. like what are you thinking
Paulie – she was saying a while ago we gotta split these couple up
COrey – why doesn't she like us.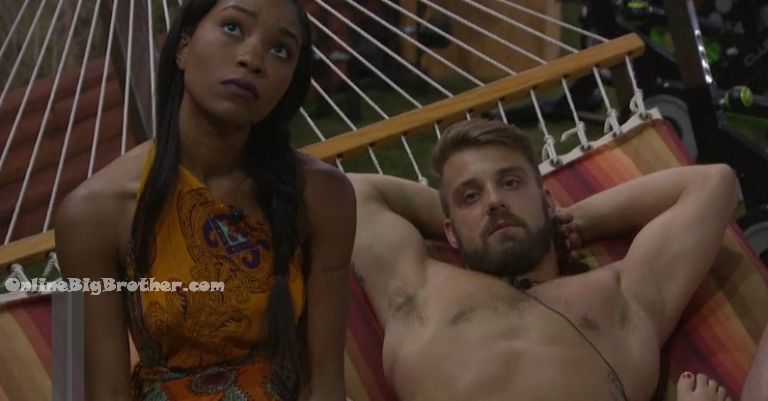 Nicole – what are you thinking Z
Z – well.. I just want Bridgette gone.
Paulie – I want the option to think about it for three days.
Z – Or backdoor victor again
Paulie – Paul would not feel comfortable doing that especially if he has the round trip ticket..
Paulie – right now Victor has latched himself onto Paul
Nicole – it's true, he is pretty attached.
Awkward silence.. .
Zakiyah leaves .
Nicole says Zakiyah is not happy right now.
Corey – couldn't have been more awkward..
Nicole – she doesn't say a word.. Ever unless she's asking me for information.
Paulie – Paul's sketched out by z
Nicole – we have to make sure they think Bridgette is going home
Corey – what's the point..
Nicole – I'm afraid they are going to go tell Da .. once she's on the block we're going to state the points
Michelle is outside..
Corey – MEEEEEEEECH
Michelle comes up "I peed my pants on the live show"
Paulie – I wouldn't mind seeing Da up there just to see what happens.. I don't care who goes home.
Paulie – as of right now I'm not worried about bridgette winning.. Her knee is f***d u her ankle is f*** up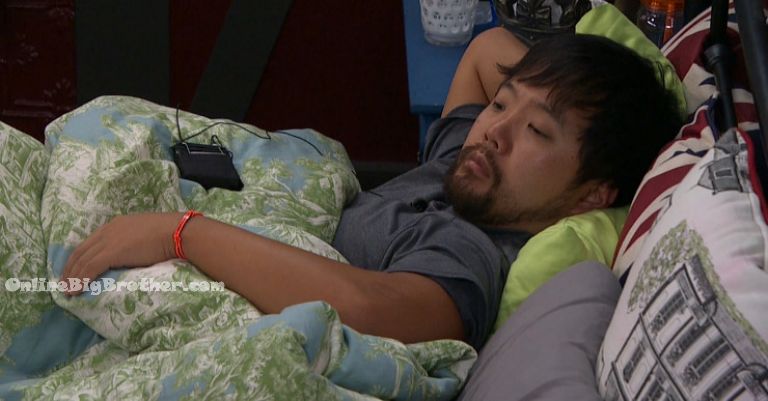 9:53pm Da'Vonne and James
James – so for sure
Da'Vonne – yup
James- damn
Da – I need to take notes from you because whatever you were doing to convince them to not put up Natalie it worked..
Da – I need to figure out what I need to do moving forward
Jaems – well uhhh.. I think they aren't putting Natalie up cause.. Umm
Da – No it was definitely a double campaign. She was campaigning for herself and you of course were campaigning for her I'm in this game by myself I don't have anybody to campaign for me.. Even when Tiffany was in here Tiffany slept the whole time and Frank campaigned for her..
Da – Everybody has somebody
Da lists of all the pais.. "I'm here by myself.. I gotta figure out what I got to do to make it I just gotta survive"
.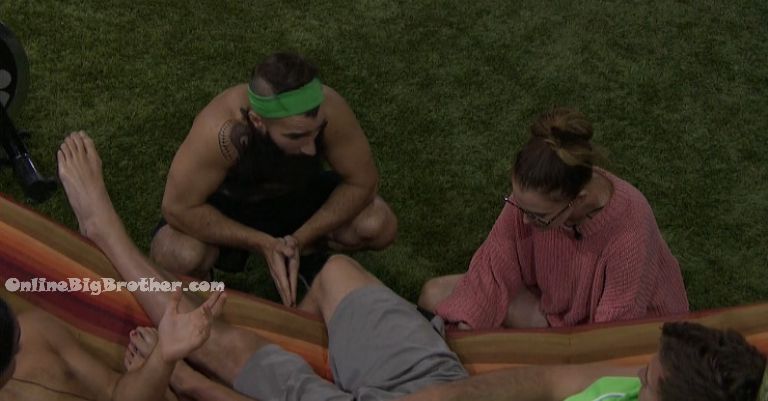 9:58pm Paul, Paulie, Michelle , Nicole, Zakiyah and Corey
Paul – I'm going to ask about replacement nomas and if any of y'all are willing to do it.
Michelle – I will
Paul – will you really .. no sh1t..
Michelle – I would like to think you guys would send out Bridgette..
Paul – Anybody can go up I've already talked to Da a little bit..
Paul – Bridgette is going home that is my goal.
Paulie – I personally want to see what Da does up there.. She was panicking when she was on the block with Tiffany..
Paul – if you want to find information out fine… all i know is Bridgette is going home. that is what I'm shooting for
Paulie – I really want to see what will potentially come out.. I wouldn't mind seeing her on the block doesn't mean she goes home this week.
Michelle warns them about Bridgette during the double and winning the mental comps, says she's a loose cannon they have no idea who she's going to put up.
Michelle tells them Bridgette told her she doesn't believe anything that Paul said to her about Frank.
Paul – I don't care I'm sending her home this week.. That's why she's on the block right now.. Never carried
Paulie says he doesn't want to be the only one fighting for this he just wants to see what Da will do. He just wants to see what happens over the next three days.
Michelle will be down with taking Da out during the double.
Michelle – this week I want Bridgette gone she scares the crap out of me
Zakiyah – I feel the same way
Michelle says Da will put up a Victor and a Natalie, "She won't go after us"
Zakiyah agreeing with Michelle, "That's just being honest"
Paul – I did my f***g part, if y'all want that option.. I just hoped she wouldn't freak out.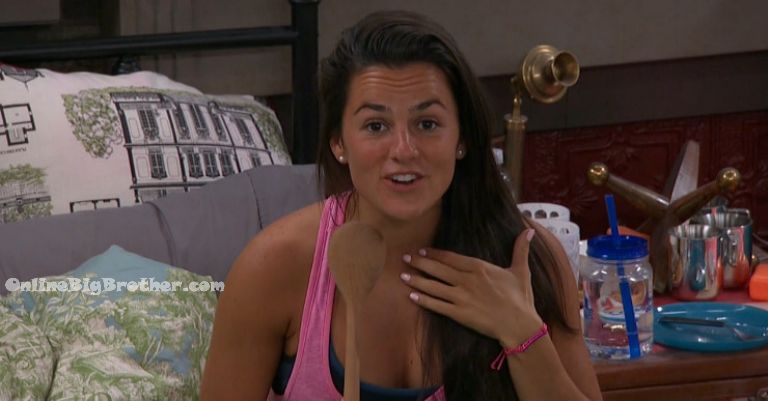 9:58pm Natalie and James
Talking to the live feeders using the wooden spoon as a microphone..
Natalie is saying she hopes she can win the HOH this week coming up goes on about being bad at competitions.
She passes the spoon to James
James – I've been up for 20 hours.
Natalie – Visit my sister at the sugar factory..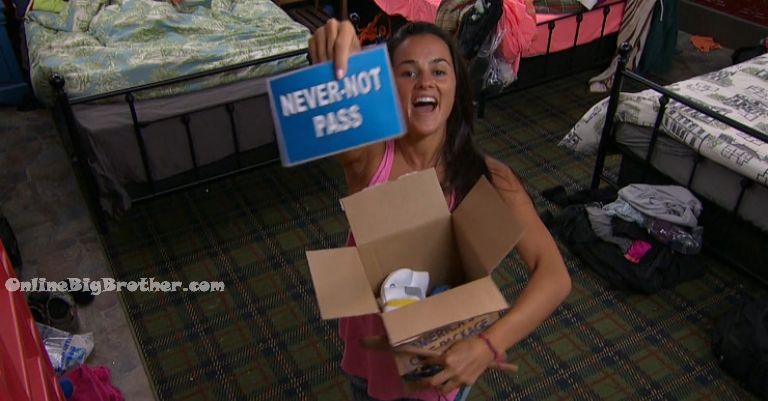 Natalie thanks everyone for the care package. She goes through the package contents..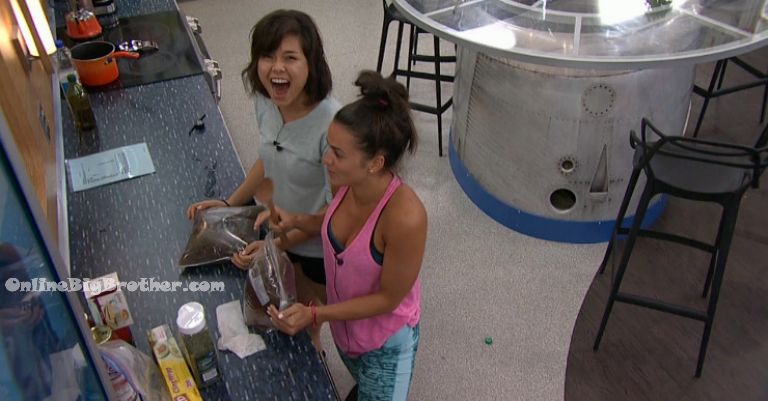 10:17pm Marinating James shoe because he put mayo in the lotion bottle and the soap bottle
Natalie says her "Current Boyfriend" made her bath in mayo so this is what happens.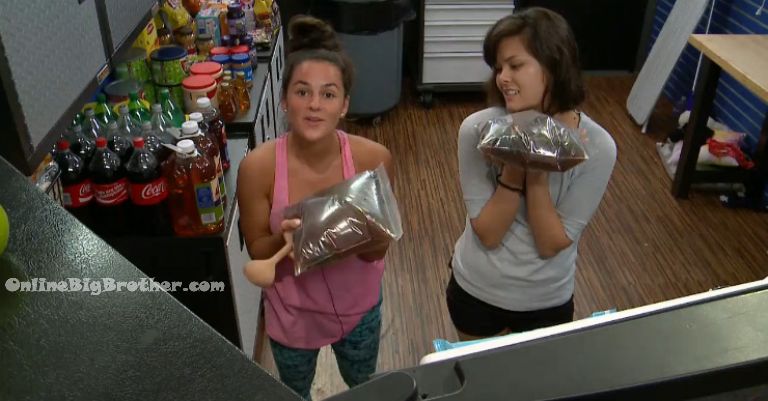 There plan is to freeze James' crocs overnight and pretend they are making steaks tomorrow.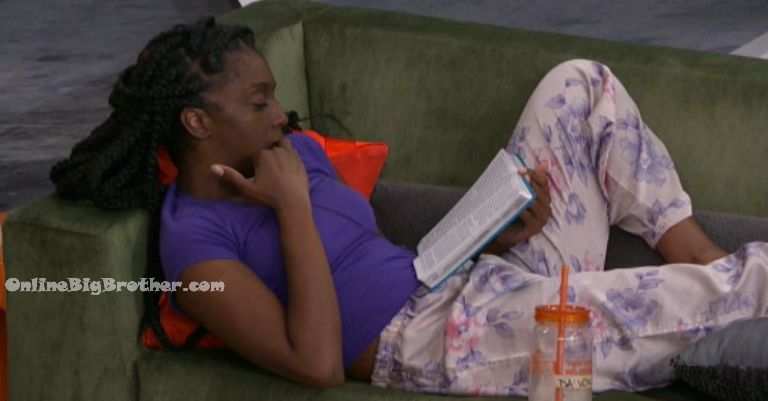 10:52pm Da'Vonne reading the bible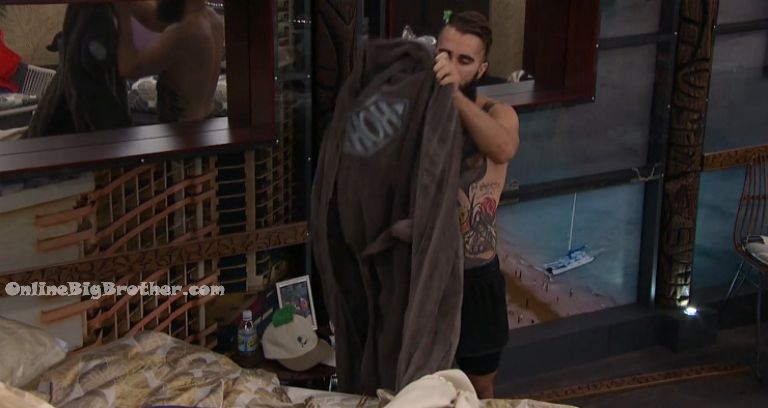 11:18pm Paul and Corey HOH Bed
Corey – da just sits there in that one spot and creeps.. it's weird.. gives me the heebie jeebies
Paul – does give me the heebie jeebs
Corey – her eyes are like … just look like that
Paul wonders why Da is the only person being "Sketch"
Corey she is very very sketch.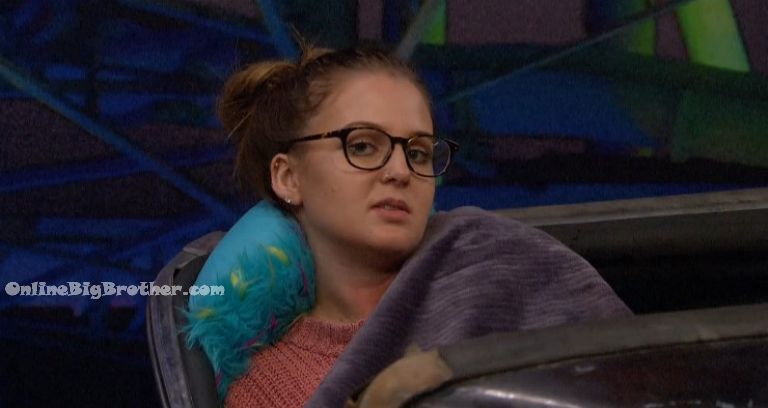 11:38pm Have nots Zakiyah, Michelle and Nicole
ZAkiyah didn't realize paulie felt that strongly against Da'Vonne
Michelle – he hates her
Zakiyah – I would put Victors a$$ in a heartbeat
Michelle thinks the boys have an alliance, do you thin Nicole
Nicole – No… I dunno…
Michelle – they've been spending a lot of time locked up together..
Zakiyah – mmmmhmmmmm
Michelle – they don't even invite us
ZAkiyah – they can have guy time we'll have girl time.
Michelle – we got to step up our game.
they start to study dates…
11:57pm Nicole – you guys ready for bed
Michelle – ya.. tomorrow is freaking Veto meeting

[polldaddy poll=9486231]
[polldaddy poll=9485811]
[polldaddy poll=9485817]