POV Holder:
?
POV Competition
Aug 20th
POV Used
?
POV Ceremony
Aug 22th
HOH
Natalie, Meech
Next HOH
Aug 25th
Original Nomi1nations:
Victor AND Paul
After POV Nominations:
? AND ?
Have Nots
Victor and James
Watch the next week of the feeds for FREE – 1 week Trial!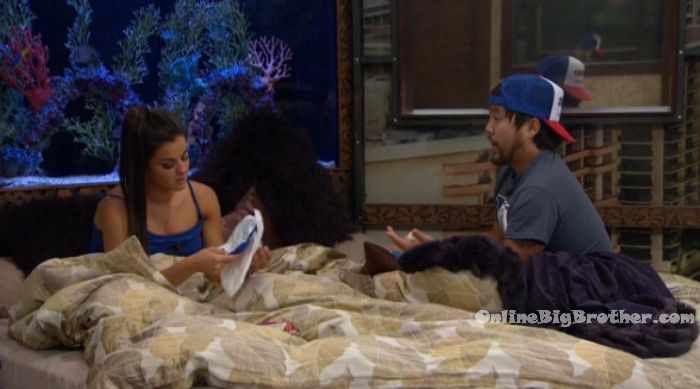 9:30pm HOH room – Nat tells James I kind of do want to backdoor Corey. James sasy its your HOH. Nat says I do want to backdoor him for being a super douche. And I do think Paul and Vic would forgive me. James says that its breaking her heart having put Vic up. It makes me feel bad that I lied. That I told him we were good and then I put him up. Nat starts crying. James says you have to make hard decisions. Its done. Someone had to go up, someone's feelings were going to be hurt. Its not like we're targeting him. Nat says I know Paul lied and stuff. James says he's good, he's good with words. Nat says I kind of want to back door Corey because he's a douche. Nat says they're probably going to vote Vic out. James says lets be honest Vic is probably going to win the veto. Nat says Vic is just such a nice guy. I feel bad. Nat says she thinks she's losing her mind. James says we're all losing our minds. Keep your eyes on the prize .. 500K! Nat says she doesn't think she will make it. James says I am going to try and take you as far as I can. And who knows you might pull out another one of these wins.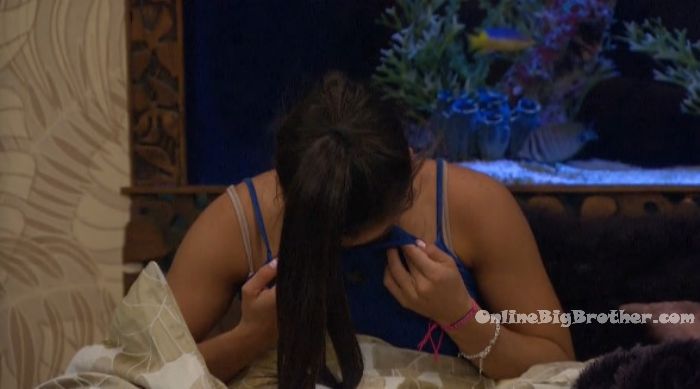 9:35pm In the kitchen – Vic and Paul say how they won't campaign against each other. Vic says the mastermind behind everything is James. Paul says I know that. Michelle says my mind was still Corey and Nicole until I talked to Natalie. I would be going against James and Natalie. Nat is really upset and feels really bad, especially about you. Michelle tells Vic, I will use it (veto) on you. Vic says if next week if Vic and I are still on the block we won't campaign against each other. Vic says you're right the only person we have to convince is James. Michelle says James said if we go after Nicole and Corey he is just worried that you'll go after him. Michelle says my hands were tied. Vic says if we can get James on board. Paul joins them. Paul asks why wouldn't James be on board. Vic says he thinks we would go after him. Paul asks why the f**k would we go after James. Vic says resentment. Paul says we wouldn't be mad, we were just hurt. Meech says I can't even win HOH. Vic says and Natalie can't either. If one of us goes home, James is the only one playing for his life next week. They (Nicole & Corey) are going to put up Me and James or Me and you (Meech). Meech asks who do we want to play if we get house guest pick? Nicole or Corey? Paul and Vic say Nicole. Meech tells Paul sorry I already told Vic If I win the veto I am pulling him (Vic) down. If any thing it gives you 3 days to campaign. Paul says just make sure you put Corey up. Meech says I don't decide, Nicole does. She wants Corey up anyways. Nicole is the talker though. Paul and Vic say it doesn't matter.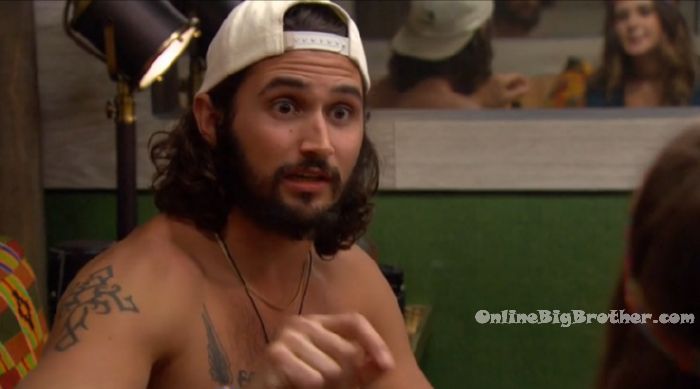 10pm – 10:30pm Safari – Vic, Meech, Paul and James. Vic says if we get a chance I think we should pull the trigger and get back on the plan. Paul says as beautiful as that sounds its Natalie and her's HOH. If I leave and go to the jury house I'll be happy. I don't have to give you this sympathy bullsh*t. None of my family members are dying. Paul says I want revenge. I want to know when this happened, why it happened. Paul asks James are you on board with this? James says yeah I'm on board. Paul says I'll rattle the cage if you need me to. They agree to all talk without Nicole and Corey. Vic says I'm not mad at Nat at all. James says I should have been more in touch with her. Last night I told her its her HOH and I support whatever decision she makes. Nat did that because she thought I was going to be in trouble. Paul says I can respect that. And even more so that she's a ride or die with you. I'm mad at those two that put a bad name on my head. Those two that are scary, that they could do that. Meech says Nicole is a superfan. Paul says I'm going to sh*t on her! They talk about how hopefully either Nicole or Corey sit out of the veto tomorrow. Paul says I'll rattle her cages! Paul asks do you want me to call them out tonight? Michelle says I don't know talk to Nat. If it rattles their cages yeah. James and Michelle leave. Vic says if we pull out a veto win tomorrow .. and then back door Corey. Paul says but they're going to campaign hard. Vic says don't let them talk to anyone. Just sit in on every conversation. You don't even have to say anything.
10:50pm HOH room – Vic, Paul and Meech. Paul says I hope if we win and we get him up there that we don't have to do any campaigning. Michelle says no.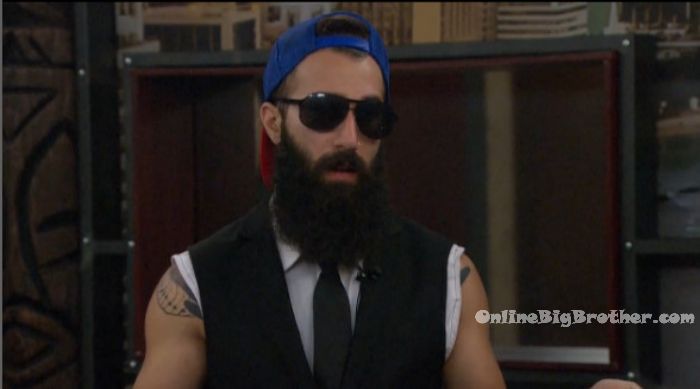 11pm – 11:20pm Kitchen – Nicole tells Corey you're the only one that can get to her. (Meech) You need to talk to her. She's got something against me. Corey says you need to earn her trust back. Nicole says its not even a trust thing. I can't relate to her. I'll try. I hurt her. The whole Da thing hurt her. I wanted to tell her and Paulie wouldn't let me. Corey says talk to her about it. Nicole says and she's mad at me because I wanted to vote her out over Z. Nicole tells Corey you have, James, Me and Michelle. You have nothing to worry about. Corey says is worried about going up if the veto is used. We need to win this veto tomorrow and keep it the same. Nicole says I know Corey. Corey says hopefully after the veto ceremony and they're both up there still and we control the votes. If it comes down to it, I am voting Vic out. Nicole says thats a way to piss Michelle off. Corey says I don't care. I'm not scared of Michelle. It would be a stupid game move to keep Vic. Paul can't win sh*t.
Nicole asks Corey do you trust James 100%? Corey says yes. Nicole asks should I? Corey says yeah.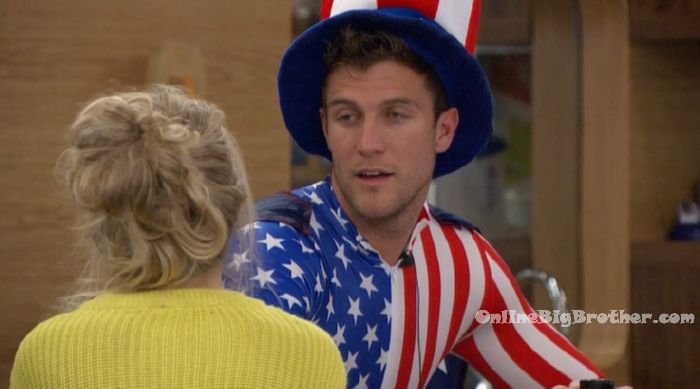 11:15pm – 11:30pm HOH room – Natalie is annoyed they put up Vic and Paul instead of Nicole and Corey. Vic says its okay, no one is mad. We have a way to fix it. we have 4 and hopefully James is playing which is 5. Nat says Oh I am going in tomorrow… I'm breaking my neck tomorrow. I'm pulling you off if I win. Vic says thank you. If Corey gets that care package who do you think he is going after .. the two guys left in the house. One of us and James. Vic says I am almost positive the next care package is an HOH take over. Nat says I wish I didn't win this HOH. Paul joins them says he wants to call out Nicole. They tell him not now. Nat says she's talked enough game today. Paul says no tomorrow before the veto to rattle her cage. Nat tells him tomorrow. Paul says lets go with the plan to put up Corey. Lock your f**king door. Vic and Paul say if anyone gets house guest choice we pick James. Nat says I f**ked up. Vic says its okay its good tv. Paul and Vic tell them if they say anything about something we've done to wrong you .. just ask us.

11:45pm – 12am HOH room –
Paul asks Nat do you want to know what Corey said about you? He said you're going to be sucking on James d!ck all the way to the top and James is letting it happen. Nat asks those were his exact words? Paul says yes. Nat says sorry I'm not Z and suck d!ck on a tv show. Michelle asks did she? Nat says no she had sex the tv show. Paulie said she pulled my d!ck out. Sorry I shouldn't have said that. Vic says we don't need to get savage. Nat says when I liked Vic I told him I wouldn't make out with him. And with this kid I've pecked him 3 times. Paul asks do we have your permission to blow their sh*t up. Nat says I want to be there when you call him out on saying I'm blowing James to get to the top. Michelle says that's got to be the worst comment this season. Nat says I don't even want to be on this show any more. Its been all summer of people talking about my t!ts, my a$$ .. Nat says I hope you're not lying to me about this. Paul says I'm not. Nat says they better hope I don't win that veto because my speech is going to be .. Vic says savage. Nat says if I had known this earlier I would have given them a great beautiful speech today and America would have been applauding. Paul wants to stay up and study the days. Vic says it might be the counting comp.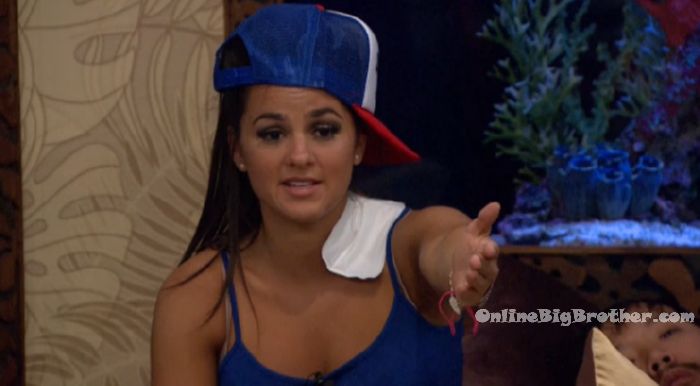 Show your support by making a donation.
"BB BRIBE"
WEEK 5 – August 21 to August 26th
The winner gets $5,000 to bribe one house guest. Bribes my influence voting, competitions, vetos or nominations. The bribe can only be given to one house guest, for one action, within the week leading up to the next eviction.
[polldaddy poll=9501597]
Usernames will have to be a bit more PG please. At the least censor them with @*(#^%_