Quick Big Brother Spoilers
Head of Household: Daniel
Nominees: Michael & Terrance
POV Players: Daniel, Michael, Terrance, Indy, Ameerah and Turner. Kyle is hosting
POV Winner: Michael
Veto Ceremony:
Evicted:
Havenots: Joe, Michael, Monte and Kyle
Lock your ranks in before midnight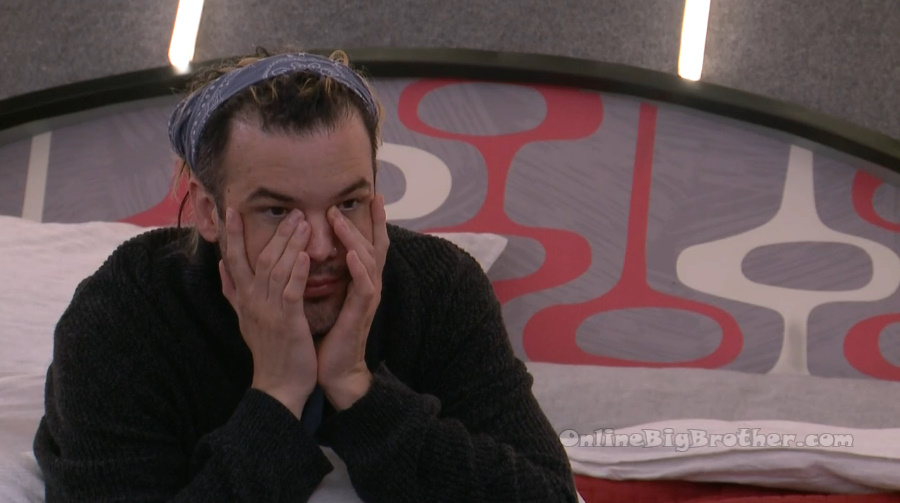 9:35pm HOH room. Paloma and Daniel.
Paloma – You have been through the ringer. I told you yesterday and you were like I don't think he's (Michael) that physical. OH Whoa Whoa whoa! Did he show up or did he show up! Daniel – he showed the f**k up and I have mad respect for that. Paloma – Mad respect! Daniel – and he is a superfan. I was like you just show us that you're not here to f**k around. Ameerah was killing it and she didn't have to. I have mad respect for her. Ameerah told me that in the comp he said throw it to me, I got you. And she said I'm going for it. Paloma – loading is very slow for me tonight .. the server is almost freezing. What are you thinking. I know you really like Terrance. Daniel – I have to trust my gut with Terrance. I don't think he is a threat for HOH, veto.. he is a good dude to keep around to knockout whenever you want. Paloma – lets get to who is the replacement, who are you thinking? Daniel – I am just saying who is your go to person and who would not mind if they went home? Paloma – Alyssa is my homie! Daniel – good because I like her too. I don't think Terrance is a big threat. Paloma – no he's not. Daniel – real quick I don't like that you were always thinking that she (Taylor) was always looking for you. Because she is aware that you're playing her game better. That is what I was getting from that. And no one knows the game you're playing but her because she is trying to play the same game of observing. Paloma – I have never seen it like that but you are 1000% right. Your analysis of her is something I have never thought of but you're right.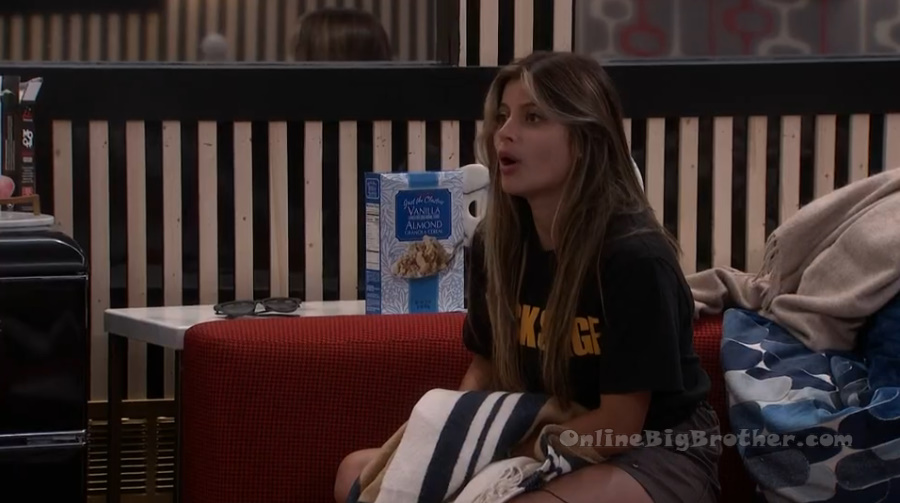 9:54pm Storage room. Pooch and Kyle.
Pooch tells Kyle that the vote to evict Taylor might be unanimous. We would have it with just Oasis and just one or two people.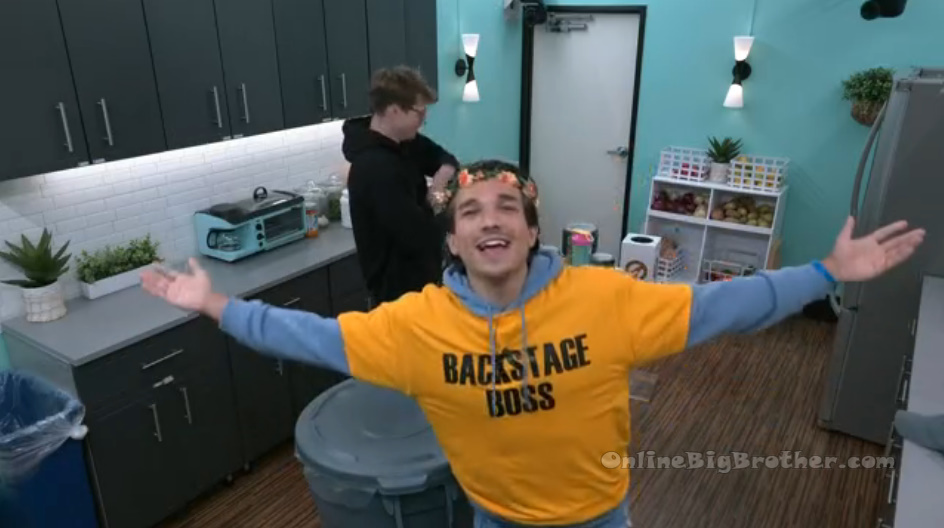 10pm – 10:15pm HOH room. Daniel and Paloma.
Daniel – when I am talking to them they have their reasons what they're fighting for .. her and this other girl. Paloma – wait there is another girl? Tell me who? Daniel – Indy. Paloma – ohhh.. I love her too. Daniel – are you homies with her? We love everyone but can you see yourself working with her? Or is she a complete f**king wildcard for the next three months. Paloma – she is a floater bro! Daniel – what would she do if she won HOH? Do you know what she would do next HOH? Paloma – no f**king clue! Daniel – exactly. Alyssa joins them. Daniel asks Alyssa the same question he's been asking everyone. Alyssa – Pooch I don't really care about. Paloma – my bottom is Taylor. She is a big threat and it would be a big move to get her out. Alyssa – she said at the table and said she isn't afraid to stab you in the front. Daniel – I heard that too. And why would you say that when we weren't even talking about game. She is probably the top option. Alyssa says she will talk to Ameerah and Indy. Daniel – just one more question, what do you think about Indy? Alyssa – she is a wildcard. I don't think she is a threat but she is an easier route than Taylor. I think it would be smarter to get Taylor out because Indy would be easier to manipulate.. Big Brother switches the feeds.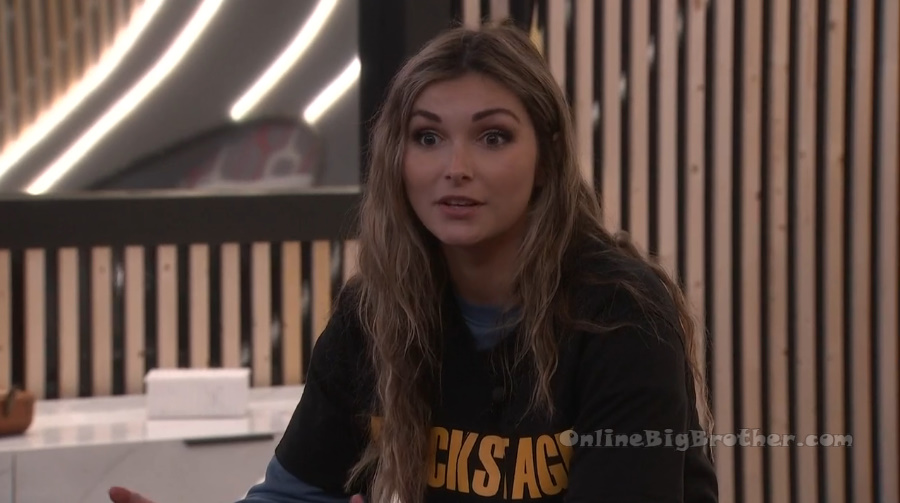 10:10pm Bathroom. Turner, Kyle and Pooch.
Pooch – Taylor's finale dress.. Turner – out of the park!!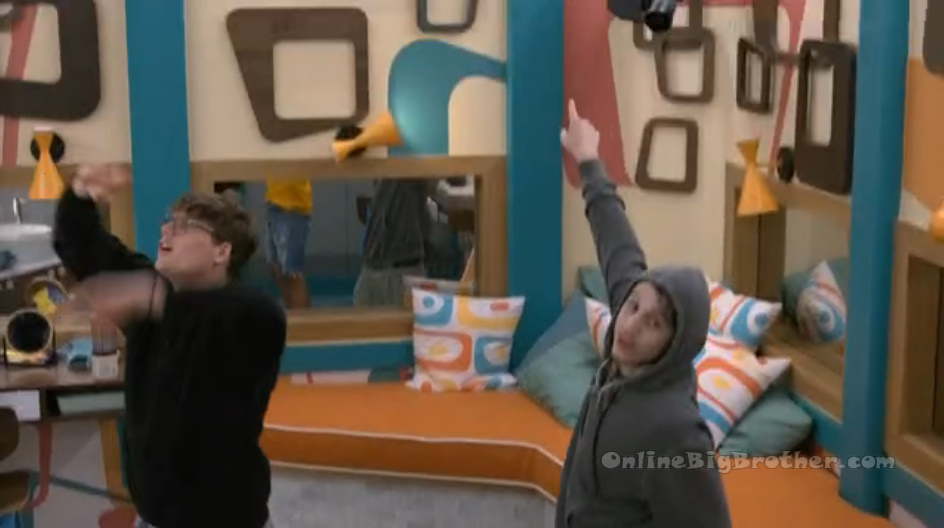 10:40pm All the house guests are hanging out. They were told that they will get the backyard tonight but that they should avoid the pool because it has too much chlorine in it.
11:09pm Storage room. Turner and Pooch tell Daniel that they confirmed they have the votes to vote out Taylor. Pooch – Jas and Nicole are very much up for it. I talked to Alyssa and.. Daniel – up for what?! Pooch – Taylor. And I don't know where your head is at, not forcing it. We had it confirmed 5, 6 but now its 8.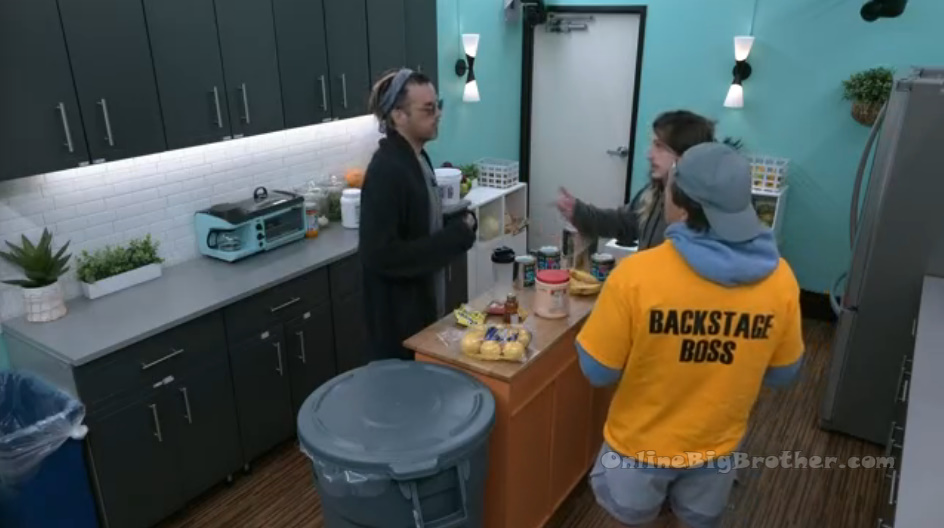 11:18pm The feeds show the backyard before it opens up for the house guests..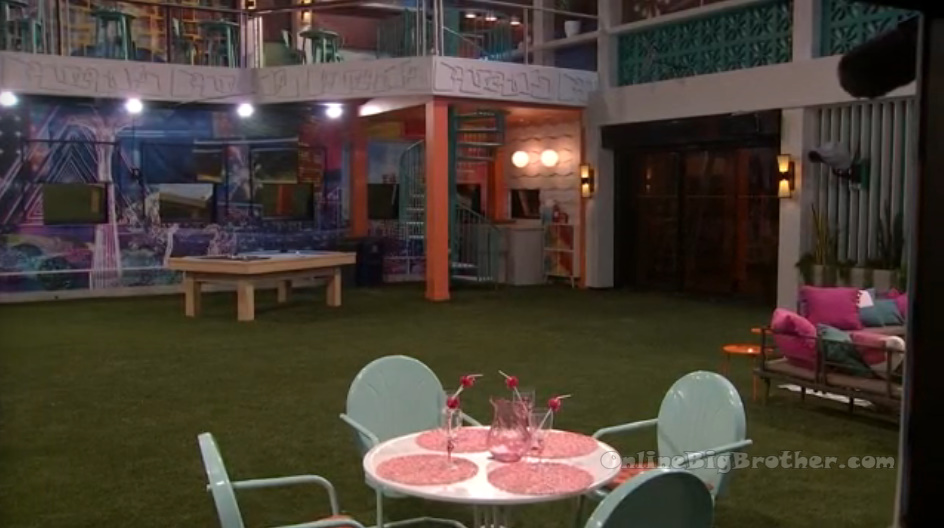 11:24pm Bedroom. Joe, Monte and Paloma.
Monte to Paloma – I've been trying to tell you this because this was the last straw for me with Taylor. I was in the bathroom with Taylor yesterday and I was just asking her yo what's game. And she starts talking bla bla bla and then she is like just to let you know Paloma.. I talked to her and she is going after the alpha males .. the big dogs in the house. Paloma – that's a lie. Monte – I knew it was bullsh*t. I looked at her today and.. Big Brother blocks the feeds. Paloma – it sucks when a lie that is so obvious is started. Monte – I don't know if she said it to anyone else, I just know she said it to me. Paloma – we need to backdoor Taylor. I know Daniel and I know what he is thinking. I am going to be so straight with you .. The PT Squad here.. he is going to put up Taylor or Indy.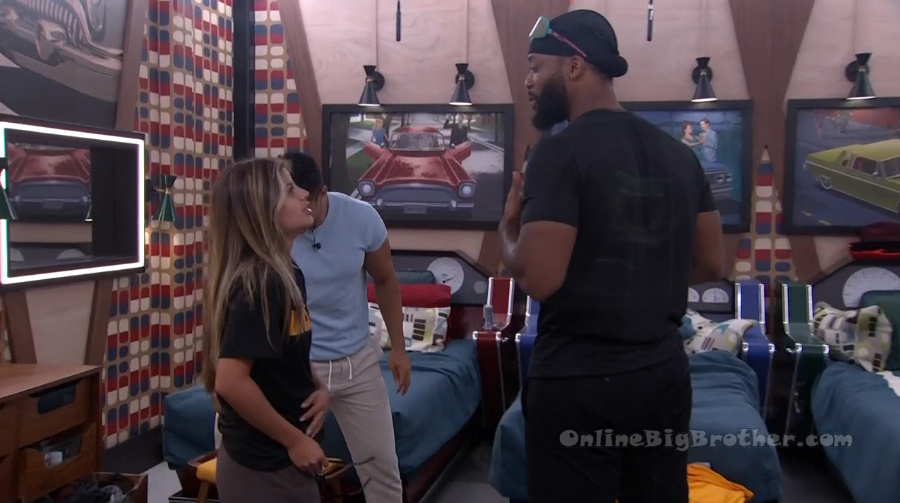 11:30pm The house guests finally notice that the backyard is open..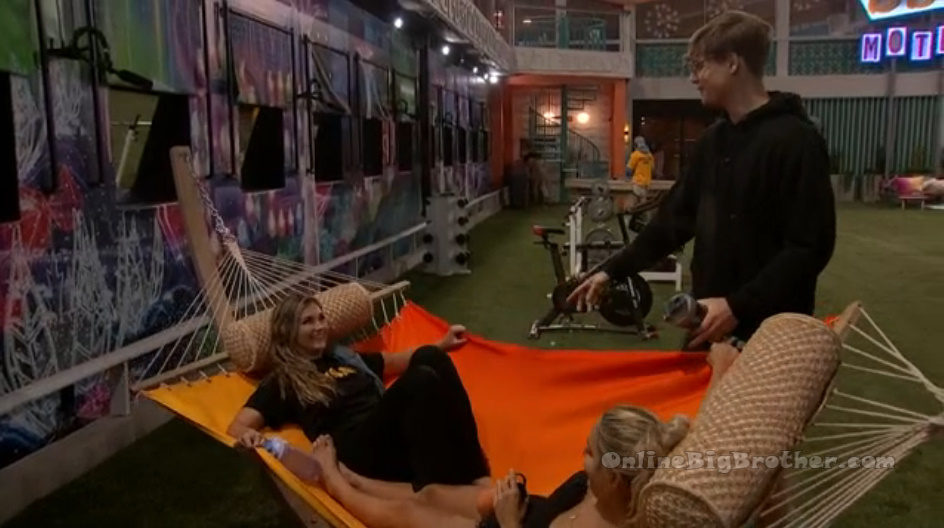 11:45pm – 11:48pm Bathroom. Alyssa and Paloma
Paloma – I literally have no energy left.. I need you guys to go up to bat for me. She (Taylor) is lying. But it just sucks when you're in this position and someone is trying to attack you. Alyssa – yeah she is trying to do anything she possibly can because she knows.. Paloma – it just sucks! Alyssa – but you can't even be put up so what is she doing? Alyssa – we knew from the beginning. Paloma – she's not a girls girl. She lacks self awareness. Alyssa – you have to go to Daniel with sad eyes. Paloma – I don't have the means to go talk to everyone tonight. I need to win HOH next. I honestly think that my social game is so high. Alyssa – in the end no one is going to believe her bullsh*t. Paloma – this (backstage) set our social game up so high. We're chillers dude! She solidified her fate. Bye TAYLOR! Alyssa – BYE TAYLOR!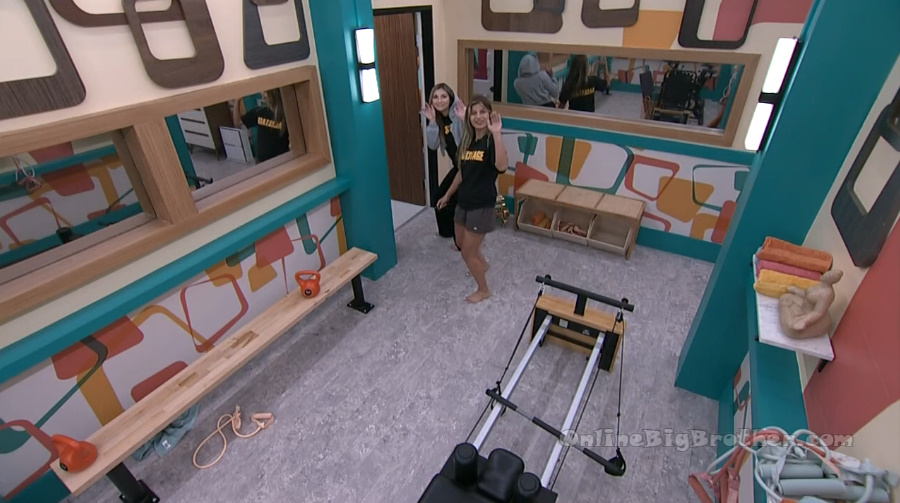 11:50pm Bathroom. Taylor is in the bathroom crying. (She was in the bathroom listening to Alyssa and Paloma bash her) Taylor – oh you're f**king kidding me!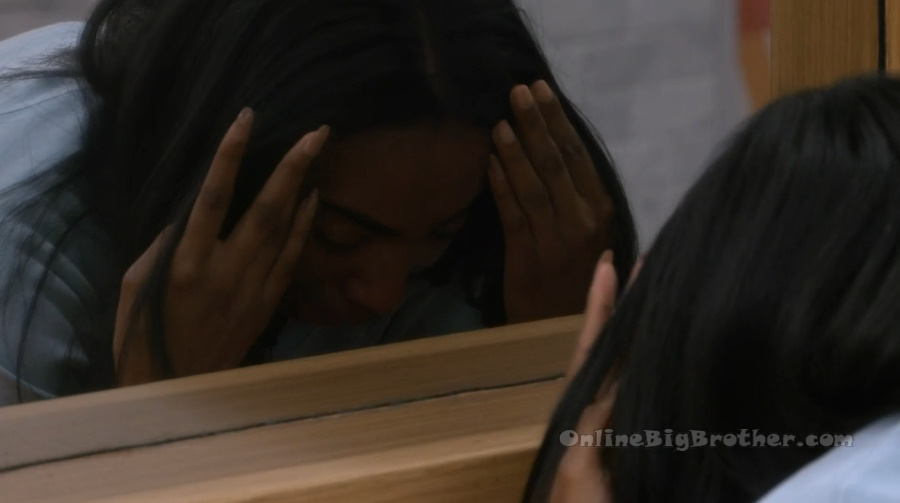 Girl's Girls (Paloma, Jasmine, Alyssa, Ameerah, Indy, Brittany)
Motley Crew (POOCH, Turner, Daniel)
The Oasis (POOCH, Turner, Daniel, Kyle, Monte, Joe)
MAMBA (Paloma, ALyssa, Ameerah, Monte, Kyle, Michael)
Burner (Turner, Brittany)
TOOCH (Turner and Pooch)
PSL (Paloma, ALyssa)
Rouge Rats (Nicole, Daniel)
Smurfs (Jasmine, Paloma, Kyle, Monte)