Jason uses the veto on himself. Morgan's only option for a replacement is Shelby.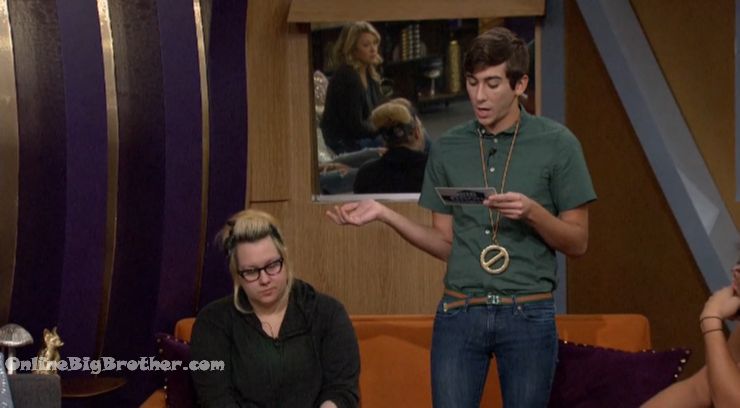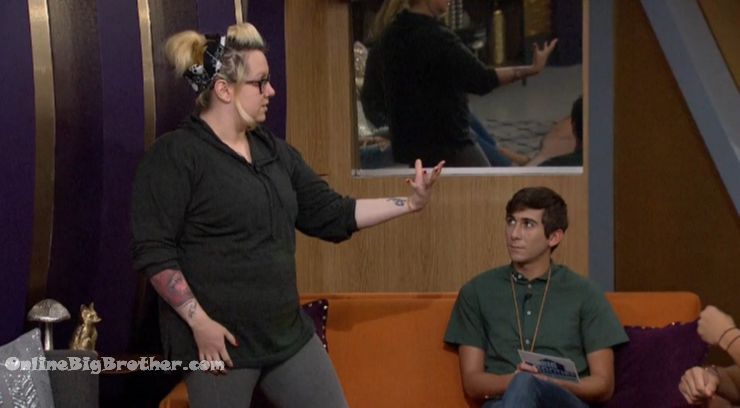 Justin and Jason will get to vote tomorrow on who they want to evict. (Hint it'll be Shelby)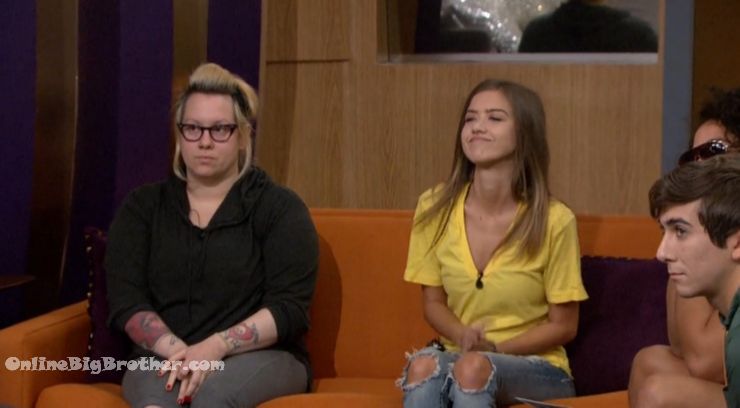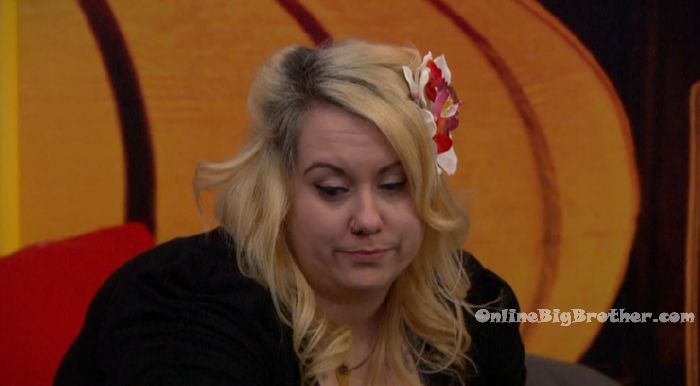 7:50pm – 9:20pm Bedroom – Kryssie and Justin are talking. Kryssie – I don't know how I'm supposed to go in there and act like I'm super happy. Justin – yeah .. Don't let this stress you out. Kryssie – if you catch him on the way out .. talk to him. Figure out what the f**k is going on. Justin – I'm going to talk to him but he is probably going to go back up there.. But there is nothing they could try to sell to him to make him turn. Kryssie – I don't think there is anything they could do. There is no reason to get rid of me .. I'm not a threat in any possible way. Justin – maybe its that he knows if its between me and him … that you would probably pick me. But if its me and him up there and what-cha-ma-call-it has to pick … you know maybe he could be trying to convince her to pick him over me. I have no idea.. and that's why is just important for us to win. Kryssie – if I'm even still here. Justin – why wouldn't you. It wouldn't make any sense for him to turn right now because .. what if he went over there it would be 3 against 1 if you're gone. Whereas it would be 3 of us against Morgan. It doesn't help that he's been saying he's going to vote you out this whole time. Kryssie – all week! Justin – I don't think he would do that. I think he is a much better person than that. I think this house just makes you extremely paranoid. Jason joins them. Jason hugs Kryssie. Jason – please don't be worried about anything. Kryssie says she's just crying about missing her boyfriend. They hang out and talk about random things.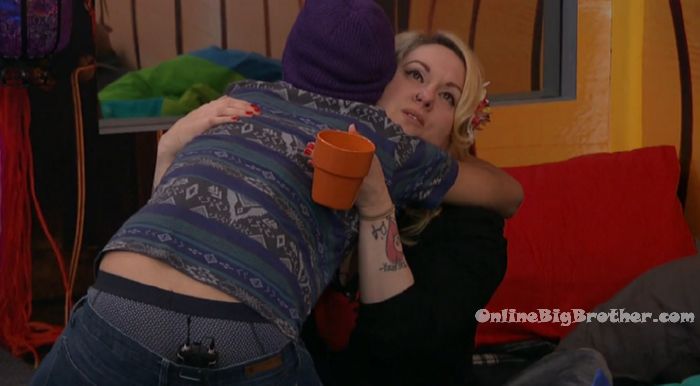 9:25pm – 10:30pm
They head to the kitchen to make quesadillas. They talk about the house guest memory wall photos. Jason – Whitney looks older in hers. Danielle looks older in hers. Justin – I look like I'm about to paint my portrait. Jason talks about figuring out that Liz and Julia were twins last season.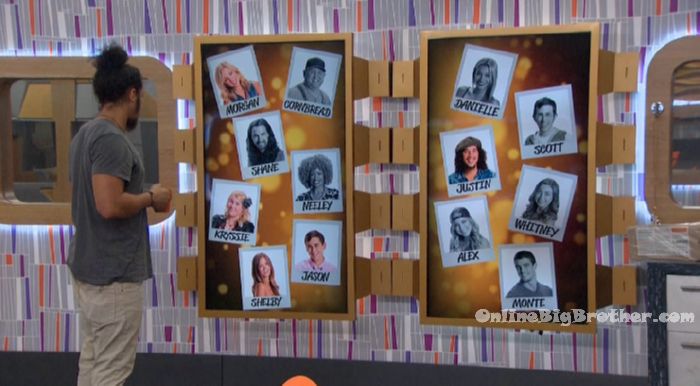 11pm Morgan and Shelby go to sleep..

11:52pm
Kryssie burps.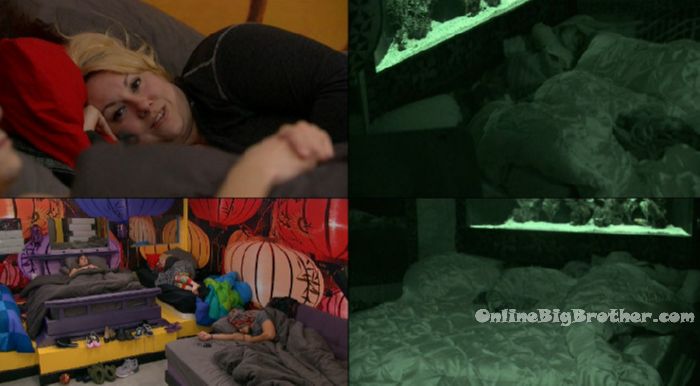 12:15am Jason and Kryssie talk about random things while laying in bed. Jason – I'm succeeding which I know is the best game move to do to stay loyal when I know that's like the dumbest thing I could do. I'm doing that to be a good person and he's still like well Jason's not a good person. Kryssie – he didn't say that. He just doesn't like the way you talk to me. I think its an honor thing … the fact that I'm a female and you talk to me like that. Jason – oh f**k off! That sh*t's dumb. I'm making decisions that are for his benefit and not mine. My benefit is to go with you and Morgan. And I'm going to f**king lose the game because I f**king bring him there. Kryssie – I don't think you're going to lose. Jason – and he's been chirping this whole time about me. Kryssie – no he hasn't. He said that to you today. Jason – why if he is so nice and deserving am I going to give him a chance. We could ensure we're first and second … instead we're playing for third because we're going to bring santa clause with us. Kryssie – do you really thing he would win? Jason – I wouldn't be surprised. Kryssie – that's not who America wants to win. Jason – well I hope they wouldn't respect that just like I hope they would respect the things we've done. That's why I wonder if we're making the wrong decision here. I want to win HOH so I don't have to make the decision because if I win the veto .. I don't know what the f**k I'm going to do. Kryssie – I think the game you've played is worlds different than the game he's played. Jason – there's going to be more naysayers that hate on my game. Jury members don't respect floaters …but America.. I don't know?! Justin joins them and they all talk about random things.