HOH: Kyland
HAVENOTS:
Nominations: Hannah and Tiffany
Power of Veto Players: Everyone
Power of Veto: ?
Power of Veto Ceremony: ?
Big Brother 23 Houseguest Rankings – – RANK THE HOUSEGUESTS –
View the previous day ranks on the – Ranking Grid
Big Brother Spoilers – Fun Times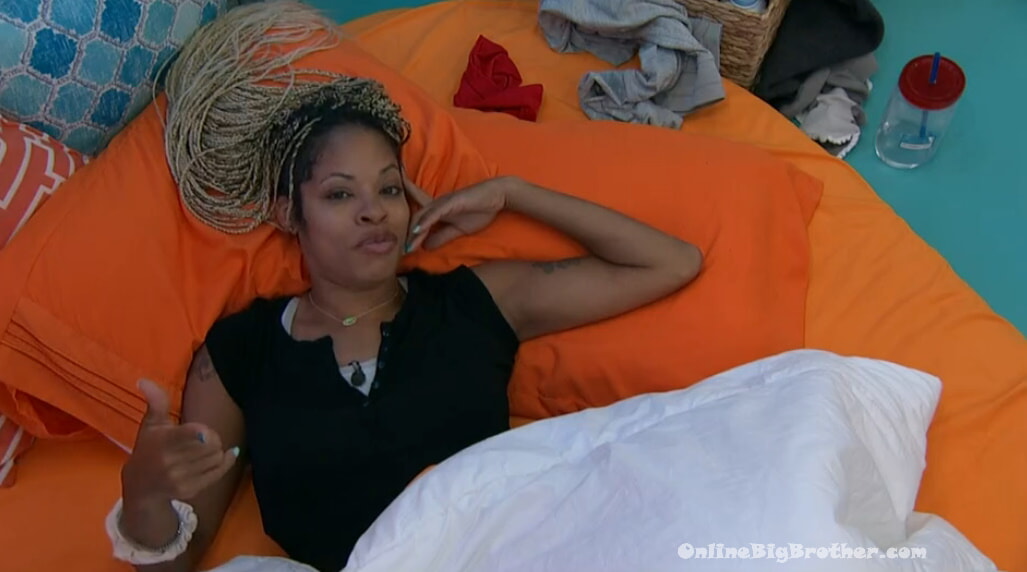 8:55 am Tiff to Camera
I knew it was inevitable I would end up on the block.. today I am optimistic.. today I need to win.. they want me out of here it was made very clear..
I don't know who to trust. I do feel like I can trust Azah. I do feel I can trust Hannah. The guys definitely want me out of here. So today I have to win and that is all I can focus on .. relaxing my nerves staying calm and having fun. There is no time to be emotional so I'm not.
The only thing I am emotional about is the fact is is my son's birthday.
I feel like DX I feel like I need to win. I probably need to win every competition I am eligible to play in because apparently, I am the number one target. Honesty I'm not mad. I knew I came in this house to play I've been wanting to play this game I've been playing this game. If they view me as a threat I must be playing. If it's not personal then it's game and if my game's a threat it is what it is. I would probably try to get me out too..
In this house, people tell you something and they do it different.. I know I'm guilty of it. Should I have trusted him or shouldn't I. I don't know how do you know?
I knew coming in you couldn't trust anybody but you have to be able to work with people
Honestly, there isn't anything major I would have changed about the way I played the game. Some minor tweaks like. I talked too much.
I am who I am, I played as me.
It makes me wonder. If we didn't have the six I probably would've been out so at this point it is what it is. I have to win the veto.
If I lose I lose.. that's life cause outside of this house life goes on and inside of this house life goes on. At this point of the game, I'm not thinking about anybody but me that is all everyone else's thinking about. Everyone now is thinking about themselves. It is officially an Individual game.
I got to safe me and I will. I've manifested a lot of things in my life and in this house, I can manifest a win.
Tiff – there's a son I need to provide for. There is a grand prize that will guarantee I will be able to do something for him and Me. Hopefully, for me there are opportunities after this. (Whitney is seeking her fame on Onlyfans)
Tiff – hopefully I have not embarrassed my family or myself. I've had moments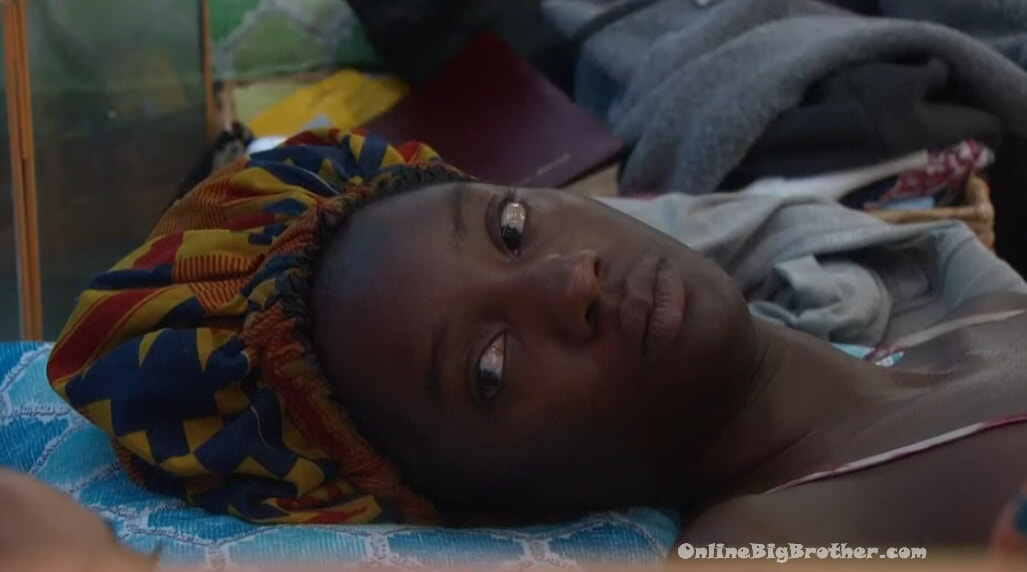 9:10 am Tiff and Azah
Tiffany – one of the questions I ask myself is. should I have always trusted him or should I have never trusted him
Tiff – there was a point I did and there was a point I doubted. There was a point I felt guilty that I doubted and tried
Tiff – there was a point I didn't then there as a point I tried
Tiff says X and Kyland are working together "there is no way they are not working together. They want two of the guys in the final 2. I'm not mad about that"
Tiff adds that the three guys have something together they might take Azah but they might make it all guys in the end.
Tiff – I'm like Damn Ky I could have gotten a 5th places prize I would have been happy with that..
Tiff – there's still the veto
Azah – at this point I'm happy with whatever. There are people whose stories resonates with me I would be happy if they won. I felt that way with you and BIGD.
Tiff – I don't know if they will take him to the end. The fact that Kyland didn't put up X they hvae something. X will win this game. F** it I'll vote for X
Tiff – We all deserve the money but if X gets to final 2 and we're talking about WHO played the game and he's still here? X played the hell outta this game. I don't see a flaw in his game. Not one. I can't say he lied.. he kept his mouth shut he's very disciplined he pissed nobody off. There is nobody in jury that disliked him. He is playing a better game than anybody in this house"
Tiff – if he makes it to final 2 he gets my vote.
Tiff X played the better game than anybody in this house right now
Tiff – ky's mission is two black men sitting in the final 2 I ain't mad I wanted it to be two of us.. I won't be surprised if I leave this house and I see those two in the final 2.
Tif f- I don't know if Ky is keeping him here for a shield..
Tiff – it'll be me and then Ky .. unless they keep winning back to back and carry BIGD to three. WHo knows X might take BIGD and tell Ky thank you
Tiff – if you win HOH what do you do?
Azah – Ky has got to go. I don't know why he spared me this week
Tiff – at this point I don't know if you can get him outs.. You need the votes.
Tiff says if hannah gets evicted and she goes on to win HOH she would put Ky up against BIGD. "I know you both don't vote for Ky" (X/Azah)
Tiff says she's not sure if it was her winning that HOH or Ky knowing that they were disconnected. "He doubted me I doubted him.."
Tiff says she doubted Tiff and Ky doubted her. "X is the most consistent he trusts him the most he trust me the least because he knows I don't fully trust him"
Tiff – he trusts you next because you are very honest with how you feel. He trusts Hannah probably after that he feels she would choose me. So when he looked at his options which way does he go? The last thing he said in his speech it's not about who he can beat its about who will be hardest for him to work with. that's me I know that.
Tiff – I'm not confused at all that he feels out of the five remaining the most challenging for him to work with.. I said since day one I am a challenge PERIOD
Tiffany called to the Diary Room
Tiff – I am not for everybody..
Azah – nobody is
Tiff – I know what my family would tell me they're also not in this house playing this game
As tiffany walks away "you should have been nicer to that young man you talking about him all the time."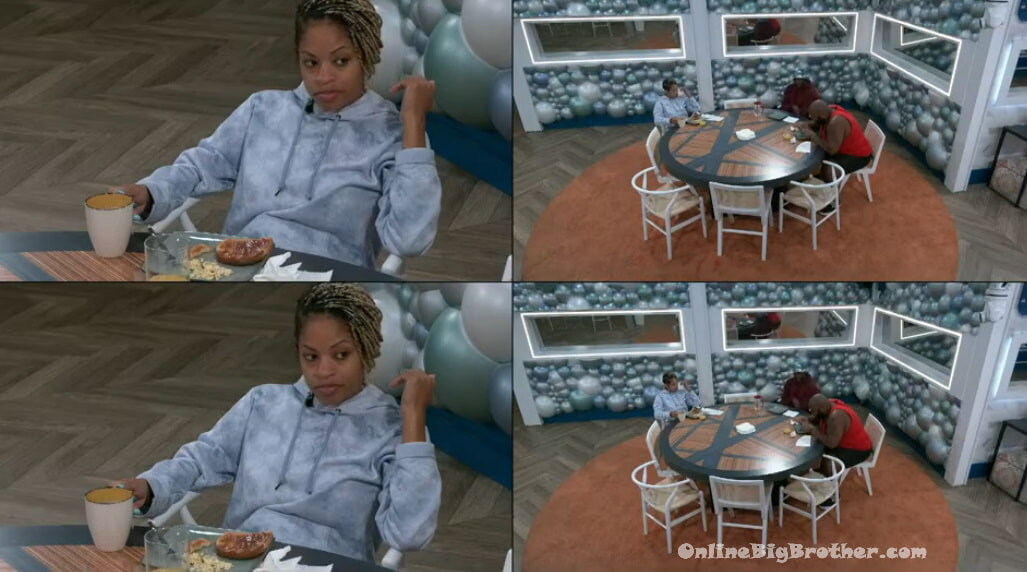 10:24 am Chit chat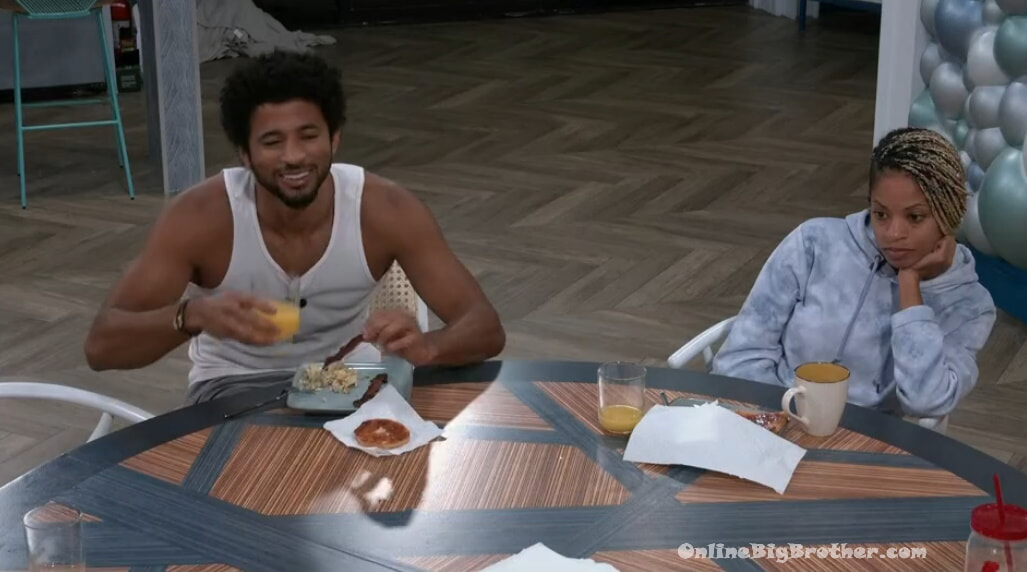 10:43 AM Kyland joins in in the chit chat about past events in the house. Sarah Beth and how deadly she woud been in the double.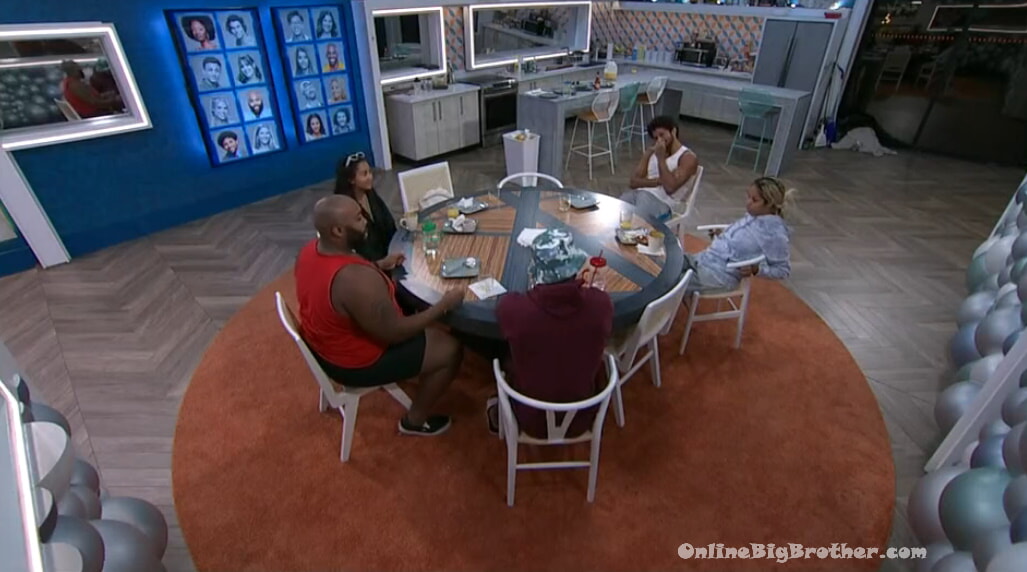 Tiff explains to them how Claire took the news about going up. Claire was very understanding and good about the whole situation. "We cried and we laughed.. "
Cookout sharing stories about the season. Lots of laughs at Claire's campaigning attempts.
11:16 am They're talking about whether or not Ky will hook up with SB after the season is over. Ky is saying no. "I think ahh she's not a casual person"
X says it could happen as long as SB isn't in a relationship
They start making bets. DF and Hannah both say Ky will hook up. X says only if she's not in a relationship.
They argue over a time frame. 2 years.
DF bets Ky 1000 that Ky will hook up with SB within two years of the show's ending.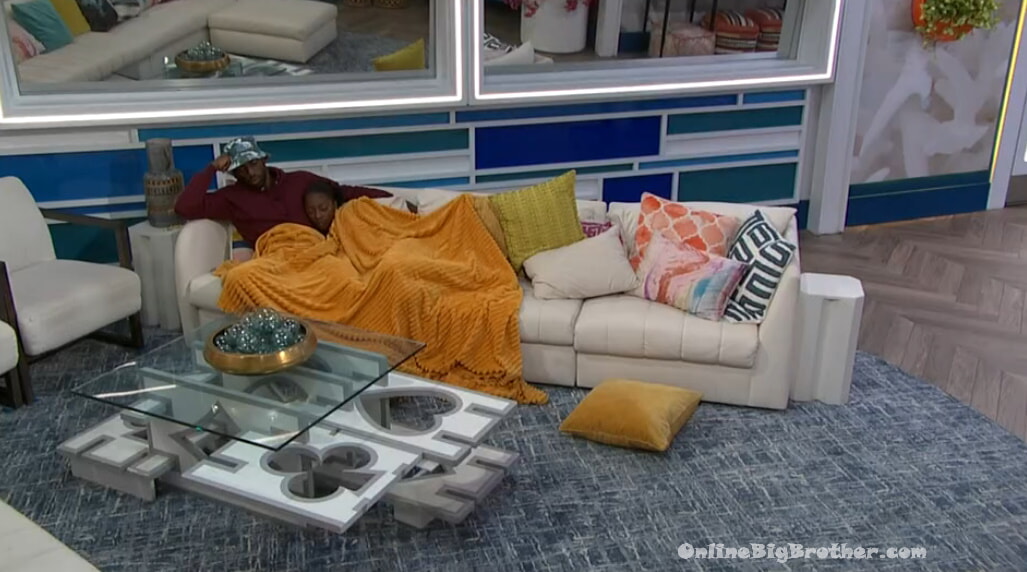 11:57 am waiting
12:37pm Big Brother blocks the feeds for the power of veto competition.. It will likely be a long one as its supposed to be the BB Comics individual comp.
2:23pm Still blocked.
3:06pm Still nothing..
4:35pm Still kittens..
5:30pm No feeds for you..
Please consider a donation to keep the madness going.