HOH: Kyland
HAVENOTS:
Nominations: Hannah and Tiffany
Power of Veto Players: ?
Power of Veto: ?
Power of Veto Ceremony: ?
Big Brother 23 Houseguest Rankings – – RANK THE HOUSEGUESTS –
View the previous day ranks on the – Ranking Grid
Big Brother Spoilers – Fun Times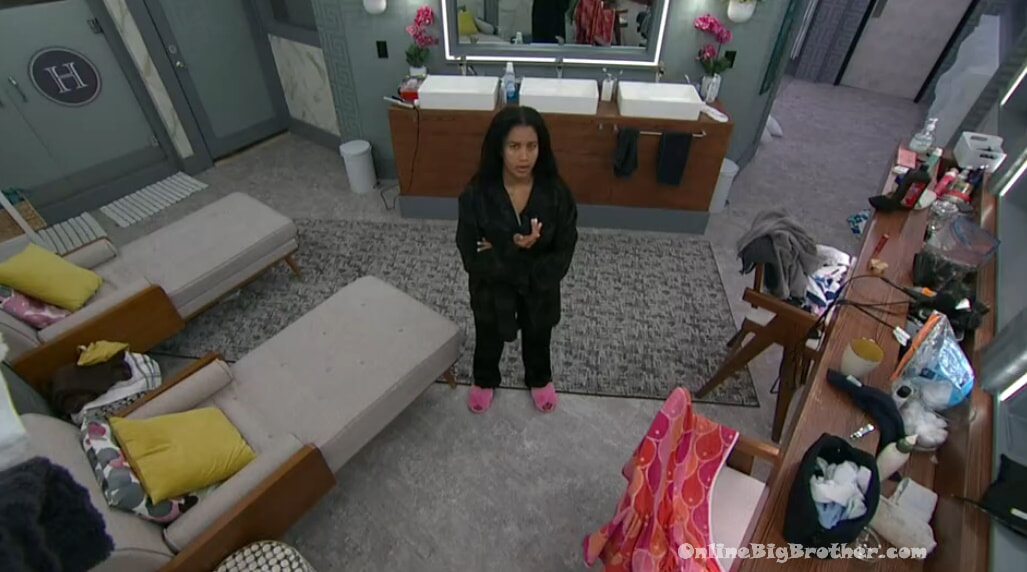 12:18 am Hannah
I'm so frustrated .. Kyland, Tiffany and I at least I was under the impression we had a final 3 deal What does Kyland end up doing? He nominates two people that were supposed to be working with him which tells me that he must have deals with someone else AKA the guys of the season.. Xavier and BIGD. I do feel defeated in the sense that I don't see a path to the end if that's the case. I mean I would have to win this upcoming veto and win HOH next week and split up the guys. That way it's two girls and two guys in final 4. IF Azah wins tomorrow maybe we can convince Azah to use the veto on me and maybe we can convince Kyland to put up Xavier. That way me and Azah can vote Xavier out. It would be Kyland, Azah, BIGD, Me, and Tiff.. then we send Kyland home and BOOM it's the four of us final 4. I need to work on my relationship with Azah.. I need to I need to. Maybe if I can form a final 2 deal with BIGD .. I need to make X feel good about me. If I can make a final 3 with myself BIGD and Azah and a final 2 with myself and Azah and myself and KY and make X feel good about me as well. That way I'm covered from all angles. I need to win HOH next week If I don't they are going to pick me off. It'll be the three guys in final 3.
Azah needs to win.. no I need to win.. if I don't win then I won't mind Azah winning. Then we control the votes to send whoever is sitting next to Tiffany home. If Tiffany wins than Azah goes up and X and BIGD will vote me out. Tiff can't win. If Ky wins maybe he keeps noms the same. IF BIGD wins he leaves noms the same. IF it's me and Tiff I need to separate myself from her and make these people believe that Tiffany won't be campaigning for me in jury and that she isn't undeniably loyal to me
(Alyssa must have felt frustrated with her Final 3-2 with Hannah)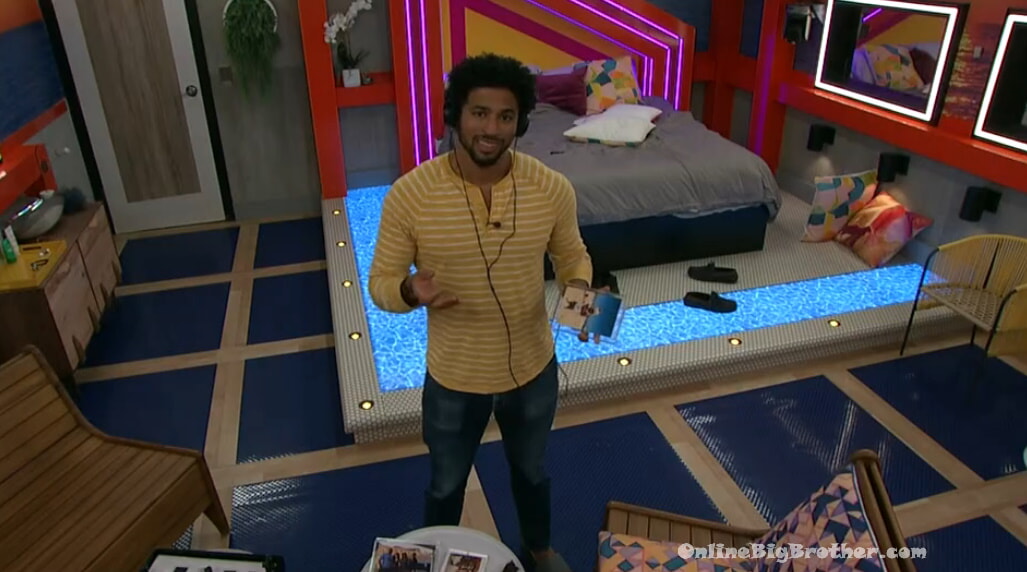 12:49 am Kyland
"I was stoked getting a letter from you after my third HOH.. maybe a bad decision we'll find out"
"Yeah I .. I'm honoured to be asked to be your best man.. of course. I'm so excited for the opportunity."
"I need to go bed right now I have a veto tomorrow, and an important one. I love you man"
"It's pretty significant for the cookout to make it to the final six unscathed.. we are arguably the most successful alliance in this game and now we're going to have our first African American winner in the game. after 23 seasons.. it's kinda a big deal. I am honoured to be part of it. Everyone plays a roll everyone deserves credit. I'm so thankful for this squad. I am thankful for everyone in the house. If I could have played this game different I would have but unfortunately, you know I saw an opportunity to do something that was bigger than my individual game umm and my individual desire.. I saw an opportunity to provide.. to be a part of uhh.. Creating a… decently visible representation of Black excellence I know how important representation is. I think that you know and appreciate that in our relationship.
Blood sweat and tears went into this. and now we're here. so .. uhh.. now I'm HOH i'm final 5. I just hope that final 5 becomes final 2. Tomorrow will be a move that could make the difference.
I do see myself sitting in those final 2 chairs.
Feeds flip to the jokers laying in their beds.. When we're back.
Ky – I'm so thankful to be here right now.
Ky goes on about how much he loves Hananh and Tiffany.
Ky – I don't love certain things tiffany has done in this game. It sucks by her own admission she has been distrustful of me in this game at moments when she should not have been. Her mistake was not trusting me her mistake was when she stopped trusting me. There was moments when I had her back throughout this game. I had always pictured us going to the end together along with Xavier. The three of us. I'm a crazy person that wants to go to the end with the best. Now it seems like that is not possible so I make this move. It's strategic it's not personal. It's my best option to accomplish my individual goals and you know.. uhh.. hopefully, you see that I have defended her consistently and been loyal to her even though she just admitted to be she hasn't been loyal to me.
Ky – He has not defended me, She has not looked out for me and had my back the same way I have had hers. So .. I Did not come to this decision lightly and uh.. it is not easy this is the hardest thing I've done so far. I wish things could have played out differently. She is amazing. She could win this veto and send me out next week. Or I win the veto we work out a deal and make it to the end. Anything can happen. Expect the unexpected..
Feeds cut (Grod yelling at him to scrub that thought from his mind)
When we're back Kyland is saying he feels like he and Xavier didn't play a game like Derrick and Cody they played their own game.
Ky – I love the way he plays the game and I respect him as a competitor .. and I respect everyone else as the competitors.. right now everyone is telling me he's the best you know.. I can't help myself I need to sit down next to him because I want to compete against the best in this house.. in this game. and Uhh it's not because I have an ego that makes me want to be the best amongst people in the house I just want to be the best me the only way to be the best me is to put myself in a situation that can truly unlock my potential.. that Goku mentality I'll let you charge up transform.. power up whatever because how can I reach my potential if I don't let you if I don't face you at your best. If I don't face the best and face them at their best. I don't know if I can beat him I don't know If I can beat a lot of people to be honest. I don't know it I can make it to final 2. But I believe that I can so Uhh.. this week I am looking at scenarios if Nominations stay the same I know that some people will want to take a shot at Hannah next week. I don't know if I do personally. She's going to be the third-best competitor in the house if Tiffany leaves. I love her to come to the end with us but I can't make choices for the whole house. I will defend her the best I can while honouring the agreements I have.
Kyland says he doesn't even need to win the veto if Tiffany wins it he's worked through scenarios where they still move forward together with Xavier.
Kyland – I could be wrong and I could be wrong about Xavier..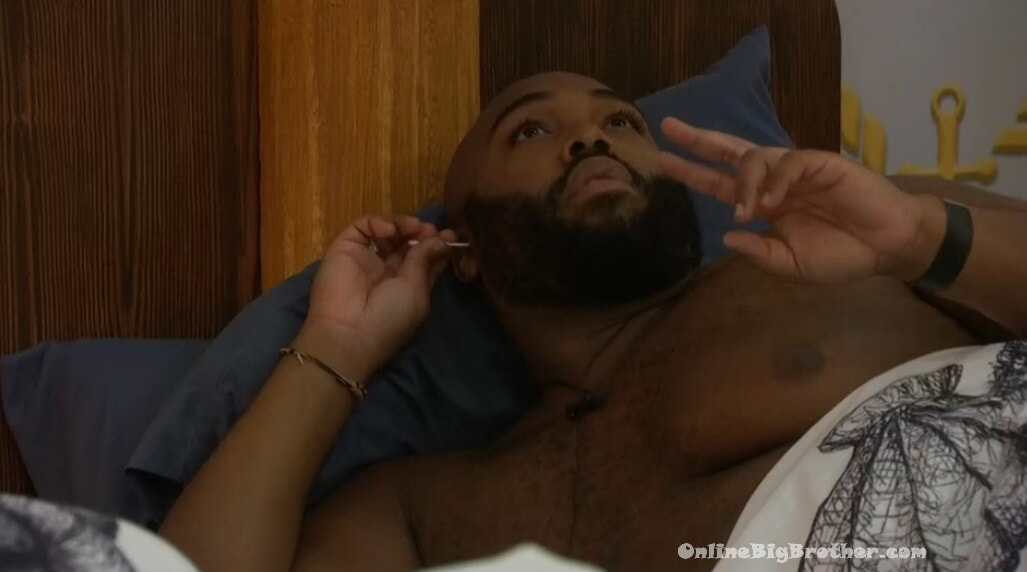 12:23 am Jokers talking game
Azah says she's trusting Kyland right now "He didn't put me up"
DF points out if she didn't "make those commitments" with Kyland she would have gone up
Azah – that was god man
DF – that was my black a$$ telling you to fix it
Azah – did you set that up?
DF – I told him he needs to fix his relationship with you and I told you to be open-minded and this is why..
Azah – if tiffany comes down who goes up?
DF – just a pawn.. I dunno that's his decision it could be you but it's not you going home. That is why we have to go for Veto. I'm not changing it if I win.
DF – I can't afford for me to use the veto and for ou to go up
Azah – mmmmhmmm
Azah – did he talk to you about Final 4
DF – he mentioned that but he still hasn't told me who the fourth person is
Azah – right now he says X but do you think he would really do that?
DF – possible
DF – we're in the middle. If Hannah wins she'll put up those two
Azah – that's going to be hard for me.
DF – that is my worst fear. one of them win Veto. That's a lot for me.
Azah – if X wins next week who do you think he puts up?
DF – Hannah and me or Hannah, You or Hannah and Ky
Azah – I hope you all don't have a final 3
DF – we don't but you need to look at it this way people can have agreements you know. I can sit there and say YEAH I'm cool with Ky and say YEAH I'm cool with X and I'm COOL with Azah. Whoever wins is going to pick who goes up.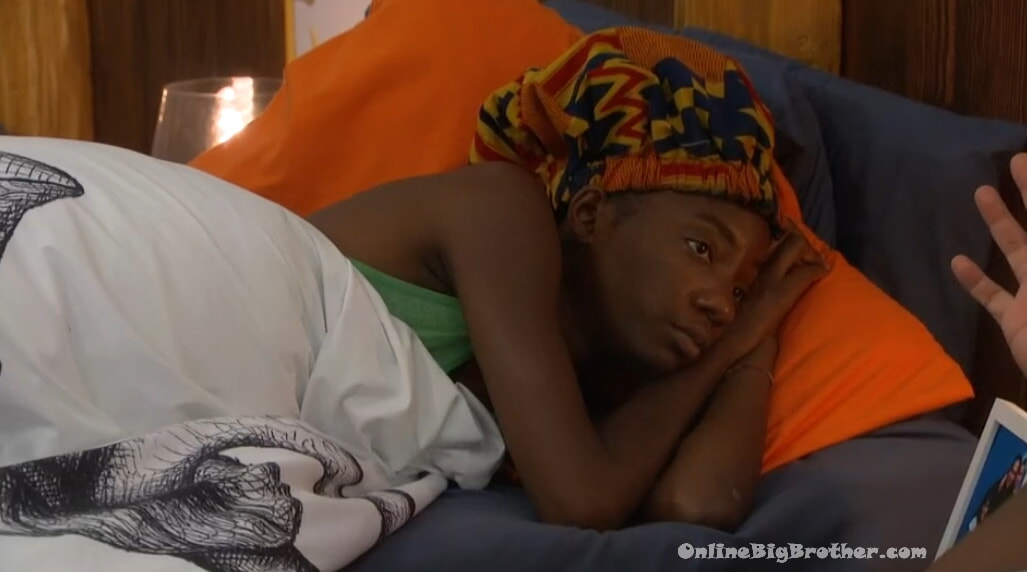 Azah best case is X wins HOH
DF – we don't know what he's going to do.. we don't know.. at this point we only try..
Azah – the reason for me is I told Ky that whoever he's on the block next week I would vote for him. If Hannah is HOH and it's Ky and X thats hard.. you get what I'm saying?
DF -that's why we have to pray they never end up on the block toegether
DF – here is my worst fear.. being down to three. You're up with X I made a deal with X since the beginning. My morals because of how much you and me have been close to each other.. I'll sit there and be like I'm going to take Azah to the end.
DF says if she made a deal with someone and he's sitting next to that person in the final 3 and she send DF he can't be upset with her. "Do what you have to do.. that's what I'm getting at"
Azah says X wants to do a four with them and both X and Ky want to take the jokers to 3.
Azah – here's my thing. If I don't win I want you to win so I'm never going to.. When I made that final 3 with you guys what did I tell you? I'm okay with third.. it's not that I'm okay with third to settle with for something. I respect covenants and commitments that have been made with him.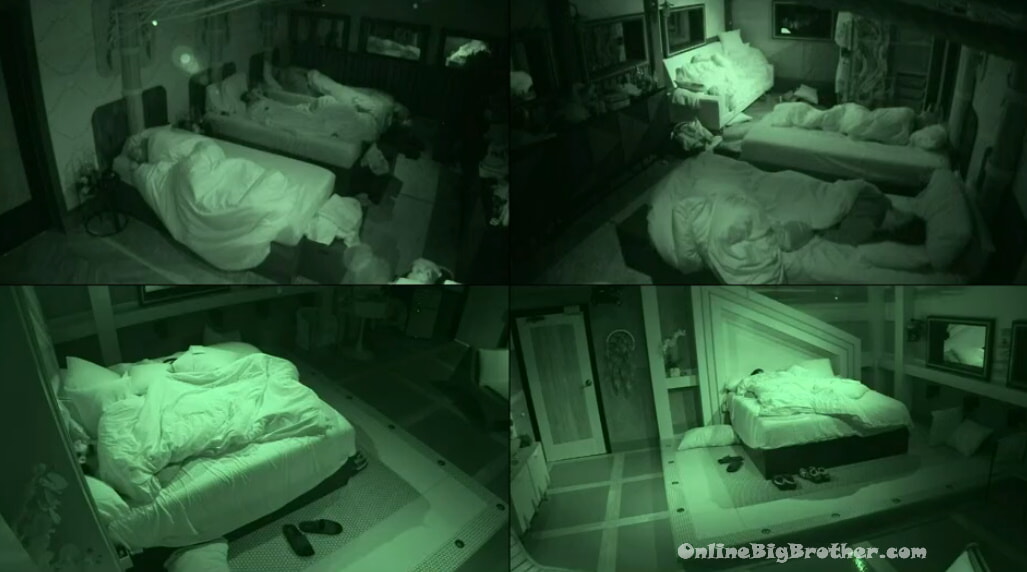 1:22 am Everyone sleeping.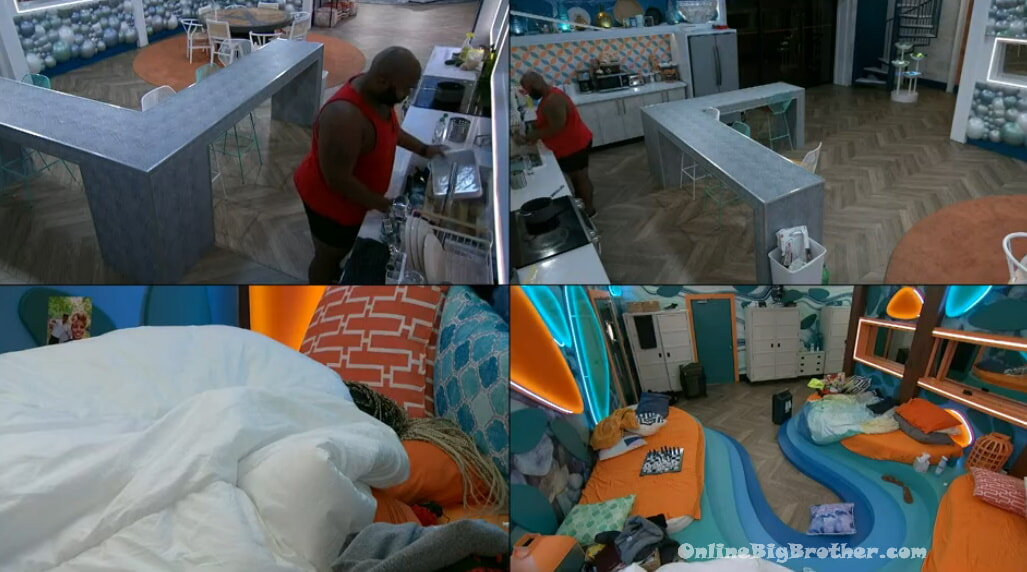 8:24 am Getting up
Please consider a donation to keep the madness going.