Head of Household Winner Is Ty.
Power of Veto winner is Tera.
Kiefer or Breydon will be evicted next. It's sounding like it will be Kiefer.
Rumour on the BB streets says feeds go down for the season today at 1pm.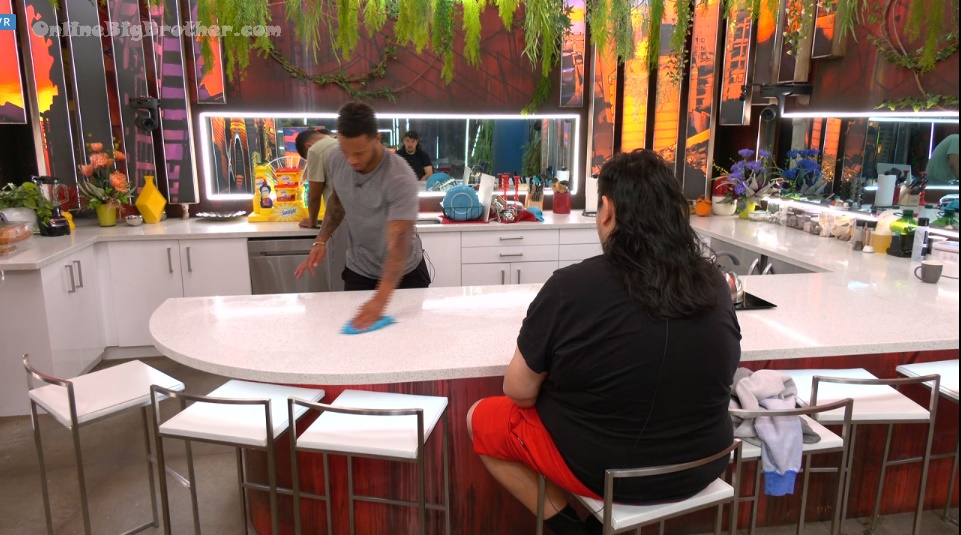 4:00 am Kitchen Chit chat about the time and the competition.
Ty – Tera's a tiger and she defeated Jed… she's dangerous
Big Brother tells them to go to sleep
Breydon – they really want us going
Kiefer heads to bed.
They start talking about the veto contest
Ty says he's having a "Hard day"
Brey – YOU are having a bad day
Ty – it's not the same that you guys are going through but it's frustrating non the less..
Ty – I'm just reflecting could I have done better..
Breydo – exactly
Ty – Hwat could you have done better?
Breydon – If I memorized the numbers
Ty agrees adds that "Coming back" took 20 mins"
Breydon – I knew it would take a long time
Ty – to build it?
Feeds cut

When we're back BReydon and Ty are in the HOH
Ty – Oh my gosh she could win the F***ing game
Breydon – Ohh 100%
Ty – I know she's not beating me at the podium.. it's this puzzle nonsense.. If she on her own she's scary on her own
Ty says if he's standing answering Trivia on the game he knows everything
Breydon says she told him she's taking Breydon and voting out Keifer.
Breydon mentions seeing Tera in the bathroom and she let out a big Sigh "I was crying because now I have to make the decision"
Ty – I told her that I don't envy you Tera
Breydon – she was like I hate that I have to decide between you or Kief
Breydon – I was like .. girl he literally wanted to vote you out 2 weeks ago
Ty – yeah.. her winning wasn't the worst-case scenario.. she was the medium case
Ty – she killed us.. she beat us by 15 minutes
Breydon says if Tera's a$$ is about to go home she always wins.
Breydon – think about Jed's think about this one? in her mind she was like I win this or I go home
Ty – it's because she doesn't care.. She doesn't even need the money she wants to redo her driveway
Breydon – shut up
Ty – oh my god we'll all be salty if she wins.. Happy for her but a little salty
Breydon – I'll be salty if she cuts me … I'll be like that's crazy Tera
Ty – yeah that would be ridiculous
Breydoin – I have no idea what she is going to do
Ty – me neither
Ty – I'll say if you got Kief you can claim the biggest move in the game
breydon – ohh of course
Ty – If you don't then you are standing next to him I don't see how yo win
Breydon – I don't see how any of us win against Kiefer..
Ty – If you bring him you must win and you still can't stand next to him.. if you bring Breydon yo don't have to worry about Kief you can win against any of us if you win 9Final HOH)
Breydon – I don't see the CONS for her bringing me
They agree Tera can't beat Kiefer in the end because Keifer is claiming all her moves
Ty – he has the Jury convinced he is a mastermind he'll claim everyone's moves
Breydon – ohh yeah
Ty questions if Keifer would have burned BReydon if he won Veto.
Breydon thinks he would. Keifer would have taken Tera "He wants to win"
They go over scenarios of who takes whom to the finals. Kiefer thinks Breydon would take Ty but he thinks Tera will take Kiefer, "In his mind"
Ty – he's trying to play on my heart strings saying if you are there you have to take me bro
Ty – he's like YO she's a mom
Breydon – he's been doing that to me to.. saying she just needs the money to redo her basement and get a new fence.. She doesn't need it Breydon we need it.
Ty laughs "We do need it"
Ty – the problem is?
Breydon – she wont the veto
Ty – yeah and I'm over getting finessed by Kiefer
Breydon – same
Ty – if he finesses to final 3.. HOLY.. he's been finessing the entire game. He's like that friend you go out to eat with that never pays and is always eating.. no one says nothing to them
Breydon – someone always..
Ty – that friend.. comes out doesn't buy a round of drinks and nobody says nothing to them cause they're cool and funny (HUH cool, funny, Kiefer?)
Breydon – cause they're chill people like having him around.. that's Kiefer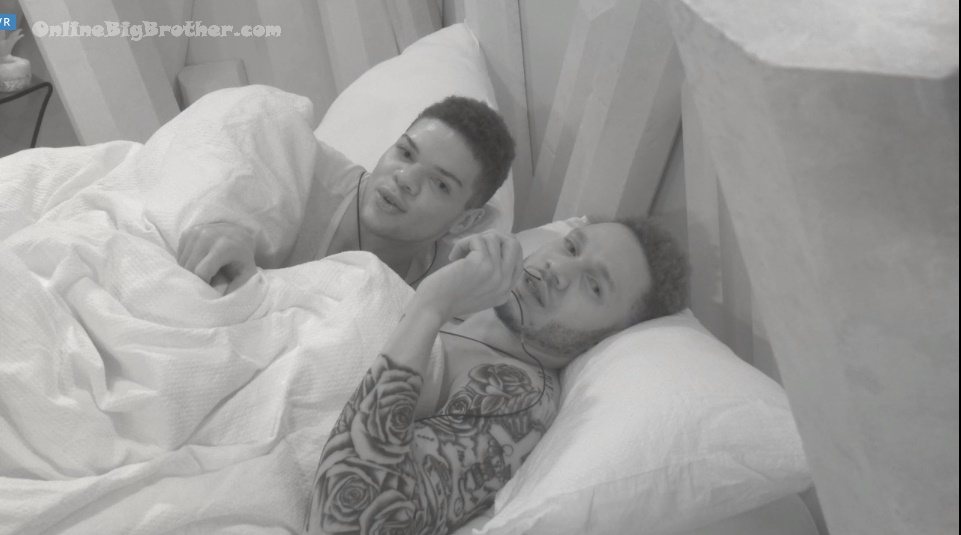 Breydon and Ty in bed
Ty – She smoked us
Camera zooms in
Breydon – Mind your business Big Brother.
Breydon says he doesn't know what Tera will do.
They talk about Kiefer winning at least one of the 3 final HOH comps.
Breydon looks at the Cmaer "He Big Bro.. you going to whip these cameras around or what?"
Feeds cut..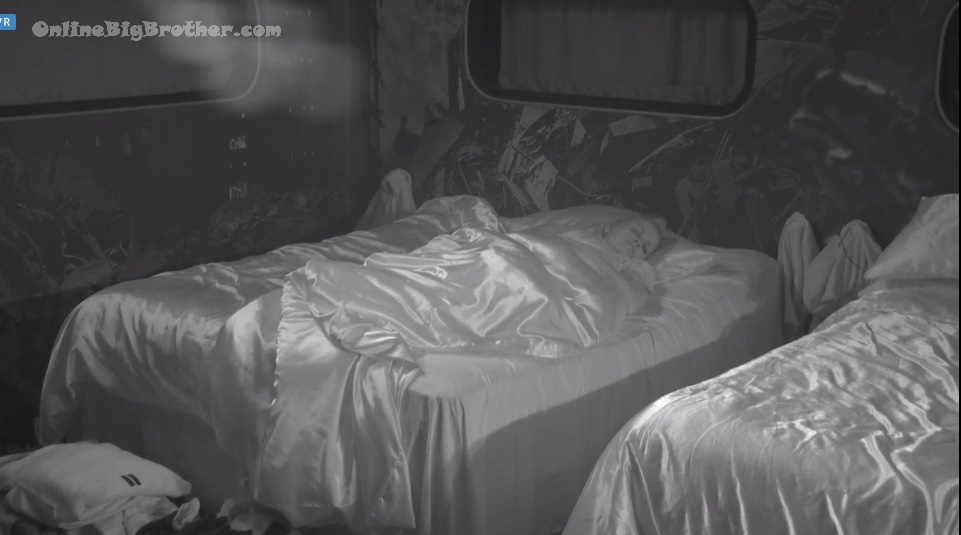 when we're back it's Tera in the room..
11:26 am Tera in the room sleeping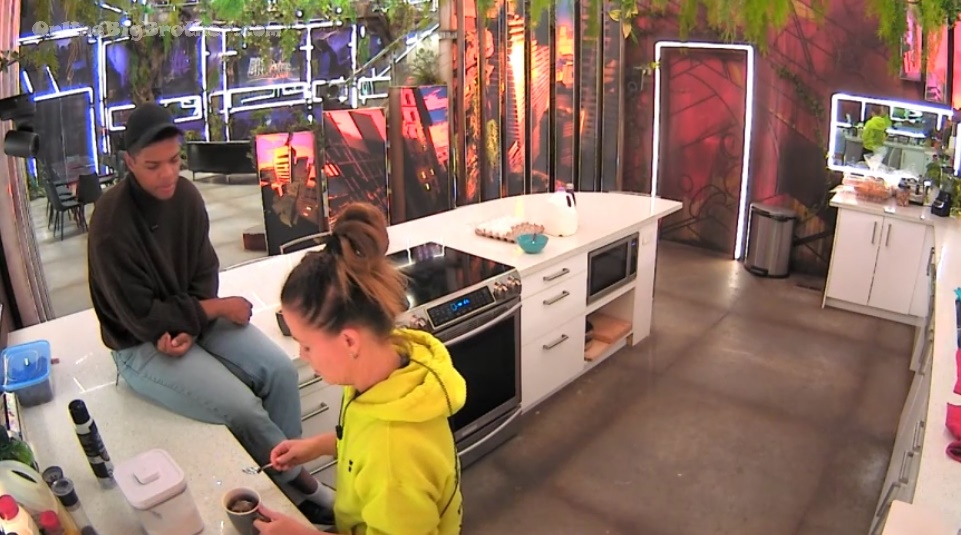 11:00 am Breydon and Tera
Tera – did Keifer say anything before bed
Breydon – no, I think he's pretty confident you will use it on him err.. keeping him
Breydon – it's the way he's always been..
Tera – what are your convos like with Ty
Breydon – in what sense?
T – do you think Ty would have wanted Kiefer out or do you think I was his target?
Breydon – I don't know I think he would actually wanted Keifer out personally but I don't 100% know
Tera says Beth told her Both Breydon and Kiefer have final twos with Ty
Breydon – that is what she kept saying to me when she was pitching for Kiefer to go up.. She was like BReydon everyone has a final 2 with Keifer
Tera – would you cut Ty?
Breydon – Absolutely, that's what I said yesterday
Tera – I don't know what Ty would do I feel he will cut me and take you
Breydon – really?
Tera – I think so
Breydon – I don't know
Tera – he'll be hard to beat
Tera mentions how close Ty and Breydon are.
Breydon says it's more personal than game he's been playing the game with Tera all along being with Ty is new.
Breydon says Keifer will want to take Ty because they've been playing the game for so long
Tera agrees says Keifer has shown her he's closer to Ty than her.
Tera asks who's idea was it during the fake double to take her out. Breydon says it was both Keifer and Ty.
Tera – it's tough though he's like the other parent in the house.. it's life-changing money for him too but on the other hand… I want to walk away with some money too. Do you know what I mean?
Breydon – it's a full-circle moment after fighting tooth and nail every week.
Breydon points out how Kiefer is claiming all the moves in the game as his own.
Tera – Jed was adamant to me that Kiefer didn't want a girl to win. Beth said that Jed told her that too. She said I don't know if it's true but Jed told me.. Beth told me a TON.
Tera – she's like I got nothing to lose.. she told me all her acronyms too
Breydon – did that help?
Tera – no.. it was funny though.. that's not how I remember things
Tera says she thinks Tina was a sunsetter
Breydon – I do too.. 100%
Tera – Kiefer didn't tell me that because Tina would vote for him if it was me and him
Breydon – ohh 100%
Tera – Honestly the only thing that give me hesitation is will you cut Ty.
Breydon – yes, I told you yesterday even before you won
Tera – I don't underestimate him.
Tera thinks Ty threw the veto "He had 31 minutes he came in dead last"
Tera – Ty is Rainman with numbers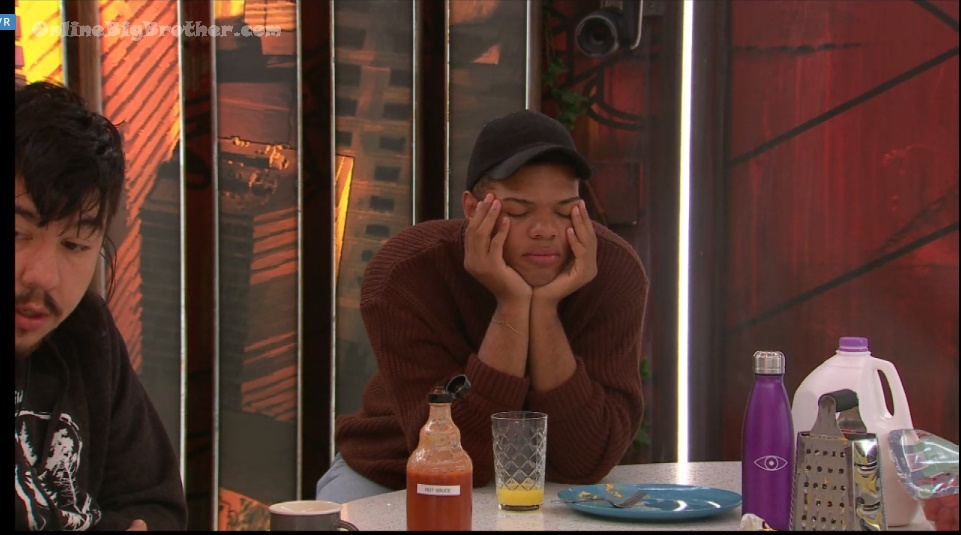 12:00 pm one hour to go..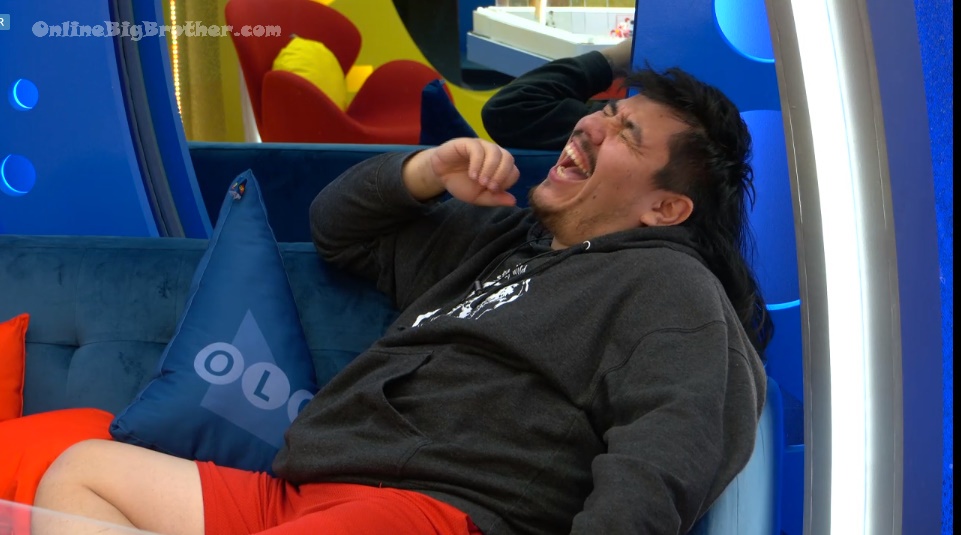 12:30 pm chit chat..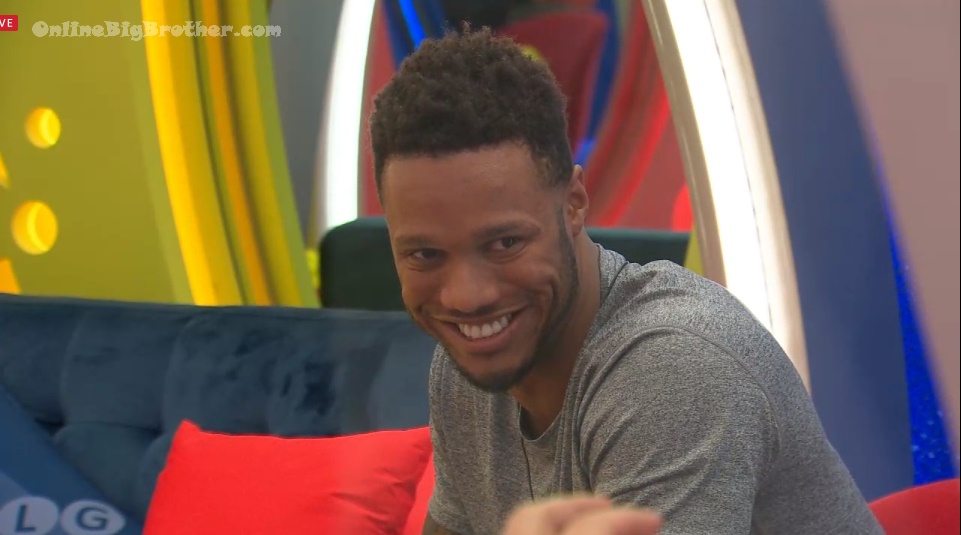 12:58 pm
Kiefer – Tera hasn't told me anything.. I think she keeps me.. I don't want to push too hard though
Kiefer – I wish it was my decision. I feel the game slipping away from me
Ty – what she does I don't know. All I know I have to focus on the final comp.
Kiefer says Breydon and Ty are "so tight" and have been "all-season" he's going to pitch that to Tera. Breydon will take Ty not Tera.
They go back and forth about whether or not Breydon takes Ty or Tera to the end.
Kiefer says Tera's resume is better than Ty's Brey's and his. Goes on about how any of them would be dumb to take Tera.
Kiefer- If I take her I MIGHT lose the f**Ing game Tychon.. her story is almost unmatched.. we voted her out she came back after beating Jed.
Kiefer goes on about all the things Tera has done. "It's an insane story"
Kiefer – brey's mood has changed he thinks he's going
Ty – I know
Kiefer says his dream is to be sitting in finale with TY
Ty – we can make that happen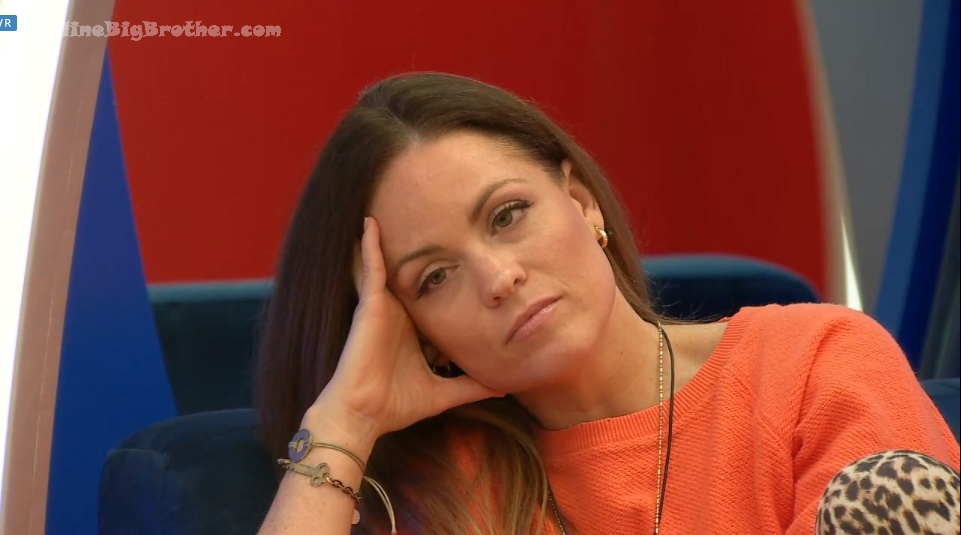 1:30 pm Kiefer and Tera
Kiefer says the plan with Brey was always to get the three of them to the end.
Tera – Beth told me some things before she left. She was pretty adamant that you and breydon both have final 2's with Ty
Kiefer – No.. The only one I really only talked Final 2 with is you. I always thought Ty would take Breydon over me because he would have a better chance. All he wants is the money
Kiefer – that's why Jed's gone his number 1. You see how hard he was crying when Jed left?
Tera – I wish he hadn't won that HOH to be honest
Kiefer – me too. I always thought it was me and you VS them.
Tera mentions during the double Keifer and BReydon both had the votes and when Ty said Both Tera out that's what they did.
Kiefer – I know
Tera – it's fine because I came back
Kiefer – if you cut me it would be a mistake. I just don't see.. Even if you don't thin ki don't cut Ty there's no chance Breydon doesn't
Tera – I thought you said he's playing him h
Kiefer – I don't know, He was in the HOH room for four hours after I left..
Arisa calls them to the living room
"Welcome to a special eviction"
Feeds cut.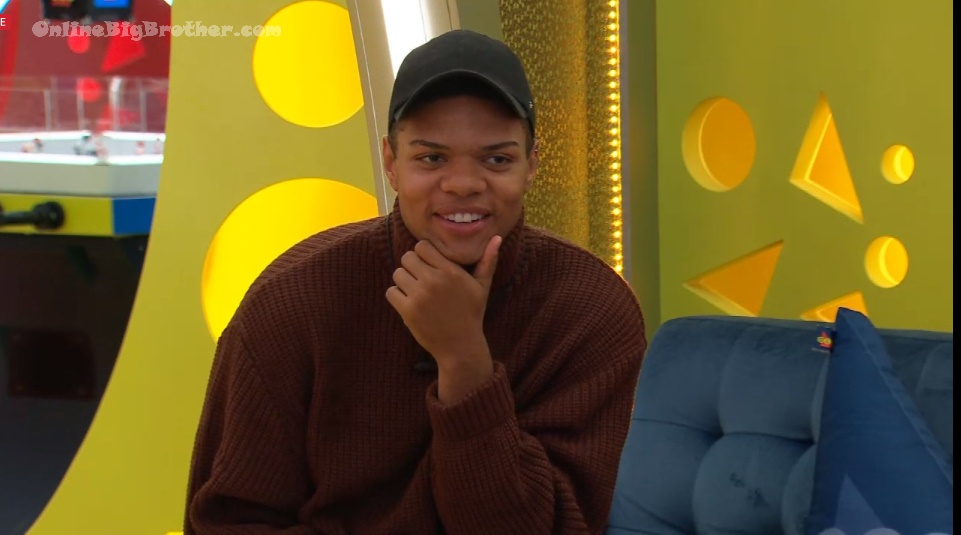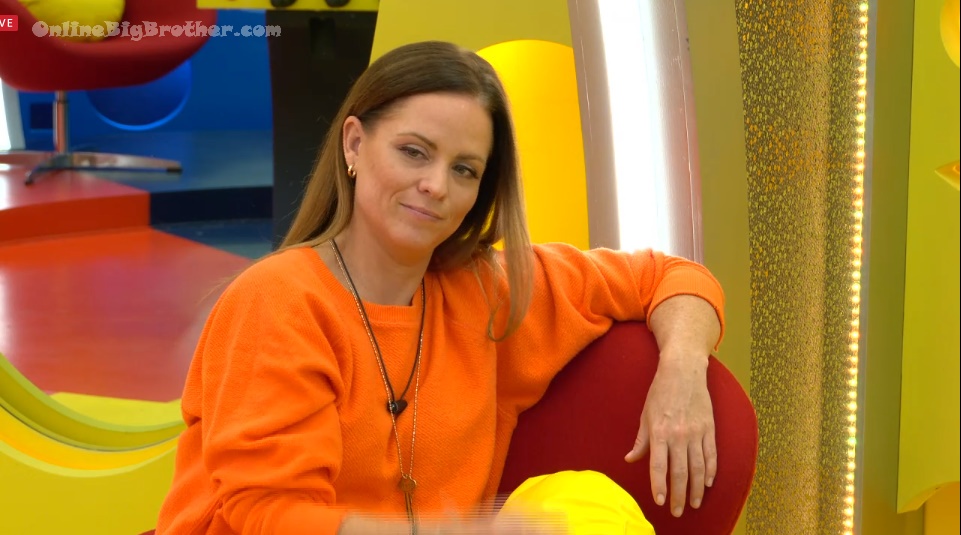 2:00 pm No feeds for you.
That's a wrap folks.