Results from the episode
The Feeds are down until 1 am tonight. Special eviction episode on Wednesday.
Ty wins HOH
Tera wins Veto
Friday @ 6:50 pm Feeds have been down since noon. Production was nice enough to tell us this time that they won't come back until "early" tomorrow morning. Hopefully, we can have something to post tomorrow. Grab yourself a Kraken and let's toast this most lovely Kraken season.
Results from last week
Tera won the competition vs Jed and returned to the game.
Breydon won the Head of Household
Nominations are Beth and Tera
Have nots are Beth and Kiefer (Skip the dishes)
Power of Veto winner: Breydon did not use it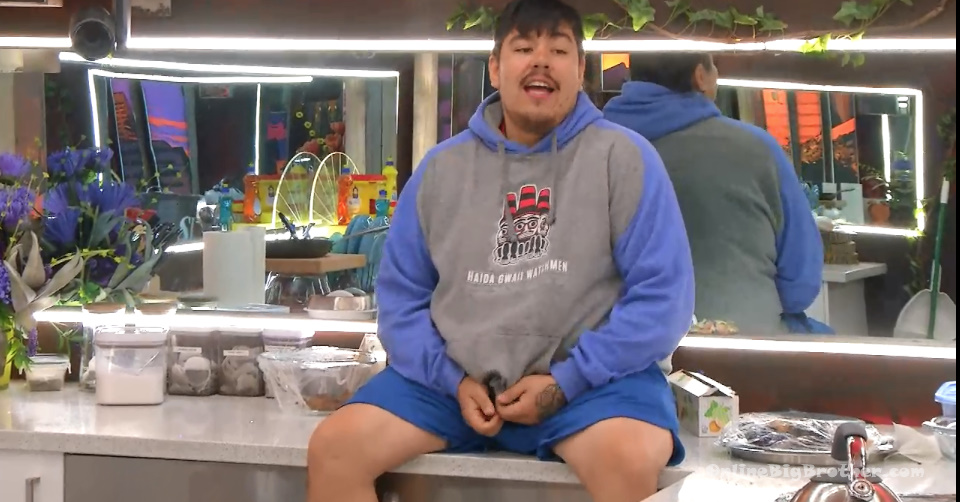 10:50am The house guests are chatting in the kitchen. Breydon is giving Ty a back rub. Keifer – I can't wait to get a haircut.. and wear hats again. I am going to buy so many hats out of here. Every two and a half to three weeks I get a cut. Ty – I am every week cuz! Fresh! Keif – yeah, we have different hair. I am like a horse.. running through the field. Ty – I would have thought once a month for you. Keifer – if you have a mullet .. you have to keep it tight! Its got to look good or you're just going to be a that guy with a f**kin weird haircut. I see guys all the time and I am just like WHOA! Nothing looks better than a fresh cut mull! Nothing feels better. I feel powerful with my hair. Ty – same. Tera – I wonder if I could pull off the mullet? Keifer – you could. Tera – I will probably cut my hair after this. Keifer – I will take a couple inches off the back. Actually I don't know .. maybe I will just keep letting it go longer and longer.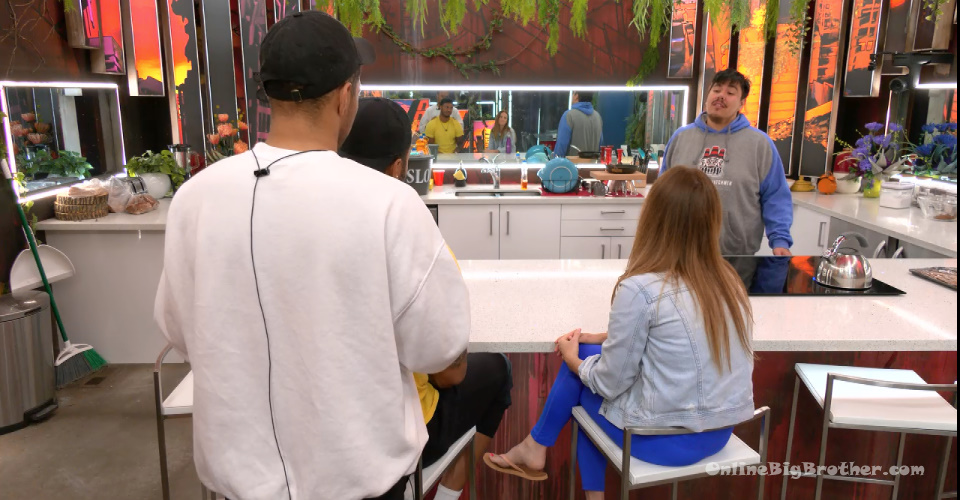 12pm HOH room. Beth is rocking out with the HOH music.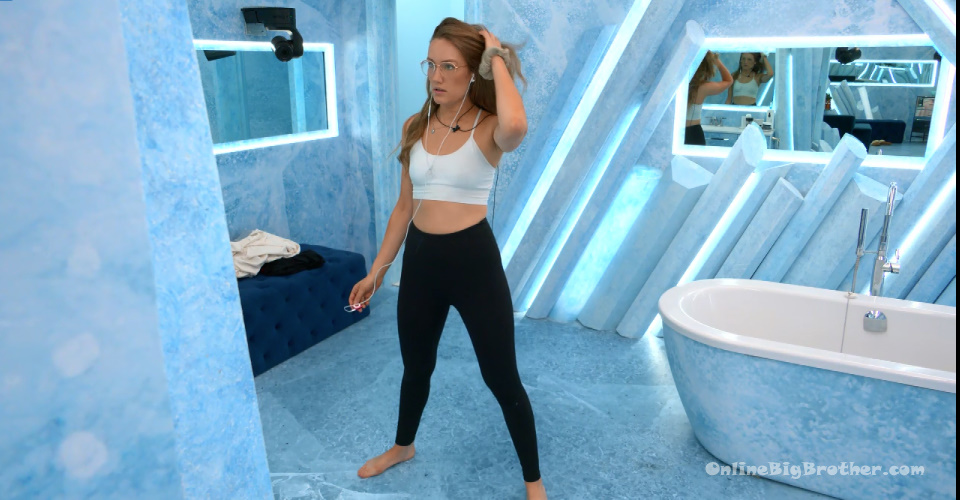 12:35pm The house guests are chatting about random things in the HOH room.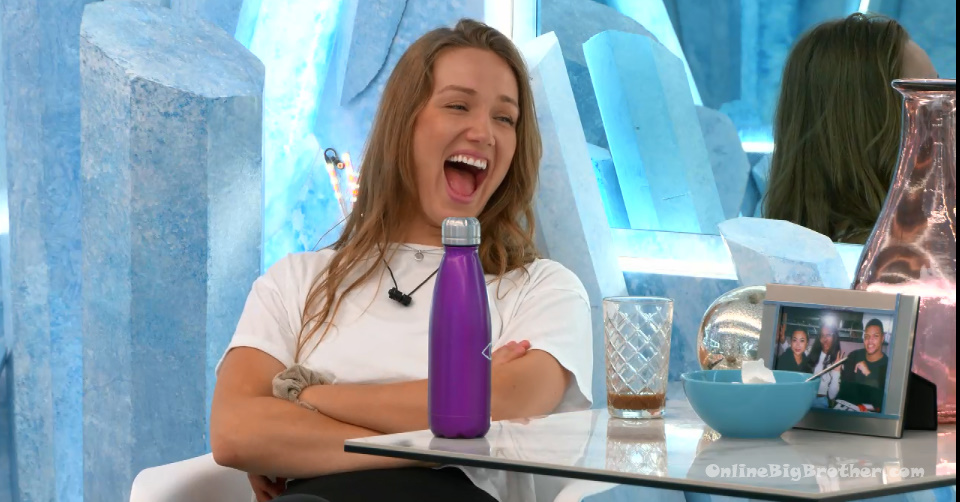 1:45pm HOH room. Quiet afternoon..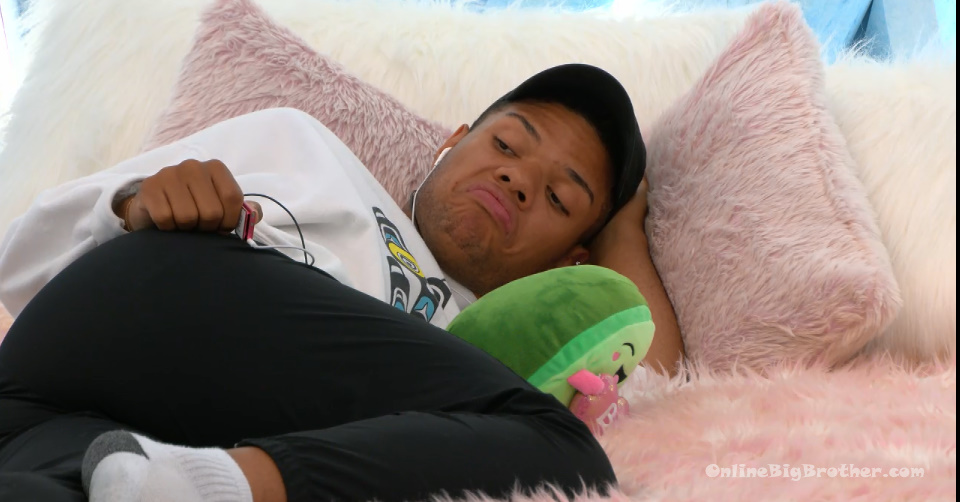 2:05pm HOH room. Keifer, Breydon and TY.
Keifer – Oh my god I am so happy Canada loves me. Ty – me too! I am happy Canada love me too. Breydon – we're all skip the dishes winners. All three of us. I just love how they tear it out of my hands… no we just felt bad for you. Breydon – of course because Jed thinks he is loved by the nation.. by everyone. Keifer – YIKES.. wait till he sees. Breydon – like there is no way. Like they would like anyone more than me. Keifer – he must have looked like the biggest villain when he put me up. Ty – oh my gosh of course! Breydon – like all season.. like the 13 year old boy comment.. I think that was just the start. Keifer – yeah.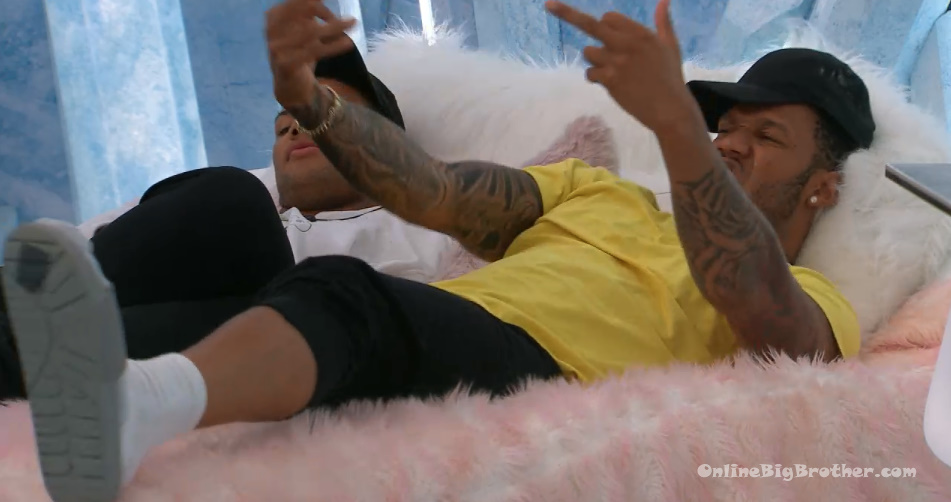 Hittin the booze early.. Tear makes up some ice tea cocktails with her HOH alcohol. Beth – what are you celebrating final four right in front of me?! Di*ks! They laugh. Beth – get me out of this hell hole!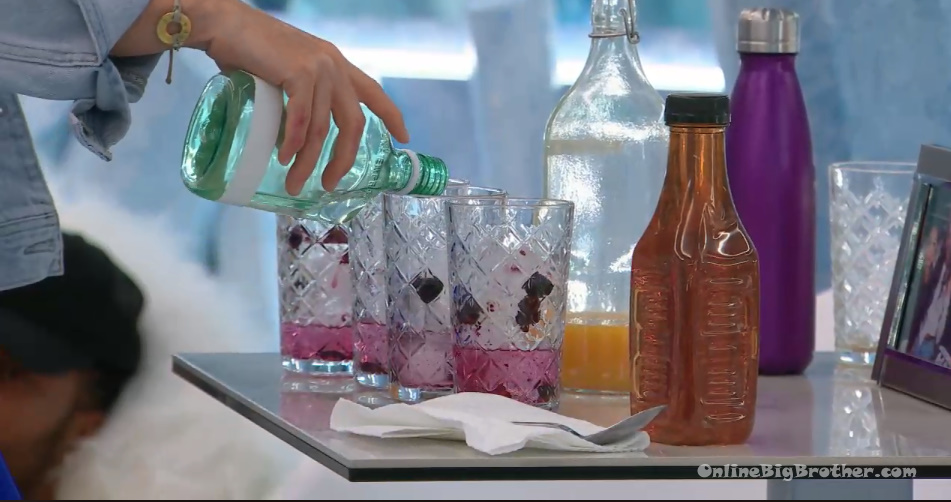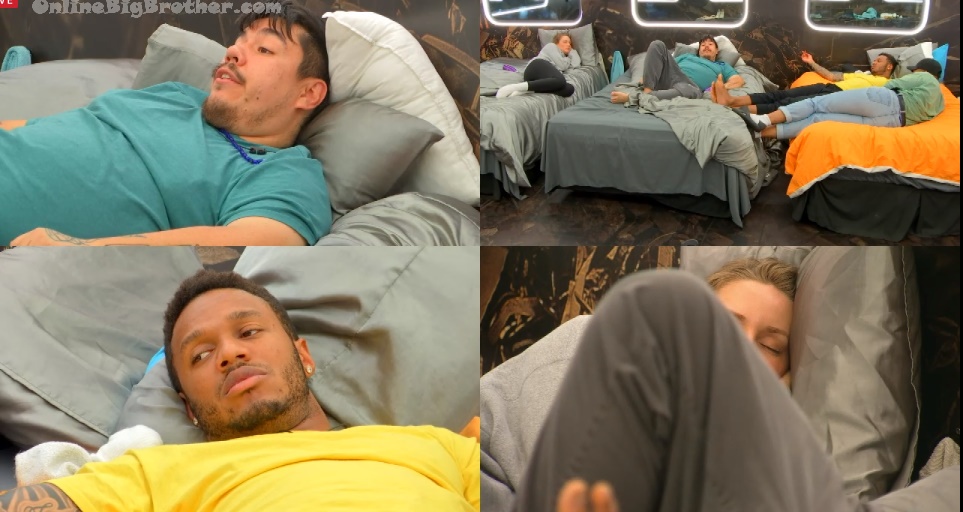 6:38 pm Hanging out…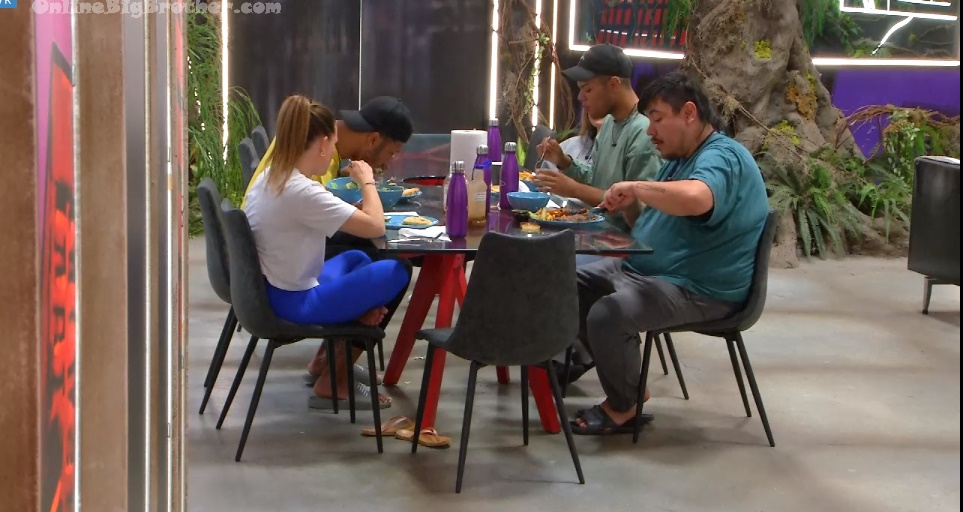 8:30 pm Dinner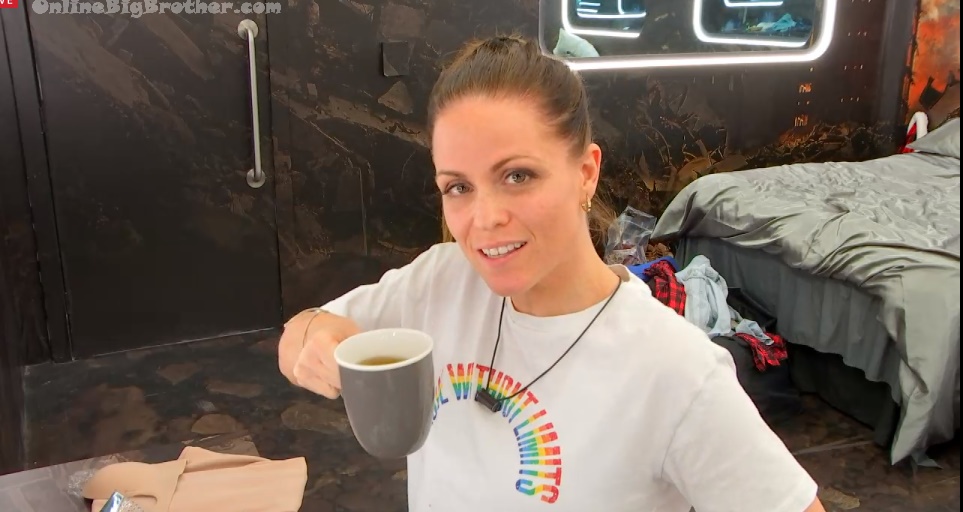 9:13 pm Tera
Tera – oh my god they are so painful.. and you have to be nice.
Tera – one more day… all I want to do is study and I can't even do that
Tera – I have to be in front of all these people so Beth goes and I stay… All I want to do is be by myself and study.. UGH
Tera – I will actually enjoy having this room to myself
Tera – It's ok you got this. This is some serious acting
Tera – everything Beth is saying I agree with. She's going to look really pretty tomorrow.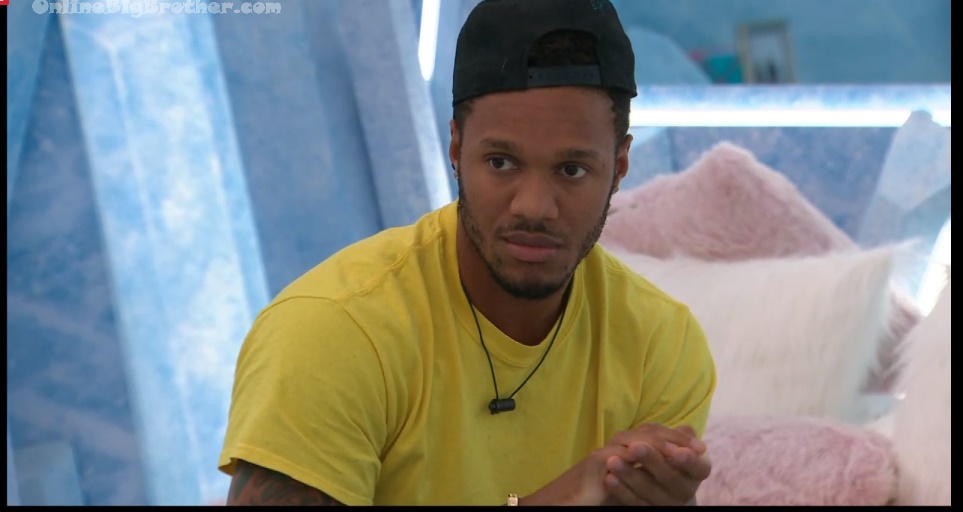 11:17 pm Kiefer and Ty
Chatting about how different things would be if Beth was the one evicted over Jed.
Kiefer says he wanted to vote Beth so bad after she gave the speech.
Ty says he saw one Keifer face, "I was like Kief no.. trust the process"
They talk about the battle back and seeing Jed on the screen
Ty – In my head I was thinking doesn't this only happen on TV then I realized.. (LOL)
They wonder what Beth will tell Jury when she's evicted.
Ty leaves..
Kiefer to himself "That guy's gonna snake me… dammit.. "
1:25pm Breydon and Ty are chatting in the HOH room about past events / evicted house guests. Breydon talks about how much Vic hated Beth. She couldn't stand her laugh and how she thought she was fake. Ty – yeah a lot of people thought that. I have a feeling this comp is going to be matching / running around