Watch the feeds for free from the US using a VPN. We recommend HMA https://www.hidemyass.com/vpn/r16399/
(videos are uploading.. )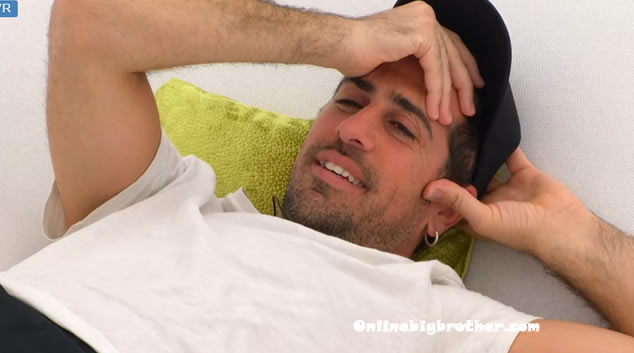 11:00am Kevin and Bruno
Bruno – from here you can do good
Kevin – I haven't given up on you
Bruno – I don't think we can get the votes.. we'll have to go with the self evict plan
Kevin – I'll drive Karen crazy, I can do that..
Bruno – Oh my god Kevin if we can get her to self evict
They laugh that they have to bring Karen back to where she was yesterday.
They agree if there was 1 person they could pull off getting to the end with it would be Karen.
Kevin mentions how Karen is saying she's a super fan yet is so quit to want to self evict.
Bruno says that Karen told him yesterday that she never liked their talks together.
Bruno laughs – I really enjoyed them
Adds he put in 60 hours of time in Shuswap talk with Karen
Kevin – it was all for nothing..
Kevin – I could get her going in 30 seconds..
Bruno – she's obsessed
Kevin – I don't understand What I did to deserve it
Bruno wonders how Karen will do outside of the house. (with the fans etc)
Kevin – it's not just a game for her
Bruno – she's been trying out since she was 48
Bruno brings up that yesterday she had "that look in her eyes"
Kevin – I personally have nothing against her
Kevin says William told him more about the veto and the clues. It started with the cleaning task.
Kevin – he was changing the garbage it was in the garbage in the pantry.
Bruno – how does that door work
Kevin – there's a button on the wall paper
Bruno – they would be crazy to get out Karen..
Kevin – it might be good for Ika and Demetres
Bruno says Ika and Demetres want him out, they talked about it yesterday.
Kevin – Dre doesn't want you to stay.
Bruno says they could have gone the other way went to Dillon, William and Jackie got the votes but Ika/Demetres already roped in Jackie.
Bruno says because Demetres put up Karen it shows to Jackie there's trust, "jackie believes them they'll keep her safe"
Kevin – but their not
Bruno adds that Dre has got Dillon now.
Bruno says right before he leaves he'll whisper in Dillon's Ear.. Do not trust Demetres and Ika
Bruno says he told Jackie and Ika they can trust Kevin.
Bruno – Ika, Demetres and Dre will never break apart.. They will take you out first.. and they have William their using
Bruno – Dre has Dillon locked in, Dillon has Karen locked in. Jackie is now stuck to them.
Bruno – Dre is in the best spot, Dre has Dillon, Dre has Ika, Dre has Demetres, Dre has William. To get her out is going to be hard.
Bruno adds even if she's on the block she has the people that trust her voting to keep her
Bruno – She'll have to sit beside Ika to get her out.. Even with that.. People will get Ika out, She'll be so hard to get out.. She has the numbers everywhere around her.
Bruno sitting beside Dillon, Ika, Jackie they all go. Maybe beside Karen.
Kevin wonders if Dre could win in a lot of final 2's
They agree she would.
Bruno points out Demetres, Ika, Dillon, William won't go after Dre.
Bruno – four out of 8 people will not go after her. She doesn't have to win shit. even if she's on the block she has the numbers to stay..
Bruno says they have to set Kevin up for when he leaves.
Kevin says he hasn't given up on Bruno yet.
11:30am Bruno and Ika Bathroom


Dre telling Jackie she wants to call Ika out on her BS.
Dre says Ika is the "stereotype of the black women" if she ever had a fight with Ika it would get Ugly/disgusting.
Dre doesn't want 2 black women to fight on TV especially with one of them being Ika.
Dre and Ika talk about Jackie being cursed. Ika – she's cursed. I'll be around her but I need protection. Dre – I hear you. Ika – Its weird because Bruno has been campaigning and I was talking to Kevin to feel him out and I was like maybe we should keep Bruno just to see where he was at and the vibe I got from him was he didn't say it but he was like yeah that would be great. But I got the vibe that he really wants Bruno gone. Dre – really?! Ika – MMMmmHHHhhh.. I think he thinks that Bruno leaving is better for his game because me and Demetres are big targets and he has this protection of me, you, Demetres, William. I think he feels more bitter about that.
Bruno and Kevin in the Hot Tub
Hot Tub marathon

Karen and Kevin Hot Tub Rational Conversation.
Kevin & Bruno in the storage room. Kevin tells Bruno about the robot hand that came out from the wall in the storage room giving William a clue to the hidden veto. Bruno – that's sick! That's so sick! That's sick! That's crazy.
Dre and Dillon in the storage room. Dre – okay, listen to me. I don't think Kevin said half of the things that they said he's said. This could f**k up my game right now but you know I trust you and I hope you trust me. But I don't think Kevin said half of the things they're saying that he said. Right now what is happening is that they're big targets and they want to make sure if ever you win, you don't come after them but you go after Kevin. Dillon – right, right. Please just be smart! I know I told you I wouldn't be able to do it. Dillon – what are you talking about. Dre – I'm going left and right, left and right not knowing what's happening. I just feel like I don't what you to do a stupid move and if that costs me my game… okay, I'm going to be out but I just don't want you to be fooled. Kevin didn't say half of the things they said he said. Dillon – you don't think so? Dre – no, I know he didn't. Dillon – why, why. Dre – because I know. Ika was just in here and she said we had to pull Dillon to tell him Kevin said those things so he comes after them. I know its messing you up. Dillon – are you using me? Dre – I swear, I swear she just told me to pull Dillon in and tell him all these things that Kevin's been saying so that to make sure he goes after Kevin. I swear. I know you were already going after Kevin but they said that I just felt like you were going to get played again. Dillon – I need you. Dre – I know, but I wouldn't be able to put them on the block. Dillon – So, I'm supposed to do it but you're not going to? Dre – I might, I might do it. They're dangerous. Kevin is freaking dangerous, he's sneaky. They're right everything they're saying about him is right. Dillon – they're right. Dillon – just sleep on it. Dre – its just more and more I'm seeing how they operate. Kevin did not say half the things that she said he said. She said I was there! I wasn't there Dillon, I wasn't there. I wasn't, I'll swear to whatever you want me to. If you or I win HOH we have to think about who we would put up.
[polldaddy poll=9729132]
[polldaddy poll=9729778]