HOH: Kyland
HAVENOTS: No havenots
Nominations: Tiffany & Hannah
Power of Veto Players: ?
Power of Veto: ?
Power of Veto Ceremony: ?
Big Brother 23 Houseguest Rankings – – RANK THE HOUSEGUESTS –
View the previous day ranks on the – Ranking Grid
Big Brother Spoilers – Tiffany is the Target. Azah is likely the replacement nomination.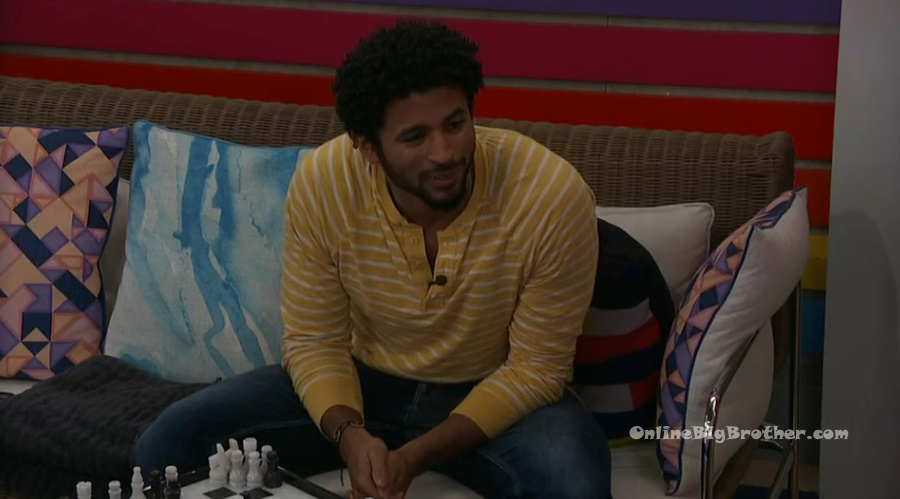 5:30pm – 5:50pm HOH room. Hannah and Kyland.
Kyland – As of right now I believe you. In my conversation with Tiffany this morning and really over this week has been her acknowledging that she has repeatedly given me reasons to not trust her. Hannah – okay. Ky – In those explicit terms and I have not done the same. And from that our conversation I felt that you were unaware of. Hannah – yeah. Ky – I don't know if she talked to you. Hannah – not really no. Ky – we were close up until .. probably not even seven days ago.. It was maybe a day or two after The Flying BB-inos.. I was easily the most loyal person to Tiffany in the house. I don't know if that was reciprocated but I was loyal and in the conversations and in her arguments with Azah or DerekF or anything… when I would talk to them I would defend her. And outside of the six I was .. just so many things. I think the most significant mistake she may have made was deciding to no longer trust me because she let her paranoia get to her. I could only do it for so long.. its like in a relationship you can only do it for so long. I think she would stay loyal to me but now its out of necessity and not out of choice .. and that is problematic for me. I don't see you as my backup target should Tiff come off. Hannah – okay. Maybe this is subconsciously true but I feel like I have made more of an effort to build my relationships within the cookout. KY – yeah. So if you win the veto are you going to use it? Hannah – AH YEAH! DUH?! I am going to be swinging for my life on that zip line (BB Comics). I expected to go up but not beside Tiff. I was kind of shocked by that.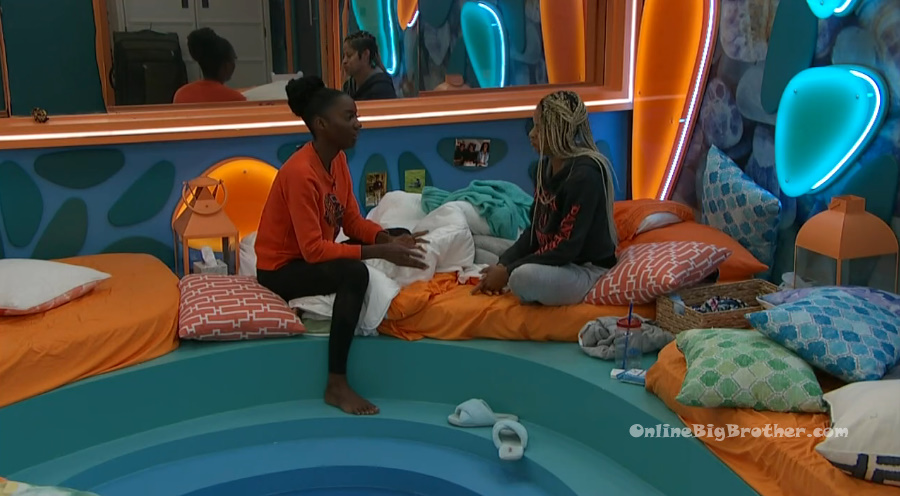 Bedroom. Tiffany and Azah.
Tiffany – If this is what my road is, then this is what my road is. I don't write the ..like whatever is going to happen is going to happen. The best thing I can do is prepare myself and accept it so that I can move forward with my life every single day. I have a son at home waiting for me. I have to be strong. Things are not always going to go how I want them to. Things are not always going to go as I think they should and things aren't always going to go according to plan. That is life. Azah – okay, I don't know why you're giving me a pep talk. It should be me. They hug. Tiff – They've been working together a long time. I told you that. Men stick together, women don't. I am not mad, I want us to be together at the end. Azah – there is veto.
Bedroom. Xavier and Tiffany.
Xavier asks Tiff to talk to her. They head to the bedroom. Xavier – I don't have really anything else to say other than I am sorry. Tiffany – you could have said that in the kitchen. Xavier – ah yeah, after Claire said I don't like it when people say sorry. I gave you a hug and wanted to say sorry later. I didn't want to talk about that then. Tiff – you don't have anything to be sorry about. I'm sure everyone was expecting that, I sure was. Xavier – I guess now the game starts. Tiff – I guess.. I am mean I am over it.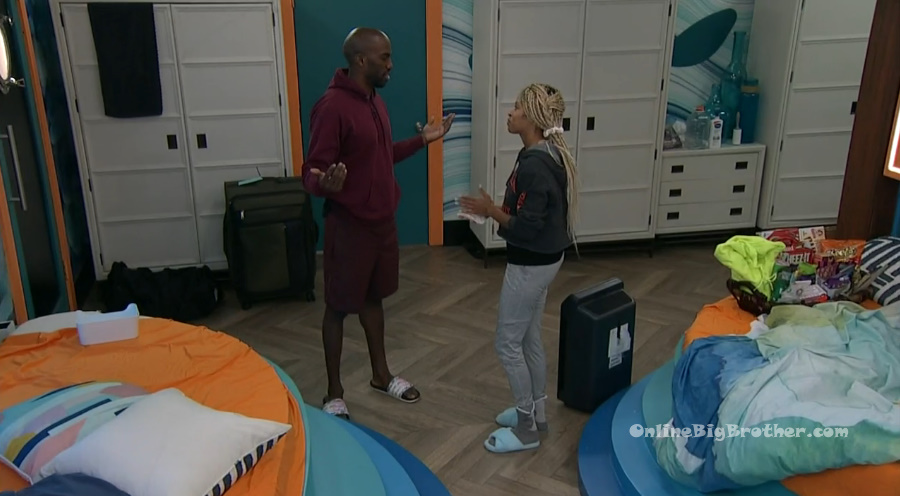 6pm HOH room. Big D and Kyland.
Big D – I just came to check up on you. I wish I would have been me. It would have been easier for me to do it. Ky – I have nothing to disparage her. She is an incredible player of the game. She just has become to difficult for me as an individual to work with. And prior to last week she has followed through. Big D – absolutely. It is a game. And it is the first time we've had to put two of us (The Cookout) on the block. And tomorrow is the veto. Xavier is ready to go. He knows what needs to be done. You did what you had to do. If there was a way to split the prize we would do that but we can't. Now its an individual game. They talk about the veto being BB Comics. Big D – If you can't get Tiff, then you get out Hannah. At least we get a mental threat out. Ky – lets just win (veto).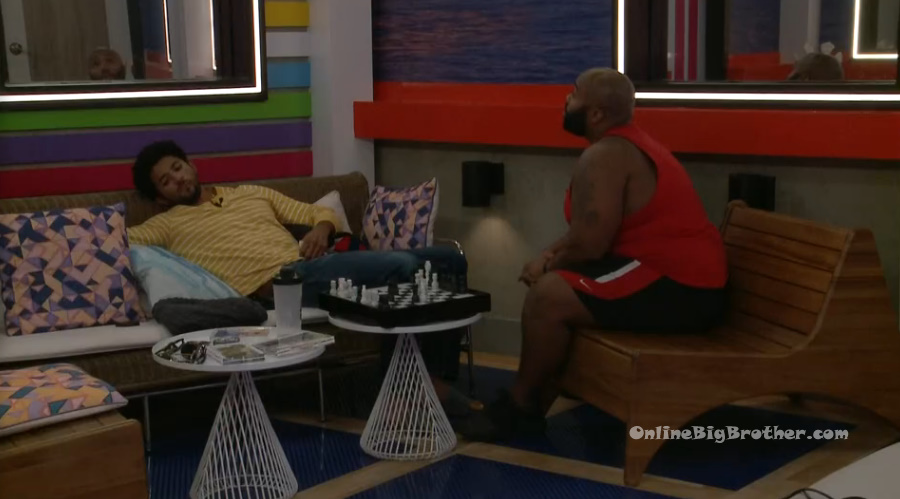 5:55pm Azah, Tiff, Xaiver and Hannah are cooking dinner. After awhile of everyone helping Tiffany says now hold on y'all are really in the way because I came in here to help Azah to have something to do and now y'all need something to do. Y'all can go back to conspiring.. Xavier gets up and leaves. Tiff then goes and tells Xavier she didn't mean to kick him out of the kitchen and says he can go back. She then goes to read the bible.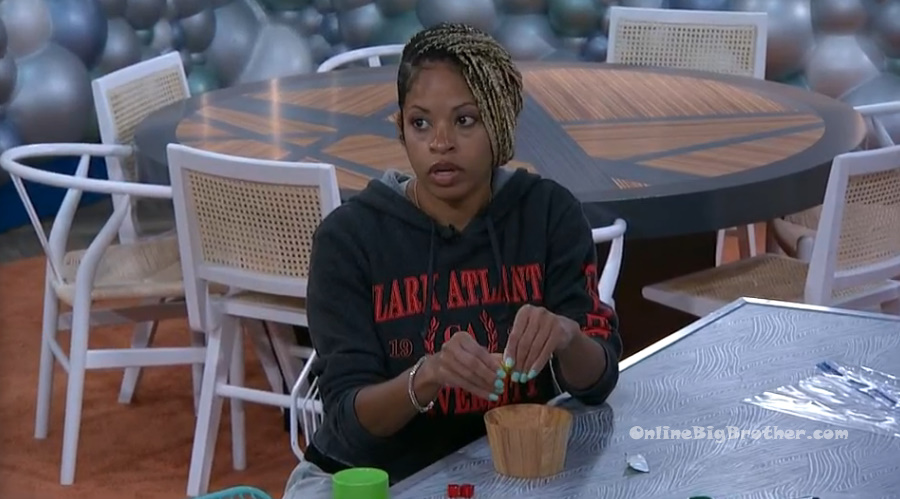 7pm Bedroom – Tiffany talking to the cameras.
Tiffany – I will just have to win veto. Not giving up, not quitting. That's not me however America you know me what is meant to be will be so is if I am meant to be here past this week I will and if I am not meant to be .. then I won't, however I will try my very best as I always do. And what can I say? I knew this! I told you guys this. Am I surprised not at all. I would have been surprised if I wasn't nominated. At this point I am happy to have gotten this far and at this point they're happy to send me home .. so whatever!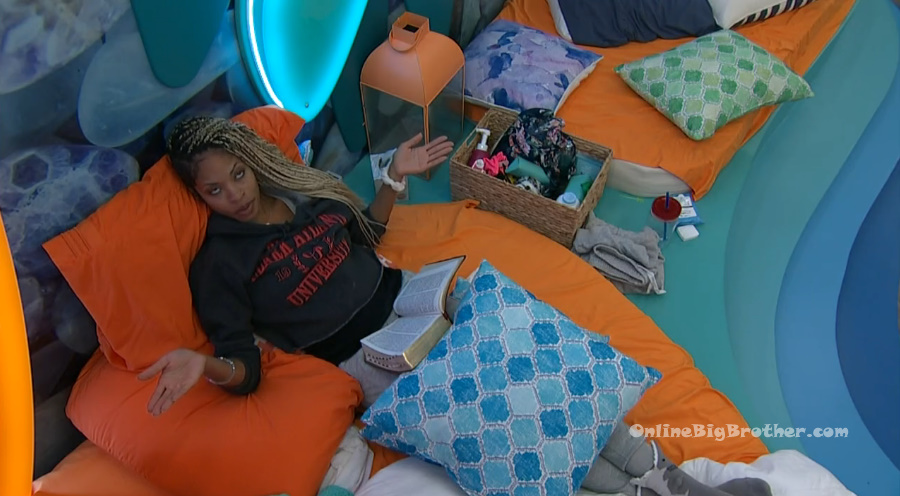 7:25pm – 7:55pm Kitchen – Dinner time.. after dinner they reminisce about past house guests and events of the season.
8:18pm Bedroom. Tiffany and Hannah.
Tiffany – I hate that you are up there next to me. If I had thought more about it… I thought it was going to be me and Azah. Hannah – I thought it was going to be me and Azah. Tiff – He said what he meant, you have to use the veto on yourself if you win it because he knows you would use it on me. Big D joins them.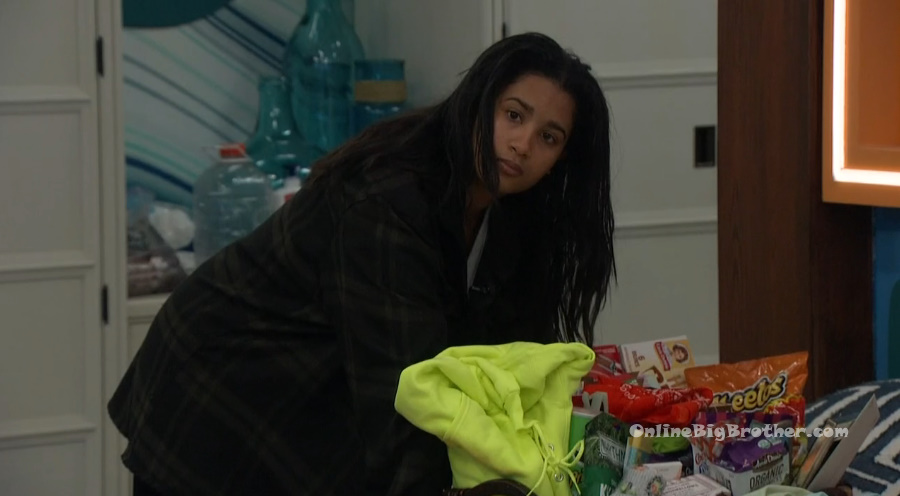 8:40pm – 8:57pm Bedroom. Tiffany, Kyland, Xavier and Big D.
Tiffany – If I make it, I am definitely singing it. I ain't telling them sh*t! If y'all think I am going to save y'all a$$ … I don't know what the f**k is going on in that house. They're going in order of light skin to dark skin. Hannah in there pretending to be full black. Ky in there pretending to be full black. They gonna look at me like I am not full black and kick me out. Ky – we've been staring at the wall this whole time wondering who is going to be the bitter juror. Tiffany puts up her hand. Claire, Alyssa, SB, DX.. Tiff – They kicked me out because of my shade.. they said they want a real black person to win. Big D – oh my god! Ky – wow! For the first time ever the entire jury has decided not to vote. Xavier – I think what is fair is the last 6 split the 750. Ky – we're not allowed to talk about that.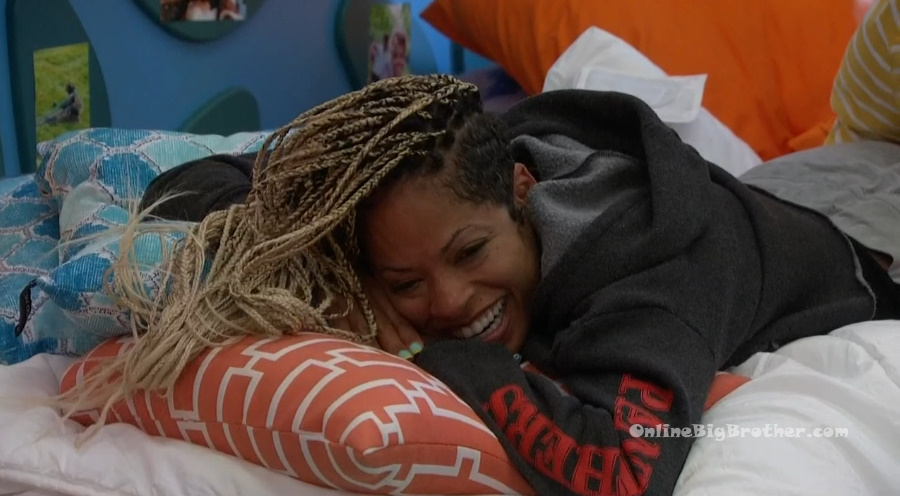 9:05pm – 9:15pm Bathroom. Big D and Hannah.
Hannah – I need to compete my heard out tomorrow. Big D – you're not going anywhere. We know that! Hannah – I hope so because you guys know how much I really want to be here. Big D – I know you want to be here. None of us are guaranteed to win. I can at least say you and me are guaranteed top five. Hannah – I hope so. Big D – I think we're at the point where like people know who they want to work with and who they don't. I was thinking X was going to go up just based off how things are going. I thought he and I were going to go up. It seems like he wants you to go for veto which it seems like Tiff is the target. It seems like he is open to work with you, me, X, Azah. For me you already know I am never going to vote you out. This comp is for you. GO out there and do it. Hannah – thanks Big D.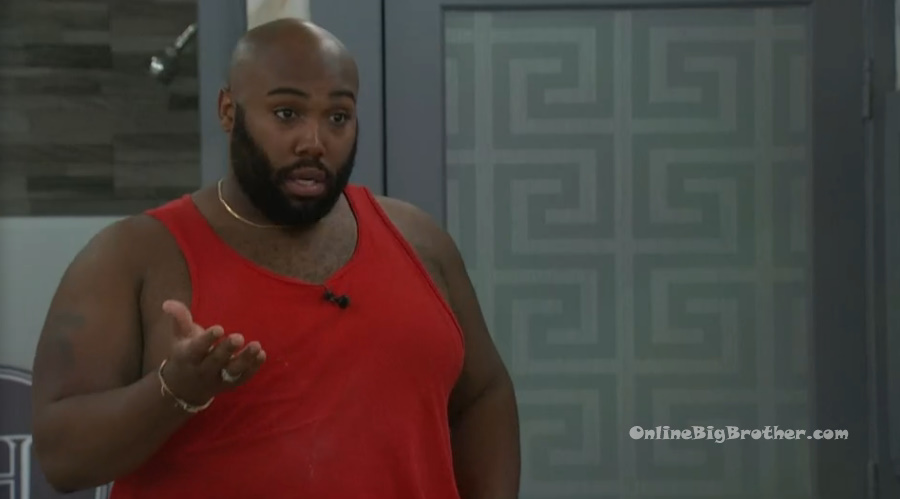 10pm Bedroom – Big D, Tiffany, Xaiver, Kyland and Azah.
Xavier is talking about how he dates white and black women. Big D says he only dates white men. They talk about social pressures and judgement they get.
10:52pm Bathroom. Tiffany and Hannah.
Tiffany – I knew it was me. You're good. Hannah – I asked him if it was a hard decision and he said it was. He said that X was more consistent with him. He said that Tiff would tell me one thing but do another or she will feed me information but then act against it. Tiff – I knew he was working with them that night we pulled him upstairs. Predictable / inconsistent or not… you know you can beat me, you and Azah. If you want to win, go for the win! Hannah – X is going to win regardless of who he is sitting next to. Tiff – I am going to vote for him. Hannah – you really think that Ky doesn't care? Tiff – I am going to vote for him. Hannah – if its X and Ky at the end I am going to vote for X too. You really think that Ky doesn't care about winning? He has proven time and time again that he is a selfish player. Tiff – so who is he going to take Big D? Hannah – I don't believe he would to that either but if he is targeting a woman. Tiff – if she isn't going to vote out Big D then leave me on the block because I am not going to come off if they're still just going to vote you out over Big D.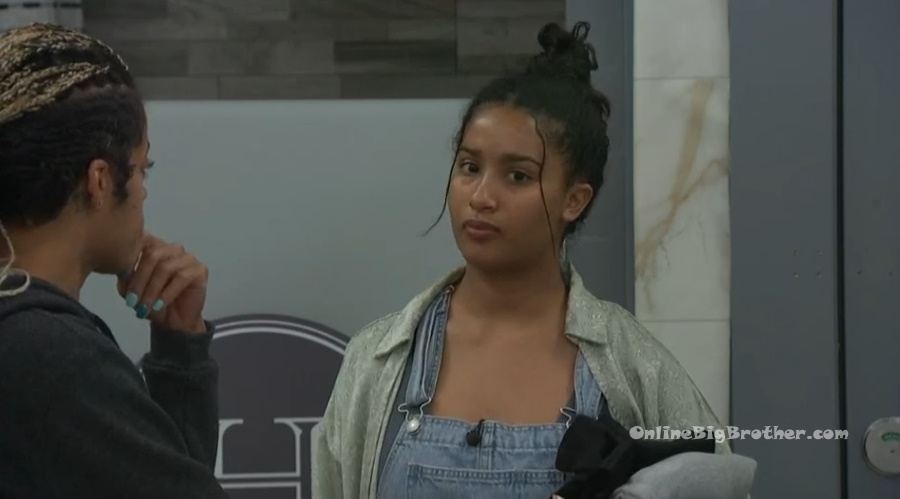 11:25pm – 12am The house guests are sitting around chatting about random things.
Show your support 🙂 Without your support this site and these spoilers wouldn't be possible.
Please consider a donation to keep the madness going.