HOH: Kyland
HAVENOTS: ?
Nominations: ?
Power of Veto Players: ?
Power of Veto: ?
Power of Veto Ceremony: ?
Big Brother 23 Houseguest Rankings – – RANK THE HOUSEGUESTS –
View the previous day ranks on the – Ranking Grid
Big Brother Spoilers – Fun Times – Tiffany and Hannah going up. Tiffany is the Target. Azah is likely the replacement nomination.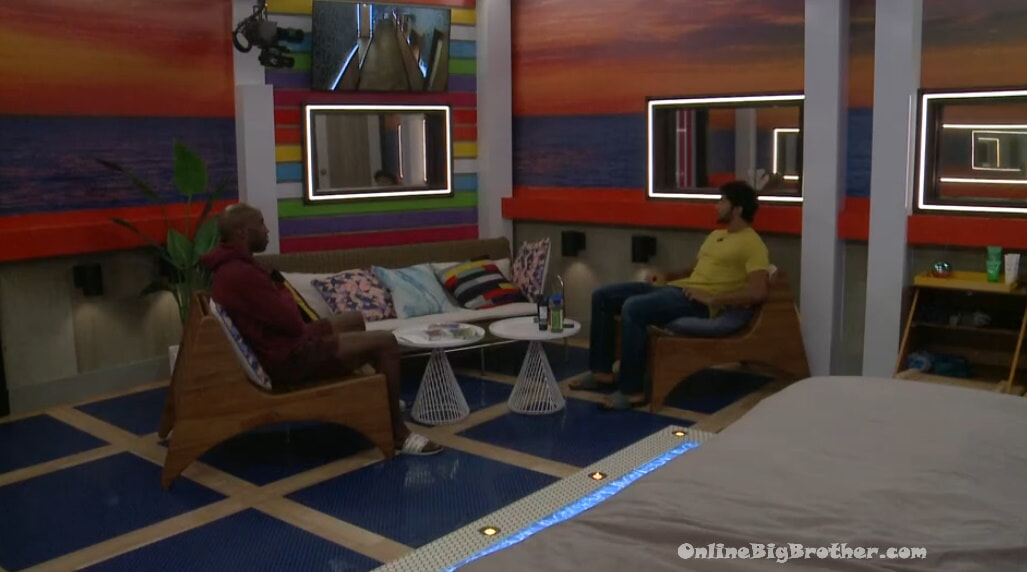 9:50 am Kyland and Xavier
Ky – how do you feel about going up? just kidding.. how to you feel about BB comics
X – pretty good
Ky – what I'm thinking honestly is a repeat of week 2.. kinda.. hey.. how much .. game can there be..
Kyland – In every Scenario even if they aren't up there. It's like Alyssa.. as long as she doesn't win
X – FACTS
Kyland – that's all that matters that's where i'm leaning
X – FACTS
Ky – I do see the benefit of doing anything else.
X – for starters it's the move that needs to be made once the veto is decided we go from there.
Ky – yeah
X – let say I win the veto and I say hey lets take Hannah down to give us some cover for the following week that way she feels good with either one of us if she wins HOH then maybe she looks at BIGD and Azah first. Instead of us
Ky – one of us
X – exactly.. at the same time then you will have to name BIGD or Azah as a replacement.
Ky says with Tiff gone they just have to beat Hannah next week he feels it'll be easier to beat Hannah over Tiff in most thing
X – true
Ky says if it's the balance beam Hannah might get winded.
They agree Tiff is more dangerous for X to face off with next week.
X says if he wins HOH Ky won't see the block
Ky – I appreciate it
X – Tiffany, and Hannah have both tried to pin us against each other
X – by going to the Tiff and Hannah route. Azah won't have any more incentive to come after you because she hadn't touched the block. BIGD we already know.
X – that would be the incentive to leave things the same (Noms). Outside of myself, Hannah has the best chances at beating me in a competition
X says the difference between them and Tiff/Hannah is they aren't trying to pit them against each other.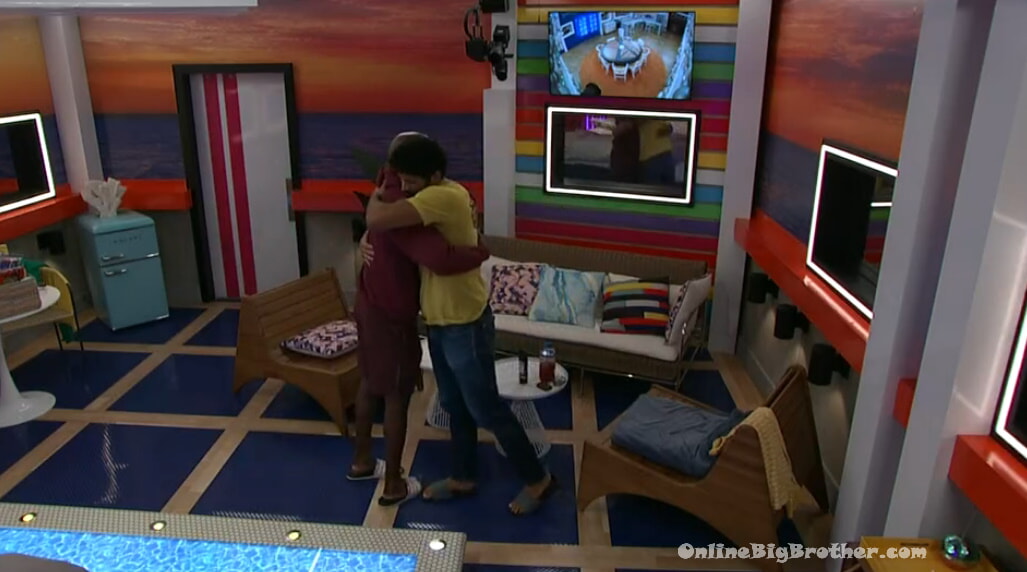 They hug
X – who do you want to come up next Hannah?
Ky – Hannah
(Hannah is not feeling good we learn later from Tiff that she has her period so she doesn't do the one on one)
10:20 am Kyland and Azah
Kyland complains that the late night and early morning are tough.
Kyland long pauses.. cryptic words.. fragments of sentences..
Azah – I did lots of thinking I want to establish this again. I prefer this being confidential..
Ky – yes
Azah – I'm going to do what you want me to do but I'm going to have a biassed perspective
Azah – we view the house very similarly
Ky pulls out the chessboard so Azah can show him how she's seeing the house these past few weeks. (Hard to follow them when they do this)
Ky says now that Claire is gone Tiff and Hannah have grown tighter.
Azah – if you are trying to get to the end I think me and BIGD are your biggest threats we are strong physical competitors
They laugh
Azah – let me stop
Azah – if you want the final 3 with me and BIGD there are choices. You have a physical threat, a Mental threat, and a social threat.
Azah says she feels cool with Tiffany. Tiffany is cool with her but Tiffany is not cool with BIGD.
Azah explains that Tiffany and Xavier are targeting each other next week. Kyland would have her vote in taking one of them out.
Ky – I'm thinking more along the lines of week two in terms of not sharing what I am going to do then discussing after. As far as the.. umm.. yeah.. as far as not targeting you that stand for me. Don't share that.
Ky says he's going to be upfront about the noms during his speech. "hey you get to play in the veto you win you take a shot at me"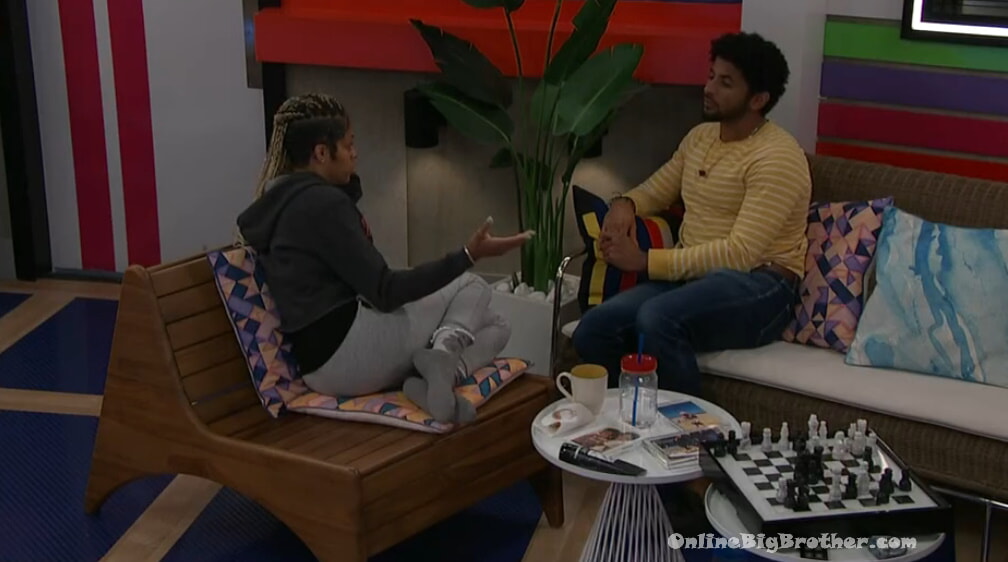 10:47 am Tiffany and Kyland
Kyland says being the pioneer was hard the first one of the six to win HOH is now the first out of the six to ave to take a shot. "it's weird.. the challenge"
Ky – I have a significantly decreased possibility of being safe next week
Tiff – that's true
Ky – I want to see what people have to share in general across the board..
Tiff – hmm so..
Tiff brings up their alliance "the COnnect"
Tiff says that Hannah is smart and she looked up to Tiffany
Tiff – I want to do right by the both of you but it is a game. and I do believe in loyalty and realizing like.. I actually need both of you. I actually need you more
Tiff – how does Ky feel about the connect how does he feel about us moving forward.
Tiff – you made a comment about Xavier and me and where he was in my game. I don't know if you have noticed but I've been pushing that he should go home.
Tiff says she's not thinking about moving forward with Xavier. "There was a time.. I was so focused on SB that I probably … I wasn't thinking about how it was affecting you"
Tiff says she felt like Sb had some special power, She was going to get money in Jury she was in a duo
Tiff says she had "so many" conspiracies about SB."Some of those things I discussed with X.. we were both like she should go. Around that time.. he's talking to me and Hannah saying we should work together. He wasn't directly saying he wants you out he was insinuating you should go first..
Tiff says this is why she stayed close to Xavier. "So I can keep an eye on what you want to do.. there's only so much information that he would give.. that's just X.."
Tiff says she never came out and told Kyland that Claire had the BBbucks "I was trying to protect Claire.. Even though I knew she would only go so far"
Tiff – it was not against you I did want to help her stay a little longer.. I didn't know anyone else knew..
Tiff adds when he told her Hannah knew that was news to her.
Tiff says she told Xavier they had a final 2. it was the time when Xavier wanted to work with her and Hannah.
Kyland wonders how BIGD found out about Claire's BBucks because BIGD told him before Hannah.
Tiff – I didn't even know he know
Tiff – I'm laying all my stuff on the table. we are down to six.
Tiff goes on about taking SB out and her and Ky drifting apart.
Tiff – I tried coming into this game to make logical decisions not emotional I am human so.. and a woman so.. We make emotional decisions sometimes.
Tiff apologizes for not being open sooner. "Thank you for allowing me the time to talk to me about it umm.. I am not trying to move forward with X"
Tiff – I cannot beat X, I do not want to sit in the final 2 with X.
Tiff – you know you hear a lot of what is going on in this house. the guys have a final 3 Ky has this. You have given me a lot of things to make me feel like I do know what you are doing but you don't know what you don't know.
Tiff – this game makes you anxious so I'm thinking If I am scared of X .. not scared if I am looking at him this way why isn't Kyland looking at him this way.
Tiff – I want us to have our Final 2.. we have made it this far as the six. let the jury choose. You, me, we have a black guy and a black girl.. f*** it how can we lose.
Tiff – there is a lot on the line. Who knows what anyone would do when they get to the end 750 thousand dollars.. I want you to know I am still committed to our agreement.
Tiff – you have to decide if we're still here..
Kyland asks her if she told X the name of their final 2. Tiffany says she doesn't think she did "I'm only 50% sure"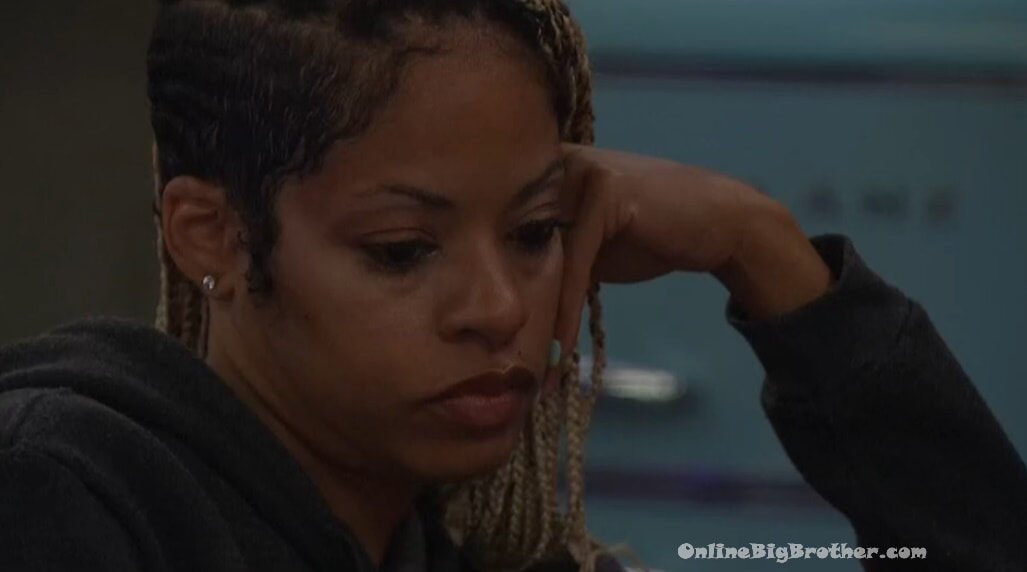 Tiff says there was a time when she didn't feel connected to him
Tiff – I looked at you and BIGD thought they have to be working together. Nobody asked me to study anything you and BIGD study all the time
Tiff – say it say you asked me..
Ky – 'A', I asked you and 'B', BIGD and I didn't start studying until last week.
Tiff – ohh okay.. I dunno
Ky – I do
Tiff – you know more than I do.
Ky – do you have a preferred.. ah.. like a preferred final 4 final 3?
Tiff – umm I don't get to the end without you.. I know that.. the four is a toss-up because I feel like X and BIGD should go first.
Tiff – We all worked very hard to get here and I would hate to see anybody leave without something. there are five prizes but there are six of us. Umm. I can't count nobody's money I feel inappropriate saying it but
Tiff – BIGD got the fourth prize already if he leaves he has some money. I don't know if we need to get rid of BIGD right now.
Ky – why do you think I lose to you in the final 2
Tiff – you have DX
Ky – look at your wrist and tell me you would lose to DX (She's wearing DX's bracelet)
Ky – you have Britni, Claire, and Hannah
Tiff – you have SB, DX, DF, and X
Tiff – they have to choose between a black man and a black woman we got to get up there and plead our cases.
They go back and forth about the Jury votes.
Tiff – If I'm the one that sends Hannah home she'll vote for you.
Ky – she wants to vote like Nicole F last time she's afraid of coming off as bitter
Tiff – as soon as she said Hannah's name and I say that lion come out..the minute she points at me I am gone.. I could not take my focus off of her.
Kyland gets called into the Diary room DOWN STAIRS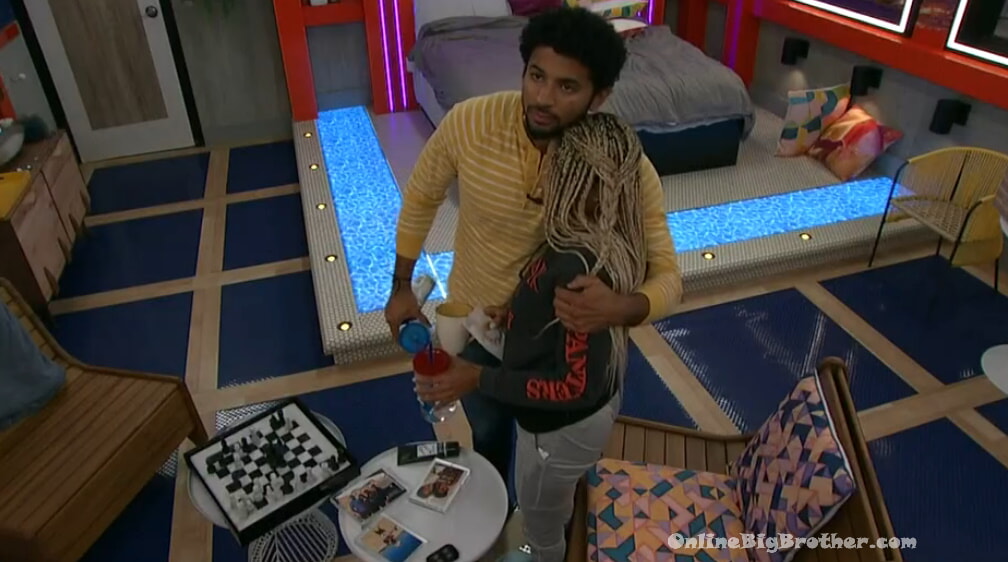 They hug..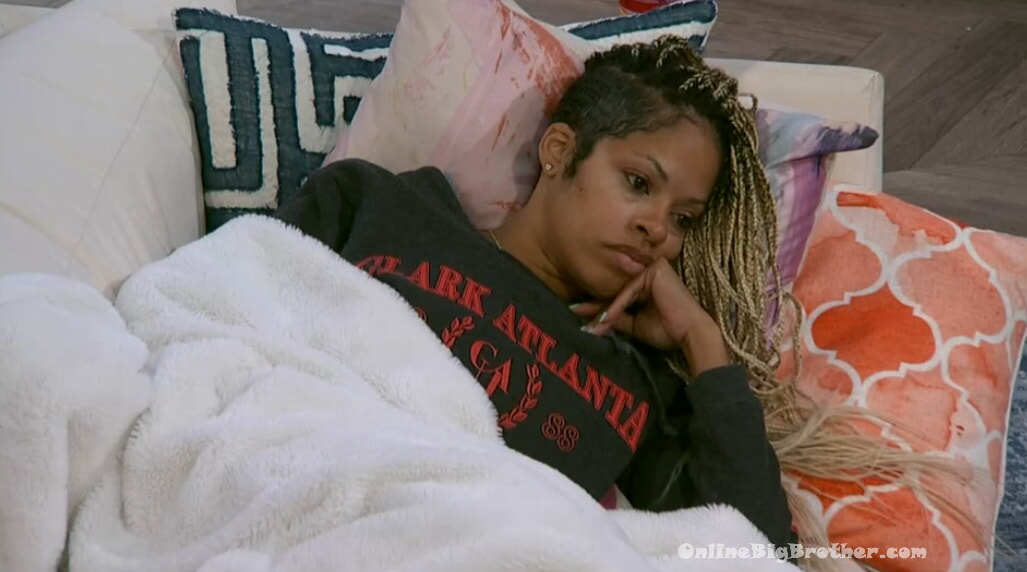 Noon – 1:00 pm Everyone but Kyland in the living room waiting for the nominations..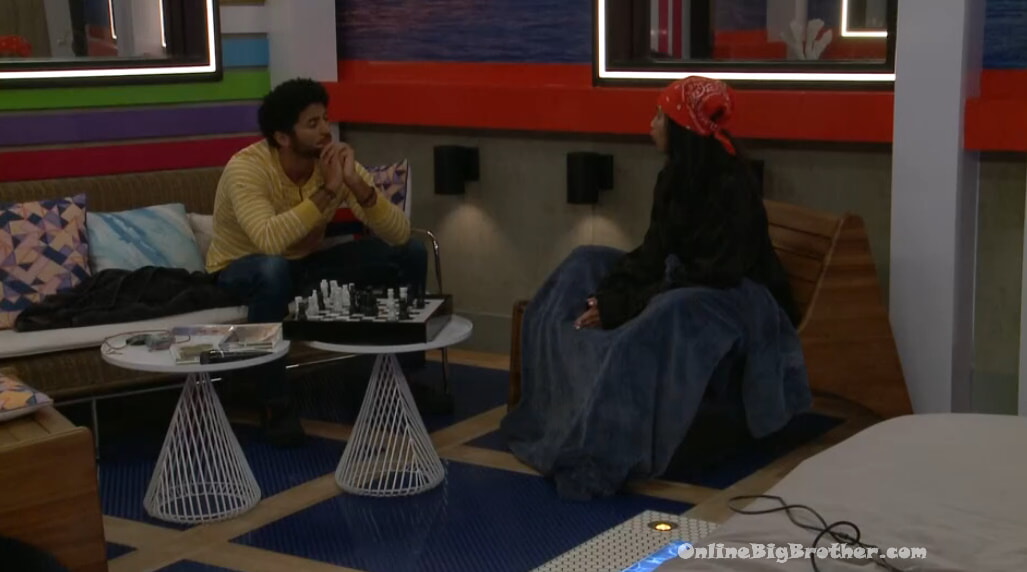 1:20 pm Hannah and Kyland (this conversations went on for close to an hour)
Hannah says taking BIGD to the final two is the same as taking Victoria.
Hannah says taking Azah and BIGD to the final 2 is a slap in the face to the game "I'm not trying to insult Azah and BIGD I'm sorry guys" (LOL)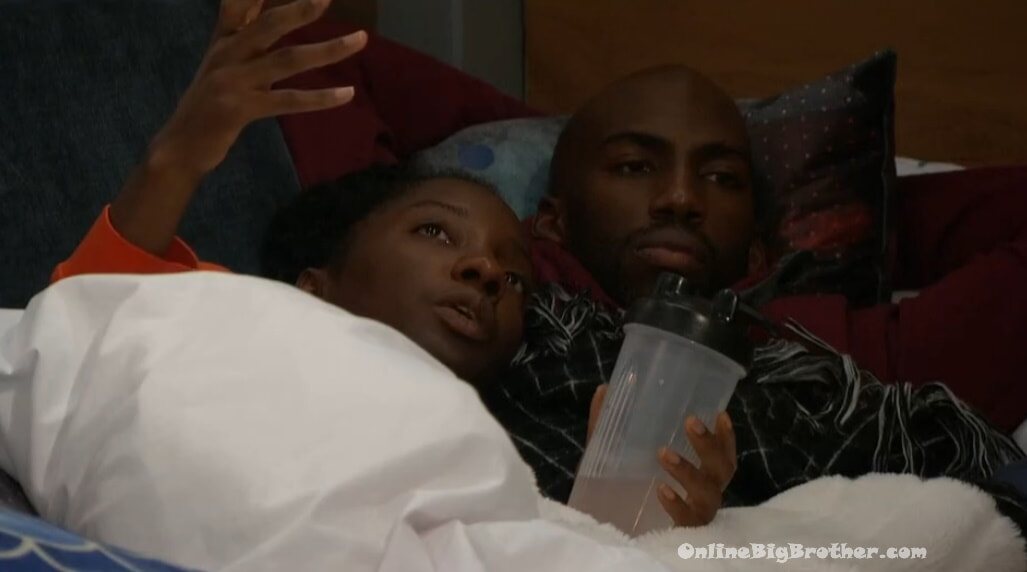 2:14 pm Azah and Xavier
Azah happy
2:26 pm BIGD and Kyland
BIGD – I want to make it to top three. If I was able to put a group of people together and we were able to work together and get this far why can I not get the HOLY BB to the top three.
Ky – we have a good shot
Big mentions, in the beginning, they didn't want to fill Hannah in on anything because she had a "Big a$$ f**ing mouth"
Kyland mentions how hard it's been for him to win the first HOH in the six. Winning the HOH during the powers and now winning the HOH when the Cookout goes after itself.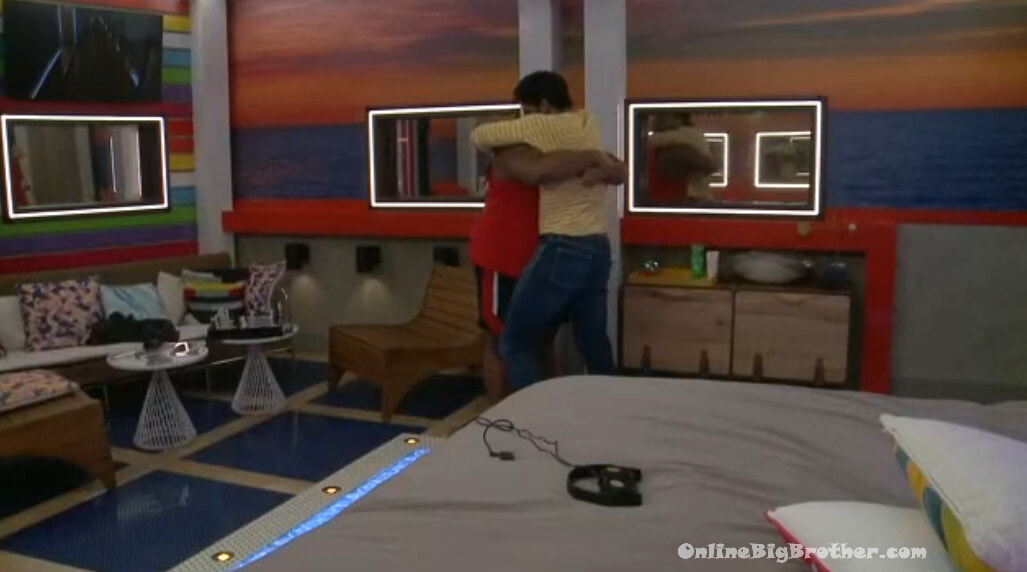 They hug. DF says he'll sleep up here tonight
Ky – wait for the veto
DF – okay I can do that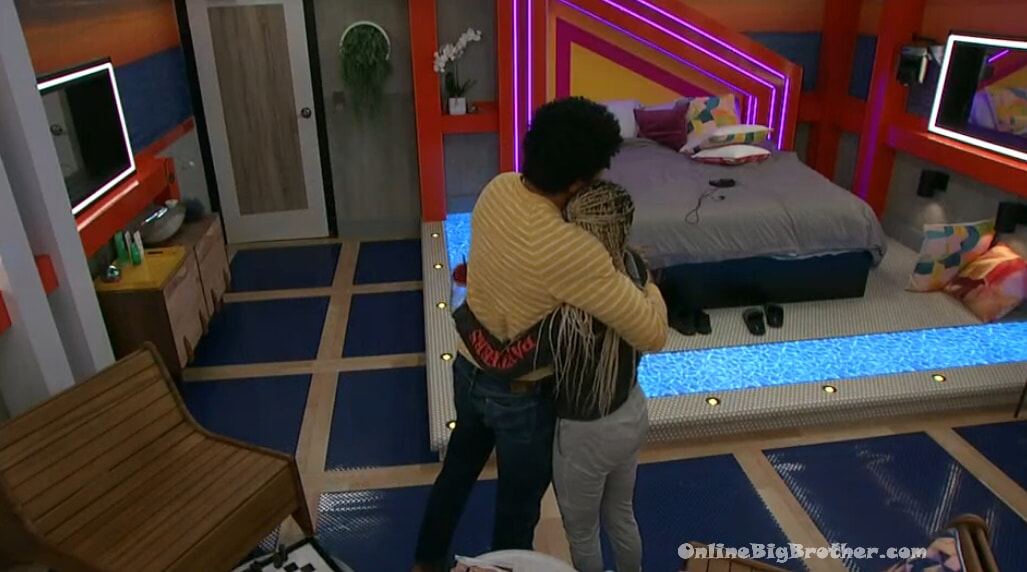 2:55 pm Tiffany and Kyland
Tiff – you busy
Ky – I'm thinking but I can always talk..
Tiff says when they were last talking he was called into the Diary room.
Tiff – I just want to know if you have anything more to say or not
Tiff – Maybe you were done I don't know.
Ky says he was in the DR for an hour and a half right after their conversation.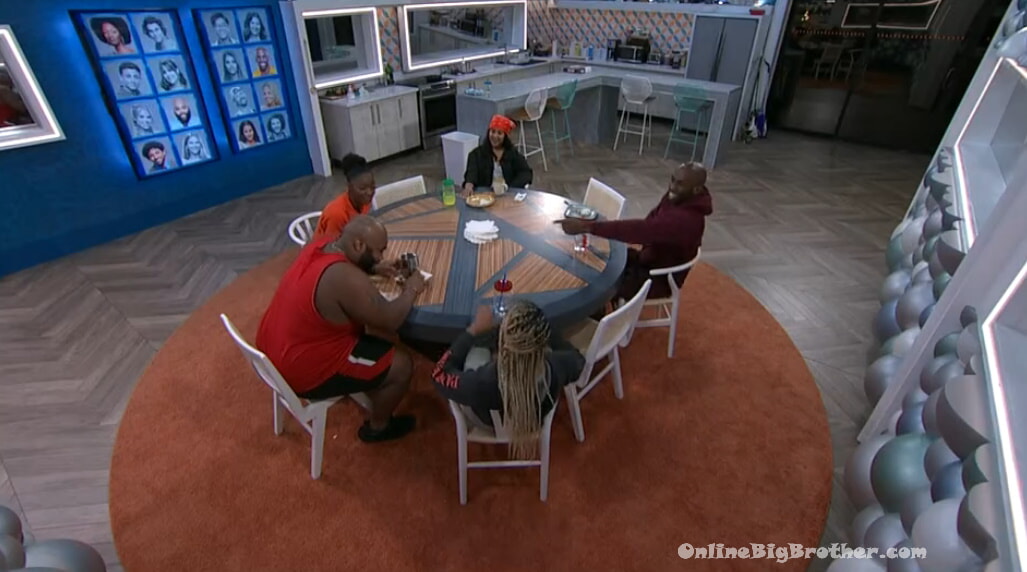 3:26 pm Cookout chit chat
Tiffany says the first day in the house Hannah looked "A little ethnic"
DF and Xavier didn't think Hannah was black they thought she was Indian
They go on about race and having the next season being cast with 8 POC and 8 white.. etc etc…
Tiffany says the one point of backlash will be that they didn't include Alyssa and Dx into the Cookout
Hannah says no because there have been Asian and Hispanic winners before.
Feeds cut..
3:54 pm Feeds flip to pound puppies
Please consider a donation to keep the madness going.