POV Holder:
?
POV Competition
Aug 20th
POV Used
?
POV Ceremony
Aug 22th
HOH
Natalie.Meech
Next HOH
Aug 25th
Original Nomi1nations:
? AND ?
After POV Nominations:
? AND ?
Have Nots
Victor and James
Watch the next week of the feeds for FREE – 1 week Trial!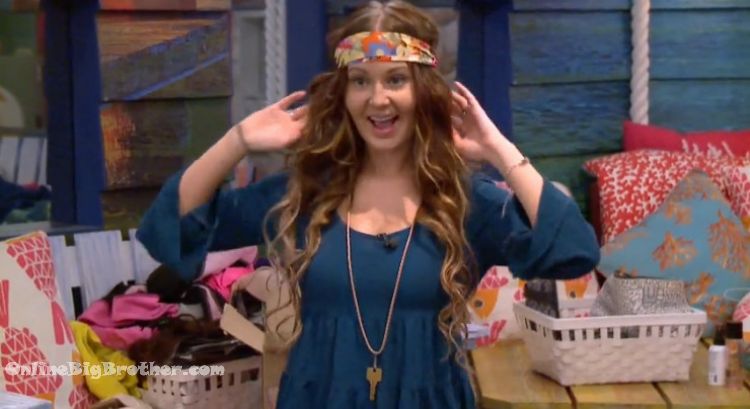 1:37pm Corey and Michelle
Corey – if one goes home this week the other goes home next week.. I promise you I'm going to win that HOH i'll keep you safe..
Michelle is onboard asks him if her hair looks cute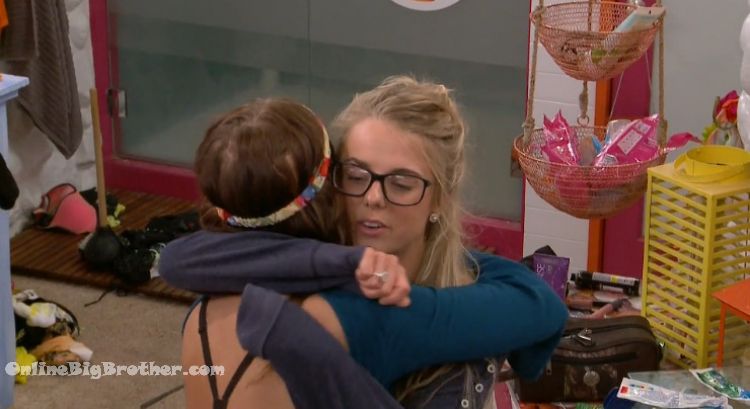 1:43pm Michelle and Nicole
Michelle – Paul has lied to me so much.. He's a snake .. he lies to my face..
Nicole – he's been planting seeds for awhileeeeeeeeeee
Nicole – she says that's your guys mutual targettttttttttttttttt
Michelle – yes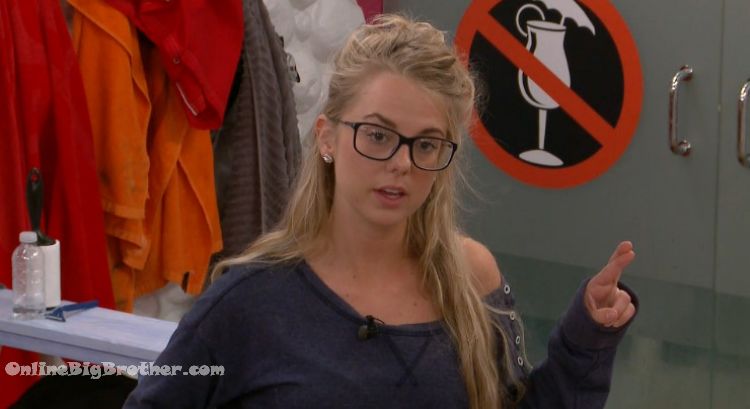 Nicole – who do you think about putting up.. Vic
Nicole explains if Vic does go up he can win POV and take Paul down, "That's what natalie is worried about.. She says Vic would have to go up otherwise.. He could take Paul down and I would go up.. "
Michelle nods..
They hug it out..
(ZOMG)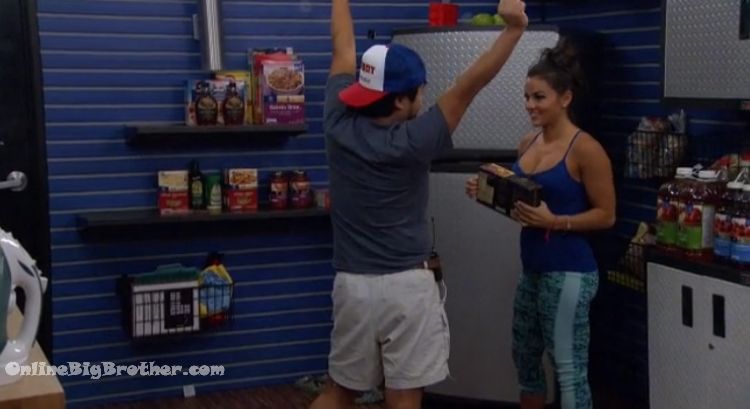 1:49pm Storage room Nicole, James and Natalie
Nicole says she talked to Michelle and she said she's 100% onboard.
Natalie says her and Corey has to keep her and james safe next week
Nicole says of course.
Nicole – I got your backs.. Moving forward.. This is what we have I really appreciate this I owe everything to you guys..
Natalie – I thought Paul was getting the care package because he was my only target. (when voting started Paul and Natalie were allies)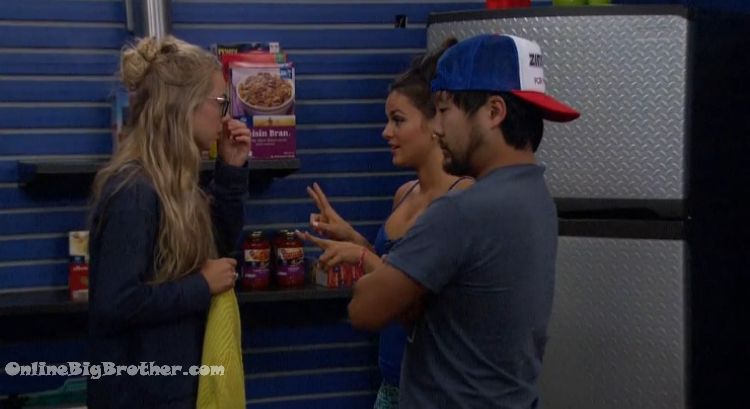 1:51pm Cam 3-4
Natalie says Production wants her and James to work with Nicole and Corey.. (I knew it.. It's a Kraken season.. official.. BB18 the third Kraken season we've had)
Natalie – especially [points up] mom and dad want me working with you and Corey..
Nicole leaves..
Natalie says at first Meech wanted Nicole out but she talked her out of it.
Natalie says they feel bad about him going up because they 'Actually" like him. Natalie adds that Paul is an atheist.
James- don't put Corey up there as a pawn..
Natalie – why..
James – whoever you want..
Natalie – we have the numbers.. The votes are going to be 2 to 1
Natalie – it just makes so much sense..
James says America is behind they are saying "that had to happened" (if they only knew)
Natalie – I know how conniving he can be.. He has sworn to god to my face..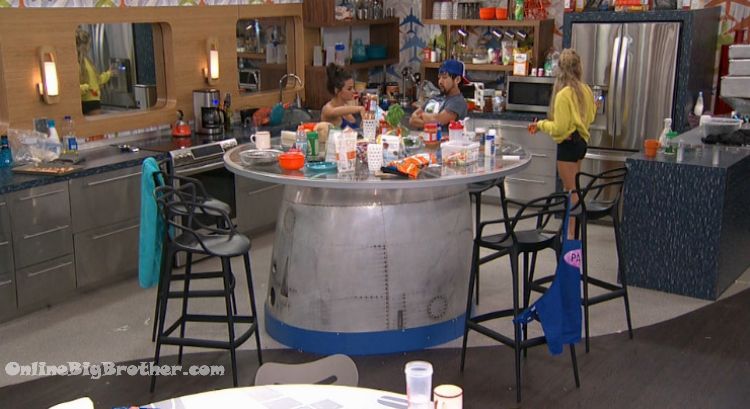 2:18pm Kitchen Nicole, James and Natalie
James promises if Victor or Paul win POV he'll vote to Keep Nicole or Corey if they are the renoms.
They wonder if they go warn Victor so he doesn't freak out but if they do that he'll go warn Paul
Natalie – Paul is going to go nuts look how he's been..
James – he's forgotten what's the Block feels like.. He doesn't want to go back
Natalie – I feel bad for Victor. Paul… never cared.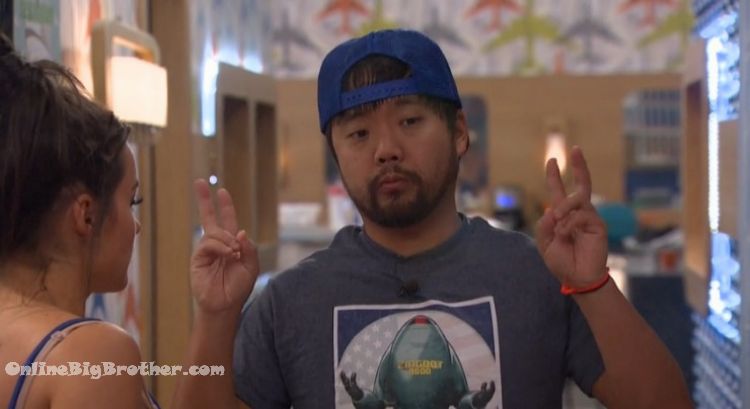 2:30pm james and Natalie Bathroom
James says the only thing Victor can do is go to Corey and Nicole and say we were "working with them" (See image)
Natalie saying she's already prepared Nicole and Corey saying she was only working with Victor and Paul to get Paulie out.
They mention if Paul wins the veto.
Natalie – it will be easier to take paul out than Victor.. We'll have to have a conversation with Meech..
Natalie is onboard with getting Victor out if that is what they have to do..
James- yeah..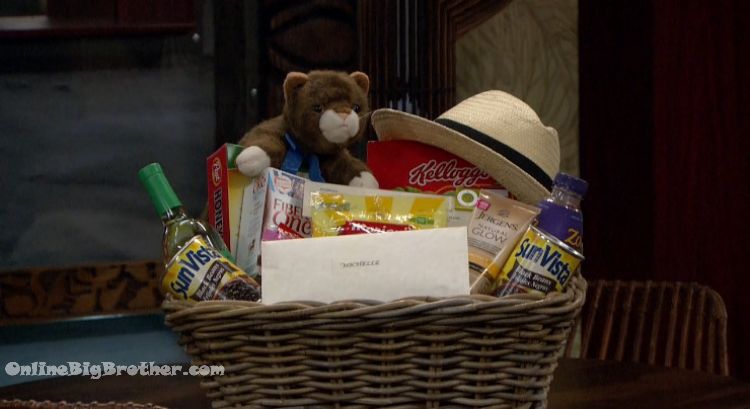 2:42pm Michelle gets her HOH room.. It's the same room as Natalie…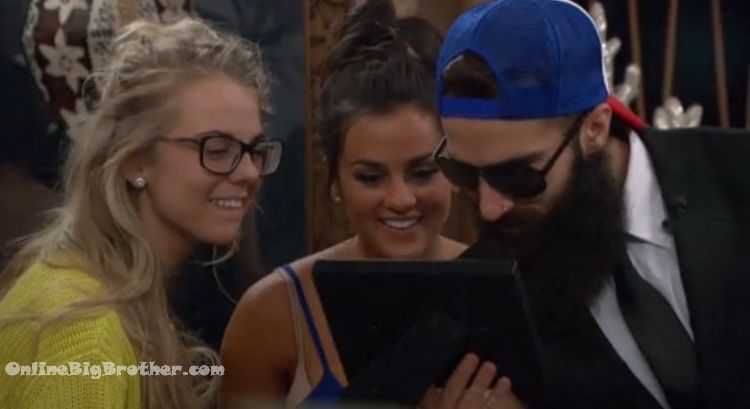 Apparently Michelle's sisters are lookers..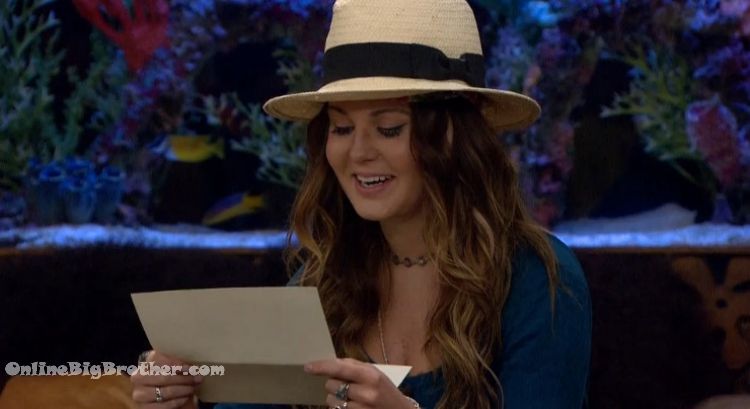 Her HOH letter is from her Dad..
3:10pm Tears into it..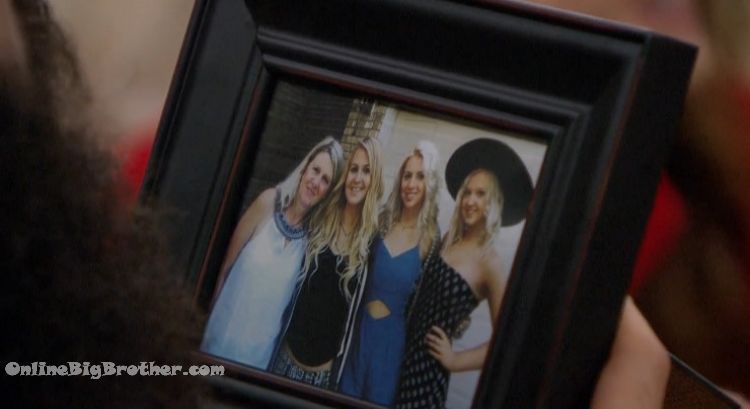 Meech's sisters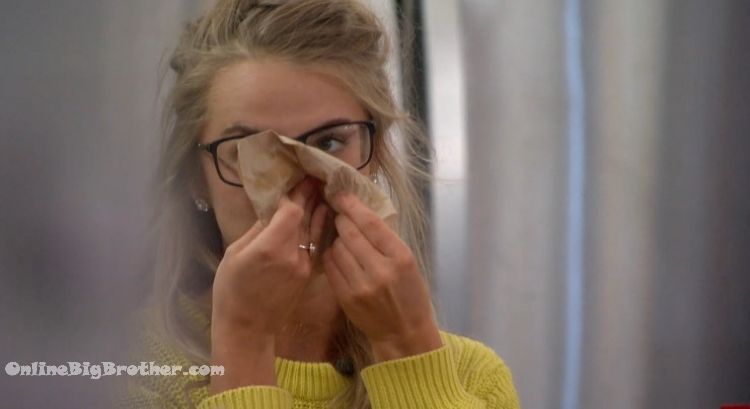 3:30pm Corey and Nicole
Corey – we've done everything we can..
Nicole – I don't think they'll put up both of us.. might be 1 of us
Nicole – they are kissing butt so hard.. I see thru that
Nicole – they'll stick to their word.. who knows..
Nicole – Natalie is legitimately mad at Paul.. when I read their non verbal language..
Nicole says she's glad he's her best friend int he house she wouldn't have done anything differently
Nicole points out that next week Michelle and Natalie can't play so they really only have to worry about 1 person.
Nicole says if they put Victor and Paul up those are the exact moves they would put up and they get to play in the next HOH.
James joins them.. Nciole points out that Victor is kissing Michelle's butt big time. Nicole is hoping she'll see thru that.
3:54pm HOH Victor, Michelle, Natalie and Paul
Friendly chit chat.. Paul has the social game turned right up
Natalie says New York City is legit..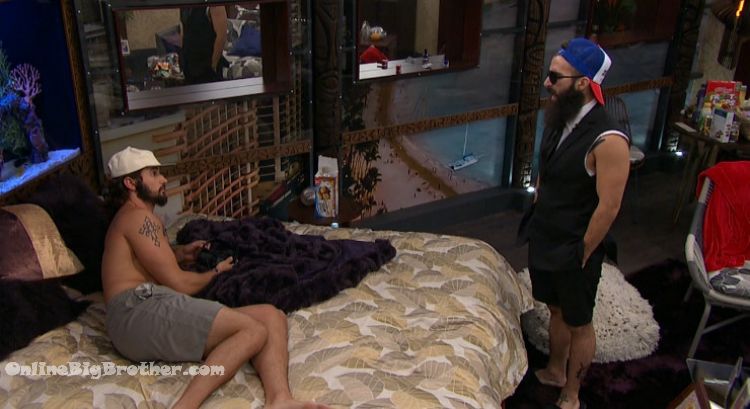 4:07pm HOH Paul and Victor..
Victor says natalie and James don't want COrey and Nicole to win but at teh same time they want to get them out.
Paul – they got to get us out anyway
Paul – we'll see bro.. what can we do at this point
Victor – nothing
Victor – hope that it's not us and hope we can lock up the veto..
Paul – if we don't lock up the veto we might be f**ed
Victor – backdoor
Paul – yup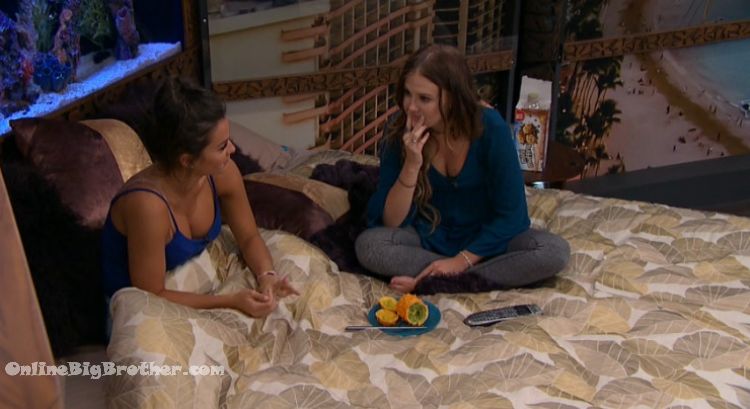 4:20pm HOH Michelle and Natalie
Michelle – If Corey wins who does he put up next to Vic..
Natalie – I really want to put up Paul.. that's the only person I'm really set on
Michelle says they can tell Victor he's a pawn and he's going up because they don't want him winning a veto
Natalie – in order to get out big targets you got to put up 2 big targets.
Michelle agrees with putting Paul, Honestly..even if I did want to put up Nicole it' wouldn't make any sense.. James and Corey are going to vote out Paul..
Natalie says Victor will got over Paul
Michelle – no they all said that.. Paul
Natalie – oh they all agreed.. Oh
Michelle brings up when they get to final 5 she's the odd person out.
Michelle tells her she's taking Natalie to the end if she can. She'll understand if Natalie won't take her because of James.
Nicole comes in needs to go number 2…
Natalie now saying they don't have to put up the same people they can pick from 2 groups.
Michelle – I just feel really bad Victor has been good to me.. I don't know what we should do
Natalie – even if you put up James that's your game I respect that..
Natalie says Nicole/Corey, Paul/Victor are taking each other to the end.
Natalie – we can pull one person per group to make it even..
Michelle is proposing they ask Victor not to use the veto if he wins it to stay off the block.
Meech – I kinda wish I didn't win it.. Kinda sucks..
Meech – I'm going to be the odd person out.. lets face it..
Michelle is scared to work with Corey and Nicole.
Natalie says they have to work with different people week to week..
Michelle – I've wanted Paul out for awhile now.. I'm not goign to lie.. I don't want to put Victor up.
Natalie says she'll put Victor up and Michelle can put Paul up.
Michelle – If Paul and Vic stay and they win HOH they are goign after Nicole, James they are not coming after me or you..
Natalie – or Corey
Michelle – If Victor, Paul and James win we're safe..
Michelle says long term Paul is bad for their game but short term he's good.
They agree Paul's got to go
Michelle points out that Nicole has not been on the block Michelle doesn't want to see Nicole slide to the end.
Nat – would you put Nicole on the block
Michelle – yeah I would..
4:50pm They plan to talk to Victor and tell him he's going up as a pawn.
Michele says they'll tell him if Paul comes down they'll put Corey up and send him home.
Michelle says Victor has never lied to her.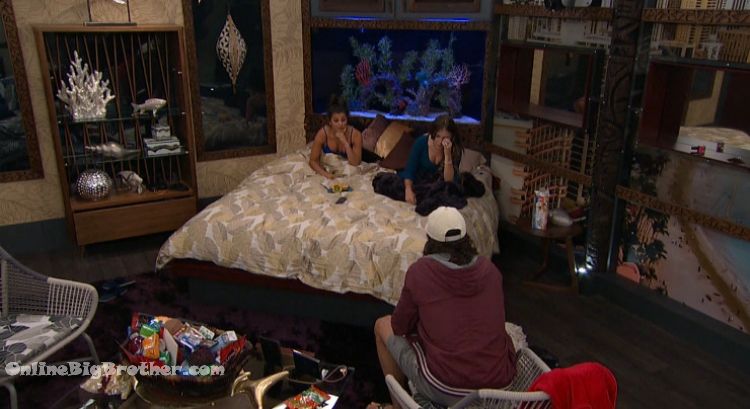 Victor comes up
Natalie – we want to be honest with you.. I respect you'r game 100%.. you are not my target
Vic – don't put me up as a pawn..
Michelle – Paul is a target.. he's lied to me so much..
Victor – if Corey goes home this week me or Paul are guaranteed a care package Nicole is the target then it's us 5
Natalie – I don't trust Paul .. I trust you but not Paul ..
Victor says why not put Corey and Paul on the block.
Michelle – we don't want yo to win it take off Paul..
Michelle swears to god she'll use the veto on Victor tells him he's safe the whole house wants Paul out.
Victor points out if him and Paul are on the block together Nicole and Corey cold flip and vote him out.
Natalie says paul is playing all sides of the house.
Natalie says she'll respect him if he puts her up
Victor – Nat I wouldn't do that..
Victor – if you trust me enough would you trust me enough to throw a veto comp..
Vic – if you put Corey and Paul up and I throw the Veto comp and Paul stays on the block..
Victor – if you trust me.. look I want to stay in this game..
Victors says all along his plan was 100% to take out Nicole, Corey and roll from there. Victor isn't thrilled that they are changing the plan.
Natalie – I take it week to week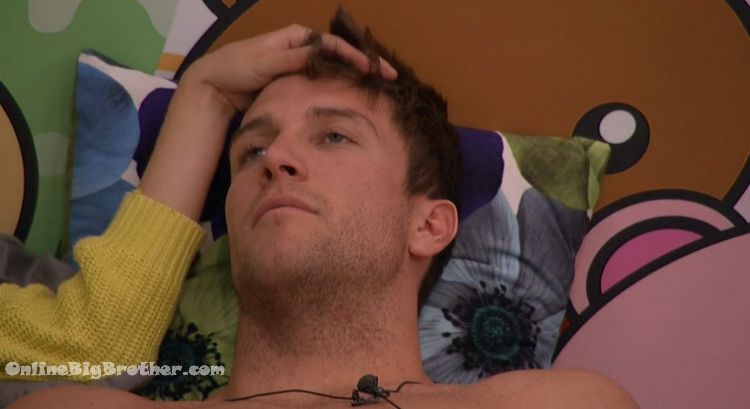 4:41pm another week of this
5pm Big Brother blocks the feeds.
6:25pm Still blocked for the nomination ceremony..
7:05pm No feeds for you