Head of Household Winner – Memphis
Have nots – Cody, Christmas
Nominations – Kevin & DaVonne
Power of Veto Players are –
POV Host: –
Power of Veto holder –
Power of Veto Ceremony –
Powers – Christmas, Dani, David
Live feeds —-> Grab your Live feeds here. Try it free.
Rank the houseguests —-> Big Brother 22 Ranking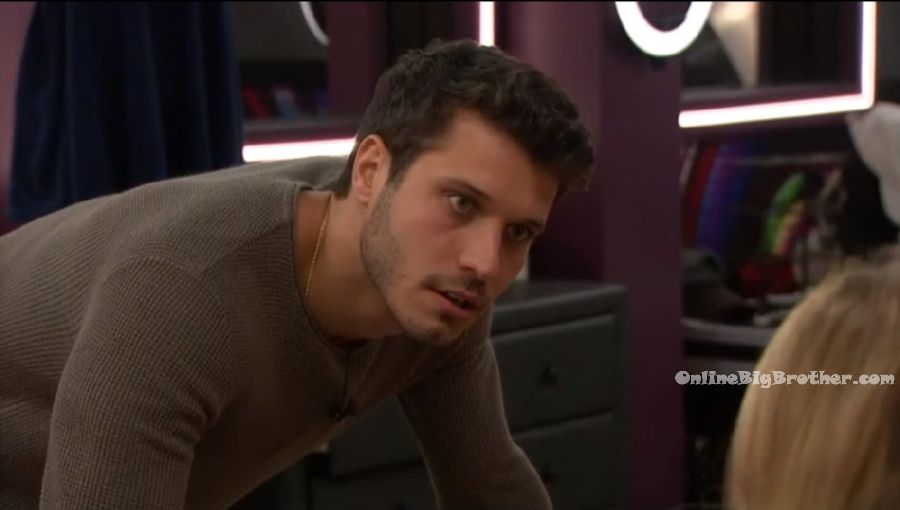 4:57pm The live feeds return from the nomination ceremony. Memphis nominated Kevin and DaVonne.
In the bedroom – Cody, Dani and Enzo are chatting about how they told Day not to use the veto. Cody – She even told me that she felt like she f**Ked up by using it. Dani – you (Enzo) should go up to her and say I told you so!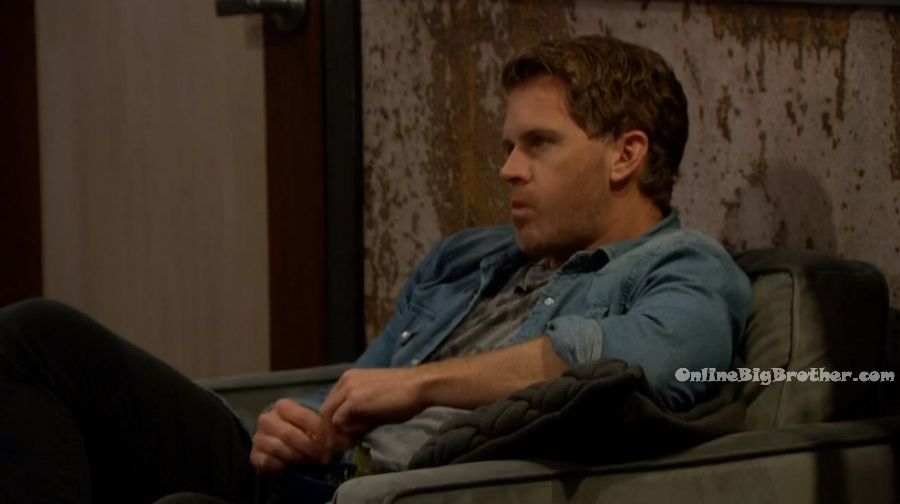 Memphis – Its a game and you've got a week. And as much as like .. to be blatantly honest with you I was thinking of keeping you last week and then she used the power on you which I totally understand you would much rather be safe over anyones word to say and not take it if she is willing to give it to you. But for me its an easy excuse in a game right now .. where I just need some excuse. Kevin – Hmm. Memphis – does that make sense? Kevin – MMmhhmmm. Memphis – instead of putting up Tyler because he's a big threat… which then its game on! It was an easy out for me.. you understand!? It sucks but.. Know what I mean?! So hopefully you can see it from that angle. Kevin – Mmmhhmmm. Memphis – right now I had to have some excuse. Kevin – I am still trying to play the game and get as far as I can get and if this is the furthest I can get then its within my own destiny. Memphis – coming from someone who took himself off the block four times .. I don't think this is the end of the road. Kevin – Veto .. the odds are better. And I liked our mini milestone arrangement. If that's still available then I think we can make that work. Memphis – yeah lets continue to talk throughout the week. I know you get the short end of the stick from using it .. I mean you got the benefit and now you get the wrath. Kevin – well to see how the vote went with Tyler .. I feel like I would have been out with Ian. I get it. Memphis – yeah I was one person. I can say how the house would have been. Kevin – I knew something was up when he was on the block .. I sensed he was way too calm to be nominated and backdoored.. I knew he had people so that is why I needed to be removed. Memphis – well we'll keep talking throughout the week.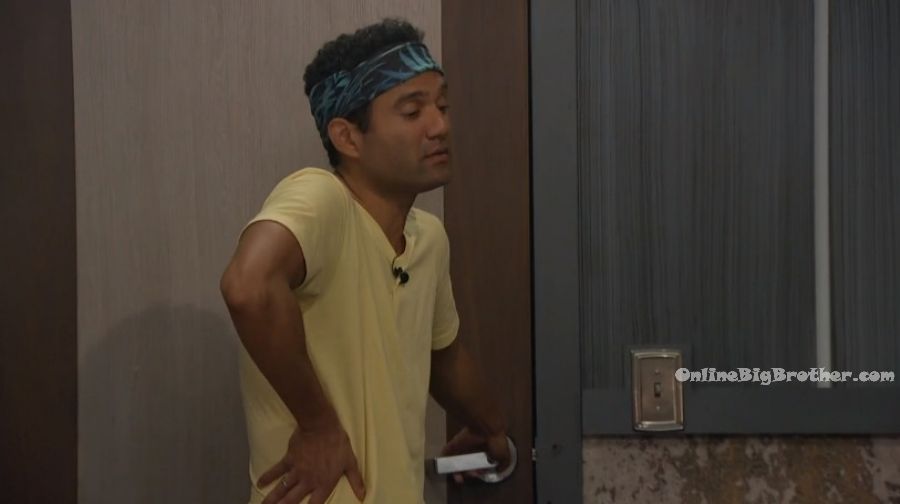 Bedroom. Kevin and Day.
Kevin – I just feel so bad. Day – I made the decision. I knew what I was getting into. Kevin tells Day how Memphis told him it gave him the easy out to nominate them. If you're looking for an easy out .. that's a reason for me to NOT vote for you to win. I think it had been setup from the jump. We're not in the loop. Day – NO! Not at all. Nicole comes by to ask them if they're okay. Day – peoples words don't mean anything .. unless you really have a bond. We still have the veto. Its weird .. he could have told me I was going up. Why don't people ever tell me. Kevin – I just wish it wasn't you up there. Kevin talks about how if she hadn't used it he would have gone home. Day – there has got to be a way for both of us to stay in this house. Maybe you and me are up as pawns so he can backdoor … Or not ..I'm just trying to be glass half full. Kevin – I think that is what we have to shoot for. One of us just has to win the veto because no one else will use it. He might backdoor him (David). If you get house guest choice you can NOT pick him (David).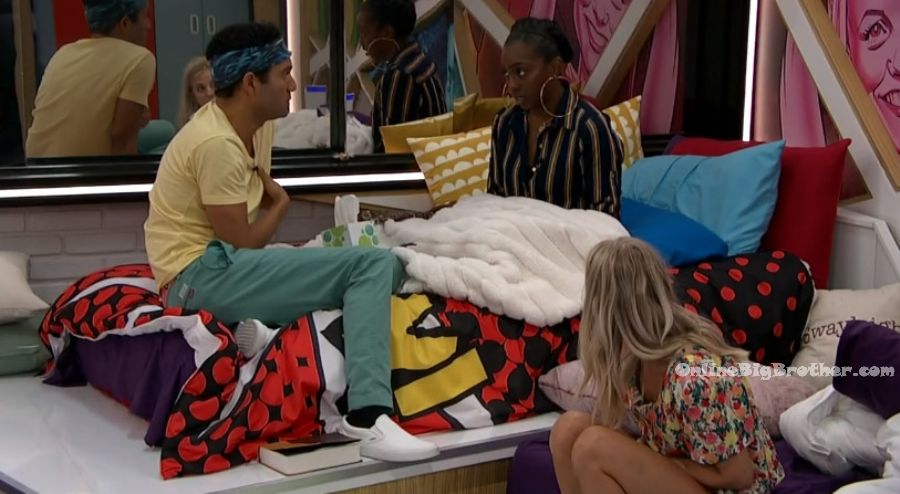 Day – when I saw my picture I knew it was you. Kevin – you know what .. there is really only one winner in this game .. but finding a friend in you.. Day – Don't do that .. you're going to make me cry! Kevin – you .. Day – you are the worst.. Kevin – you made my dreams come true. I remember watching you and being like she is going to be an all star. And I'm playing with you on an all star season. And now I've become friends with you. Only one person can win so to me that is .. people walk out with showmance and stuff .. you can win more. Day – you've always been my best friend in my head. Then I met you and you became my best friend. I love you. We will figure it out. These people are whack .. half of them won't talk after. Kevin – at this point I'm not rooting for anyone unless you stay. Day – its your birthday.. we're done with this.. Kevin – I really do feel proud of you for using the veto. We were on the outs.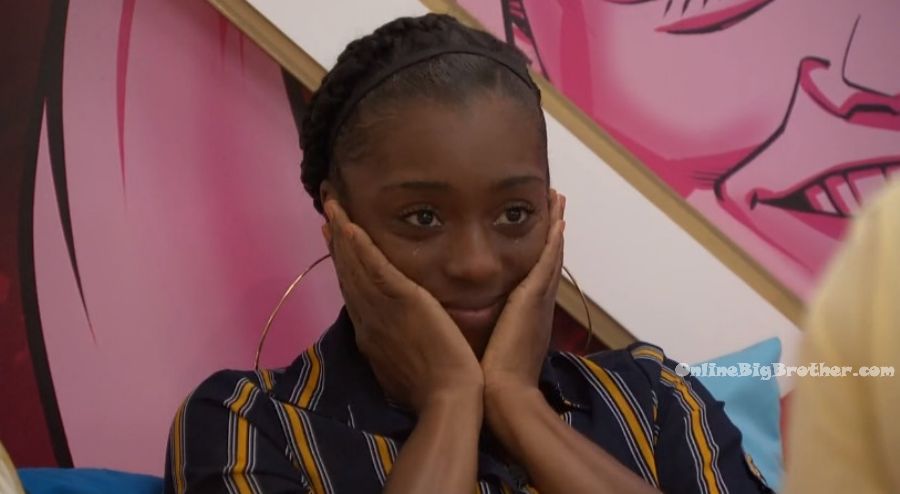 6:10pm Bedroom. Dani, Cody, Tyler and Enzo.
They're talking about how Cody sits down when he pees because his Dad taught him that when he was younger so that he didn't have to clean up the mess when he missed.
6:17pm Storage room. Kevin and Day.
Day – If I am leaving I am going to (throw all the food out). Kevin – be petty as F**K! They head to the kitchen to make Kevin his Birthday dinner.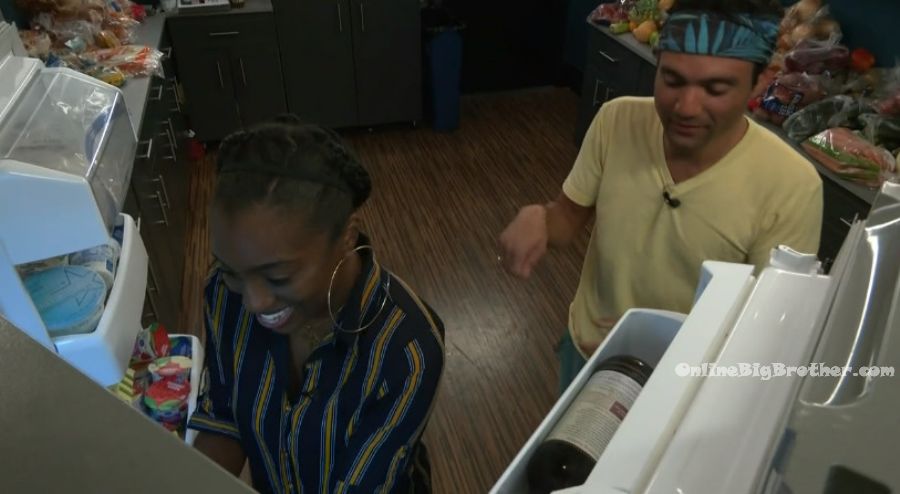 7pm Bedroom. Dani David and Enzo
Enzo and Dani talk about when Zingbot will come and what his zings will be. Enzo – Niocole's zing will probably be something like you hooked up with more people in the house than Dani has nominated. Dani says the home videos will be in a week or two.
7:18pm Bedroom. Enzo finds Nicole sleeping on the bedroom floor and asks her what she's doing down there. Nicole says if she lays in her bed everyone comes and talks to her so she laid on the floor to get away from people. Enzo asks her why she's laying in the middle of the room? Go in the corner.

8:06pm Living room. Tyler, Cody and Enzo.
Cody – what are you (NIcole) doing in that room? WHy are you going in there? Sit in your bed! Enzo – sit in your bed! I know! Its weird. Enzo – because its out in the open. Cody – its like she is staying close to where Ian slept. Enzo – yeah yeah yeah.. like America hates you YO! That is it! Just accept it. Cody laughs and says That's f**ked up!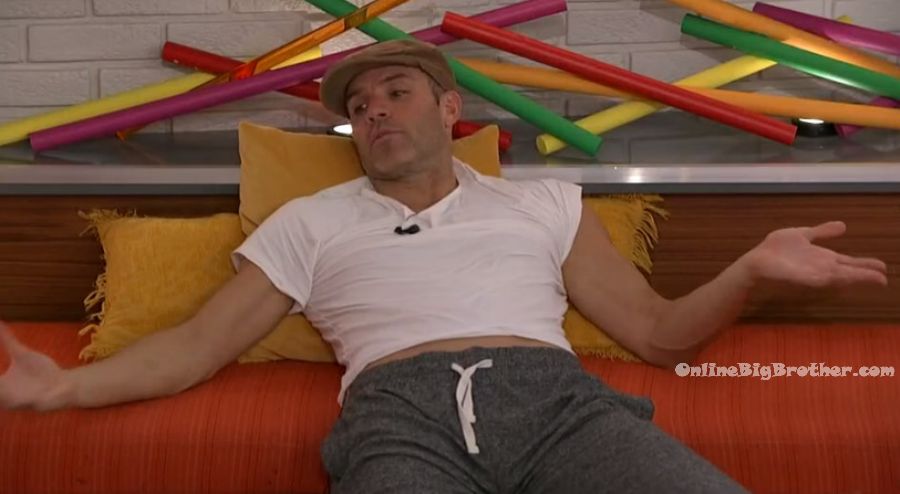 9:05pm Lounge room. Kevin, Dani and Day.
Dani – Unless he (David) gets backdoored.. it kind of is telling that he didn't get put up there. Kevin – it is telling. Day – I've even noticed that Enzo's backed away from me. Dani – did you? You don't think that he's been depressed because he's really missing his kids. Day – I'll chat with him… I didn't know that. Kevin – I feel like I am going to go off on Christmas or Memphis at any time. Day – she has one more time. Christmas and David.. whew… those two.
9:50pm – 11pm HOH room. Memphis and Christmas.
Memphis – Dani is an interesting player. I can't read her. Christmas – I can't tell when she is lying. Memphis – and what I am noticing is she is a really smart player and she knows this game better than anyone. Christmas – look at her history.. I mean come on .. her family is like .. she is big brother royalty. Memphis – I don't know .. I have been trying to get some kind of a read on her. Christmas – its just weird that she attaching herself so much. Memphis – when I see that or hear that .. I think she put a sh*t load of people on the block last week and is trying to save herself if one of them is here next week and they win HOH. Christmas – no I mean with Cody and Nicole .. like with Cody or Nicole. She is attached to the hip with either one of those. Memphis – yeah ..I've been noticing big time. Dani and Cody .. They're two peas in a pod. If they did have something .. don't you think they're both smart enough that they wouldn't be joined at the hip???! If you and I had a final two .. we would literally be making sure we don't do that. Christmas – but when they've played the game before .. they each had a person .. and maybe they're not comfortable without having someone. Memphis – we know its their and will fight it when we need to fight it. Christmas – they are going to come after us when we get to eight and before we get to six. Which could be next week. Memphis – yeah if next week is a double. Nicole, Dani and Cody join them. They chat about random things.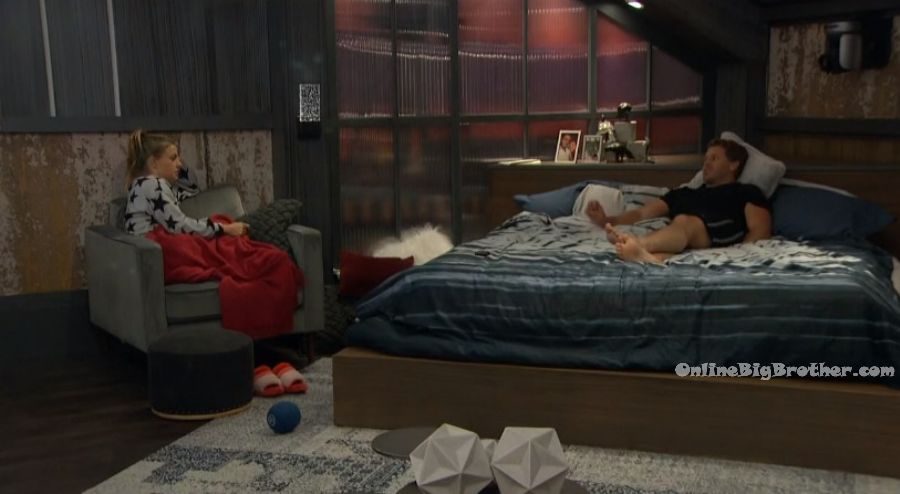 10:40pm Lounge room. Kevin and David.
Kevin – this week I do feel strangely okay. Now with one of us going unless some magic happens .. it is cement, concrete, definitive unless some miracle happens where it is back to back to back to back to back.. The caliber is out of control. These people there are .. on a regular season there are duds.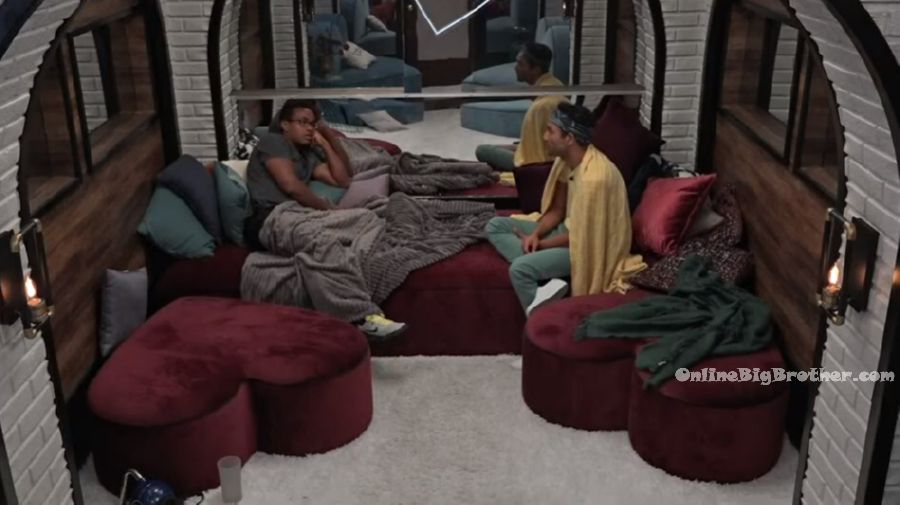 11pm Lounge room. Day and David.
David – through the view of the truth I will show you that I voted the way that I told you that we agreed on. I am sorry that I was the one that .. the moment that I decided to go the way that we started to plan to go against Tyler is when Kevin told me some truth about how he plays. Thinking about the way that Bay got put out.. I feel like I was the odd man out of the two people wanting a straight objective and I feel like I was betraying my alliance for wanting the game to go a certain way. Day – which way did you vote? David – voted Tyler out. Day – who did? David – David. Day – I want the sentence.. David – I voted Tyler out of the big brother house. Day – okay. David – for the hurt that you feel why would you risk your game again and try to trust me. That sucks. I feel like we still have the opportunity to fight. Day – I am on the block because of that vote… not because of the veto ..lets be very clear. David – Memphis won HOH. Day – this is about the vote. 100% it is about the vote. David – Memphis winning HOH. Day – Okay. I am telling you I am on the block because of that vote. Big brother cuts the feeds in and out. Day – Well thank you for apologizing.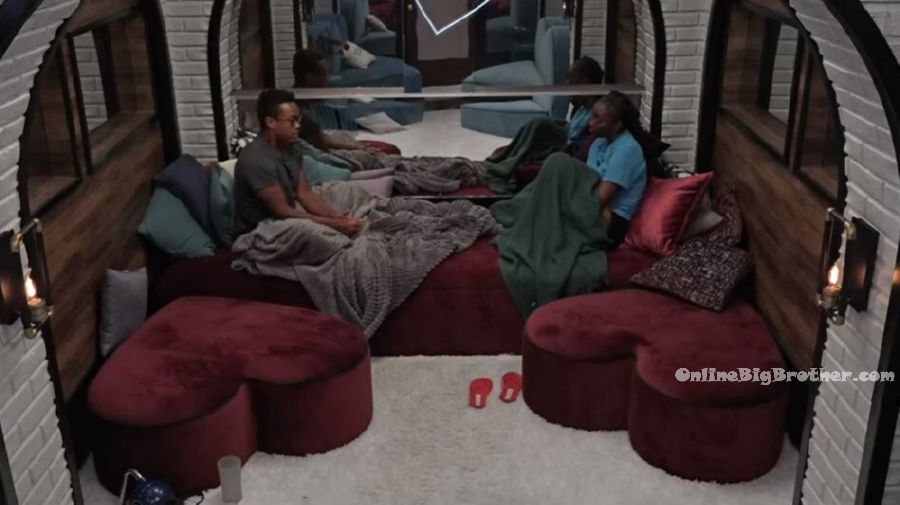 11:37pm Bathroom. Day and Dani.
Dani – I don't know if the plan at this point is to backdoor him (David). Day – I don't know. He (Memphis) told Kevin after the veto players get pulled he said he wanted to talk to all the veto players. After he finds out who is all in it.. he wants to talk to them all. Dani – so maybe there is a backdoor plan. Day – don't repeat that. Dani – and he didn't say it to you? Day – no. I don't know what to do. I feel like I am on a pecking order. Dani – All you can do is try and win (Veto) and get someone else up there.. and then basically slide into the background. Day – Mmmhmmm.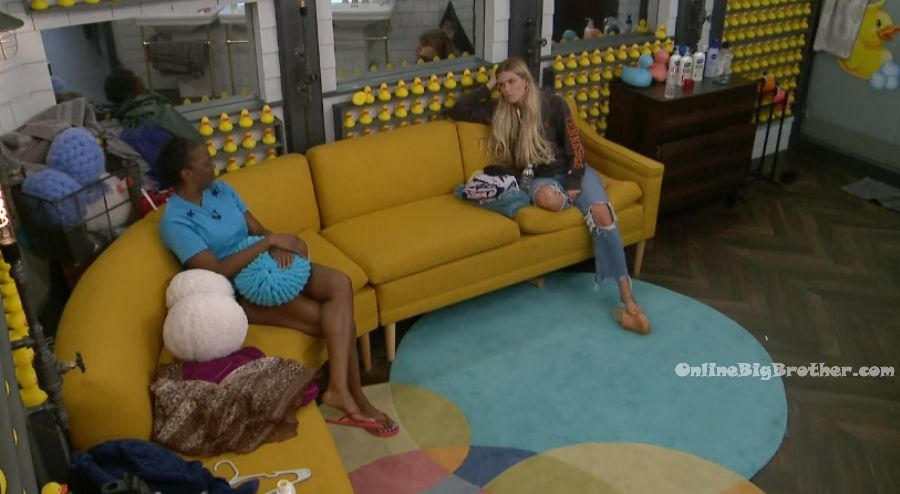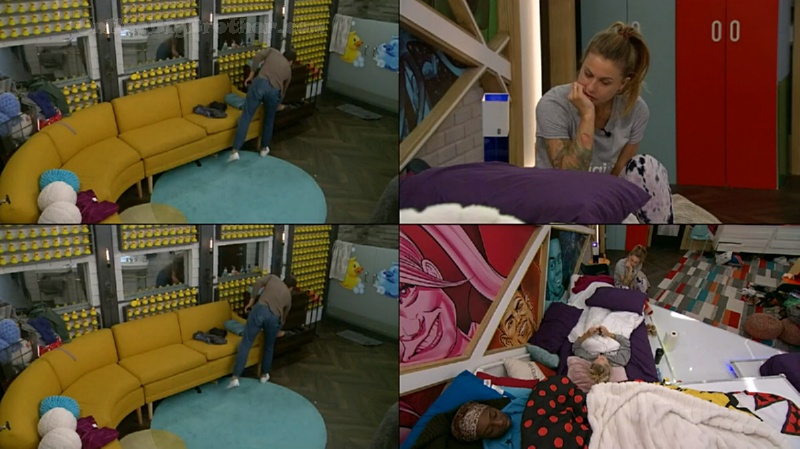 12:10 am chit chat about back home..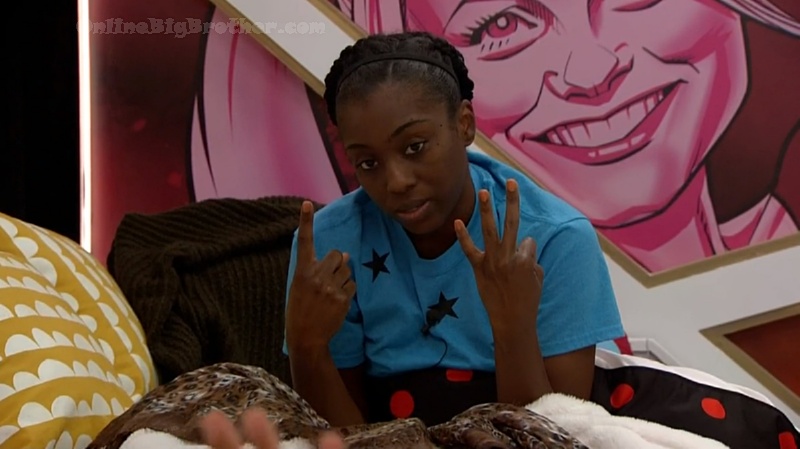 12:30 am Kevin and DA'Vonne
Da'Vonne asks him what he will do if he stays.
Kevin says he'll have to win competitions.
Kevin – I'm going to be dragged
Da'Vonne – by who? I don't know what is going on with f**ing patch Adams
Kevin – Patch Adams?
Da'Vonne – David
Kevin – if one of us wins veto I'll think of the next step.
Da'Vonne- that's all we can do
They agree unless they use veto nobody will use it on them.
Kevin – he may throw it.. or he may be less motivated to win (Memphis)
They start studying the days.
Da'Vonne says they will be picking POV players early tomorrow they should get some rest.
They talk about asking Nicole or DAni to play in the POV with them.
Da'Vonne – I want her to throw it.. I want her to throw it I want Dani to throw it (Nicole/Dani) That way the only people that are competing are you, me and Memphis.
Da'Vonne says Nicole might not throw it because she's scared Memphis will put her on the block.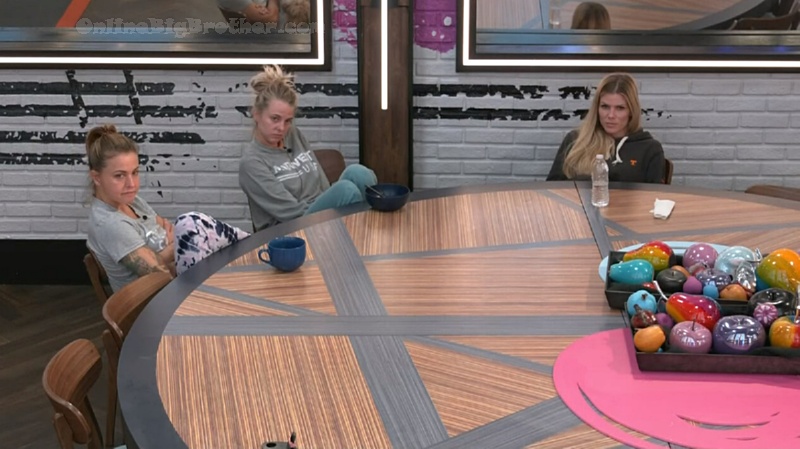 12:50 am Dani, Coins and Christmas
Look at the memory wall. talking about the HOH competition puzzle. General chit chat about competitions. Nicole leaves.
They talk about the veto player picks. Dani says Da'Vonne will never pick David.
Christmas – I feel like they are on their own island
Christmas says she wants her name pulled so she can play and have fun.
They head to bed.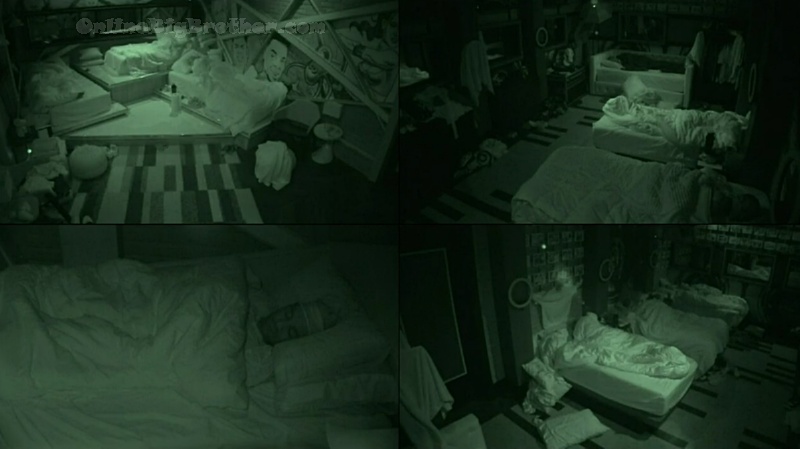 4:32 am Sleeping yo
Show your support by making a donation.
If you're enjoying our live feed updates this season, please consider donating.
Any amount is greatly appreciated! Your donations go directly to paying the fees required to run this site.