Head of Household Winner – Memphis
Have nots – Cody, Christmas
Nominations – Da'Vonne and Kevin
Power of Veto Players are –
POV Host: –
Power of Veto holder –
Power of Veto Ceremony –
Powers – Christmas, Dani, David
Live feeds —-> Grab your Live feeds here. Try it free.
Rank the houseguests —-> Big Brother 22 Ranking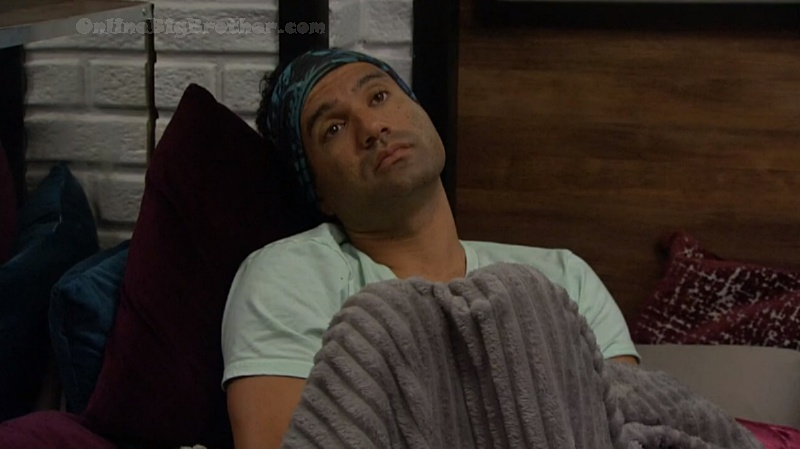 9:05 am Kevin
Kevin – unfortunately now I have to start lying like crazy ..
Kevin – the only chance I have avoiding the block with Memphis is I talked to him before the HOH and I ask him would you nominate me and he said no I told him I wouldn't either. He would just be willing to go back on that which is not really safety in this house.. People just say whatever so .. I need to remind him of that conversation. IF he's teeter on should I put up David or Kevin they're both disposable.. Then maybe he's like it's not worth putting me up.
Kevin – oh my god.. last week was crazy. It would have ended perfectly if I wasn't tricked because I was tricked at the end it made it a little not ideal but still ok.
Kevin – If Ian had stayed I would have had the beginning of an alliance.. now that's he's gone their's no alliance. IN fact it strengthen David's game (Of course he thinks David flipped. LOL )
Kevin – I'm sucking at this game. Damn I thin I'm a pawn this season. I think i'm like the crappiest player out of all these people. Feel like I can't catch a brea… let me reprhase.. shut up Kevin.. last week I got pulled off the block!
Kevin – I had amazing friendship moment with Da'Vonne and that's worth a lot I was not the target for one week!
(There's more but you get the idea… )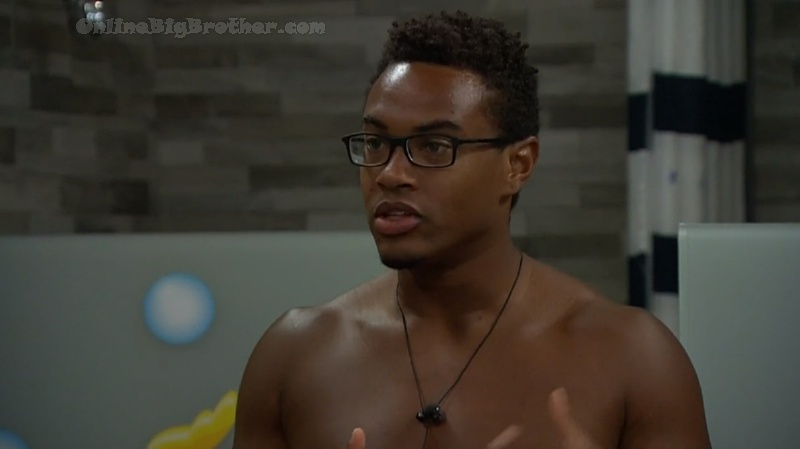 10:14 am Kevin and Da'vonne
Kevin saying it's either him, David, Nicole or Dani.. those four
David comes in "you want to talk about yesterday.."
Da'Vonne leaves..
David – no .. okay
David says he's getting out played
Kevin – by who?
David – maybe Nicole..
David – they're planting seeds to get us arguing.. it works every time.. Feeds flip to Shitmas and Memphis in the HOH talking about the HOH competition..
10:18 am Memphis and sh1tmas
Memphis – David the things that come out of his mouth.. this morning.. ahh it's your second HOH that should have been mine
Memphis – Dude you vomit out of the mouth… the things you think you say maybe you shouldn't say.. it's so bizarre. it's so weird to me
sh1tmas – he has no idea what he's doing and he's taking his direction with Da'Vonne.. so …
We're flipped back to the bathroom. David talking about how they are getting outplayed and Da'Vonne falls for it every time.
Kevin asks who the other side is saying is the three votes.
David – at this point I know there's something to be fighting for to try and win this game.. I honestly don't mind going to the stage feeling like stayed true to my colour and I tried my best to to give.. opportunity to what is considered the impossible in a game where odds are really against you that I tried for my own sanity by not being targeted by people who look like me calling me uncle tom
Feeds flip to Shit and Memphis in the HOH.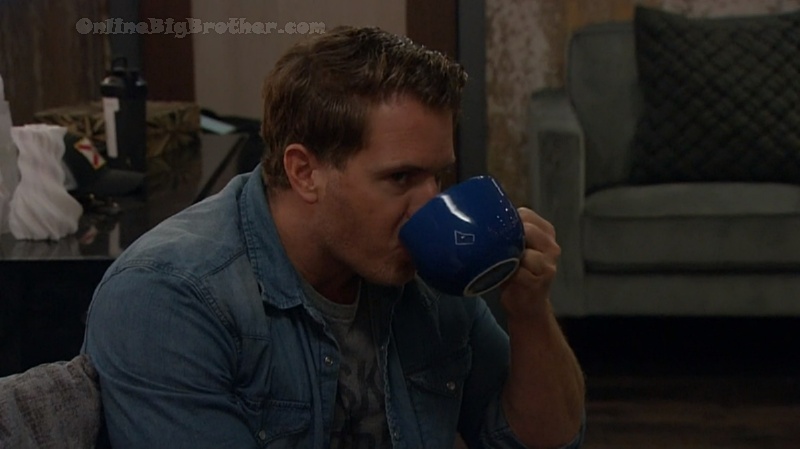 10:25 am HOH Shitmas and Memphis.. They talk about her power.
Memphis – for this week I'm not going to tell you what I'm going to to.. everyone has a little bit of loose lips and I don't like.. Dani has loose lips..
Christmas- dani has told so many people recently it's pissing me off
Memphis – how do we make a run to this final 2 that is what we have to talk about.. Obviously the committee was built to get us to this point next week then it will dissolve. Once we get to 7 it will implode. I think me and you can get to final 2.
Memphis – I feel like we are on a even playing field to get to the win
Shits – thank you sir..
Memphis says he doesn't want to go up against Da'vonne "A single mom"
Memphis – you're a single mom but you're more of a …. I've thought about this alot..
Christmas – the veto is HUGE now and there's only three major targets that are house targets. In my game opinion Kevin is just… Kevin and DA'Vonne are the closest I believe they need to be separated.. One of them need to go home and David will be lost in the sauce..
Christmas goes on about how this is allstars and she wants to make it to the end with someone that wins comps makes hard moves and makes business happen
Christmas wants this to be an authentic win.
Memphis – Tyler scares me in the finals every comps he's in there.
Memphis wants them to use Enzo to "get through the committee"
Memphis – Tyler scares me in the finals. Every comp he's right there and sometimes I don't know if he doesn't want to win. Could he have won the wall? Once we get down to 6 or 7 he's got to go he's such a good competitor I don't want to be sitting there to the final 4 going against Tyler.. I don't.. (LOL but its' allstars the best competitors)
Sh1tmas – what's your ideal final 4 lossley.. you and me.
Memphis – me, you, Enzo and really anyone we can bring.. I mean Nicole probably (Grod will make the final 4 HOH a test of HJ stamina)
Memphis – I don't want to go against Tyler in the final 4. If we are final four one of us takes HOH the other veto and we take out Tyler. Then it's us and Enzo.
Memphis says he doesn't want to drag Nicole along to final 4 adds he doesn't trust her.
Christmas – I don't trust Dani… I see Nicole's angle..
Feeds cut..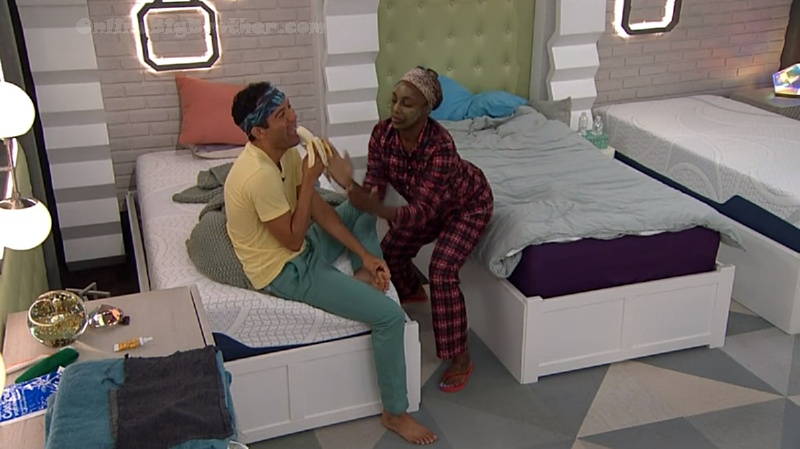 10:30 am Kevin and Da'Vonne (I call this group NouveauFoutte)
Kevin – there's two scenarios either he's genuinely being mad and hurt or he's a damn liar..
Da'Vonne – mad about what
Kevin – he was explaining to me that he's been trying to keep us together since week two since the whole fiasco of a boys alliance calling out Cody and Tyler.
Kevin – he sounds like from his perspective you betrayed him because you immediately ran to them and believed their lies and instead of his and you didn't believe him
Kevin – he's like this week he goes instead of believing me you're going to believe Nicole and he's like I've been trying this whole time and she won't give me any credit. He's like I don't care anymore I give up i'm going home
Da'Vonne – F***ing liar.. I can't stand his a$$
Kevin – or he completely is lying
Da'Vonne – he's a liar thoroughly
Kevin – I can sense he's lying every time I try and get to something he like dodges it.. he's like you don't understands I have to deal with the narrative that i'm a uncle tom..
Da'Vonne – because you are
Kevin – people said I don't want to work with minorities ..
Da'Vonne – you got two of them here
Kevin – hes like no
Da'Vonne – you just through both of us to the wolfs
Kevin – he's trying to build up a narrative right now that he's so hurt..
Feeds cut..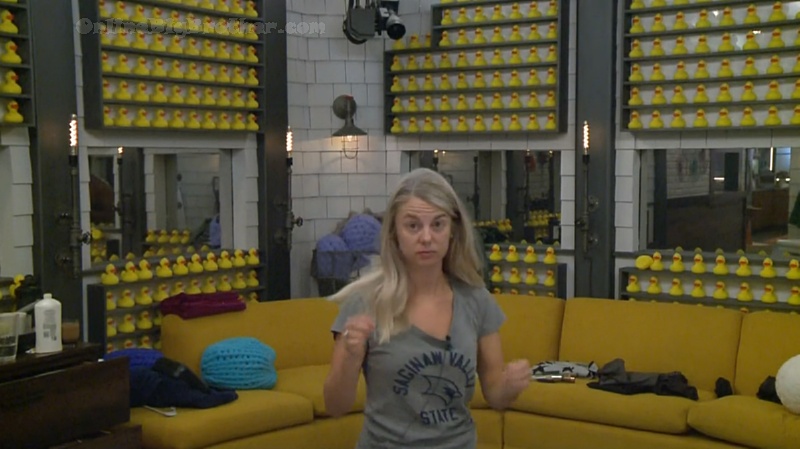 10:43 am Life without makeup..
10:47 am Memphis and Cody
Memphis – You don't need to worry. I'm not using anyone in the committee that's not the plan ..
Memphis starts talking about the 2 of them making it to final 2 "The commission" says now the time they talk to Enzo.
Memphis will tell Cody about his plan after the veto is played.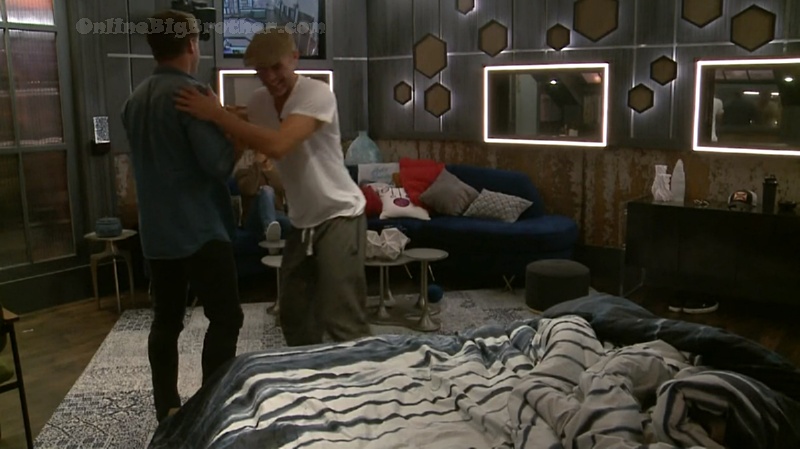 Enzo comes in
Memphis – This is the deal right now I'm just going to f**ing rip the band aid off.. Final three us three.. the wise Guys…
They laugh
Enzo – Alright, I'm with it YO..
Cody – I love it
Memphis – the wise guys we implement it today and we take it to final 3.
Memphis tells Cody to leave.
Memphis – that worked out perfect.. so that's it man.. the wise guys is me and you just so we're f***ing clear.. this is my other.. the other wise guy is Christmas..
Enzo – I love Christmas..
Memphis – this is going to get weird. So me and you final 2 the wise guys. then you will have me, you, Cody final 3 the wise guys.. then you will have me, you and Christmas the wise guys.. we're the only two here .. we're the only two here so when we get to final 4 it's all wise guys.. They're not going to know so everyone is going to think and we're going to be the only two in both
Memphis says Enzo was the first piece of the puzzle the other two are just Knights.
Sh!tmas joins them..
Memphis – final 3 the f***ing wise guys
Shits – I'm not a guy
Memphis – doesn't matter
Shits – is that a movie name?
Memphis – it's just a term. Like you're street smart.. you hustle
Shits – get it approved
Memphis – It's already approved (by GROD).. final 3 phase 2 of this game starts now.
They suspect there will be two doubles coming up.
Memphis kicks Christmas out..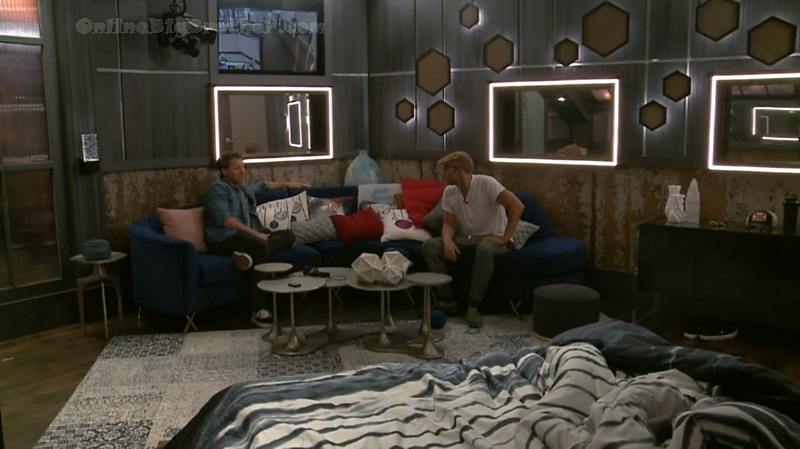 Memphis – the only way to do this and guarantee it is get two soldiers to fight for us..
Memphis – this week I got a plan I'm going to initiate it you are obviously good.. I got a plan it's not tricky there's some parts that have to play out .. on Thursday this is the person we're getting out and I want to make sure everyone gets them out.
Memphis – I've been waiting for this half of the game to play..
11:38 am am Nicole and Dani end up in the HOH to talk to Memphis he tells them the Committee will be safe this week they are not part of his plan.
11:40 am Kevin meets with Memphis.. Memphis says he's got 6 people he's mulling over to put up
Feeds cut.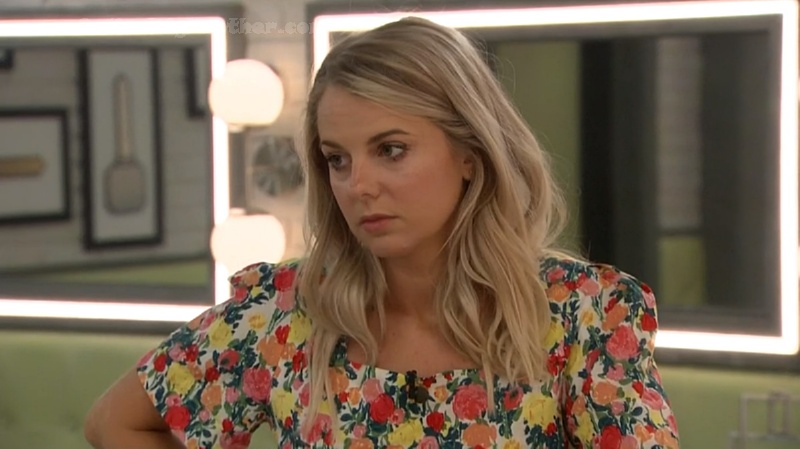 11:42 am Nicole and Dani
Nicole asks if it's going to be Enzo.
Dani says no. Says she suggested David.
Nicole – he said Thursday he'll tell us who to vote for
Dani says they don't have to listen to Memphis.
They agree they want Kevin gone.
They complain this it the same as his first HOH he's not telling them anything.
Nicole says she's worried about Memphis sending Da'Vonne or David home.
Dani says the committee controls all the votes all the way through. Even if the other side wins HOH they control the votes "It's crazy.. crazy" (Crazy fun to watch)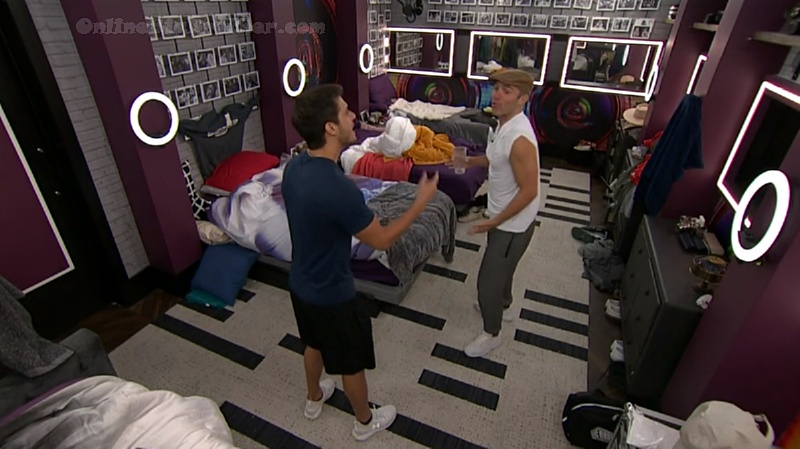 11:47 am Enzo and Cody
They think David is Memphis' target but they want it to be Kevin or Da'vonne they don't want to see David go.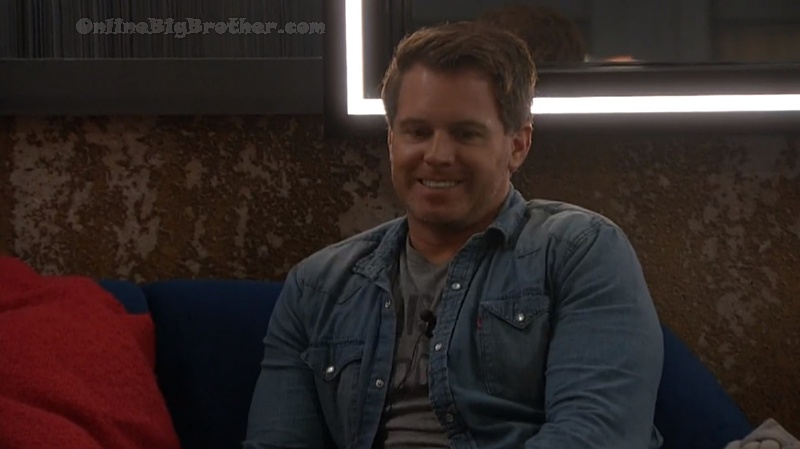 11:56 am Memphis and Tyler
Tyler – I've f**ing pissed I wanted this one.. (Check out Memphis' smile above)
Memphis – I know
Tyler – it's alright
Memphis says they are just rocking and rolling. The committee is safe.
Tyler says they've won 6 our of the 7 competitions and the other win was Enzo.
Memphis – I have a plan theres moving parts involved but none of them involve the committee.
Memphis says he's keeping it all to himself points out some people have had a loose tongue these past few weeks. He doesn't want his HOH to be a sh1t show.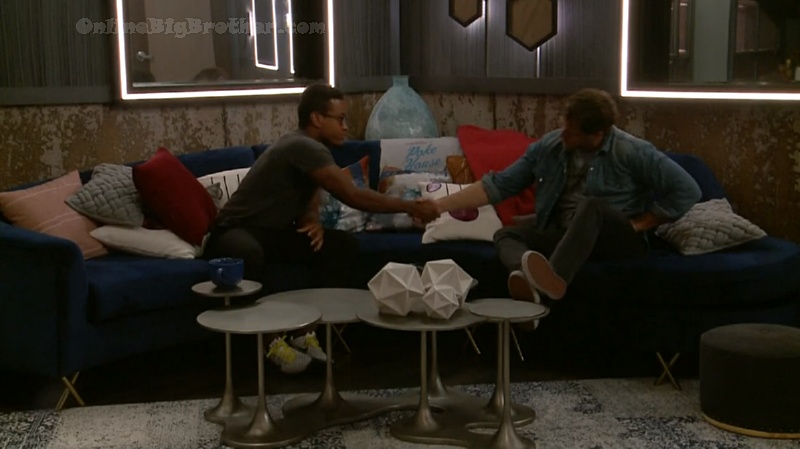 noon Memphis and David
Memphis – you want a seat at the table you got it. but here's the deal this is a straight up business deal so listen carefully.
Memphis – goes like this if we shake hands and you promise me you will not play the veto and you keep my nominations the same I'll keep your a$$ off the block this week.
Memphis – the biggest point of this deal is you can't talk about it. You can't tell anyone we made this deal it stays between me and you.. Just so we're clear no one else knows about this. So if I hear something I know it's coming straight from you and you will be public enemy number one. Our rapport has gotten better the plan you gave me last week is a good plan and it we continue down that road it'll help me and you get farther.
David — ok deal
they shake.
David asks a question.. Feeds cut..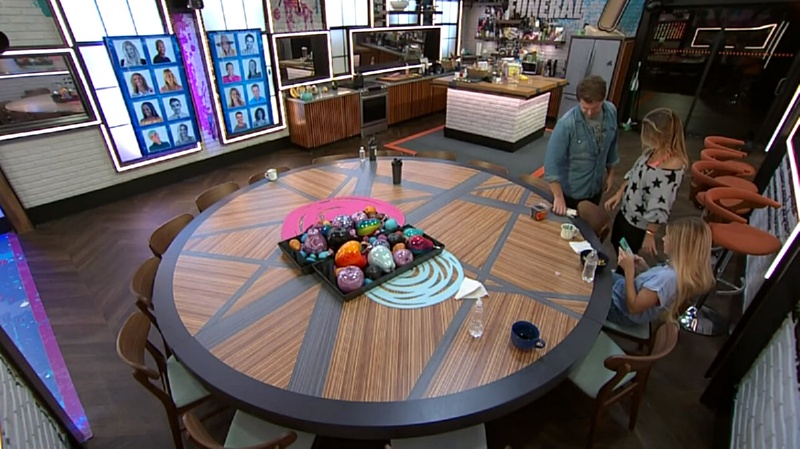 1:10 pm Kinda slow… 20 minutes ago Tyler and Kevin had a little chat and at one point Kevin was convinced Christmas voted against Tyler. (I just can't with Kevin right now)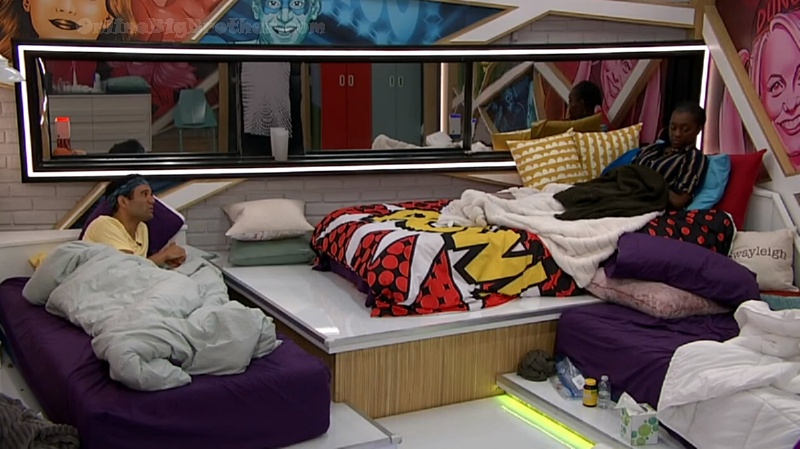 1:11 pm Comic room Kevin and Da'Vonne.
Kevin tells Da'vonne that Tyler, Enzo, Cody and David are all working together.
Kevin – David did us dirty 100% now that I've talked to Tyler.. (FAce palm.)
Da'vonne says she's just glad that Kevin and Nicole aren't lying because of they are lying and trying to pin us against each other "you two are going to look bad"
Kevin says he's not "unless she is" (Nicole)
Kevin – there's a 5% chance .
Da'Vonne says Nicole looked at Ian and started bawling
Kevin – Crying doesn't mean anything
Da'Vonne – she wouldn't vote against Ian (Nicole)
Kevin – 95% it was david 5% it was her.. small small chance. (Ohh the brain worms are back cool)
Kevin says there's a high chance of him and David being on the block over 95%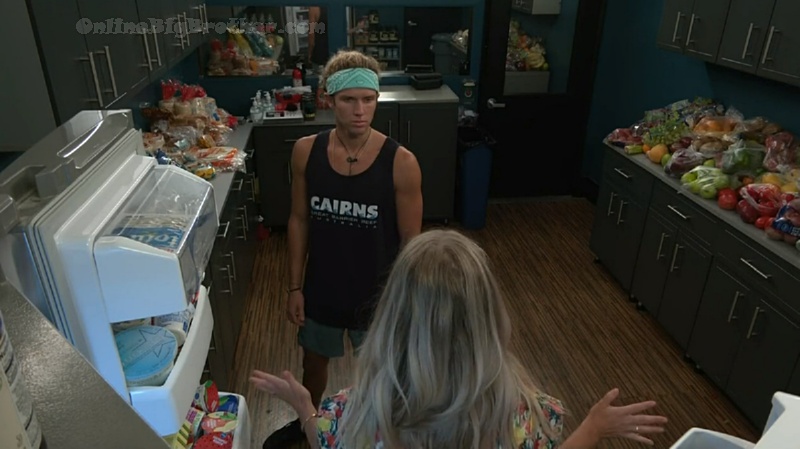 2:02 pm Nicole and Tyler
Nicole says the plan for the 5-3 votes caused a da'Vonne and DAvid fight about something personal. "Dani told me about it and it's made me feel like a piece of sh1t"
Nicole – I didn't know it would come from that.
Nicole says getting Ian out was a game move and a good game move "I'm going to have to own up to it.. I was so scared.. and I hate that I shouldn't have to be scared"
Tyler – Day is throwing David under the bus
Nicole – she was doing that even before.
Tyler says it means more to David because he's battling some demons from last year.
Nicole – we have to make sure David stays in the house this week
Tyler says he talked to Da'Vonne and Kevin and they both think Nicole voted to evict him.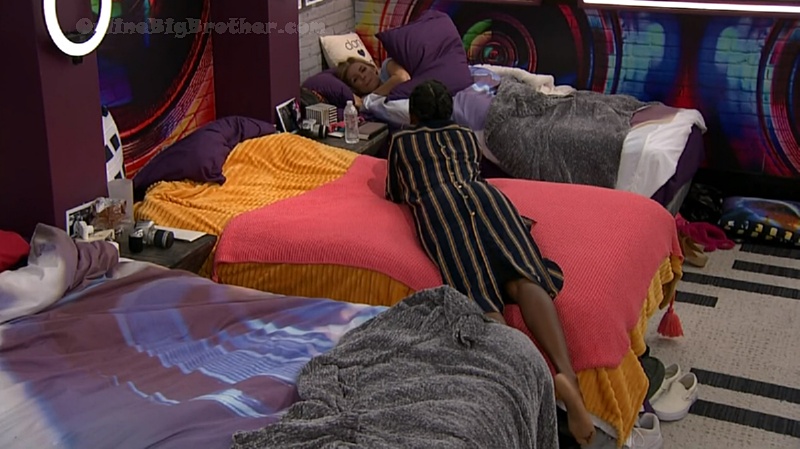 2:15 pm Da'Vonne and Dani
Da'Vonne – I'm trying to convince Tyler that David didn't vote for him to stay. Apparently he was talking to Kevin and he told Kevin there's no way David didn't vote for me
Da'Vonne – David 100% voted for me to stay
Dani – Tyler said that
Da'Vonne – that's what Kevin said
Da'Vonne says Kevin swore on god that he didn't flip the vote. "and Nicole said it wasn't her .. she had no reason to"
Da'Vonne "I feel like she would have voted for Ian even if she was the only vote it had to be him." (ohh cool more worms)
Feeds cut.. when we're back. Nicole is with them.
Da'Vonne going on about David being the vote against Tyler.
Nicole – at least he didn't win HOH
Da'Vonne – yeah glass half full
They play along with Da'Vonne talking about if Nicole has the votes to stay if she is nominated. This is based on Nicole thinking she could go up because she had such a short talk with Memphis.
Tyler pops in to get some clothes.
Christmas pops in looking for Tyler, her and Nicole leave.
Da'Vonne – he walks out she walks in
Dani – oh my god she's looking for him. They're always together it's insane
Da'Vonne – has she been shadowing you since you came down from HOH ?
Dani – she's the new Pop in it was Ian popping in now it's her.. she's the new pop in it's crazy.
Da'Vonne – she's a mess
Dani agrees calls her a mess, "She's won the most competitions in the house to".
Dani – if next week is a double who wold you go after
Da'Vonne – Christmas
Dani – that's what I thought
Da'Vonne – her powers out right
Dani – I think so I don't know ..
Da'Vonne – who will Cody do?
Dani – I don't know I'll ask him.. I can tell you who he won't do
Da'Vonne – I know that's scary
Dani – I don't think he will come after us three
2:45 pm Nominations today I wonder who will go up?
3:45 pm Nothing
4:04 pm Feeds got down for Nominations.
4:57 pm Feeds back
Da'Vonne and Kevin nominated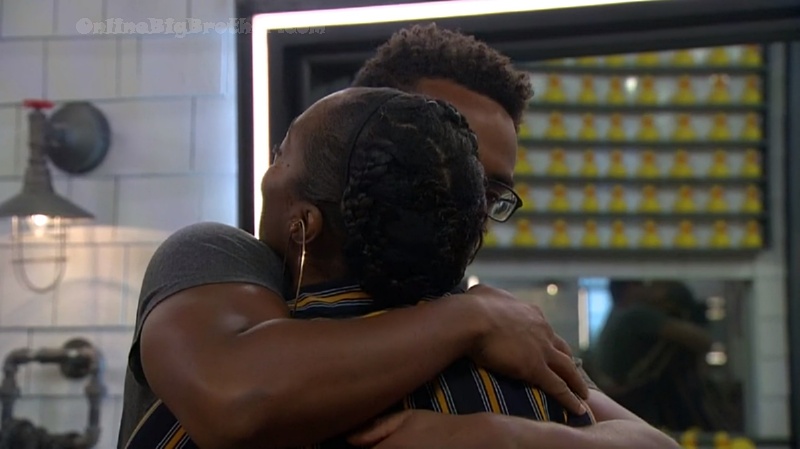 David hugs DA'Vonne