| | | | |
| --- | --- | --- | --- |
| POV: | ? | Next POV: | Aug 18th |
| POV Used | ? | POV Ceremony | Aug 20th |
| HOH: | FES | Next HOH: | Aug 23th |
| Noms: | Brett & Scottie | Have Nots | |
A real easy way to support the site if you are an amazon shopper is to make your purchases through our link. You pay the exact same thing but we get a small % commission. It doesn't cost you anything and helps us out.
Amazon Canada
Amazon USA

5:05pm HOH room. Scottie and Fes. They talk about the past votes and evictions. Fes – Kaitlyn got played that first week. Scottie – I literally thought it was JC who flipped the vote. At first I thought it was Rockstar. That's two weeks in a row where I though his (JC) vote was locked and then in the last millisecond he flips. And those are just the two I know of. Fes – they only thing is that JC has told me every time. I know he runs around but it can't be JC because he's told me every time. It can't be JC because JC voted to evict Brett the first time and JC gets paranoid. So if JC voted to evict Brett he knows he's coming after him and then when has another chance to evict him, why would he not do it? Scottie – I don't think Brett is going after JC. I think if Brett were to win, he would put up you and me. I am by far the easiest for him to put put because I put him and his best friend and voted to evict him. And then you because he know he can't beat you in competitions. I put him and his best friend up. I talked to them like they were children. Told them I was going to beat their a$$ in the veto and then did it. Left them on the block. They tried to make a secret deal with me and I blew it up immediately because I knew it was bullsh*t. And now he is doing this flippy vote thing.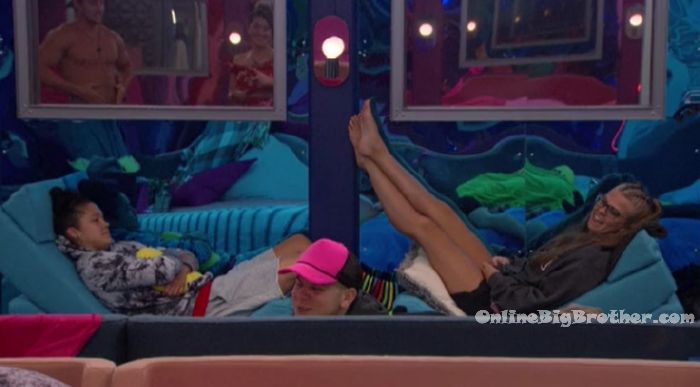 5:15pm -6:20pmBig Brother blocks the feeds for the nomination ceremony.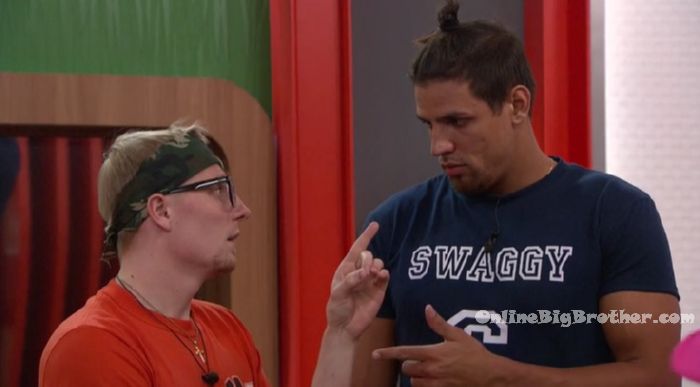 Fes Nominated: Brett & Scottie
Fes – Someone is lying, if I find out who.. I will take the other off the block. Scottie – its the very last thing that I'm worried about. You said the Kaitlyn vote I tried to pin that on Tyler. Fes – no I said that people thought that it was you. Scottie – oh. Fes – they thought it was you because you did it. Scottie – well you guys are also saying that week one I flipped on Steve. Fes – and then another thing was that you came out and said that you were the flip vote. Scottie – yes. Fes – but you never told me and you and me are supposed to be close. I never heard it from you. I heard it from someone else. So you see what I am saying. If I find out then cool and I find out who is telling the truth. I don't have a target right now, I just need some truth! This whole game I've been left in the dark. When I won HOH I had no idea who I was going to put up. Two people (Scottie and Brett) raising their hand, I need to figure out who is lying. So hopefully y'all being on the block will realize how serious it is. A couple people think he was the one vote and a couple people think you were the one vote. Scottie – you said every HOH keeps you in the dark. When I was HOH did I keep you in the dark? Fes – Votes. I am talking about votes. Every week everyone knows what my vote is. I have no beef with no one in this game. But one little thing is an excuse to put someone on the block. I have no beef with Brett.. I like the kid. But someone was lying.
Fes – If I find out the truth and I will the veto I will pull you off. Scottie – I would just like to say that one (Brett) ran away and the other (Scottie) confronts things head on like he always does.
Bathroom. Angela and Brett. Brett – I am staying out of this.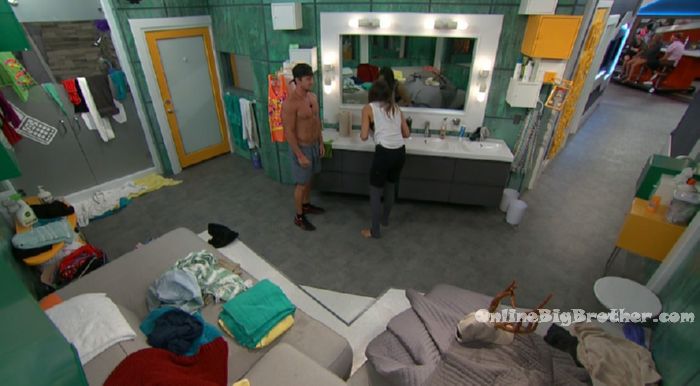 6:40pm Bedroom. Sam and Angela. Angela – we just hope that whoever win it (Veto) doesn't use it.
7:04pm Bedroom. Sam – did you know that was going to happen? Brett – no. Sam – did you talk to Fessie? Brett – no. Sam – do you think he's after him (Tyler). Brett – it would make sense. We are still guarantee to be up there. Sam – just hope he doesn't play in the veto. Well you have my vote. Brett – I know. Sam – you're my fake husband. Brett – I know. Sam – there was a big fake fight after too. Brett – I heard that. You think it was a fake fight? Sam – yeah. Except it might not be for Tyler, it might be for Angela. Brett – I think its for me and in reality I'm the target. Sam – its not for you. If Tyler plays and wins he would take you down. Brett – if it wasn't me I feel like he would reach out and say something to me. Scottie comes into the bedroom. Brett leaves. Scottie – if I don't wen the veto I am going.. Sam – you're so full of it.
Rolling your eyes taken to a whole new level@bigbspoilers #bb20 pic.twitter.com/2UHmgKFYdD

— Dawg (@DawgsBigBrother) August 18, 2018
Sam – "Which one did Haleigh stick her finger in?"
Scottie – "Probably both!"
Sam rolls her eyes and puts them back in the fridge@bigbspoilers #bb20 pic.twitter.com/AnCH3HvZ9C

— Dawg (@DawgsBigBrother) August 18, 2018
7:39pm Brett had made Sam a tuna fish sandwich with hemp seed and she has an allergic reaction to it. Her lips start swelling up. Tyler – go get an epipen. Haleigh – its probably the hemp. Sam – oh my god they're getting bigger!! Tyler – open the door! Big Brother blocks the feeds.
7:57pm The feeds are still blocked..
8:24pm The feeds return and then get blocked again..
8:30pm The feeds return .. Bedroom. Sam, Kaycee and Tyler. Sam is back and 100% okay. Tyler – they made us put the hemp seed in the storage room. Sam – the hemp seeds are no more. Hemp seeds almost took me out. Now I know I'm allergic to hemp seeds. Tyler – the organic ones. Sam – yeah not the dirty ones… I've smoked a lot of weed .. big brother blocks the feeds.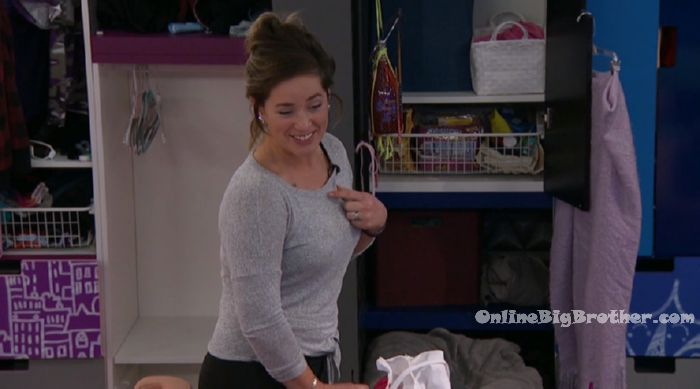 8:45pm Scottie vs Scottie in the greatest chess battle in bb history. (Yes he is actually playing himself.) Scottie – you dumb f**king piece of sh*t this is easy for me now.
Donations Really do help keep this site keep running round the clock. If you like our content please consider supporting us. Any amount is greatly appreciated!
Rank the houseguests!
Easiest way to Rank the house guests use link below