| | | | |
| --- | --- | --- | --- |
| POV: | ? | Next POV: | Aug 18th |
| POV Used | ? | POV Ceremony | Aug 20th |
| HOH: | FES | Next HOH: | Aug 23th |
| Noms: | Brett & Scottie | Have Nots | |
A real easy way to support the site if you are an amazon shopper is to make your purchases through our link. You pay the exact same thing but we get a small % commission. It doesn't cost you anything and helps us out.
Amazon Canada
Amazon USA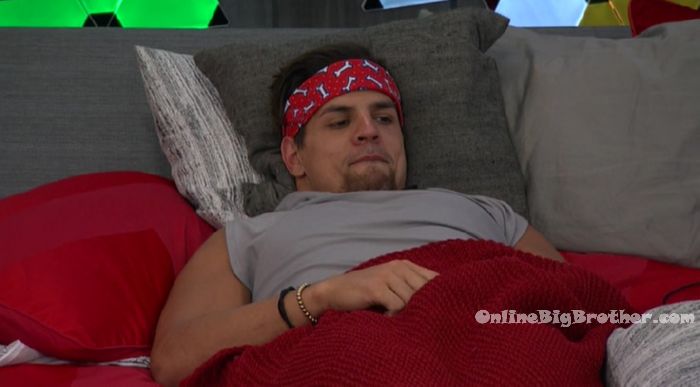 9pm HOH room. Haleigh and Fes. Fes – she loves Scottie to though. Its going to be a bloody week. Haleigh – these are not my underwear!! Who's panties are in your shower FESSIE?!! Fes – Rockstar. Fes – what have you been doing all day. You've been doing laps around the kitchen island. Haleigh – Why haven't you come down. Fes – I am chilling right now and enjoying my privacy. Haleigh – I didn't get any privacy on my HOH. Fes – not my problem. Haleigh – why are you being rude. Fes – I feel like people are scared to come up here.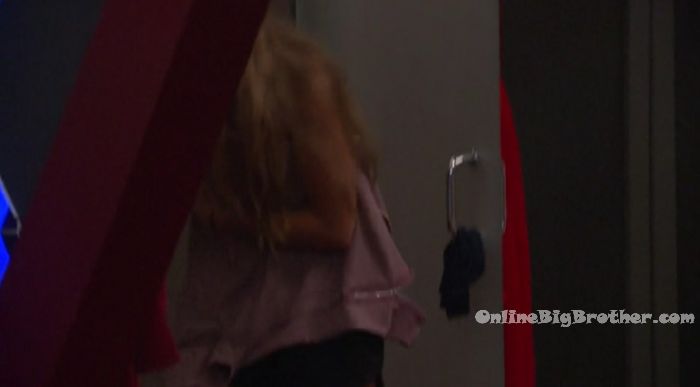 9:13pm Haleigh – Kaycee has been really nice to me today. Fes – Kaycee and Angela both hugged me today and thanked me very much. Haleigh – but that doesn't mean they have to be nice to me. Fes – they know you're close to me. We need to figure out when to talk to them to make sure we're good next week. Haleigh – I need to talk to Angela because I was 100% convinced she was coming after me. Fes – do I pick you or JC tomorrow. Haleigh – I don't care. JC. Fes – why do you say that? Haleigh – because JC will be excited to play. Fes – then pick me. Haleigh gets out of the shower an joins Fes. Fes – you look like a wash cloth. Haleigh – did Scottie come say to you? Fes – he didn't come up here. Haleigh – he asked me ..there's no chance Fes is putting me up right. I said I don't think so. Fes – he came and talked to me and for a second I felt good about him. I feel like he is trustworthy and then I was like just because you talk to somebody and you feel good in that moment .. it doesn't dictate the past 59 days. Basically he (Scottie) was throwing Brett all the way under the bus. He made a point that it took awhile for Brett to start talking. Haleigh – I wish I could find out if Tyler and Angela were in a showmance. Haleigh – so if someone comes down who are putting up. Fes – I don't know. Maybe we go after the middle… the people that are skating on by.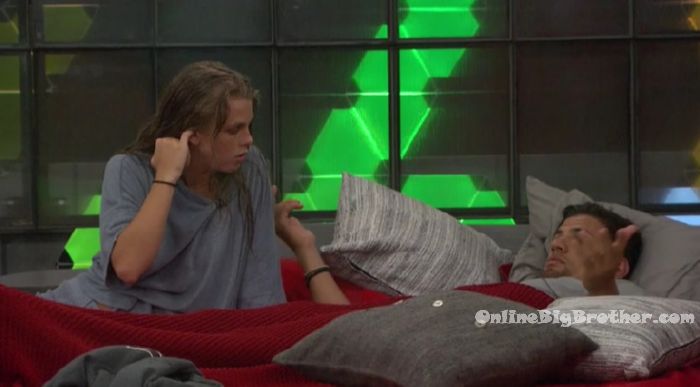 9:15pm Bedroom.
JC, Kaycee, Tyler, Angela and JC are chatting about the veto competition and other random things.
9:55pm – 10:10pm Havenot room. Brett and Tyler. Brett – If you won it he might have to take Scottie off and backdoor you. I think that is why he wanted to do it this way .. he wanted you to feel comfortable. Telling you that you're good so that you're comfortable. Tyler – I do too. Like he told me I'm not going up but Haleigh said that last week. And I know she was going to try and backdoor me. There is not a f**king planet that you could convince me that she wasn't going to do that. Brett – 200%! Brett – I would much rather not stay up there. Tyler – I will make sure. Brett – how are you doing with the numbers and days. Brett starts rattling off the days/events.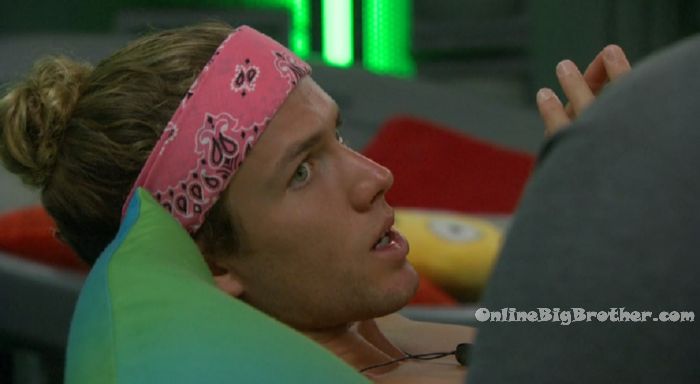 10:30pm Scottie watching and talking to the fish..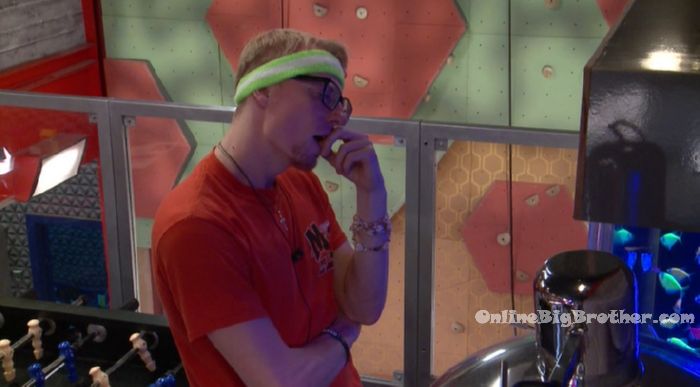 10:42pm Kitchen. Angela and Fes. Angela – what you did today was very admirable. Its about time someone put their foot down and said enough with the bullsh*t. Fes – its hard being left in the dark and people getting away with playing both sides.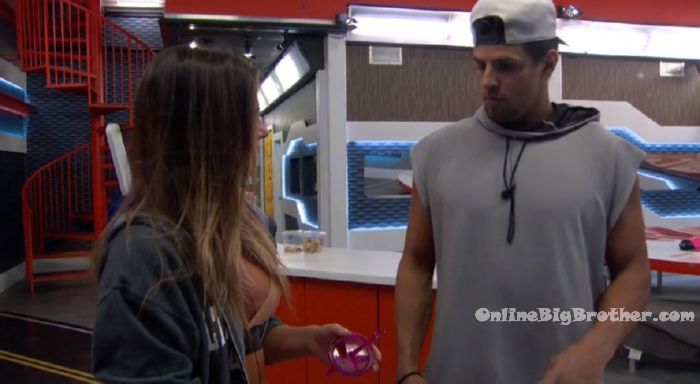 11:10pm Bedroom. Kaycee, Angela, JC, Tyler and Sam are all sleeping.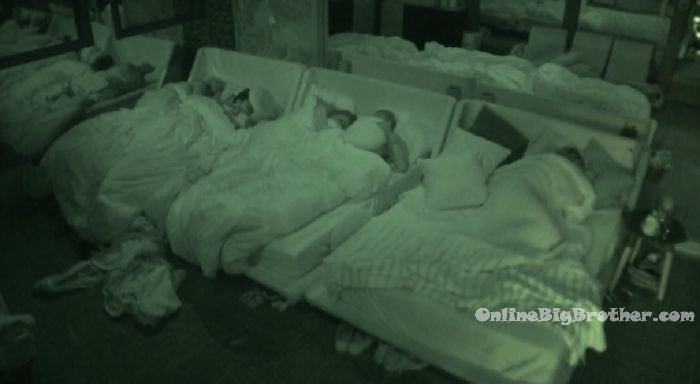 11:13pm – 11:40pm Scottie and Haliegh. Scottie – if you don't win the veto tomorrow, I am gone. Haleigh – what if Tyler won? Scottie – he said he had my back but he didn't say definitively that he had my back. If he is picked to play he is going to try and win because he's afraid he could be backdoored… but why would he use it on me if he is working with that team because then one of them would go up. If I get players choice it would be a test of loyalty. Literally it would be a test of loyalty no matter where I put it. Scottie – for the next 72 hours I will be walking around here like I've got the plague having awkward conversations with who ever will have me. Haleigh – I will always have you Scottie, our conversations are the best. Scottie – I am thinking the votes are going to be 5 -1 .. maybe 6 – 0. You guys might see how weird I actually am..
11:56pm Scottie and Haleigh chit chatting.. mostly nonsense about past seasons. Haleigh says she's like the Nicole. Scottie says he's like Zach.
They talk about past halloween costumes.
Haleihg says she was a boxer one hear
Scottie – like a dog
haleigh – no
they chit chat … everyone else is sleeping..
12:14am Haleigh heads to the HOH to be with fes.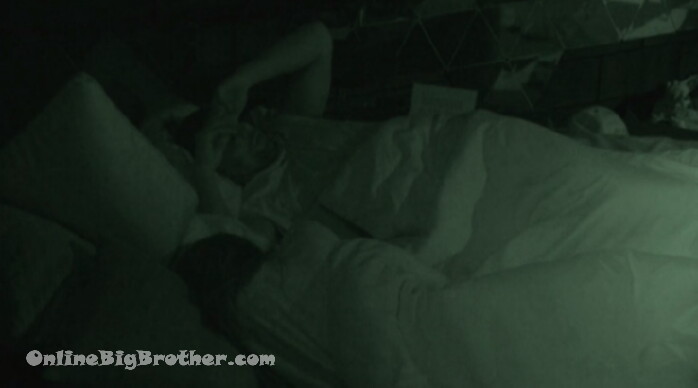 12:26am fes and Haleigh
fes says Scottie wants him out
Haleigh says she thinks putting Scottie up was the wrong move
Fes – every week something wrong happens .. we play it safe every week and where does that get us..
Haleigh – play it safe?
haleigh – they are actively coming after me.. they are in a 3 person alliance that will take us out..
Fes – they will take each one of us out
H – YES
F – they don't sound so scary .. play the game man..
H – this is how you play the game fes there's clear group of people working together.. all they need is three to break a tie
FEs – It doesn't get them no where I break the tie..
Fes – like I said I don't have a target this week I'm tired of people lieing..
Fes says Scottie and Brett are close that's a red flag to Fes because Scottie put Brett up.
Fes says Haleigh is closer to Scottie than Fes, "why is he not comfortable talking game.. he gets all nervous when I win HOH without me saying anything .. why" (cause we were all scared of you doing something stupid
Fes – they all got to go Haleigh.. I know you like the kid I do to.. the guy's a good player..
8:00am Houseguests are getting up early today.
Donations Really do help keep this site keep running round the clock. If you like our content please consider supporting us. Any amount is greatly appreciated!
Rank the houseguests!
Easiest way to Rank the house guests use link below