POV Holder:
?
POV Competition
Aug 13th
POV Used
?
POV Ceremony
Aug 15th
HOH
Victor
Next HOH
Aug 11th
Original Nomi1nations:
Paulie AND Corey
After POV Nominations:
? AND ?
Have Nots
?
Watch the next week of the feeds for FREE – 1 week Trial!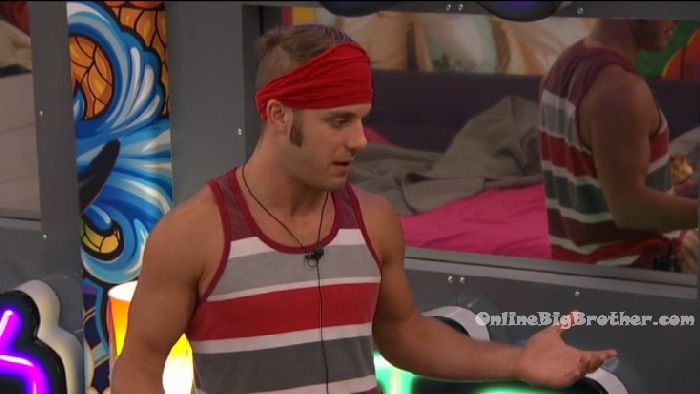 8:40pm Bedroom – Paulie tells Corey if we are up against each other I will never campaign against you. Corey says likewise. Paulie says we do have to beat him. He is the only one we have to worry about. Paul said he would use it on somebody just to make sure Michelle is up there. And he would be the deciding vote and if that is the case we have 2 going one way. I don't trust him. Corey says one of us has to win it. James threw us under the bus. Corey brings up how James said we were in an alliance. Paulie says I told him that James was the one that came to us about it. Nicole says did you guys include me in it? Paulie says I denied you (Nicole) being in it but I didn't deny us. Paulie leaves. Nicole says crap I think he just threw me under the bus. I'm going to probably go home next week. Vic and Paul gave me a ugly look when they came out. I can tell Paulie confirmed I was in it. I denied it. I'm thinking Paulie included me in it. Now I'm going to look like a liar and you're going to look like a liar.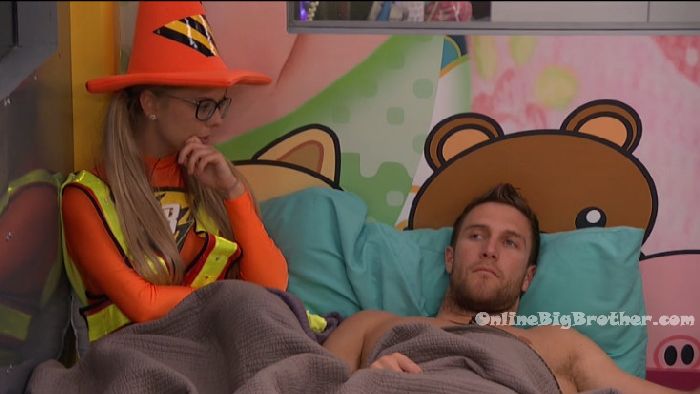 8:50pm Bathroom – Nicole talks to Paulie. Nicole says they asked me about you, James and Corey. They never said me. Paulie says I was like James came to me and Corey about a final 3 and I was like at that point it was all I had. And I brought Paul with me. James confirmed me, Corey and him. Nicole ask so they didn't say anything about me. Paulie says no. Nicole heads back to the bed with Corey. Paulie said he confirmed you three so now you're the only one that denied. Corey says I don't care.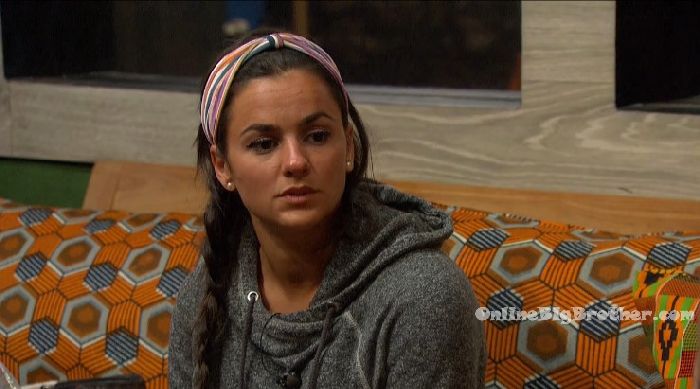 9pm Natalie talks to Paulie. She sasy she wanted to make sure he was okay. Paulie says I get what happened was a strategy and people wanted to blow up my game. If I am being honest when you went to James and Z about that stuff I don't think you did that on your own. Paulie brings up how he doesn't understand Bridgette being mad about it when she was best friends with Frank who was smacking girls on the butt and calling them sl*ts. And she was cuddling in bed with him when she has a boyfriend and he has a girlfriend. Nat asks was she cuddling with him? Paulie says I don't know, sleeping in the same bed. You wouldn't like it if your man was in bed with a girl. Nat says I never meant to hurt your feelings. That kills me. Paulie says it was a lot. I never like to kick people when they're down but if you open up the vault then I'll go all day with you. Nat says what you said really hurt my feelings. Paulie says I can see how when both people are going off different information. I can have a sharp tongue when people get into it with me. Nat asks so you haven't made fun of my breasts and stuff? Paulie says well when you denied it for ever. Nat say but its about my body. Paulie says we all had a joke about it because you wouldn't admit it. Every single person in the house joked about FT's and would say it right in front of you. Nat asks was James apart of it? Paulie says he knew what it meant. Nat says if you do have an issue with me I hope you do come and talk to me. Pualie says the only issue I had was what you and James did with Z. Paulie says sorry if I hurt your feelings.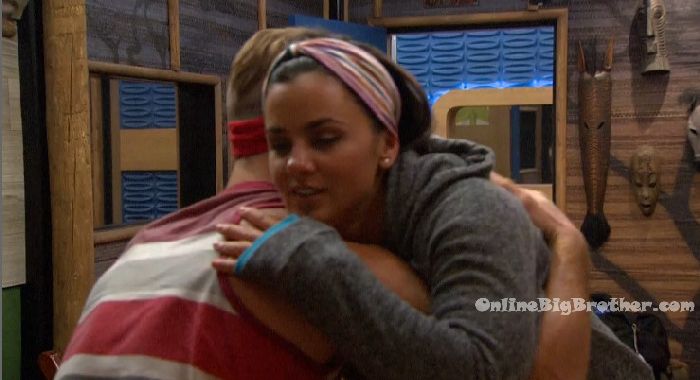 HOH room –
Victor talks to the camera. Vic says fool get evicted. Wins battle back 1, battle back 2, battle back 3 and then survives 2 evictions, survives the double evict and wins HOH. Who may or may not be final 7 if there isn't a round trip ticket. I feel so great. I really hope Paulie goes home this week. I am sad the executives didn't work out. He can try and say all these things about loyalty but the only person I have loyalty with is Paul. The sitting duck! At the end of the day if he wins I would be happy. America put your hands together by your face and quack quack .. are you with the sitting ducks or not? We're the underdogs.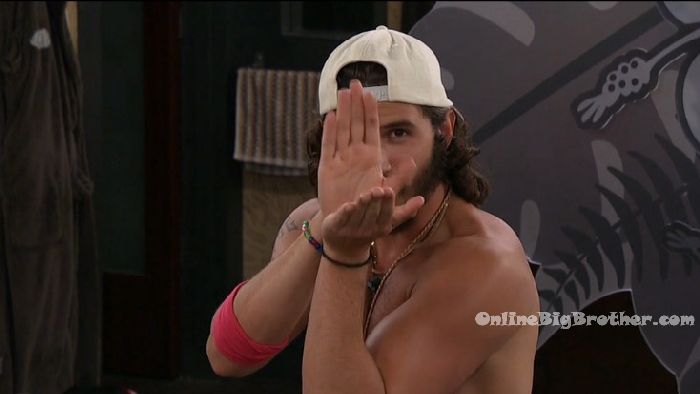 9:50pm Paul asks Nicole if they can chat? They head into the safari room to talk. Paul says I like to think you and I have a pretty good connection.. People keep bring up this 5 person alliance .. how is your reaction to that? Like why do you not give a sh*t? Nicole says I am kind of thinking its obvious. Paul says do you just roll over and accept the situation? Nicole says I don't think he would come after me but I think I would be the replacement nom. Paul says I tried to talk to Corey about it but be was a bit cold. Paul says Corey told me that… I told her that she was probably next to go. Nicole says I was just thinking that if that's what they want to do. I am not going to roll over and die. Corey joins them. Paul leaves. Nicole tells Corey that Paul thinks you're being cold with him. She tells him to be nicer with him.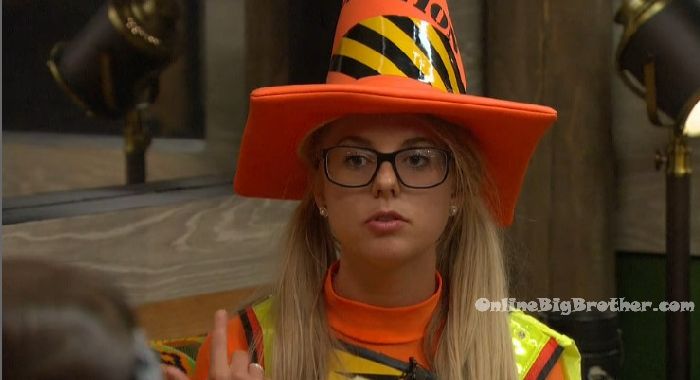 9:55pm – 10:10pm Havenot room –
Paulie tells James and Nat that he wanted to ride to the end with the five. Maybe it was viewed as selfish putting people on the table as to why they needed to go. I'm used to making the decisions. Natalie leaves. I am not even mad that Vic put me up. Even that its a game it felt like a gut shot. If you wanted Z out you could have just talked to me. I did what I needed to for the team. I put things out there for the team and assumed that everyone wanted it because no one questioned it. I just wanted you to know outside of this house you're still my boy and I'd protect the f**k out of you. I told Vic if I pull myself off. I squashed my stuff with Natalie. I literally did trust you with my game and thought I was doing the right thing by bring you information. Like how Cody did with Derrick. The girls have a right to be mad at me because I manipulated everything with them. Michelle has every right to be pissed because I manipulated the f**k out of her. Manipulated the f**k out of DaVonne. James says no matter what outside of the game we're going to hang out because Derrick's Dad is my boy and we hang out all the time.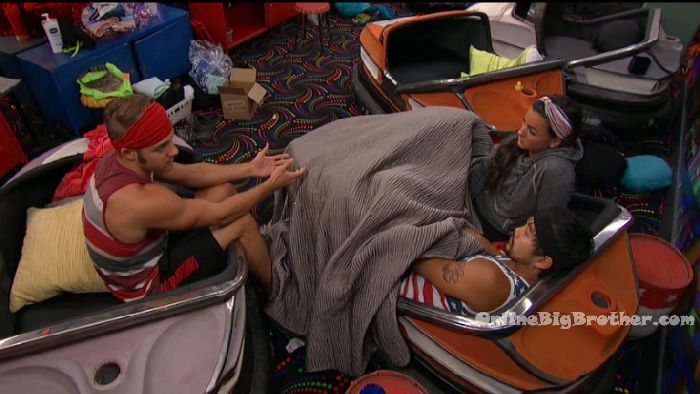 10:15pm Natalie tells Meech about her conversation with Paulie. He said the house wanted to know if they were real or not (her breasts). Meech asks why does it matter?! That's a compliment though, that no one knew. Natalie says what a douche! Douche Douche! I am so happy you called him out. Nat says I need to ask Paul if Nicole was really gunning after James or not. Meech says I don't even know what a Jersey girl is. Nat says a Jersey girl is cool a$$ b***h! I'm not even born and raised in Jersey.

10:35pm – 10:45pm Natalie asks did you know about FT's? James says I didn't know about it. Natalie asks did you know people were making fun of me? James says no. Meech says they wouldn't make fun of you in front of James. James never knew about FT's. James says I would have had your back if that was the case. Nat says Paulie's called me fake. James says you're not fake and you know it. Nat says f**k people are f**ked in this f**king place. Natalie starts crying and says the fake t!ts one was rude. Meech says it was rude. Nat says Bridgette stuck up for me. Meech says America knows what he did. Nat says Thank you for putting him on blast. I hope I win that veto. It just makes sense why I got a care package because this whole time people have been making fun of me.
Vic joins them. Natalie says I'm not going to lie, if he stays in this house I am going to put everyone on blast for talking about my t!ts. ….I'm not going to put anyone on blast, I'm just heated. Nat asks did Bridgette really wants James out? Vic says she was in the room. Nat asks did she say it? Vic says I can't remember there were four other people in the room and I'm bad at remembering conversations.
Natalie "I could never forgive someone who said I was fake as the things on my chest! FUCK YOU! @bigbspoilers @bb18 pic.twitter.com/TpnhIOcqFK

— Dawg (@DawgsBigBrother) August 13, 2016