POV Holder:
James
POV Competition
Aug 29th
POV Used
?
POV Ceremony
Aug 31st
HOH
Vanessa
Next HOH
Sept 3rd
Original Nominations:
Meg and James
After POV Nominations:
?and ?
Have Nots
Johnny Mac, Julia, James, Meg
5:28pm Have Nots Meg and James
Meg – James if I go home this week I'm happy and you better win
James – we're going to try and make that not appen…
James – get Active and not hide in the corner..
James – I swear to god on everything I'll throw Vanessa asses up they're..
Meg – He (Austin) might not want Vanessa to go..
James – "I'm going to be like Listen If Meg goes home, I'm going to tell you right now I'm going to go after every one of you guys One by One and Y'all better take me out.. I'm going to tell that to him to his face.
James – no more playing mister nice guy,… watch you'll be in the room when I tell him that.. they can't do shit to me cause I'm safe this week
Meg – AND you're due for a HOH soon
Meg – I'm so glad one of us won
James- I knew I was going to win .. I had a good feeling..
James- this is my week to show Austin and them i'm not willing to play games anymore.. if he doesn't like it he can gamble but i'm pretty sure he doesn't want to gamble..
JAmes – Austin if she goes home there's nothing to talk about
Meg wonders what will happen it a twin goes up
James- you let her sweat
5:33pm HOH Vanessa and Julia
Vanessa freaking out… SHe's pissed..
Vanessa – Big BRother is rooting for James to win
Julia – JOhn or Steve?
Vanessa – honestly though..
They agree this is the 'Worst Competition" because james is the "Hiding King"
Julia says She's fine if Vanessa doesn't want to sent Meg home and wants to send Johnny Mac out.
Vanessa says James won't the POV fair and Square
Julia says Austin, Liz and Her are going after James, "We have the votes'
Julia – I wanted him gone so bad, you don't understand
Vanessa thinks if she puts Johnny Mac up they will vote him out. "If you guys give your word I would love to believe it but in this game it's all about incentives"
Vanessa – there's no right answer right now.. it's so frustrating.. .what a terrible f***G results.. I gave it everything I had.. I got so many bruises.. lifting mattresses.. and I find Austin's .. perfect.. perfect..
Vanessa – we had no way of knowing it anything it shows we think alike.
Julia leaves on her way out she says she doesn't want Meg to float her way to the end so she's fine with Meg leaving this week.
5:47pm James, Austin and Meg
James – the thing I'm telling you man to man If I win HOh her a$$ is going on the block (Vanessa)
James explains HOw Vanessa has nominated him 2 times now for Bullshit reasons
James's- I'm tired of it and I'm pissed off
James going back to him and Austin's Bro Agreement where they agree to help each other protect their girls.
Austin – I don't want you to think like I played you
James – you're a man you gotta protect your girl..
James says he's not in a showmance with Meg he's still protecting her.
Meg – I'm your queen
James says taking out Vanessa is the biggest move. He'll tell her to her face if he wins HOH she's going up.
Liz joins them..
They wonder who Vanessa is putting up, Austin doesn't think she would put him up. James thinks it'll be either John or Steve.
6:01pm
Liz – This was such an invasion of privacy I hated this competition….. GOD
6:05pm Austin and the twins
Austin about Johnny Mac "I Still think he's f***g crazy"
Austin says the goblins are going to be begging them for votes "It's better we didn't win"
About the replacement nomination
Austin – it's johnny mac or Meg and Meg might not be the best decision
6:11pm Twins
Complaining about the competition..
"I'm so tired"
"This is the worst Competition"
"Whatever"
"Oh My God"
"Privacy"
Liz – I wish I had done betterrrrrrr… mine was the first to be foundddddddddd
6:18pm HOH Vanessa and Austin
Vanessa freaking out about the POV competitions says she thinks too much like Austin and found his veto
Vanessa – I knew it was down to you too.. I could tell you were sweating you were trying
Austin – I tried my hardest
Vanessa – I saw I saw
Austin – they've already pulled me aside.. they still are not admitting they would put both of us up
Vanessa – I'm f*** here's why.. I have to get rid of Meg.. I have to …
Vanessa – if I get rid of John and Keep Meg it's the stupidest thing
Austin – He's gunning for you no matter what
Vanessa – it's very hard to trust Steve in this game..
Austin – you're not worried about James, Johnny Mac and Steve
Vanesa – it's bad
Austin – it's bad all the way around
Austin thinking there might be a way to get James to use the veto on Meg
Vanessa – the odds of that succeeding are 2% it would mean he's doing something immoral; and insane.
Vanessa – if I pout Steve up will that ensure Meg goes
Austin says Johnnymac will ensure Meg goes, "We're not going against you"
Vanessa says Steve is going up will Austin vote out Meg
Austin – We're with you
Vanessa – I know you were trying hard dude.. I wish the girls were trying harder.
Vanessa is spissed htat Steve enver told them about this competition they could have prepared hiding spots.. "He's supposed to be a BB historian"
Austin tells her Jaems isn't going to win the Next HOH unless it's endurance but they've had three endurance in a row.
Vanessa – it's better he stays over Meg.. I 100% want Meg to go
Austin – OK, Are you sure James won't pull in Johnnymac though..
Vanessa – I have to talk to Johnymac
Austin arguers that Meg is useless in competitions
Austin – Meg in the double eviction would be perfect because she's not going to win in the ball pen..
Austin – maybe i'm thinking too far ahead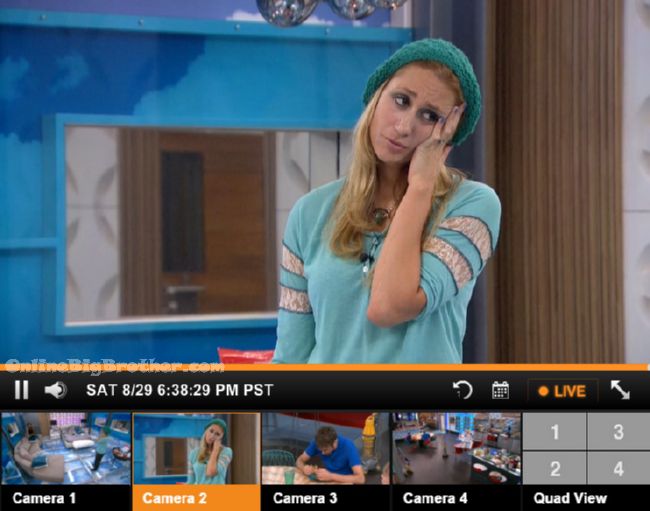 Austin reminds her the HOH could be worse his target came back into the game.
Vanessa – Oh my god all I want to do is drink some wine
Asuint says they will find a decision that is best for all of them
Vanessa – what do you think of Julia as a pawn
Austin – Liz and Julia will not be happy about that..
Austin – I will not flip on you I'm telling you that
Vanessa – what if SOmething happens.. if I put Johnny up he's so capable of saying something retarded.
Austin says Meg leaving might not be the best target she's useless in competitions, "Anything Physical she's out automatically.."
Vanessa – I'm so sad how did this happen
Vanessa says the HOh was met for James to win and the POV was met for James to win (WTF)
Austin thinks they need to keep Steve in the game he'll win HOH's for them.
Vanessa says Steve will throw competitions.
[envira-gallery id="131156″]
Help support all the live feed updates we provide.
Show your support by making a donation. Any amount is greatly appreciated!
ALLIANCES:
"Goblins/Gremlins" = James and Meg
"The Generals" = anyone allied with Becky
"SOS" (Students of Sound) = Steve and Vanessa
Rockstars = Steve and Jmac
AUS-Twins = Austin, Julia and Liz
"Austin's Angels" = Austin, Liz, Julia, Vanessa
"Brass Tacks" = Gobins and Austwins
The new "Brass Tacks" = Aus-Twins, Meg, James + Vanessa
"Freaks and Geeks" "The Scamper Squad" = Aus-Twins, Vanessa, Steve
"The new Freaks and Geeks minus Vanessa" = Austin, Liz, Julia, Steve, Johnny Mac
"The Authority" = Austin, Liz, Julia, Steve
[polldaddy poll=9046808]