POV Holder:
Ashleigh
Next POV
May 20th
POV Used
Yes
POV Ceremony
May 17th
HOH Winner
Sarah
Next HOH
May 20th
Nominations:
Zach and Ashleigh Pili
Have Nots
Brittnee and Zach
POV Players
Everyone participates
8:13pm
Sarah alone in the hot tub room smoking. Zach and Ashleigh silent in the kitchen.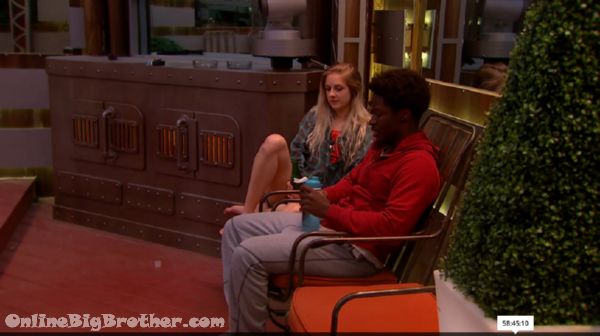 8:20pm Godfrey and Sarah
They hug, She thanks him for the HOH "I want to tahnk you again for the HOH.. It was perfect.. It worked out good"
Sarah – are you excited for wednesday
God – yeah bro get this guy out
They agree Zach should have been taken out a lot earlier.
Sarah again thanks him for the HOH (Sounds like Godfrey threw it to her)
Godfrey – I trusted you were going to do what we all agreed on.
Godfrey says the vote will be 3-0 to evict Zach.
Sarah says Ash/Pili have the most jury votes after Zach goes they have to get those girls out.
Sarah about the chop shop "Just like they were running the house they are running the jury"
Godfrey says Ash is trying to spin it that she wasn't really part of the chop shop
Sarah – she's so good.. she's almost as good as Zach
Sarah – To us she didn't do anything but to them (Chop shop) she's second in command"
Brittnee rolls in.. Sarah leaves to put on her bathing suit
Godfrey – me and Sarah were talking about this chop shop thing being legit..
Godfrey says according to Pili after Sindy blew up the Chop shop Ashleigh asked Pili and Kevin to join. The Chop Shop got Pili to put up Sindy.
Brittnee thinks Bruno/Zach tried to keep Willow during the triple because she was Chop Shop and Pili wasn't.
Brittnee – There you go Zach and Ashleigh Chop Shop till you die
Godfrey – Bruno was still legit Chop shop when he left.
Ashleigh joins them.
Godfrey- "I can't wait for this week to be over and done man.. strange awkward vibe man"
Pili joins them
Godfrey ask Asheligh if she's had any break ups
Ashleigh – Nope
AShleigh says she's never had a boyfriend went to highschool with a bunch of gangster wannabees. During university she was glued to the hip with her best friend..
Godfrey sas Ashleigh is hot she'll get hundreds of Boyfriends now.
(They basically tell her Zach is going home.)
Godfrey starts giving Ashleigh some strategies with guys, Guys love giving girls advice. (Watch video below)
Brittnee – that's legit
AShleigh – Your mind is a crazy place
8:45pm Hot Tub
Godfrey's secret weapon when hitting on girls "Women love the chase they love to chase .. what they want most is a man they can change .. they want to make their man"
9:14pm Britnee about zach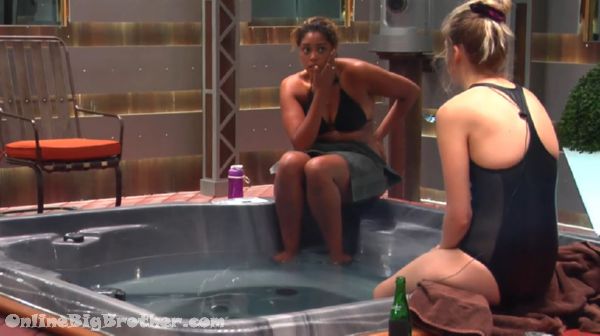 9:22pm Brittnee and Sarah think Ashleigh and Godfrey will vote out Zach this week.
Sarah says if she goes home next week she'll be happy as long as Zach goes home this week.
(They can hear Fire works outside)
9:33pm Hot Tub Sarah and Brittnee
9:45pm Zach and Godfrey
Long silence.. AShligh comes in adn Godfrey asks her about the food. She tells him he can have the leftovers. Godfrey leaves.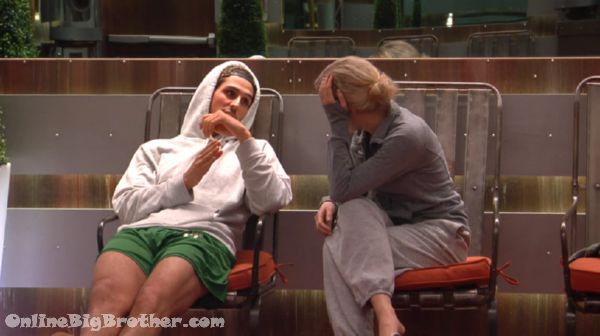 Zach says Godfrey is not voting to keep him. AShleigh plans on putting up Brittnee and Sarah if she wins HOH. Zach says Sarah has to go next week "No if's ands for butts.. if she pulls a rabbit out of her butt you you put her up"
Zach warns her about Sarah she'll say whatever needs to be said for AShleigh to put Godfrey .
Ashleigh knows Godfrey, Sarah and Brittnee won't take her ti the end she has to take herself or Peels takes her.
Zach points out Brittnee has taken out 3 people and survived the block 5 times.. Stresses nobody will take Brittnee to the final 2, "As much as you want to get rid of B next week nobody will take her to the final 3"
Zach thinks if Sarah makes it through next week she'll get to final 3, "You gotta leave a target in the game" (Britt)
Zach says if Brittnee wins the HOH they might put up Godfrey and Pili but she will be the main target, "Don't believe what they tell you.. they are not getting rid of Godfrey next week if they win"
Ashleigh – you think Sarah and B will take each other
Zach is certain Sarah will bring Brittnee. Ashleigh agrees says Brittnee is for sure taking Sarah.
Zach – "no matter what she sells to you if you win HOH Evict her"
Zach says he's not even going to try and work a vote from AShleigh unless he was going to get Godfrey or Brittnee's vote. He's certain he doesn't have the votes 'That side of teh house is set on getting me out.. Godfrey is too scared of having another male in the house.. Godfrey doesn't want to make big moves doesn't want a flip a vote just wants to chill..
Zach now saying Brittnee and Sarah won't turn on each other, they might comes final 3.
Zach says Sarah was campaigning hard to get Godfrey out the entire week but ever since Godfrey was saved by Brittnee he's been up her a$$.
11:09pm Pili, Godfrey, Sarah and Brittnee chit chat
11:43pm Sarah and Brittnee HOH
Making a big deal about the conversation they had with Pili Where she explained the movie "The centipede" (It's in the conversation above something to do with the Chinese guy in the movie)
11:54pm Godfrey, Sarah and Brittnee
Godfrey reassuring them he's voting out Zach. They agree Ashleigh is next weeks target.
12:20am Hot Tub Ashleigh and Zach
1:22am Brittnee and Zach Have nots
Please consider making a donation. This site is ONLY possible because of your support.
For other ways you can help – check out our How to support OnlineBigBrother.com page.
[polldaddy poll=8865390]