POV Holder:
Ashleigh
Next POV
May 20th
POV Used
Yes
POV Ceremony
May 17th
HOH Winner
Sarah
Next HOH
May 20th
Nominations:
Zach and Ashleigh Pili
Have Nots
Brittnee and Zach
POV Players
Everyone participates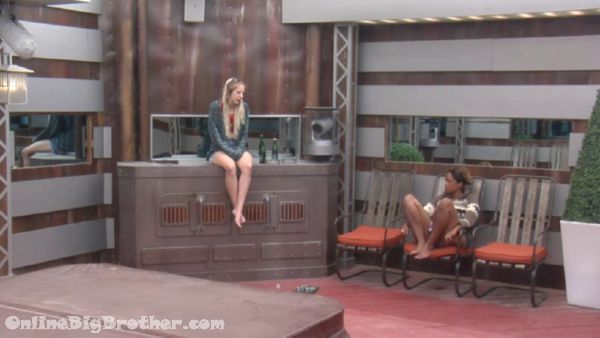 5:57pm Hot Tub Sarah and Brittnee
Talking about the season, Bruno's game, Zach's etc.. They play up bruno being a dangerous player.

Brittnee – I just don't know how this weeks going to play out.. I don't know what Gods thinking..
Sarah and Brittnee are nervous about Godfrey. They think he might decide to keep Zach. Godfrey may think of himself as the next big target if it's 4 girls a him.
Sarah – I love how Pili still doesn't get who voted her out
Brittnee – I can't explain it.. if you don't get it I don't know what to say
Sarah – she doesn't even f****ing listen to you when you talk to her.. but how could you want someone like that out.
Brittnee – do you feel good about this week
Sarah – Ya
Brittnee- I feel great about it you made fantastic moves
Sarah – Ya, like i'm going to believe Pili will vote out Zach, she's the worst liar in the house.
Sarah – just sucks that Ashleigh won the veto.. You were so close.. She f***g killed that
Brittnee – she's really good at those comps memorizing.
Brittnee – you know where my vote is
Sarah – I would never doubt you for a second..
Brittnee – it's just everyone elses.. we only need one more
They cannot understand why Godfrey/Ashleigh would vote out Pili. "Doesn't make sense"
Brittnee says Pili deserves to be here but she definitely got this far for reasons different than the rest of them. Says Pili is Nice and loyal, and will stay loyal to Ashleigh till the end.
Brittnee points out that Godfrey has been telling her for the past 4 weeks he's going after Zach so why would he change that now. Sarah goes on about the three of them staying loyal then it doesn't matter if Pili/Ashleigh win the HOH the odds the odds are in their favour.
Sarah hopes Godfrey isn't thinking they are working with Ashleigh she's been trying to make it clear.
Brittnee – there's no way we're working with these girls there's no way.. Its a waste of time.
Sarah – I can't believe Bruno said that to pili
Britte – I think that's hilarious
Sarah – He swears he wasn't saying anything
Sarah hopes they gave Bruno a shitty edit when he was evicted. Sarah says he was lying to everyone and when she called him out he yelled at her.
Sarah – I can't believe it we had the odds stacked against us for so many reasons.
Sarah – I'm proud of myself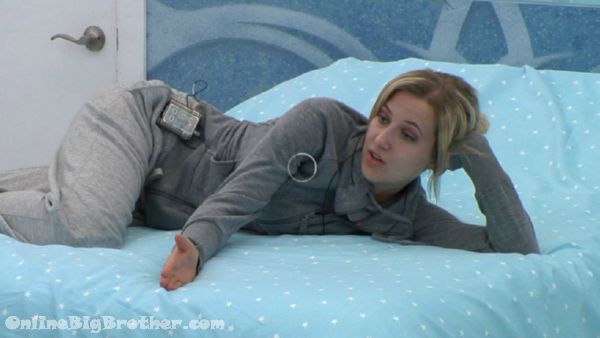 6:23pm Bedroom Godfrey, Pili and Ashleigh
Pili says taking Brittnee to the end will be like handing her 100 thousand dollars
Godfrey telling them Sarah and Brittnee have been very close from the beginning, 'They spend all this time together.. You can't discount the emotional attachment. Everyone dreams is to make it to the end with the person you were close with and experience the game with"
Ashleigh/Pili Agree.
Godfrey pushing that Sarah and Brittnee are genuine friends they are taking each other to the end.
Pili – I choose friendship over money
They start going through the jury votes.
Godfrey says Bruno has told Willow that Sarah voted her out. They agree Jordan and Sindy will vote based on game. Not Sure about Bobby. Godfrey points out that Bruno hates Sarah wouldn't vote for her.
Godfrey tells Pili she's not going any where him and Ash are voting her out.
Godfrey says if Brittnee wins HOH she'll try and break up ASh/Pili, 'They'll probably lie to me say Ash/Pili were trying to get me out"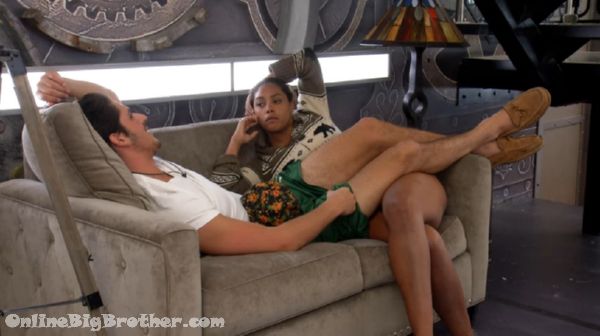 6:51pm Zach and Brittnee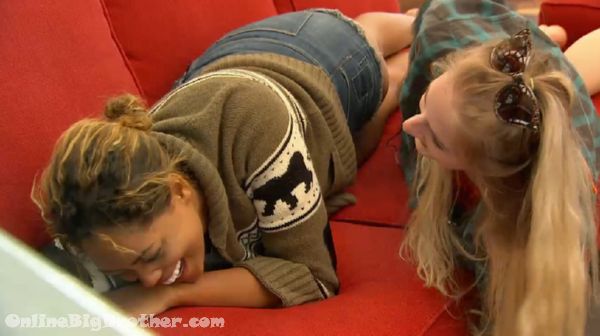 7:15pm Sarah and Brittnee.. talking about dreams..
Brittnee – I had a dream.. I was travelling in Greece with Zach .. sisters of the travelling pants..
Sarah's dream, 'When we were tanning out there my shorts were ridding right up and I had a dream I hurt my vagina cause it was like really sore"
When Sarah woke up she realized her shorts were"Riding hard"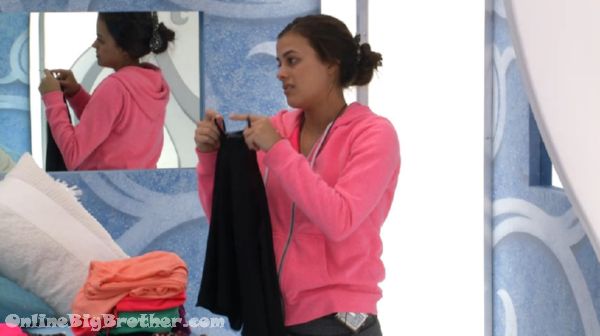 7:23pm Bedroom Godfrey and the goblins
Godfrey – the Chop shop .. If I made an alliance I wonder whayt I would call it
Ash says purple cobras was stupid the name mentions how it's from the movie dodge ball
Godfrey laughs asks who was in that alliance again.
Jordan, Sarah, Johnny and Neaha they thought they had Zach and Kevin were in it.
Godfrey – I missed a lot of this game I shouldn't have napped so much.. All I really did was wake up eat and like go to bed.. Purple cobras (laughs)
Pili is trying to decide what to wear for Wednesday's show
Godfrey – "Don't wear what you wore in your picture (Memory wall picture) JP wore what he wore in the picture and he went home"
[polldaddy poll=8865390]