POV Holder:
Corey
POV Competition
Sept 3rd
POV Used
?
POV Ceremony
Sept 5th
HOH
Victor
Next HOH
Sept 8th
Original Nominations:
James AND Nat
After POV Nominations:
? AND ?
Have Nots
None
Watch the next week of the feeds for FREE – 1 week Trial!
Apparently someone was blowing a airhorn in the backyard saying that Jame and Nicole had a pre show final 2… everyone but Nicorey heard.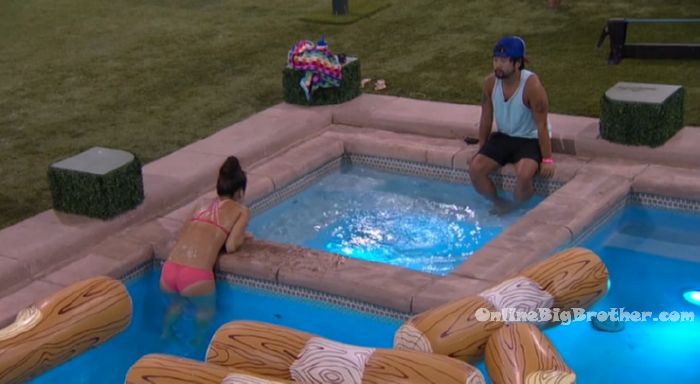 12am Backyard – James & Nat. Nat is doing her pity party again. Nat – I apologized to them and they're still sh*tting on me. It just sucks! Like I back stabbed two people that I trust for two people that I couldn't trust. Trust me Paul and Vic have done dirty. James – its all my fault isn't it. Nat – no its not all your fault. I made the decision too. James – obviously its bothering you. Nat – I'm over it. I want to stay. I'm not giving up. I would have used the veto on you. It just sucks. Like I'm human, it doesn't feel good. James – Don't be so hard on yourself. Like when you get on that stage. Nat – I'll be super happy. I'm going to leave on a good note. I'm happy for you. If I didn't want you to stay, I wouldn't have campaigned to keep you. James – I just wish you would have left it up to fate. Nat – it doesn't matter. You were the target and I wanted to take the heat off you. I just want you to try and win the next comp. James – I will. Nat – They used us and have been sh*tting on us in the DR. Now I look like the di*K head. Corey and Nicole will not have my vote and I will make sure everyone in the jury except Paulie and Z don't vote for them to not let them win. James – if both of them make it, you'll have to vote someway. Nat – I would vote for Nicole. She's a good girl. She's the one that lead him and taught him. She's played a good game. James – she has, she hasn't been nominated once. You know a lot of this game is luck, right? Nat – Yeah and I don't have it. I'm calling everyone out in my speech. Never cared. James – call me out too. I'll put everyone on blast on live tv. Nicole and Corey I heard you making fun of me in the beginning and it hurt my feelings. James, Paul and Victor you have my vote in the end.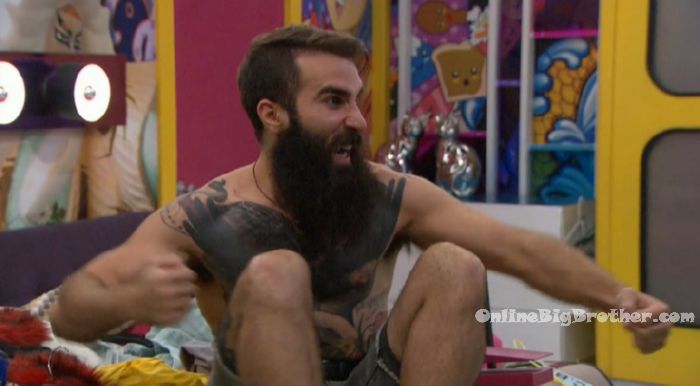 12:20am – 12:48am Big Brother blocks the feeds. When the feeds return – James is talking to Paul, Corey, Victor and Nicole. Paul – she put us on the block there's no hiding that. You can't blame one person or the other. It was a team effort. Nicole – you just wanted to cuddle her and she said not. James – its been like that the last couple days. We've just been on and off, on and off. Vic – it was a good move and it could have worked if there wasn't a buy back or if I hadn't come back. James – she's holding that conversation when I said you (Nicole) and me go cuddle in the bumper cars. And when I said I would come to Dallas to see you (Corey). Paul – you're not married bro! James – I keep telling her those are innocent conversations. Paul – being in this house is stressful. We're all clocked out but we're in the home stretch. Dude I'm sorry you have to go through this but its your team. James – its not the game. Personally I put so much emotion into her. Paul – I hope that in the long run I hope it pays off. James – if we can't make it in here, ain't no way we can make it out there. Paul – you have two weeks and you're out. There a plenty of fish in the sea but if that's the one you want to try an catch.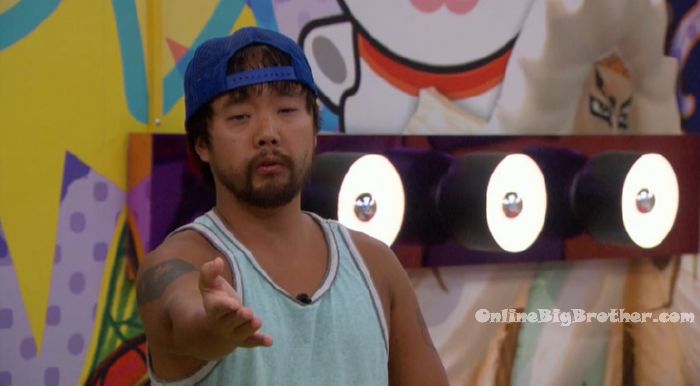 FLASHBACK and watch everything you missed: Live Feed 7 day FREE Trial!
James – the straw that broke the camels back. I've had enough. James – I hope it was worth it for her. I said to her that its a little convenient for her that things didn't work out with her and Victor, you flirted with Corey, you held a lot of information with Paulie. Like supposedly he was doing all this but you didn't tell me till you got pissed at him. And now you've got James that wants to ride it out with you. I said but your actions play along with your intentions and I said Nat now that we have 2 days lift your true colours are coming out. Paul – laughs you said that?! Nicole asks what's with you boys saying true colours. Big Brother blocks the feeds again.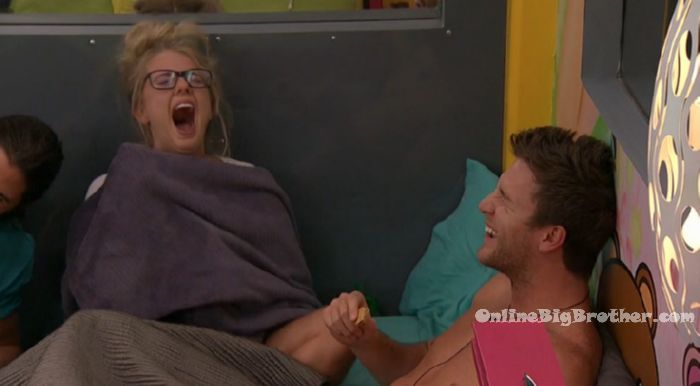 1:10pm – 1:25am Bedroom – James – I think she really wants to go farther in this game than she lets us know. I guess she is fine with going but doesn't want to give up the game. Paul asks if she doesn't want to give up the game, why would she campaign to go? James – that's what I'm saying! Her thing is I hate being on the block next to you because I can't campaign. I'm not going to take it any more. I asked her what her end game is?! Like with me. What are you trying to do? I said a lot of sh*t. Paul – if you had things on your chest I'm glad you got it out. You have 1 day left its up to you how you want to be.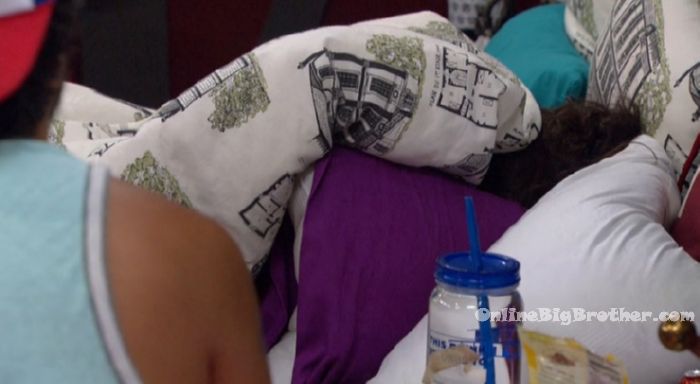 2:20am London room – James tells Nat – I'm sorry and if you don't want to be friends with me I get it. I still care about you even though you probably hate my guts. Its been an emotional game. Nat – I just want to go to sleep. James – I'm sorry again. No matter how you feel, I still care about you. If you never want to talk to me again, I understand. Nat – there's no hard feelings. I almost left the game. I need to make my decision tomorrow. James – Don't leave the game. If you're 100% that you're leaving on Thursday don't leave. Nat – I threw you under the bus right!? I had a fling with Paulie right!? I can't wait for you to watch this show. I'm done fighting. James – I came in here to apologize. I definitely want you to stay, don't quit.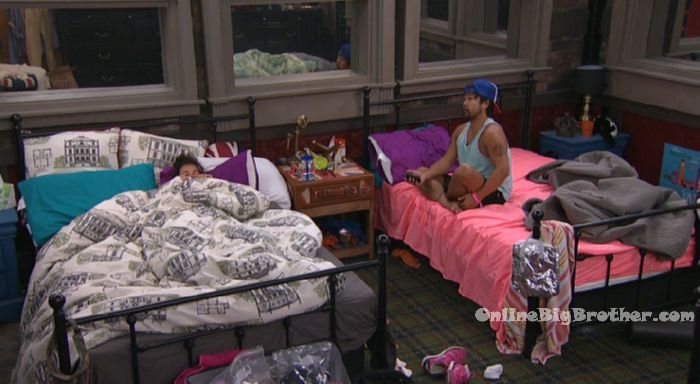 4am – 5am Nat – I am going to be happy for you to stay. I genuinely would be happy for you and I campaigned for you to stay. I didn't throw you under the bus. Nat is crying. Of course I want to stay. I want to change my life but I would never never never throw you under the bus. I told Nicole you were a great guy. I never threw you under the freaking bus. I literally went to Paul and Vic and campaigned for you to stay and made me look like the a$$hole. Nat – I wasn't even going to talk to you. I was just going to get evicted and keep to myself tomorrow. I'm so tired of fighting. I'm so tired of this game. If I did throw you under the bus I am sorry but I don't think those words would come out of my mouth. James – but you said those things to me. When you went up there it sounded like in both of their minds you threw me under the bus. You said your got bad information. Nat – I didn't say any ones name. I got bad information from NICOLE! I trusted the wrong people. Nat – honestly just go be with them and be their friends. I'm over it. James – I came in here to apologize to you. Nat – I accept your apology and I'm sorry for hurting you. James – just don't quit. Nat – I'm not going to. I will try my best. I got hurt. This is why I don't like to like people. James – learning about each other made it 50 x harder. I am really really really sorry for hurting your feelings. Nat – its okay. If they're scared of me .. that's really sad over everyone else left in the house. I give zero cares about Paulie or what he thinks as long as his family is happy and healthy. Did they say anything else about me? James – no. Nat – tells James she is going to keep her speech really nice. I'm going to say something nice about everyone. I will keep it super sweet. I'm never going to let people walk all over me again.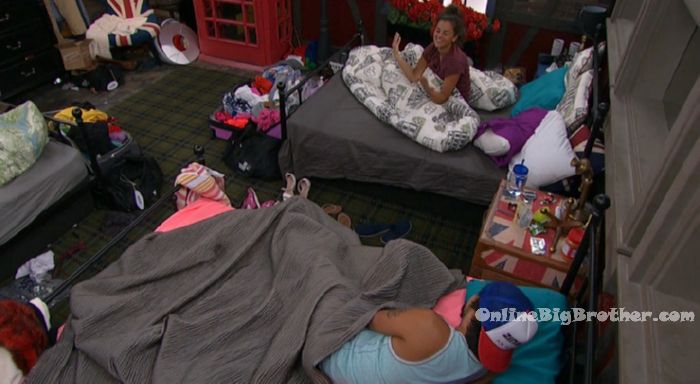 5:10am James and Nat go to eat ice cream.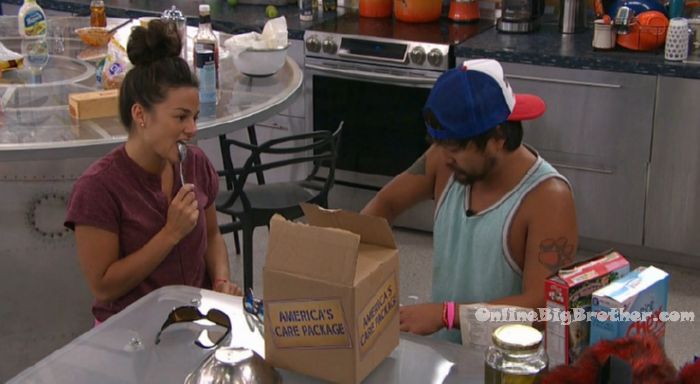 [polldaddy poll=9511194]
[polldaddy poll=9512103]
Show your support by making a donation.
Donations support this site more than anything. If you dig our spoilers please find a way to support us.