POV Holder:
Paul
POV Competition
Done
POV Used
?
POV Ceremony
?
HOH
Paul
Next HOH
finale
Nominations:
Corey AND Nicole
You can now get 1-month FREE with promo code: FALLACCESS – expires 9/16/16!
1-month FREE with promo code: FALLACCESS
Watch the next month of the feeds for FREE – 1 month free!!!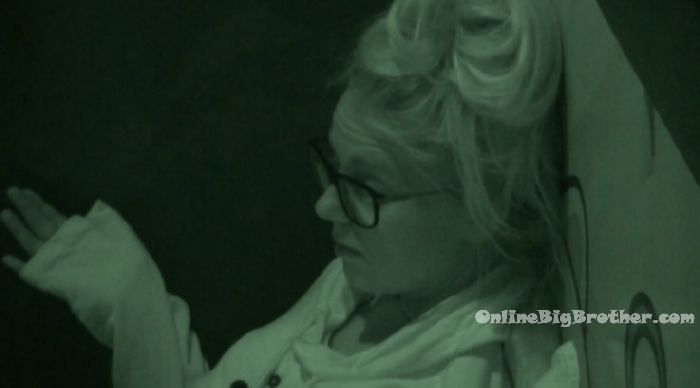 10:45pm Bedroom – Nicole asks what do I do from here? If Paul tries to work with me is that something I should do? What do I do? Literally if James makes a deal with you to stay in the game .. just know I am completely okay with it. Paul.. I asked again if he is going to use the veto and he isn't going to use it. He told me Nicole stop asking me. He said Corey's a strong competitor, I have to have him go. I was like you need to talk to him then because he deserves to hear this from you. Corey – yeah, that's fine. Nicole – I don't want you to think I am doing anything behind your back because I am absolutely not doing anything behind your back at all. Paul just told me that I am staying and he wants Corey to go. He wants me to kind of work with him type thing. Corey – that's fine. Nicole – he doesn't want me to tell you that. Corey – what do you mean work with him? Nicole – not work with him but take me to final 2. Nicole – I want you to help me. Corey – its so obvious .. go win that endurance comp or mental comp .. you're going to have to win two .. or get one of them to take you. Just give it your best. Nicole – we haven't been apart for 92 days. Its going to be weird. Its going to be weird without you. Its going to suck. Its going to reaaaaaaaalllllllllyyyyy suckkkkkkkkk!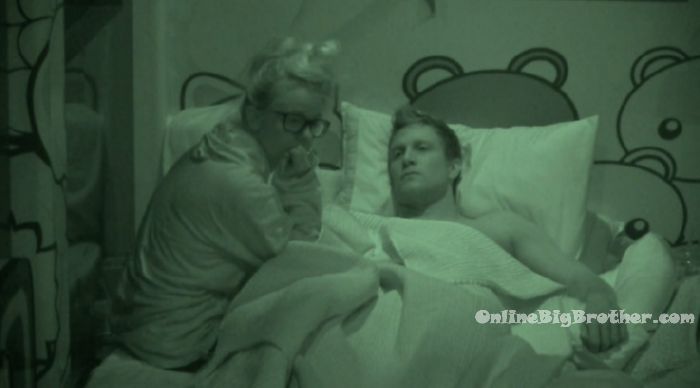 Nicole – I'm just not good at like … if I did make final 2 .. I'm just not good at speaking. Like answering questions and stuff ..I black out. Corey – just be yourself and act like you're having a conversation. Nicole – what was my biggest move? Corey – your biggest move was.. Nicole – I could say ..it could be breaking up that five person .. me and Corey were completely by ourselves. We convinced Natalie and Michelle to put up two of their own alliance members and then after that I won HOH and got out Michelle. kept her, sealed the deal and then started working with Victor .. that bought us two more weeks of safety. They it was final 5. Corey – that's good. I don't know what to do in my speech tomorrow. Nicole – I'm just going to compliment you and then tell James to do what is best for his game brah! Nicole asks what Paul said to him. Corey says that he said he thinks his odds are a lot better with James and Nicole. He said he knew I would get a lot of votes in final two. And that he and Vic are cool with what went down.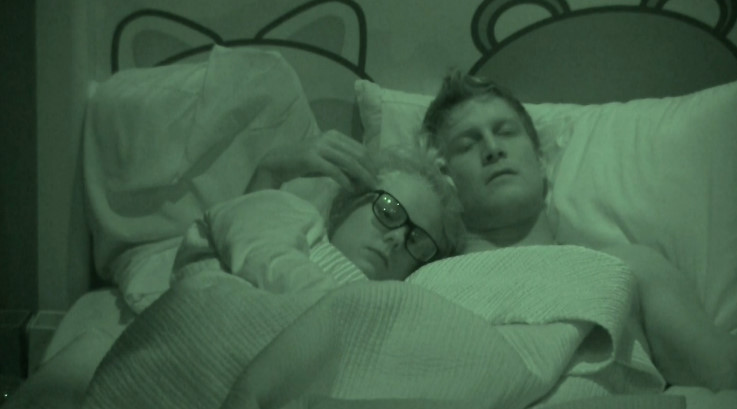 11pm Corey asks between Paul and James who would you vote for? Nicole – Paul. I think sitting next to James is the equivalent to taking Victoria. What has he done? I don't think they'll (jurors) see it like that but if you can make them think that .. I mean what has be done. Victoria was even more loyal, you know. Paul is playing a very good game. Corey agrees. Nicole – I would vote for him. That's why I wouldn't take him. sssssssSSSsss He's expecting me to though. SSSSsss Corey comments on how he doesn't think he'll be able to sleep.


11:20pm – 11:35pm HOH room – Corey joins Paul to play cards. Paul tells Corey – I think you will definitely get America's Favourite. Especially in a house full of savages. Corey – it would be nice but I'm not banking on it. Paul – Zakiyah gets it .. what the f**K!?! Paul tries to help Corey with is speech – Nicole I might have lost that baseball comp but I'l sill going to hit a home run with you. James joins them. They play cards.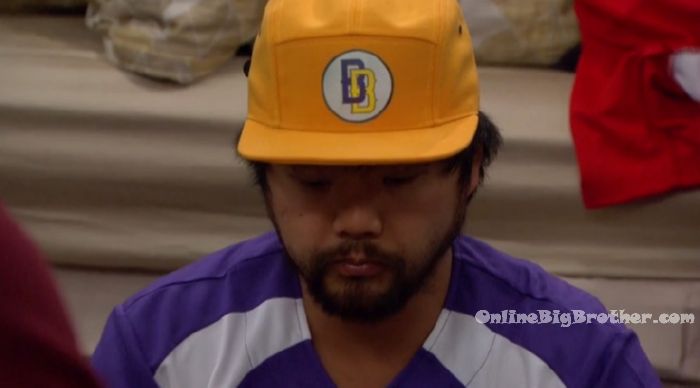 12:05am – 12:30am Nicole joins them. The final 4 are all playing cards.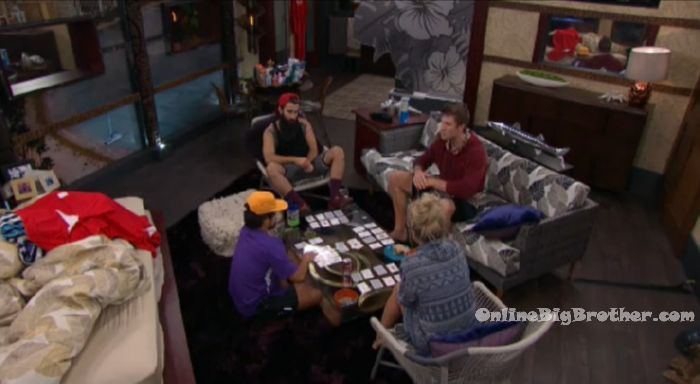 12:40am – 2:30am Paul tells James – He (Corey) kind of figured (he was being evicted next). Nicole was like just talk to Corey because he's sad. So I talked to Corey and he was like I get it. Good move. I would have done the same. Paul – we're not killing the guy. James – its not like when he leaves the house he gets shot by a firing squad. They head down to the kitchen. Paul and Vic talk about what the final HOH might be like. They head to bed.
Nicole and Corey chat about random things and past events of the season and then go to sleep.
Show your appreciation by making a donation.
Without your support this site wouldn't be possible. Donations support this site more than anything. If you dig our spoilers please find a way to support us. ANY Amount is greatly appreciated :)