POV Holder:
Paul
POV Competition
Done
POV Used
?
POV Ceremony
?
HOH
Paul
Next HOH
finale
Nominations:
Corey AND Nicole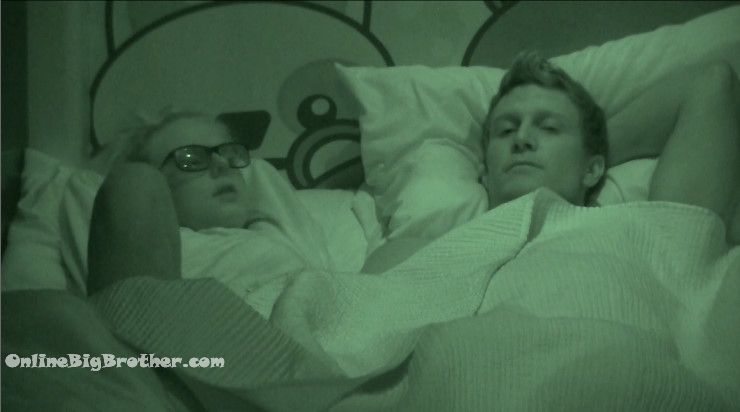 9:00pm Feeds back
Paul won the Power of Veto, Corey and Nicole are nominated
Corey – I think it's me ( getting evicted)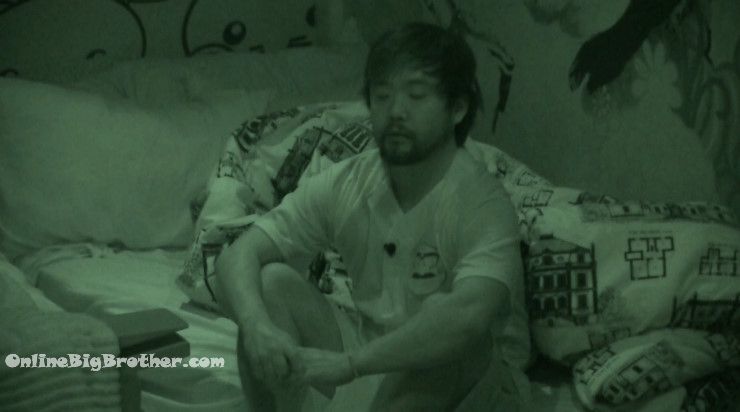 James rolls by
Corey – what up James
James says the Dr is calling everyone in tonight
Corey – Nicole and I kinda want to sleep tonight… if you decide tonight can you tell us.. what you're doing tomorrow..
JAme s- Paul wants to pull you all up to talk about this some more
Corey – what more is there to talk about.. he wants me to go .. I'm pretty sure.. he knows I'll probably get him in that mental comp.
James – if he said it's up to me.. I don't know
Corey – what do you mean it is up to you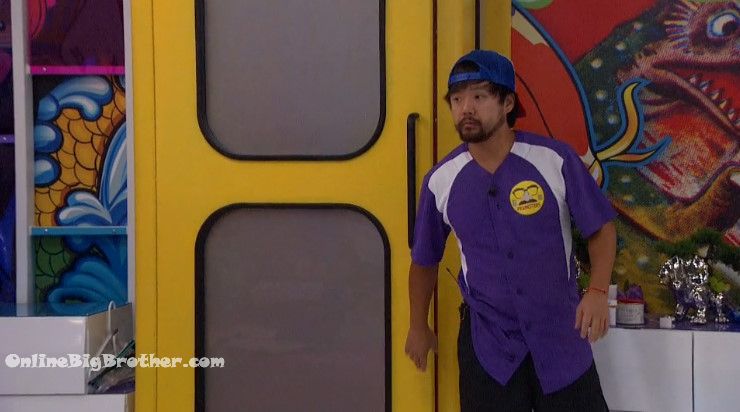 James gets to wear a uniform..
James tells them that Paul is throwing him a lifeline by not using the veto and putting him up because that would mean he's going home. James will vote out who Paul wants him to vote out. Corey says than it's decided he's leaving.
James tells them if they decide who they want out then it'll make it harder on him if they don't then "i'll have to pick somebody"
James- just saying it'll be hard to decide between you to
Corey – you can sleep in here we don't care
James- I want to give y'all some alone time..
James leaves..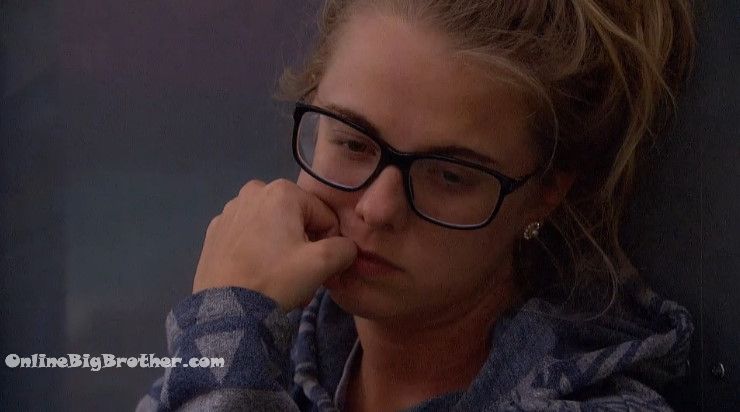 Nicole says she's disgusted that James is asking them to decide.. "that's not right" She says it's like in hunger games.. mentions something about berries..
Corey – sounds like he's making a deal with Paul vote me out..
Nicole – what if we decide the other way would he go through with it
Nicole – Paul wants you gone.. why wouldn't you.. you're the strongest competitor here and you wouldn't take him.. I won't take him but I'm not as threatening as you
Corey – what do you want to do Nicole
Nic – I just want James to decide.. he gave us a round about answer.. if Paul doesn't use the veto he'll do what Paul wants.
Nicole says people have been throwing James "life lines" this entire game
Nic – going to let whatever happen happen.. it is what it is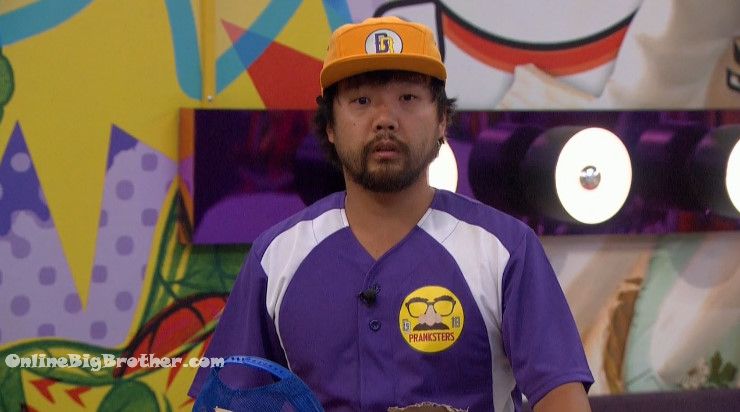 9:30pm James, Corey and Nicole
Corey – James are you scared to tell me.. you voting me out
Corey – are you leaning a certain way do you have your mind made up
James – I feel Paul is gunning for you.. if he asks me to do that it's something I have to do
Nicole – What if I say vote me out
James- i'll have to ask Paul..
Nic – I'm just curious
Nicole says it's very hard for them to volunteer.
James leaves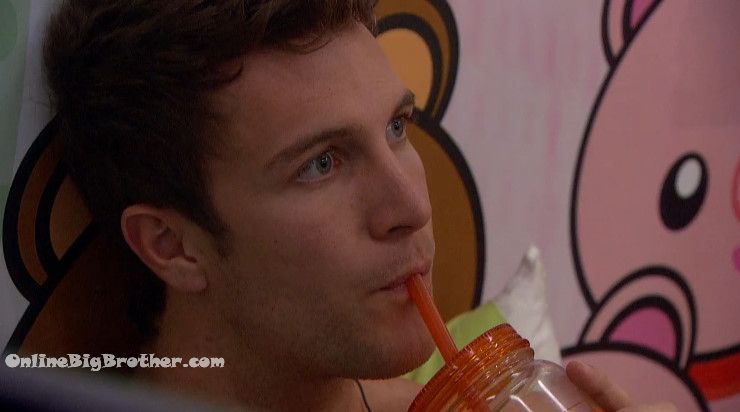 Corey starts to sulk…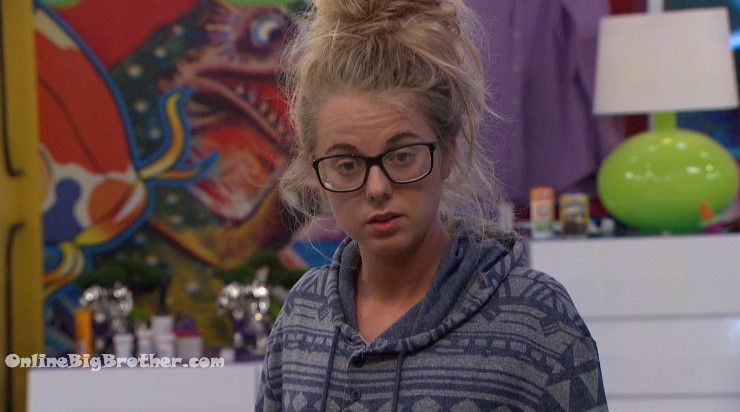 Nicole – what can I do
Corey – Nothing.. Nothing.. doesn't matter Nicole go Final 3 you want your family to come.. what do you want me to do
Nic – tell me what i should do
Corey – Nothing
Nic – I don't think you feel that way
Nicole saying that James just said they can decide because he wants them to feel like crap. His mind is already set. Nicole can't believe this late in the game James is listening to another person.
She wonders that maybe James is playing along with Paul until after the Veto is used at which point he'll do what he wants to do .
Nic – you're closer than him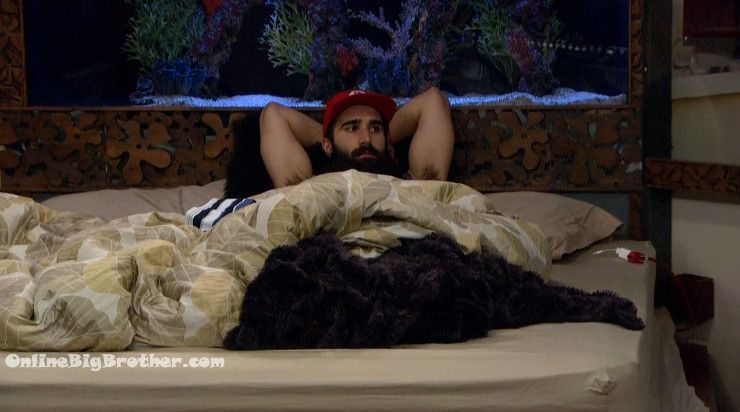 9:45pm James to Paul "Dude Corey and Nicole are pressing me"
James – they're pretty dead set on you not using the veto.. they didn't say anything about no final 2 or nothing.. they are more like James we want to sleep easy tonight.. they're like Dude who you voting out.
James – I'm like dude honesty you know I like you both but I can't f*** Paul over he's HOH and he through me a life lien.. whatever Paul says..
JAmes going on about how he told Corey and Nicole if Paul doesn't use the veto he'll vote for Paul 100%
James says Nicole told him if they decided to evict her would he
Paul – that might me she's mentally checked out..
Paul says he loves them but at this point it's strategy
James – I don't want you to take all the heat.. we both want Corey out
Paul says for game he doesn't want Corey and Nicole want to know so they don't prepare but on the flip side they're his friends and he doesn't want them to panic.
10:01pm HOH Paul and Nicole
Paul is saying this is the move he has to make. He would look stupid
Paul says he's planted the seed in James
Paul says james came up here and told him everything "he basically tossed it on me he would do what Paul wants to do"
Nicole fills him in on everything James said
Paul – what he's trying to do is make it that he's the nice guy..
Nicole – he's going to do what he wants to do not what he doesn't want to do.. he's not dumb.. he kept saying that's what Paul wants
Nicole – Corey is very frustrated with James.. he's like I threw him a life line I don't get why he's doing this
Paul – I'm giving you my word for Final 2
Paul says James laid out his game for him and pretty much said he didn't win anything got no blood on his hands says he played like Derrick. Paul says he doesn't trust James at all.
Paul – you got to make sure Corey doesn't sweet talk James because then you leave..
Paul – just like you guys have to split Victor and I up I have to split you up.
Paul – Corey has been so nice I don't stand a chance in final 2. you have enemas I have enemies
Nicole – It's stupid not to take me.. I don't even have to campaign at this point
Paul says everyone in Jury hates James he could take James to final 2 but James doesn't deserve
Nicole – he's been screwing everyone..
Paul – and I'm taking him to final 2 he f****g wishes.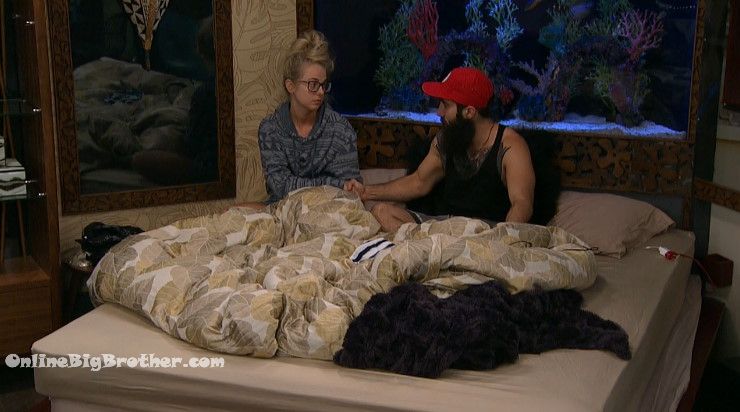 They shake on their final 2
Nicole – lets do it
Paul – if you f*** me
The go over the Jury Paul makes is sound like they are equal.
Paul – this whole season he f***g got me.. (James)
Nicole – eviction is tomorrow right
Paul – ya
Paul your ride or die is dying.. same thing happened to me last week I didn't cry I won HOH
Paul- i don't owe James anything I don't owe him 1 thing… but you saved me I owe you.
Paul – "this is not a dating show this is a game show
Paul is going on and on about wanting to take Nicole to final 2 but doesn't want Corey to know because he'll go to James and Nicole will be evicted.
Nicole says Corey is the best boy she ever met in her entire life.
Paul is saying that one of them is going
Nicole – ok lets do it..
Paul – if James wins..
Nic – he's not going to win 1 of us just beat him in endurance
Paul about James – he does not know anything.. (dates) apparently he made a deal with Natalie to get you guys out..
Nic – he wears Natalie's thing on his hate.
Paul about James – I'm not going let someone that hasn't done anything slide to the end..
Paul says he went flying through the woods this season hitting every stick along the way whereas James was riding a tricycle on a paved road.
Paul – we care about Corey and I care about you
Nicole – we care about you too
Paul goes on about how useless James was this season 'You motherf***r"
Paul – we going to win this
nic – ya lets win this..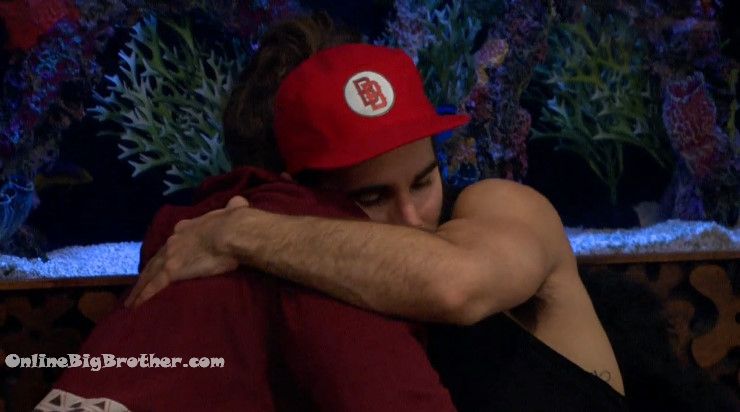 10:22pm Corey and Paul
Paul – I cried when I won that HOH bro.. that wasn't fake..
Paul tells Corey strategically Corey is the better person to leave, he's a beast in comps and if Corey wins the Final HOH he'll take Nicole. Paul's main concern is to get to final 2
Paul – I wish we stuck to the final 4 plan..
Corey says if he takes James or Nicole to final 2 "Game over"
Corey – you know I get it
Paul – I want to take you and Nicole but if I don't win …
Corey agrees..
Paul – If you guys win (final HOH) I would call you stupid if you didn't take each other to the end..
Paul says if they had kept to the final 4 this all would have been different.. (not as difficult?)
Corey – hey dude after all this is over it doesn't matter to me..
Paul starts to talk about the Veto and the feeds get cut. (apparently something happened and Corey maybe complained to production about something Paul did)
when they come back Paul is talking about not wanting to keep Corey in the dark. Saying there's no way he can beat him. Corey says Paul has a lot of Jury votes. They start to joke around calling each other a nice guy.

10:40pm Paul tells Nicole he's talked to Corey he knwos what's happening and is fine.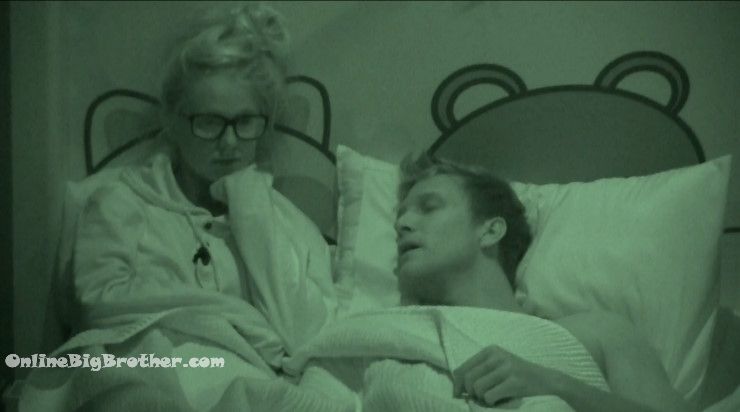 10:46pm Corey and Nicole
Nicole says she feels bad.. Points out that Corey has been crying. Corey says it was them filming his goodbye message for Nicole. he knows Nicole's not going.
Nicole – what do i do from here if Paul works with me is that something I should do.. if you can make a deal with James to stay in this game I will be OK with it..
Nicole says Paul wants to work with her and go final 2 "is that smart"
Corey tells her taking Paul to final 2 isn't smart she needs to take James.