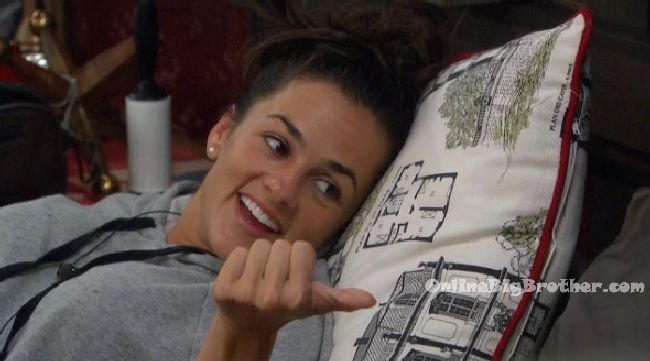 2am – 2:10am In the bedroom –
Bronte and Natalie are talking. Bronte says the first to go are the people that make the process harder. Natalie says its the people that are irrational that go home. I think Nicole, James, Tiffany, Corey, Michelle and Paulie are in an alliance. Bronte says if anyone gets the veto I think they would put Michelle up. Jozea was saying its such a rookie move to try and get a strong player out first. Jozea thinks he knows everything. Bronte says that Victor and Jozea are going off the mental deep end. Bronte says if Paul goes home .. or if Jozea goes home I feel like our alliance might fall a part. Natalie says I think Paul needs to go. Bronte says I feel like I am putting my neck out on the line for the newbie alliance and I feel like I might be left without a life jacket. Bronte says that the boys went straight to the cameras when the live feeds came on… Like you are so pathetic! Natalie says the guys are bullying us to vote for them. We have to brain storm .. we have to be friends with Tiffany because she's like a smart player. We need to be friends with Nicole. Victor is totally close to Nicole. Bronte says he's playing her. Natalie says we have to play hard. They think they're so cute and like that we like them. There's a double standard and we're going to break it. Bronte says I'll be damned if I'll vote for a guy in the final two. I don't care who the girl is, I'll vote for her over a guy.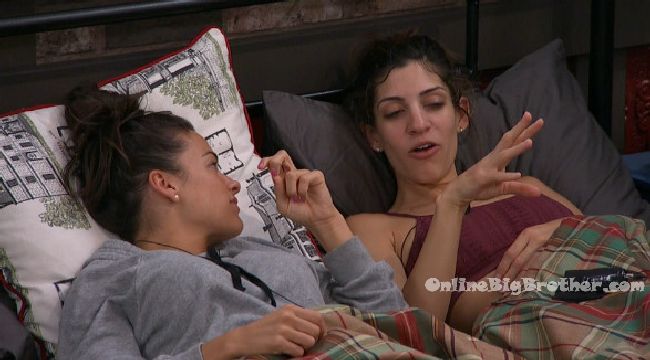 2:30am – 3am Cam 1-2
DaVonne says I'm so glad that we were able to get this 8 together. Nicole agrees. Especially with that third twist. Davonne says one thing I leaned is never get too comfortable. Nicole says I just want to get this pick done so we know who the other two players are. Nicole says I see Paulie whispering more than anyone else. Zakiyah says he's here to play. He doesn't want to disappoint his brother or family. Nicole says I hope one of the guys wins HOH next week. Zakiyah says I don't see any of us getting blinded by them. I'm playing my part. Tiffany says we should call ourselves the fatal 5.
(Fatal 5 Alliance = Nicole, Zakiyah, Tiffany, DaVonne, Michelle)
Nicole says I like it. Zakiyah says that's hot and we're all girls. Tiffany suggests they each work on a guy. We just have to make sure our names aren't coming out of any of their mouths. Michelle joins them. They fill her in on the Fatal 5 alliance and she loves it. Davonne says we've just got to show the guys that girls can do this. Nicole says I think we go after the other side of the house ..obviously … like Jozea Vic, Bronte..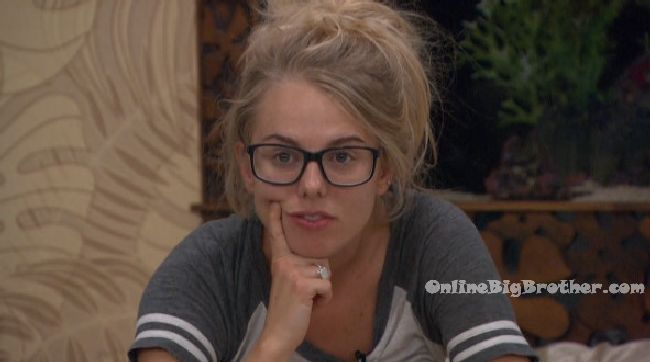 FLASHBACK and watch everything you missed: Big Brother Live Feeds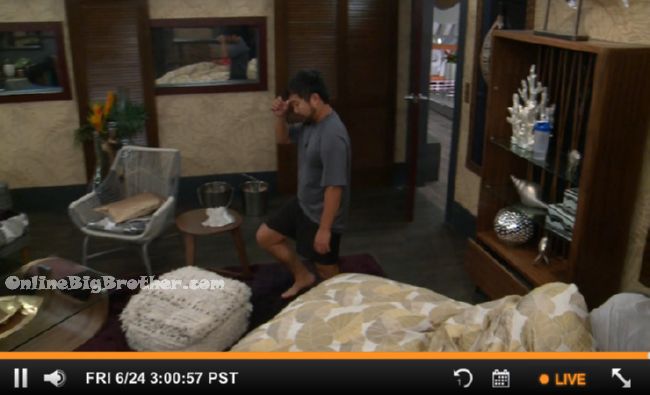 James breaks up the fatal 5 alliance meeting. Nicole asks him "You got a bet"
James – "Ya I'm sleeping with Tiffany"
Adds that Bridgette can't sleep with guys because she has a boyfriend
Asks them if "They are still having their meeting?"
Da'Vonne says no they cancelled it because Joeza got tired.
Da'Vonne – how do you cancel a whole meeting when one person says their sleepy
Da'Vonne – that's foolishness
James thinks everyone is going to bed early.
Da'vonne says it's because they have to play in the veto tomorrow.
James – OHh
James says Bronte didn't want Paul sleeping in the same room because "Paul was being creepy telling them he was going to come in and lick their toes"
(They chuckle apparently Paul talks about people feet a lot)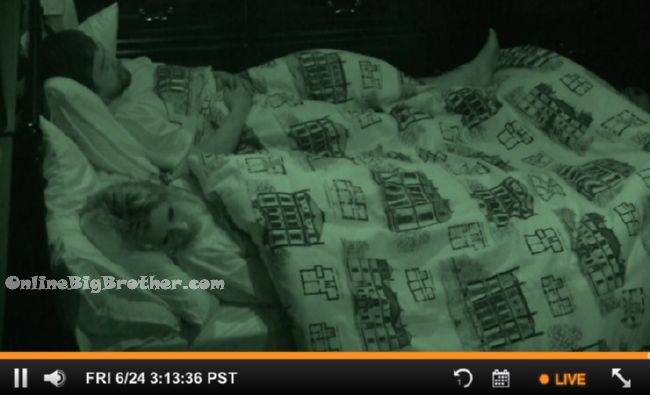 3:14am Everyone sleeping.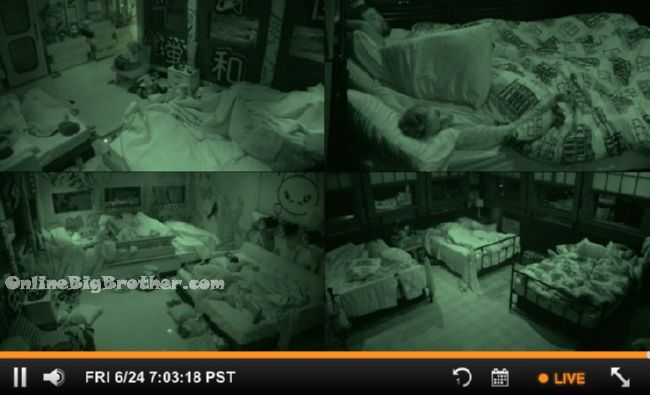 7:02am Still sleeping
8:36am Still sleeping
8:55am The houseguests are woken up. I'll publish a new post once something happens.
FYI. Paul was nominated. Sounds like the competition we'll find out about on Sunday was already played. The person that wins the competition can secretly nominated a player. Still unsure if it was Nicole or Michelle that won it.
Share it YO!!
Tweet