POV Holder:
?
Next POV
April 30th
POV Used
?
POV Ceremony
April 25th
HOH Winner:
Kelsey
Next HOH:
May 9th
Original Nominations:
Cassandra and Tim
Current Nominations:
? and ?
Last Evicted Houseguest
Paige, Sharry, Christine, Kelsey, Loveita, Dallas, Mitch, Raul, Maddy, Jared, Nikki
Have Nots
?
Watch the Big Brother Canada 4 Live Feeds anywhere in the world with HideMyAss VPN.
ALLIANCES IN THE HOUSE
There will likely be a lot of alliances during the season – keep track, read our alliance help guide.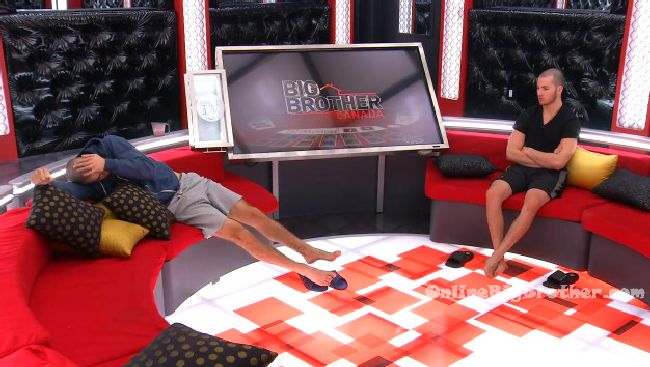 8:50am – 9:10am Outside the high roller room –
Kelsey and Nick are studying. Nick tells Kelsey that she should spend time with Joel today. Kelsey tells them to talk to him. Nick says they have a bunch of times. Kelsey leaves. The brothers start studying. Phil says I hope I get this. F**king Tim is already working Joel. Tim is such a f**king coward! He's willing to like… I don't know. And you know what I was thinking in the shower it wouldn't have changed anything if we had nominated Cass and Tim. Cass pulls herself off and Nikki goes up. Then Joel and Cass save Tim. Nick says yup. Phil says it literally changes nothing. They had the plan the whole time. That's why Tim was saying it doesn't matter, it doesn't matter. Like I have the vote. So this is fate. This position right here. Nick says I don't know if Tim would have stayed over Nikki. Joel would have probably kept Nikki over Tim. Phil says who cares. Going into the final 3, lets say Joel wins the veto and we're sitting next to Cassandra to get taken. He very well could take us. And I think he would because that's the point where do you choose if you have a heart or do you want to take a monster. What are you more proud of? And we tell him we're promising you final 2 Joel. Look him in the eye .. do you see how honest we are? Nick says I said that to him yesterday. It comes down to … you've seen how honest we are and we mean it. Cassandra.. she'll take Kelsey. Kelsey has like 3 votes. Cassandra would have all the rest. We still have a hard road.. we still have to win comps. Its nerve racking when you have to win comps. Nick says its a good thing we didn't have to do it until now. Phil says he's (Tim) f**ked .. literally all psychopaths… well him and Cass. Messed up in the brain. Nick says yeah that's why they like each other. You shouldn't get so worked up about it. Phil says I'm not, I'm in game mode! You're being that weird ex-boyfriend right now. Phil says NO man, I'm studying. I'm fired up for the POV. Its because he was right there outside the door. Nick leaves.
9:40am In the bedroom – Cass is watching Tim workout. Meanwhile in the HOH room – Kelsey, Nick and Phil studying. Kelsey says she asked Joel if he would use the POV if he won it and he said no. Kelsey says you guys should say Cass is taking Tim and Tim is taking Cass… and you'll take him.. but then that's lying to him. Phil says it will be my one lie in this game. Joel sees the truth and heart in us and the snake in her. Kelsey says she thinks they've misunderstood Cass. Phil says Don't fall for her sh*t! She's a b***h in the real world .. I bet! She wanted you and Jared up too for weeks. Nick says then she probably came to you saying the brothers wanted you up. Phil says she's fake! I'm done with that B***H!! I got mad because she called me a liar.. which is the one thing I'm not.


9:50am – 10:05am Joel tells Cass its pretty clear where I stand with them. Kelsey called Nick over to the bubble wall to study and I'm pretty sure that's what they're doing right now. Cass says lets study. Joel and Cass start studying. Nick joins them and sits down. He tells Cass that he'll be in the same room with her only if someone else is there to fact check.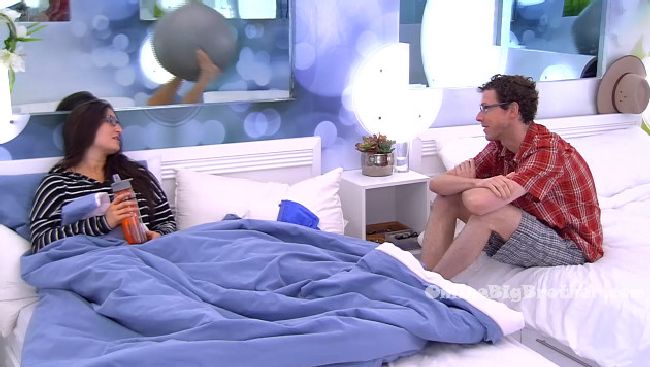 HOH room – Tim tells Phil and Kelsey that if Cass and I are still on the block at the end of the day I would bow out so that she could stay. Kelsey says to just wait till after the veto. Tim says if he finds out Cass campaigns against him then he won't bow out.
1:10pm The HOH lock down ends and the house guests head out of the room. The house guests are waiting around for the power of veto competition to start..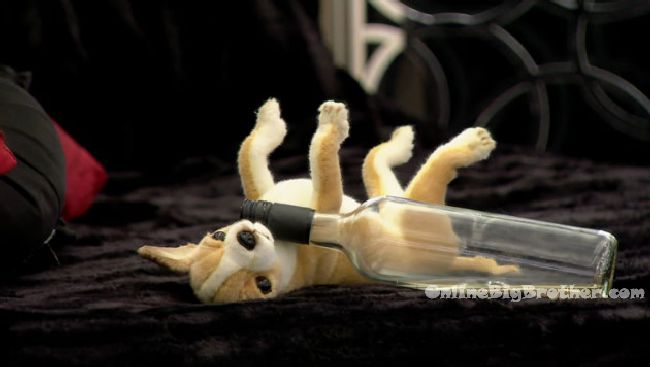 1:50pm – 2:10pm In the kitchen – Phil says that every single person in the jury will respect us for being real. You work for the government for a year you will make 100k .. 80K whatever. Phil says I am not mad at you for putting us on the block. I am still here and I have so much respect for you. Someone else deserves this opportunity to find themselves and grow because I sure as hell have. Nick says I didn't know what big brother would do for me. Coming in here I said I would do a lot of things for 50K… changing my character and lying was not one of them. Joel says we wouldn't compromise our morals or values. We would do it the right way. Phil says Mom told us to have fun, laugh, make friends. I'm doing what Mom told us to do! Mom and Dad are going to look at us and say you boys are the best boys in the world!
3:15pm In the bedroom – Joel talks to Cass about how if she or Tim are able to subtly throw the veto to them. Joel says its the only way this will work. Joel then heads to the storage room and crosses his finds in front of the camera.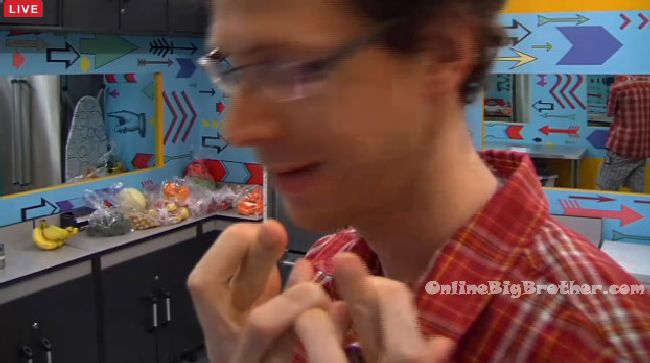 3:20pm HOH bathroom – Nick and Phil in the HOH room calling Cass a sociopath. Phil says we study people like her all the time. Its crazy to actually see someone like that. Nick says I would rather see a Canadian sociopath win the money than an Australian sociopath. I think Cass needs it more. Phil says he wants to build tree forts.
3:45pm HOH room – Phil and Kelsey are studying days/Comps. In the kitchen – Joel is practicing his aim throwing something into the trash.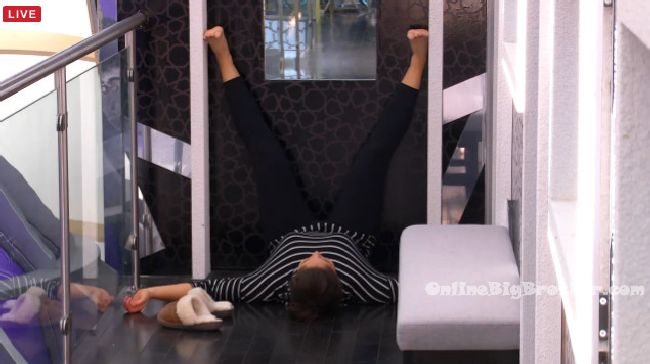 3:55pm Joel tells Tim if its an endurance POV and its down to you, me and Cassandra will you throw it to me. Tim says he will.
Live Feed Leak of the Power Of Veto competition costumes: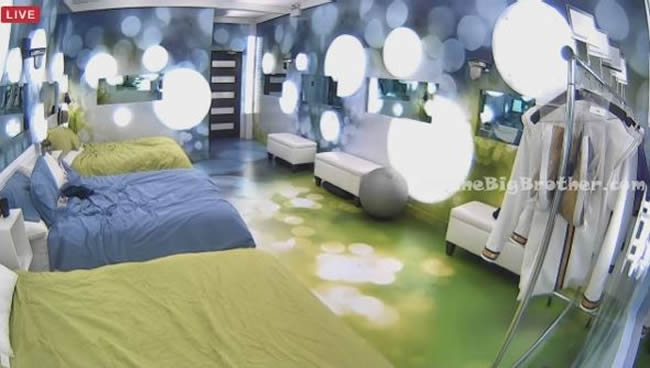 4:30pm The live feeds are blocked for the power of veto competition…
6:15pm Still blocked..
8:55pm Still nothing..
Sign up for a 6 month subscription and watch the rest of Big Brother Canada 4 AND Big Brother 18 with HideMyAss VPN.
Share it YO!!
Tweet