POV Holder:
?
POV Competition
Sept 12th
POV Used
?
POV Ceremony
Sept 12th
HOH
?
Next HOH
Sept 15th
Original Nominations:
Paul AND Victor
After POV Nominations:
? AND ?
Have Nots
?
Watch the next week of the feeds for FREE – 1 week Trial!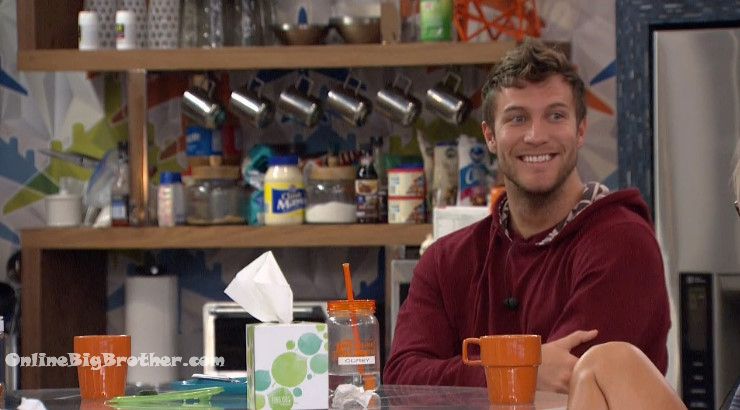 10:30pm Corey and Nicole
Corey says if they had taken out James he would have had to put Natalie up.
Corey – they gave us James
Nicole – which is good
Corey – they were dumb
Nicole feels really bad about it.
Corey – they could have kept Natalie on their side
Nicole – don't tell them that they don't know she was on their side
Corey – how do we know and they don't know
Nicole says that James is working with them because Paul and Victor are smart.
Corey says he had thought about that but he thinks they realized that they didn't have the votes and they knew Corey and Nicole wanted Natalie out so they backed it.
Corey teases Nicole that he'll put her up
Nicole – anyone will beat me final 2 you would be a idiot to get rid of my right now
Corey lists off another reason for putting both Vic and paul up. He doesn't want one of them to win POV pull the other down than he'll have to put Nicole up.
Corey – next week I can't play in the HOH and I don't want Nicole playing against y'all (Paul/Vic)
Corey – this had to happen it would be crazy not to.. this had to happen meeting adjourned
They both want Victor to leave this week.
Nicole- he's good.. you're better but he's good he doesn't care he has nothing to lose he's already been evicted twice.
Nicole says she would take Paul and Victor over Michelle and Natalie though.
Nicole says if he lays it all out in the open vic and paul can't sway James.
Nicole says "throwing Comps is tough" she threw the HOH last night
Corey – you think you could have beaten me
Nicole – yes .. I said it in my DR sessh
Corey is planning on nominating Victor and Paul he'll tell them that they would be doing the same if the rolls were reversed.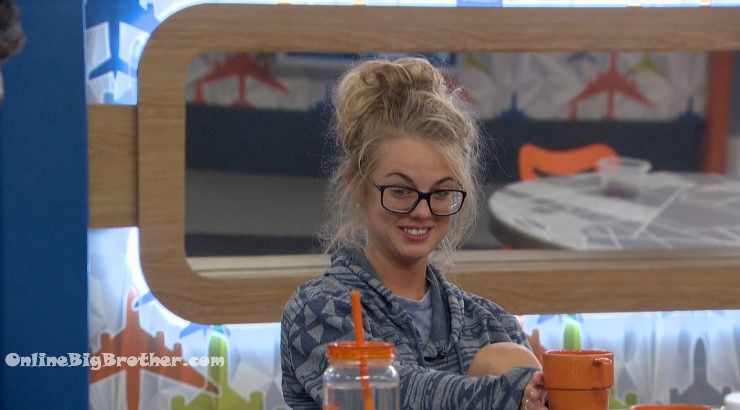 They think Natalie may have pranked them putting salt into the coffee grounds.
Nicole says it tastes like "Butt Crack" Corey asks her why she knows how that tastes.
3:00pm kitchen Nicole, Paul and Corey
Paul – I just really hope we win that Veto.. if it's a puzzle i'll do really good.
Corey teases Nicole calls her snakcole.
Nicole says she doesn't like snakes, "snakes are gross"
Paul asks Corey is he's going to use Victor or Paul as the Pawn to get James out. Corey claims to not know. Paul reiterates what he's been saying since yesterday that he'll be the pawn. Paul says if James wins the Veto he'll be on the block.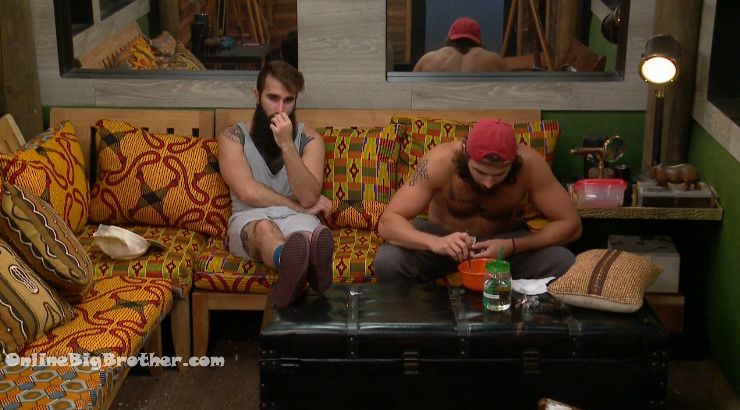 4:00pm Paul and Victor Safari room
Talking about james swaying Nicole and Corey
Paul – dude james is a mother f***8er
Vicotr doesn't think they will trust James after everything he's done
Paul says what if they both go up
Victor – they will be stuck with one of us
Paul wonders who they want James or Paul/Victor "Depends if they want to f**k us over or not"
Paul and Victor don't think they are both going on the block .
Victor – they will get sh1t on so hard (No they won't CBS will give them the golden edit and you 2 will end up gettign shit on)
Paul – they will get MOOCHO shit on
Victor – and I don't wan to have to do that
Victor has noticed Corey and Nicole don't hang out with them anymore they spend all the time in the HOH.
Victor says he wasn't like that last week he hung out with them, "You'll see them switch real fast"
Victor does not think they are going to both be put up because Corey and Nicole won't want a stressful week.
Victor understand if they get f****d over it's part of the game
Victor – I would not do it to them.. 100% I would not do it to them.. I wouldn't betray my friend.. I'll legit be very sour after this show.. after we agreed to that Final 4 thing..
Victor – they don't have a reason.. literally don't have a reason..
Vic – the downfall in this game is trusting people.. if it happens again shame on us
Vic – I'll be stirring the pot if that happens.. never gave a f*** and I don't want it to end like that.
Paul – if you go on the block I'll know something is up
Vic – I can see the argument either way
Paul – imagine he put us both on the block and said he doesn't want to chance Nicole going on the block
Vic – then James wins and leaves it the same.. that's some f*** up sh1t I wouldn't be happy at all.. I could have done that to them.
Paul thinks Corey and Nicole would tell them before if they were both going up.
Vic – if they did that and tried to explain after I wouldn't entertain that conversation
Victor says he could have choose a route last week that made him look better but he stuck with their Final 4 plan.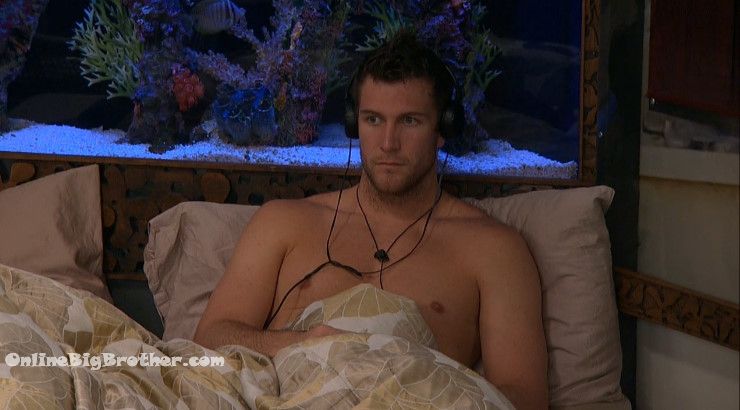 4:15pm Corey going on about his Nominations speech. listing off the same things he said earlier this morning.
Corey – James had my back.. should I say that or no
Nic – they are going to say he did not have your back he was after you
Corey – strategically you're not good for my game.. keep it short and sweet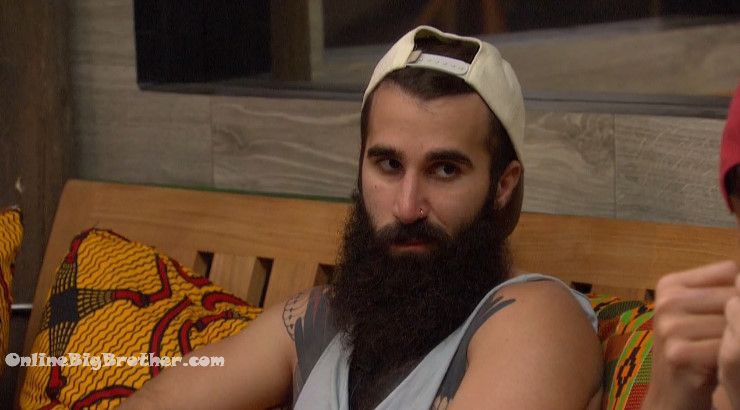 4:30pm Paul and Victor
Paul – 90% done
Victor – crazy someone can leave in a couple days
Paul – hopefully it's not us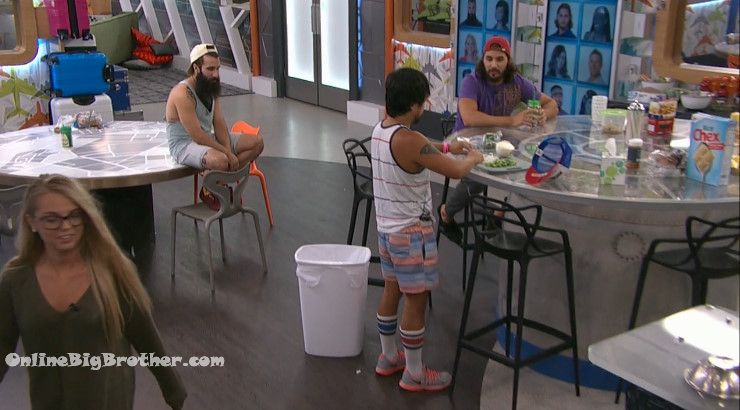 4:45pm Kitchen Paul, Victor and James
Paul is claiming to "work in the music industry"
they get in a argument about how musicians are "invited to the VMA's"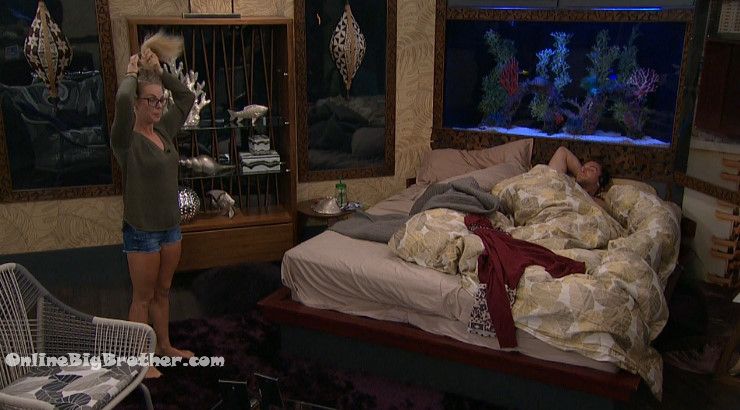 4:49pm Nicole slithers upstairs tells COreeeeeeeeey that Paul and Victor nearly got in a legit argument downstairs over the VMA's
Nicole says that Victor is in a really bad mood
Corey adds that Victor said he wanted to Punch something today.
Corey – i'm trying to make it to final 3
Corey going on about his nomination speech "As much as i love the final 4 deal it's the best play.. "
Nicole says she's proud of Corey this is such a smart move.
Nicole says she's not even going to try and hug them post nominations because Victor is already mad.
Nicole – I don't want it to be awkward.
She's planning on running up to the HOH and hiding.
Corey – Hopefully James comes up here and hangs out.. hopefully they all come up here and hang out.
Feeds cut.. time for Nominations
[polldaddy poll=9517035]
Show your support by making a donation.
Donations support this site more than anything. If you dig our spoilers please find a way to support us.