POV Holder:
?
POV Competition
Sept 12th
POV Used
?
POV Ceremony
Sept 12th
HOH
Corey
Next HOH
Sept 15th
Original Nominations:
Vic AND Paul
After POV Nominations:
? AND ?
Have Nots
?
Watch the next week of the feeds for FREE – 1 week Trial!
Corey Nominated: Paul & Victor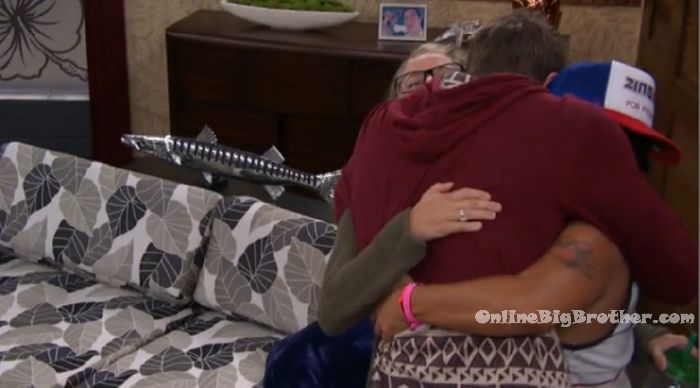 6pm – 6:10pm The live feeds return from nominations. Nicole, Corey and James in the HOH room. Nicole asks James you swear to god you're not going to use the veto if you win it? James says hell no. I would rather cut my right arm off. Nicole tells Corey his speech was really good. Corey says come on guys I need a hug. They hug. Nicole says they're hurt. Corey – they're just hurt. Nicole – strategically it didn't make sense to put James up. Corey – oh that didn't even cross my mind. We need to study and we need to win that veto. Nicole – we need to win the veto but worst case we still send one of them home. Corey – we just have to win next HOH and veto regardless. It had to be done. Nicole – they would have done it to us. Corey – 100% I would have expected it. James – great move! Nicole – they're going to try and pull you (James) now. James – I don't think so. Nicole I would rather they be mad .. .than hurt. Corey – I'm not going to just hand them the 500,000! James says either way 1 of them are going this week. If I go up, you guys control the votes. Corey – I hope the eviction is Sunday… I don't want to wait till Thursday. Nicole – Vic didn't want to hug me at all. We're down to final five .. what do they expect!? Once you talk to them they'll be fine. They handled it better than I thought they would. I thought they would say something. Corey – I'm not going to turn my back on someone (James) that I've been cool with since day 1. They didn't even talk to us until Nicole won HOH. James – The BB community will be happy you did it. Corey – my momma didn't raise no b***h!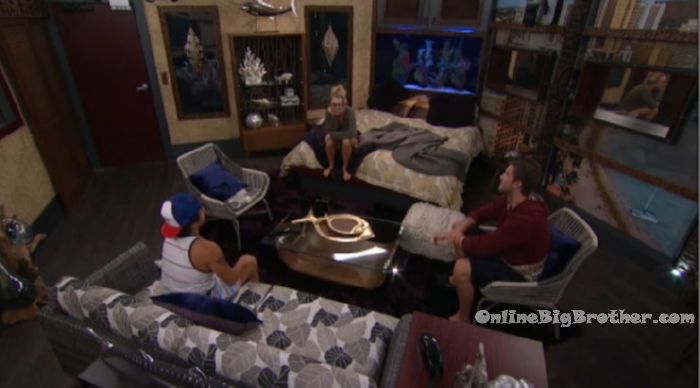 6:25pm HOH room – Nicole – strategically it didn't make sense to keep them. James says they had to know. You're not going to just set them up to win the game. Nicole – Third times the charm. James – I hope so. I have a feeling Corey is going to win the veto. James – they're in the kitchen .. I want to go down and make my omelette but I'm scared. James – its hard when they didn't do anything to you. Corey – Victor lied to me. Nicole – 6 times on the block, twice evicted .. One of them has to go. Nicole – they thought we were a final 4 deal. Corey – why would they think that… they went to everyone with deal.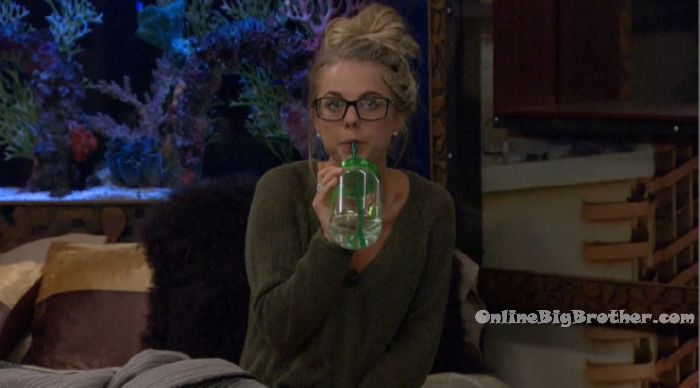 6:40pm – 6:50pm Paul comes up to the HOH room to talk. Corey says I was going to come down and talk to you after things cooled down. Paul – its all good. Vic is pissed. Corey – I hope ya'll understand its strictly strategic. Paul – yeah, but I do want to bounce ideas around with you. I get it. But my question is… Vic is a great competitor. I'm not. I'm assuming James stays .. and one of us that remains. From a game perspective the out come would have been the same. Corey says if you both stayed .. you're up against Nicole. Paul says but then there's the veto. Corey – right but with both of you in the veto … my odds of winning are way down here. Paul – James is a good competitor too. Nicole – the way he thought of it was if James is up and one of you comes down .. then I go up. Paul – Vic plays emotionally .. he is sad. The only think he's said so far is that he wouldn't have done that to you guys. Corey – I would have expected it. Vic even said whoever sits next to me in the final 2 is screwed. Paul – I get it. And I get that we're both strong competitors. Paul – he's hurt .. he's not mad .. he's bummed. I just wanted to see if it was salvageable. None of us are mad. I figured it was an option that could happen. Don't beat yourself up for it. Corey – I am. Vic lied straight to my face.. and I don't care about that. Nicole – we literally saved each other for 5 weeks.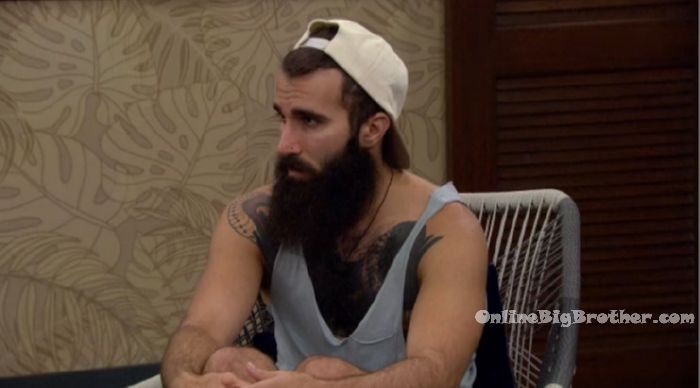 7pm – 7:15pm Paul tells Corey to call Vic up here. Corey goes to call VIc up to the HOH room. Vic joins them. Corey – It wasn't easy to do that. I know you're hurting. It hurt me to do it. It was 100% strategic. If I didn't put both of you up and one of you came down .. then Nicole would go up. It would be stupid not to vote her out to break us up. For my game I had to .. It would be stupid not to. Vic says I get where you're coming from. I would have put one of you up with James. You two are mentally and physically the two best players in the house. In the double eviction I didn't put you guys up. And she didn't either. Vic says You can't say that, I've been HOH 3 times and didn't do that. That's fine but going into the next HOH the odds are that whoever stays teams up win James. The end result is the same. You took the shot first. If I stay or he stays the shots are still coming back that way. When I leave things will be good but right now I can't see you as friends. If I stay I am gunning hard and will be relentless and ruthless. I swear to god if we weren't on the block we would have sent James home. Corey says I think it would have just been too tempting to send Nicole home. You said it to me .. anyone sitting in the final 2 with me (Vic) is screwed. Vic – you feel you have a better shot at sitting next to James and Nicole. Corey – Yes, I have no shot against you guys. Vic – I get it .. just know where we stand next week .. which ever one of us is here. You hit me with a blindside and that hurts. Corey – I haven't even picked a target. Vic says oh I know if I'm sitting next up there I am going home… because of my comp wins. Unevictable. Corey – it hurts my heart. Vic – its okay .. we can hug. Vic hugs Nicole and Corey and then leaves. Paul tells Nicole and Corey – I'll work on him.
1-month FREE with promo code: FALLACCESS
Watch the next month of the feeds for FREE – 1 month free!!!
– Watch the end of BB18 and the beginning of Big Brother Over the Top – Fall edition!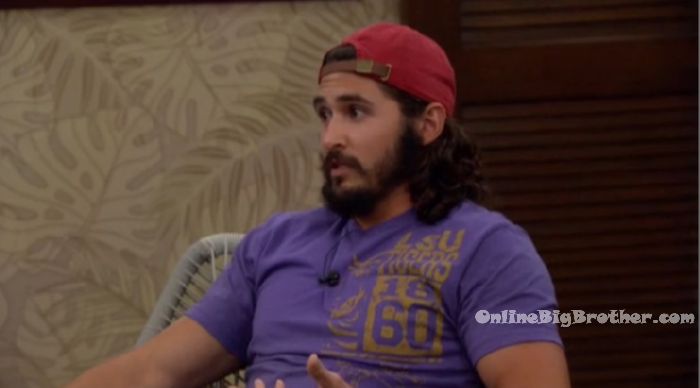 7:30pm HOH room Nicole & Corey – Nicole – hopefully I win HOH and you win Veto so that we can choose who we go up against. I can tell you're just as hurt as Victor. There was no better move out there. I know Paul would have done the same thing. Vic plays with his heart and loyalty.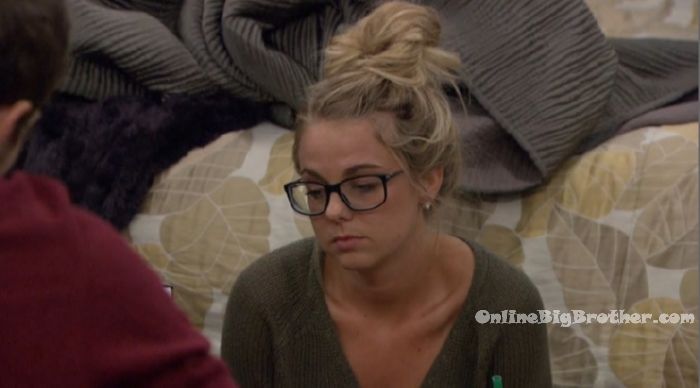 8pm Corey, James and Vic are in the kitchen talking about random things. James talks about flirting with 21 year old girls in the bar. They're old enough to get in .. its not on me if they have fake ids. Its pretty bad you have to start carding people. Vic – before you bring them home. James – yeah. One time could f**k your life up.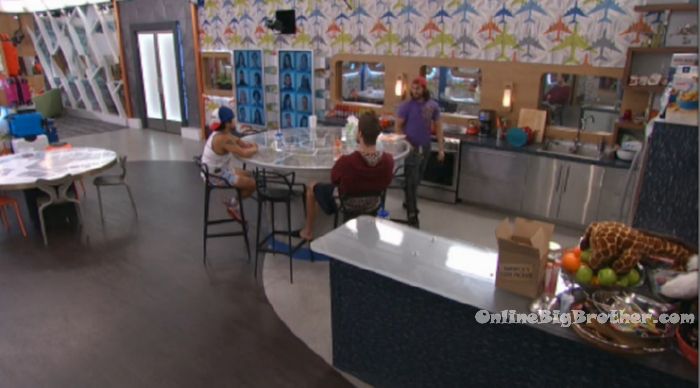 [polldaddy poll=9517035]
Show your support by making a donation.
Donations support this site more than anything. If you dig our spoilers please find a way to support us.