POV Holder:
?
POV Competition
Sept 12th
POV Used
?
POV Ceremony
Sept 12th
HOH
Corey
Next HOH
Sept 15th
Original Nominations:
? AND ?
After POV Nominations:
? AND ?
Have Nots
?
Watch the next week of the feeds for FREE – 1 week Trial!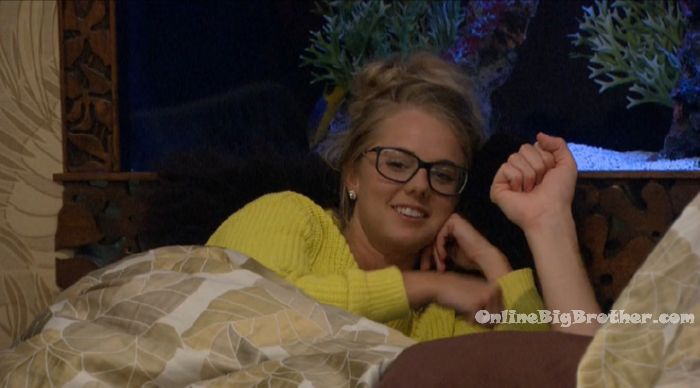 12am HOH room – Corey says I hope James comes up here in a little bit. Nicole – they're all going to be in London, that's why I'm worried they're going to flip. Corey says oh that could be another thing I say… Hopefully James comes up here and says they're (Paul & Vic) are trying to make deals with him. And then I could be like – Listen I heard ya'll are trying to make deals with James so I have to send one of you home. Nicole – Oh what if James could just lie and say that? Corey – that would be good. Nicole – that would be perfect. Niocle asks how the heck did we make final five?! Most loved player, never sat on the block. We've done in some terrible situations. I've been in the most terrible situations with call outs. Mega Phone even .. what the heck was that?! We need to tell James that when that mega phone thing happened, Vic and Paul really wanted to vote him out. Corey – the good thing with James, we've been wanting to be final 3 with him for a long time. Nicole agrees. Tonight was the easiest eviction ever. She was not good for my game. Nicole – Vic has been evicted twice. He's gotten a gillion chances to play this game. He can win comps but that's about it. He really thinks if he is sitting in final 2 he wins. Corey – he got 3 chances, we got 1. That means his game wasn't good enough so he had to be given 2 more chances. Nicole – he's never survived the block. Corey – that's another thing Vic said if he is in the final 2 he wins 500K .. so why would I let that happen!? I don't want to be sitting next to you (Vic). Nicole – with this final 4 deal we each got a head another week. They saved us and now we saved them .. at this point we're even. Corey – Paul hasn't done anything.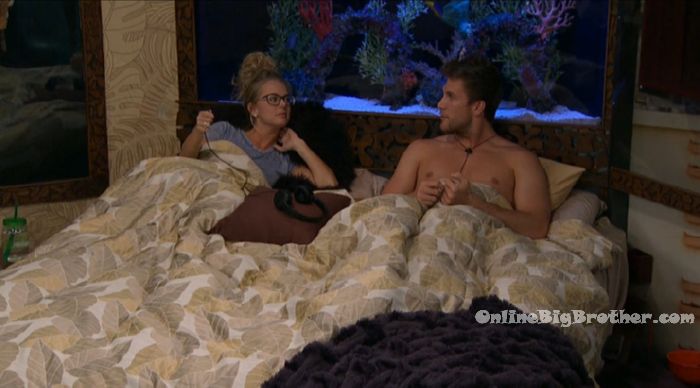 Nicole asks who is your target this week? Vic? Corey – yeah. I just have to break ya'll up. Nicole – putting James up is the easiest option because you're only making him mad. This (putting Vic and Paul up) you're scariest option. Paul joins them and asks what are we doing? James and one of us up? I really don't care if you put me up. in the worst case scenario we would both be on the block. We just need to the veto. Paul – James said Nat was after you this whole time.. you were paired with him and he didn't tell you .. sketch! Nat's speech was bullsh*t. Soulmates?! Corey that was so fake.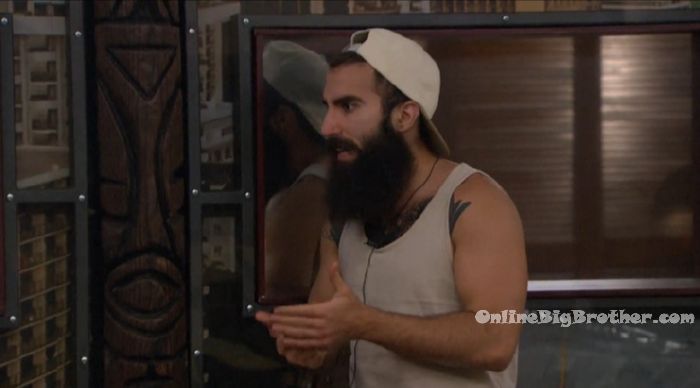 12am London bedroom – James and Vic are talking about how much money they've given this season. He says on his season they gave 10G's. Vic – here they've given 15G's. 5 grand for the ballon, 5 grand for the comp and 5 grand for the bribe. James – I knew they put the pink balloons with 25 cents because they knew Natalie would go for it. James says hopefully I get America's Favourite – 25K, stipend, plus 5K… that's technically more than second place. This season has been a sh*t show so I don't know who's getting America's Favourite. Vic asks when it gets down to final 4 will Corey get to play in the final HOH? James – no. That's why its not such a great thing to win that HOH. This week its going to come down to 2 votes. And a tie breaker if it comes to that. James gets called to the diary room. Vic goes to sleep.

12:50am London bedroom – Paul talks to Vic. Vic – James is banking on America's Favourite. Paul asks you don't think Nicole and Corey would screw us over? Vic – not if they're true to their word. Paul – assuming Nicole and Corey stick to their word tomorrow we go up against James. We trust you (Nicole & Corey), we know you're not going to bone us. Vic – don't see them boning us. In the best case scenario, the one that isn't on the block wins veto and takes the other down and Nicole goes up. Vic and Paul go to sleep.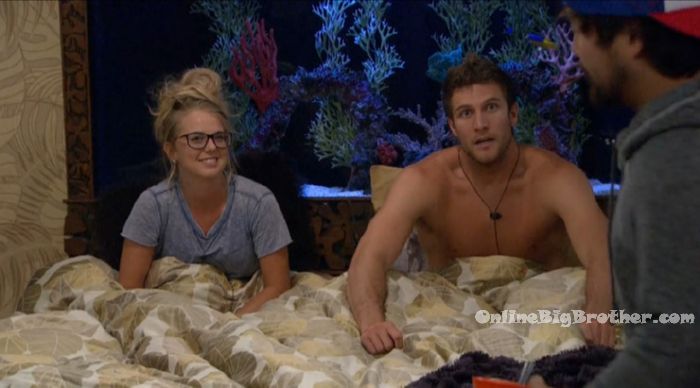 1-month FREE with promo code: FALLACCESS
Watch the next month of the feeds for FREE – 1 month free!!!
– Watch the end of BB18 and the beginning of Big Brother Over the Top – Fall edition!

1:30am – 2:50am HOH room – James joins Corey and Nicole. James – I hope you got plans. Corey asks what do you think we've got planned? James – I think you're going for some big fish this week. Corey and Nicole laugh. Nicole – will you not use the veto and not take one of them down? James – 100% percent. Nicole – just play dumb. I'm afraid of pots and pans this week. So please just don't say anything. James – Vic thinks its him going up. Nicole – when the mega phone thing happened .. they got really sketched. Paul wanted us to vote you out after that. They obviously want us to go after you this week. James – OH I knew that. Corey – lets win this veto and keep it the same. Nicole – still we want Vic out. That's the best decision. James agrees. Nicole – Unless he wins veto, then we take out Paul. James – I know Nat had to go. I feel revealed. In this game I was just clouded. I felt like I needed to follow her around to make sure she was okay. Nicole goes to the diary room. Corey tells James to win the veto. James and Corey chat about the final 3 comps. James heads to bed.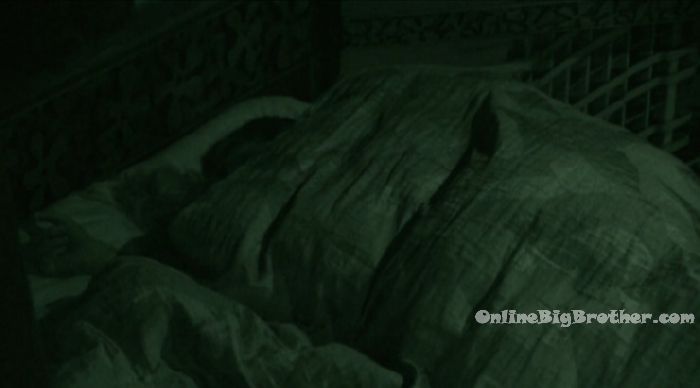 4am
Nicole and Corey turn off the lights and get under the covers. Nicole – are you stress about tomorrow? Corey – no. Nicole – James seems heart broken. He is already trying to get you to hook him up with your sister. He moves on quick. I think he is more sad about the situation .. that she controlled his game. Corey agrees but he's in a very good spot. Nicole – We really don't want to be up next to him in the endurance. Paul would be best to be up next to in the endurance but not the mental.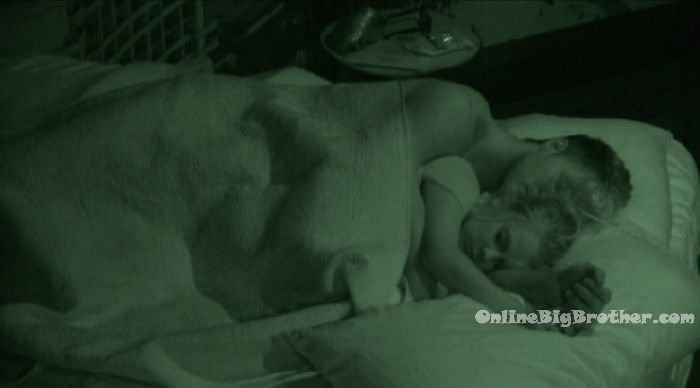 [polldaddy poll=9517035]
Show your support by making a donation.
Donations support this site more than anything. If you dig our spoilers please find a way to support us.