POV Holder:
AMANDA
Next POV
Aug 31st
POV Used
POV Ceremony
Aug 26th
HOH Winner:
Elissa
Next HOH:
Aug 29th
Original Nominations:
Aaryn and McCrae
Current Nominations:
Last Evicted Houseguest
David, Nick, Jeremy, Kaitlin, Howard, Candice, Jessie. Helen
Have Nots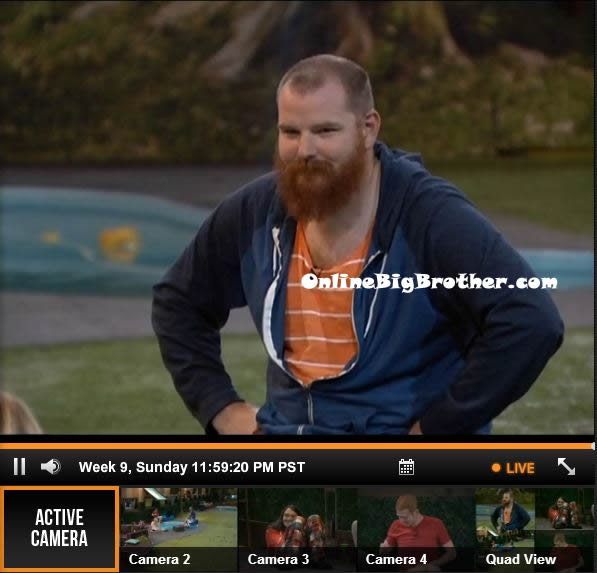 12:20am Out in the backyard – Spencer and Judd tell Andy he isn't going anywhere. Andy says I am so mad because I was such good friends with her. Spencer says she hates us now. Spencer asks and what is up with Gina talking about wanting to date guys after this. Andy says that Gina said I want to come out of here being able to date guys. Andy says what are you thinking, I want to come out of here with $500,000. Andy says I am not crying that much today because my fate is at the hands of Gina and Elissa! McCrae joins them. Andy asks Aaryn if we go on the block together do you think we could campaign together and give speeches about how we will make the house better. Aaryn asks do you really think you will go up next to me? Andy says yeah. Aaryn asks is that because she wants me to go home. Andy says he doesn't know. Spencer says he thinks there is absolutely nothing that could change her mind. Andy says I think you and I need to give the most scathing speeches on Thursday. Aaryn asks about what? Andy says about her. McCrae agrees. Andy says to all of the pathetic people of the Brenchel Army I pray that you don't vote for me. Aaryn says I bet there is a McCranda Army now and that they creamed their pants when Amanda won the veto. McCrae says yeah right more like 5 guys in my basement. Aaryn heads to bed. Spencer tells McCrae he got his fights today. McCrae says yeah I tried to cut hard. Spencer says you are a respectable guy, your parents can be proud. McCrae says if it was anyone else I would have apologized but you have to give respect to get respect. Spencer says well unless she (Elissa) wins the veto she is going home. They talk about being warned about how they could be given a penalty nomination for messing with Elissa's stuff. Judd doesn't remember what he said when he came back inside. Andy says you said this bit*h is back! Judd laughs and says I didn't say anything sassy! The conversation turns to talking about past evictions. Amanda joins them. Amanda climbs on top of Judd and pretends she is popping him out as her baby.
Big Brother 15 Live Feeds FREE TRIAL: FLASHBACK FEATURE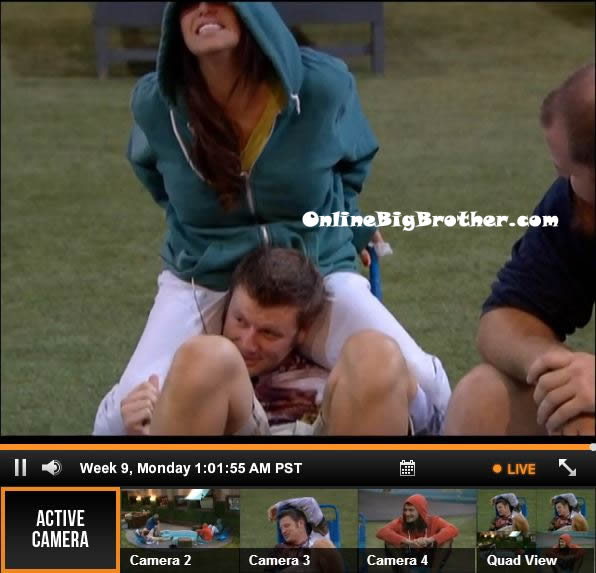 1pm – 1:30am McCrae and Amanda head inside to go to bed. They talk about Amanda's behaviour today. Judd says that eventually he is going to receive the same behaviour from her. But I think we all agree we just need to fire back with the same. Andy and Spencer agree. Andy asks so if I go up, do I have your votes? Spencer says oh yeah you don't even need to campaign to me. Andy asks Judd. Judd says yeah. He says he tried so hard to campaign to Elissa to put up Gina and she just wouldn't do it. Judd says I might talk to her first thing tomorrow. Andy says tell her how cock Aaryn is being. Spencer says I honestly think there is no changing her mind. Andy wonders what he should do to stay. Judd heads inside. Spencer tells Andy not to listen to Judd's plans. Spencer tells Andy if he goes up, he will stay no matter what with a 4 -1 vote. Spencer says I would never, never vote you out. Spencer says after Elissa goes next week I would like to see Gina go. Andy says that everything Amanda did today was to help me so it proves their loyalty. Judd joins them again and starts talking about plans to talk to Elissa. Andy shuts him down and says I just want to wait to see if I go up and then work from there. Andy says if Elissa can just disregard all the time I have spent with her since the beginning and puts up me instead of Ginamarie that is just crazy. Judd tells Andy to go up there and cry. Andy says that does not work with her, she just laughs at you. She thought I was faking it the last time I cried. Spencer agrees and says that Elissa laughed at Amanda when she cried. Andy wonders what Amanda is being portrayed as. They all think she's being portrayed as a total bit*h.


1:35am – 2:15am Ginamarie comes outside and doesn't say a word to any of them and heads straight to the hammock. Judd follows her and asks her if anything is wrong. Gina first says her shoulders hurt. Then she says she just doesn't know what's going on. Gina starts getting loud and is pissed off. She says that Aaryn was in there giggling with Amanda. Gina calls Andy over and tells him to be funny. Gina starts going off about how they all grilled her outside. Aaryn is supposed to be my friend and she won't even sleep in the same room with me. She is being mad shaddy right now. We're supposed to be friends and she is giggling and sh*t with Amanda. The only person that has been nice to me is Elissa and I can't even hang out with her. Judd tells her to hang out with whoever you want. Andy tells Gina not to worry. If you happen to go up there is no way I would vote you out. Andy tells Gina we are all voting to keep you if you go up. Judd says I don't want it getting back to people but I want you both here. Spencer joins them. He asks her if Aaryn ever says I say bad things about you? Gina says yeah. They all tell Gina that Aaryn tries to drive a wedge between all of us. She wants you to feel like she is all you've got. Gina says I know the eating thing with me has been brought up and with the therapist. I don't like eating in front of people and sh*t. I like small meals and my stomach feels better on an empty stomach. I know the therapist was brought in thinking I was going to commit suicide over Nick and sh*t. I am all good ain't nobody got to worry about me! Judd tells Gina that he will give her his letter from home. Gina laughs and says I don't want that I want you bear shirt. Judd says okay, you can hold onto it that's how sure you are staying. Andy asks what do I get? Judd says my pack of cigarettes. Andy says he would love to wear the bear shirt on Thursday. Judd says yeah. Judd tells Gina you have 3 people right here that want to work with you. Gina talks about how Aaryn asks if I actually still think about Nick. Yeah I like him, at least I only talk about one guy and not having a whole bunch of di*ks in my a$$!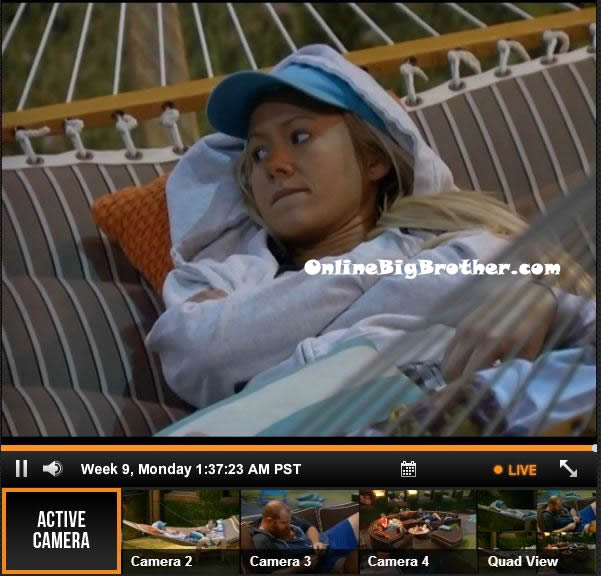 2:20am – 3am They head to the couch. They continue to talk about how much Aaryn talks sh*t. Andy says we can all make a deal to work together and we'll have the numbers. Giha says that Aaryn always tries to put me down and sh*t. Judd says if we all solidify this we have 1 in 4 chance at half a million. Andy says it's a done deal. Andy says we cut ties and work together. They all agree to work together. Andy says we don't need to worry tomorrow no matter which one of us goes up, the other 3 keep that person on Thursday. They all agree. Andy says we need to name this, that's how confident I am. Judd says "The Exterminators" Alliance (Spencer, Andy, Judd, Ginamarie) – Getting rid of rats and snakes! They all love the name. Andy says Aaryn goes this week. Judd says next week the snake and the ant (Amanda & McCrae). Judd says we didn't beat thousands of people out to be beat by a snake, an ant and a rat. Get your trap and spray ready. Spencer and Andy head to bed. Judd and Gina talk about feeling good about their new alliance. Andy comes back out with a present and puts a can of bug spray on the table. Gina laughs. Judd tells Gina it was a blessing she came outside here to rant. Judd and Gina head inside to go to bed.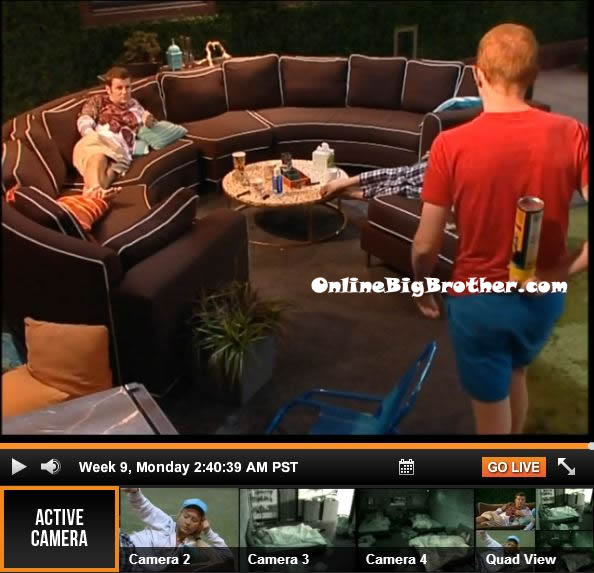 2:44am – 3:05am Meanwhile – Amanda, McCrae, Spencer and Aaryn are in the bedroom. Amanda tells them all that she literally tires to suck McCrae off and he won't let her. She says he will be fully erect and her mouth will be watering and just about on it and he will stop her. Spencer talks about his girlfriend Marilyn and how she shows her a$$ crack a lot when she bends down and he will check her oil by putting his finger in her crack. Amanda asks McCrae do you want to go have $ex in the cockpit? McCrae says na I'll pass. Aaryn asks what do you have any idea how many guys are watching thinking what?! Spencer says I know you've blown him. Amanda says we've had $ex! We've had $ex in a lot of places. McCrae says we didn't do anything. Aaryn says I heard you having $ex in the HOH shower. Amanda says we make love, we make McCray-babies! They talk about Jessie. Aaryn says that Jessie went out like a loser. They continue to laugh and make noises. Amanda says she can't sleep because they wont give me my medication. Spencer says I hope I have a wet dream. Amanda says she hopes he does too. Amanda says cancel the xanax I don't need it any more. Spencer says oh the old reverse psychology! Amanda laughs.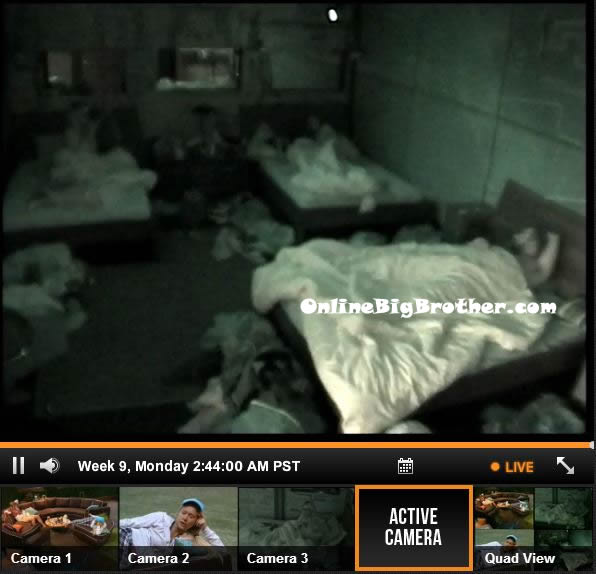 Use the Big Brother Live Feeds to FLASHBACK to SEE what they can't show you on TV: BB15 N!p Sl!ps / N*des