POV Holder:
AMANDA
Next POV
Aug 31st
POV Used
POV Ceremony
Aug 26th
HOH Winner:
Elissa
Next HOH:
Aug 29th
Original Nominations:
Aaryn and McCrae
Current Nominations:
Last Evicted Houseguest
David, Nick, Jeremy, Kaitlin, Howard, Candice, Jessie. Helen
Have Nots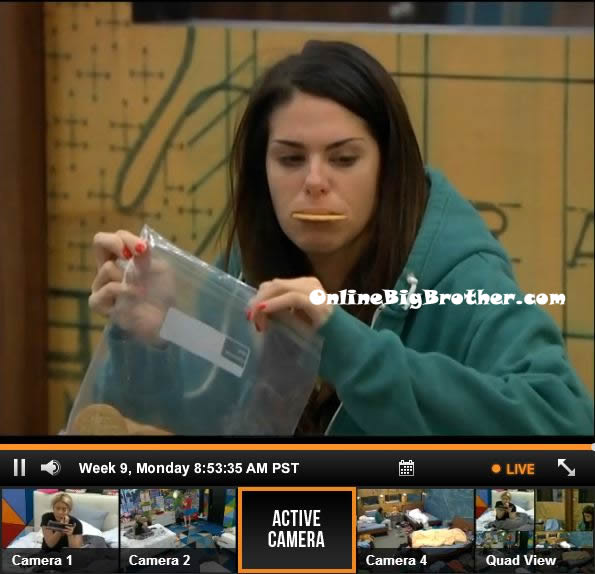 8:25am – 8:55am Big Brother wakes up the house guests. When the live feeds return – Andy, Gina and Judd are out in the backyard dancing to the wake up music. They head back inside. All the house guests are awake and starting to get ready for the veto meeting. Spencer says just because I am sure you are wondering I didn't have a wet dream last night. Aaryn says I wasn't wondering. Amanda says I had a wet dream – I punched Elissa in the face and then orgasmed. Amanda says she wants to get up and get ready to look good for the veto meeting. In the rainbow room – Aaryn makes a comment about how one of the song was a mean girls song. Gina says we're the only girls left me, you and Amanda. Aaryn asks what about Elissa? Gina says she was upstairs all day so I guess it had nothing to do with her. In the other bedroom Amanda is getting up. McCrae says you can't spell country with out c**t. Amanda asks is that what they said? McCrae says no that's what I say!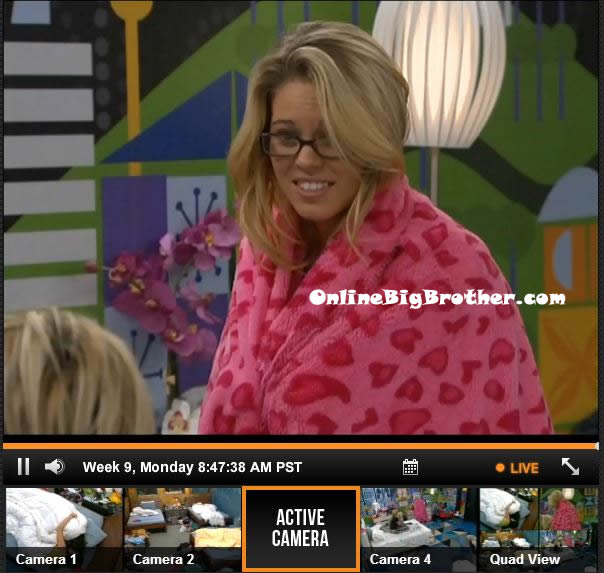 9:10am Amanda and McCrae are in the backyard talking about how they will have to wait and see what happens after veto. Up in the HOH room – Elissa tells Andy that he is going up but that he will not go home. Andy says I am not an idiot and I did not come here to play for third. Elissa tells Andy that Amanda was here here throwing you under the bus. Andy says if you dont put me up Aaryn will go home. Elissa says that they were really happy and laughing about trying to get you to go up. Andy tells Elissa that it hurts his feelings that he is going up. He says that she hasn't been close to Ginamarie all season. Elissa says she isn't close to Ginamarie. Elissa tells Andy she is doing this for his game too and is worried they will get into his head. Andy interrupts and says he knows what is going on with them. Elissa says they have never been your target. Elissa says that Ginamarie has wanted them out. Andy tells Elissa you can have total faith in me. Andy leaves pissed off and goes to the rainbow room to tells Ginamarie and Judd that he just talked to Elissa and she told him she is putting him up. They all agree that they have each other and then votes. Aaryn will go.
9:30am Elissa and Ginamarie head up to the HOH room. Gina tells Elissa about how Aaryn got snappy with her thinking Aaryn was calling just us three mean girls and not you. Ginamarie says I want to stay here as long as I can and I will vote Aaryn out. Elissa says I have never met so many scummy people in my life. Gina tells Elissa I never noticed Aaryn being racist until yesterday when she was asked if there were black people in Texas and she said oh yeah there are swarms of them! Elissa says oh my gosh! She is disgusting! I don't even see people like that, who is like that in this day and age. Gina tells Elissa no matter what I will vote her (Aaryn) out. Gina says I know she would throw me under the bus. Elissa says she already throws you under the bus and you aren't even on the block. GIna tells Elissa she will put up Amanda and McCrae if she wins HOH. Elissa asks so there is absolutely nothing they can say to get you to change your mind? Gina says she won't and shakes her hand. Elissa says I am trusting you because the boys – Andy, Judd and Spencer all said they wouldn't vote you out if you went up. Gina says I don't want to be up there. Elissa says so you will not change your mind about voting out Aaryn? Gina says no. Gina then heads to the diary room.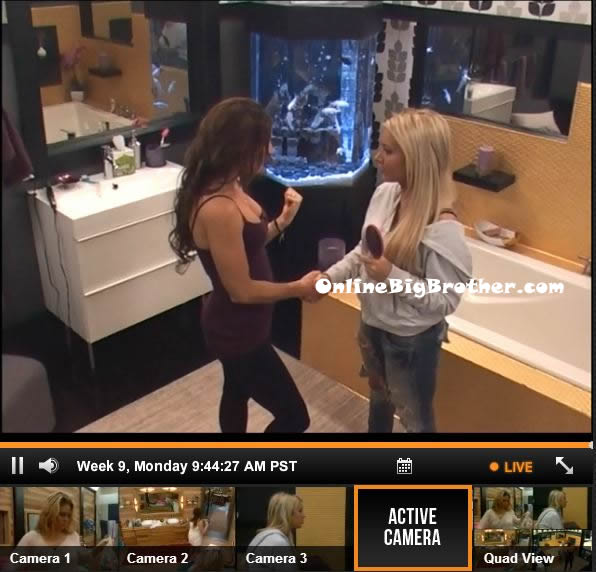 9:50am – 10am Andy, Amanda and McCrae are in the lounge room talking. They talk about how they will tell Judd the truth about their deal. Andy says he doesn't want Judd to know he was a part of it. McCrae sasy that it doesn't matter. Andy says Elissa wants me up to slander Amanda and McCrae all week because she thinks it will be better for my game. Judd joins them. Andy talks about Elissa nominating him. Judd wonders what we will do. McCrae says we will talk after the veto ceremony. Andy leaves. Judd tells McCrae that he didn't mean to put him on the spot. McCrae says its okay. He says come talk to me in the havenot room right after the veto ceremony. Judd says okay. McCrae and Judd start talking about random things..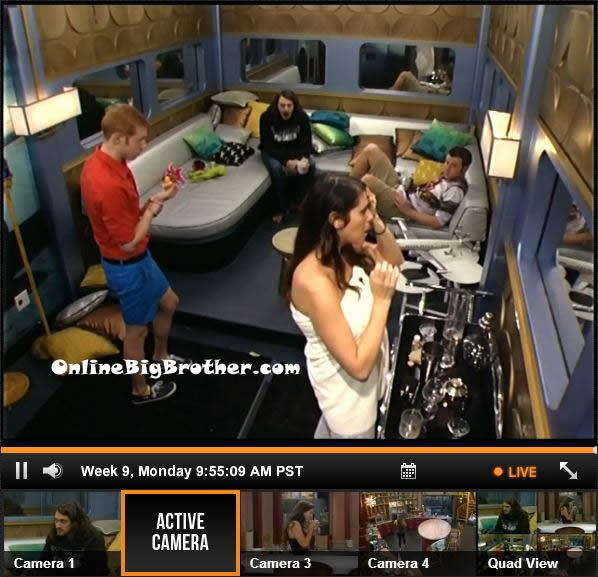 10:10am In the rainbow room – Gina talks to Aaryn. Gina says that Andy is going up. Aaryn says lets just wait until after the veto and then figure out how to save me. Gina says don't worry, I got you girl. Aaryn says if I stay here I will do anything you want. Aaryn says that she is just worried Elissa will brain washer. Gina says don't worry about anything I got you. Aaryn tells Gina that she would never vote to evict her no matter who she was up against. Gina tells Aaryn Spencer and Judd were basically scaring me that if I went up, I would go home because Amanda runs everything.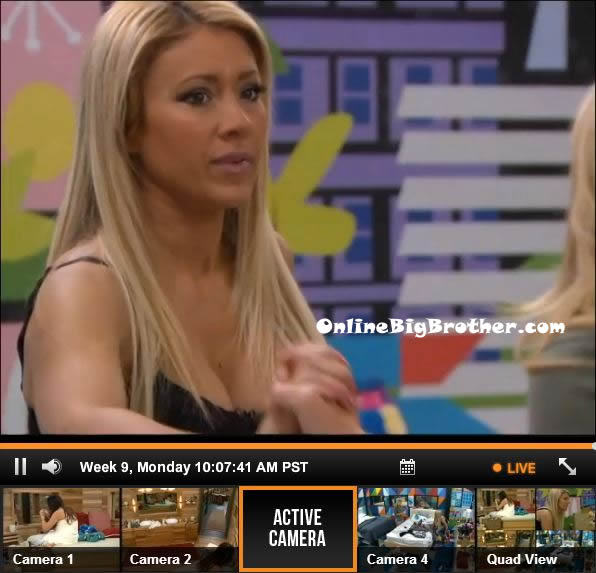 10:12am The live feeds switch to TRIVIA for the veto ceremony..
Use the Big Brother Live Feeds to FLASHBACK to SEE what they can't show you on TV: