POV Holder:
Amanda
Next POV
Aug 31st
POV Used
POV Ceremony
Aug 26th
HOH Winner:
Elissa
Next HOH:
Aug 29th
Original Nominations:
Aaryn and McCrae
Current Nominations:
Last Evicted Houseguest
David, Nick, Jeremy, Kaitlin, Howard, Candice, Jessie. Helen
Have Nots
8:56pm
The cameras are acting erratic, GM and Amanda start to scream . Elissa opens the HOH door to see what is going on.
GM tells her the cameras are acting funny. Elissa comes down the stairs for a minute then heads back up to the HOH room.
Big Brother 15 N*de flashback times here
** UPDATED **
9:14pm Elissa is alone in the HOH room laughing and smiling over by the spy screen. She looks around then says "Oh My GOSH!" She then heads into the HOH bathroom. The camera view switches to the cockpit but the audio is still on Elissa in the HOH room and she says "What is going on!" (I think the camera operators were just acting really odd. The others downstairs noticed the camera's spinning around. Elissa heard them screaming downstairs and went to check then came back up to the HOH room. I think it was just the HOH room camera operator acting weird making Elissa laugh.)

9:16pm Cockpit Aaryn and JUDD
Aaryn says production is probably going to give Elissa a power because she is threatening to leave.
JUDD thinks they are due for a Pandora's box he points out that production doesn't want anyone to leave because it messes up their show. JUDD then tells the powers they give players are random.
Aaryn whispers to him "It's a TV show.. don't forget that.. sometimes I do"
9:23 Kitchen
Amanda says she asks the DR what was going on with the photo booth and they told her they needed more pictures.
9:29PM Photo Booth pictures are almost done
9:36pm Bedroom Amanda and MC
AManda says when Elissa left the cockpit last night she was dead set on putting up GM but after JUDD talked to her this morning she seems to be putting Andy up. MC says it will suck if they give Elissa a power after her getting MVP for 3 weeks in a row.
JUDD joins them wonders why they haven't gotten a Pandora's box yet. MC says production was waiting for ELissa to win HOH. Amanda thinks they will have to hang out with Rachel and Elissa will get a power.
Amanda starts looking through the rulebook there is a map in the book that show the pandora's box room. Amanda reads a line from the rule book about what the houseguests should do in the event that there is a intruder in the back yard. THey are instructed to go to the Diary room immediately and are not supposed to engages the intruder. MC says that is what he'll do if Rachel comes into the house.
9:49pm HOH Elissa and JUDD
Elissa asks him what happens when you get Pandora's box
JUDD says the door in the HOH has a question mark on it and there is two envelopes.
E – Amanda freaks me out
J – She's still reading the rulebook
E – Oh my gosh she is so crazy.. why does she hate me so much
J – no idea.. because they are too good to be put up on the block
J – I hope I get HOH next week
JUDD asks if she is still putting up Andy
Elissa – I don't know JUDD i'm really upset I haven't been thinking about it.
JUDD doesn't think Amanda will say anything more tonight. He points out that Amanda cannot physically touch Elissa and if she does she gets removed from the house.
E – "it doesn't feel good for someone screaming at you yelling out insults to families… she was following me up the stairs thank god she dropped her drink.. I'm going to go make a sandwich or something .. Hmmmm ummmm "
They head downstairs
9:56pm Elissa, Andy, Spencer and JUDD
Andy says he was talking to GM and they asked her if she was going to vote for Andy to stay and she wasn't able to give them a straight answer. JUDD and Spencer confirm this is how it happened.
A – you have three people here that will not screw you over.. three votes to get Aaryn out right here.
E – can you say that in front of GM
A – that is going to cause some trouble
S – that is what she said I don't want to start a fight
GM joins them.
E – Gm the guys were saying
Andy interrupts.. Asks GM if she will vote to keep him him
GM – I told her personally that I will vote Aaryn out.. Sure she is my friend but I came into this game by myself and i'll play by myself.
E – you shouldn't even explain yourself.. That's all I need to hear(Elissa leaves)
A – so you are saying you will keep me if I go up
GM – yes
A – OK OK
GM – Aaryn is distancing herself from me.. she's always with Amanda and McCrae.. Amanda is in her ear all the time..
A – I am scared shitless that I am going home.. can I count on your votes.
Gm says yes they have three votes in the backyard right now.
Andy says he's pretty sure he's going up now.. "The way she just acted insinuated I was going up"
10:06pm Bedroom Amanda, Andy and Aaryn
Andy retells what happened in the backyard.. says he's going up.
Aaryn – I'm going home..
10:10pm GM and Aaryn bathroom
GM excited that she is not going on the block. "I gotta stay off to keep you were .. my bunny"
GM explains that Elissa thinks GM is the swing vote. GM tells Elissa that Spencer and JUDD want to vote Aaryn out. Elissa doesn't know what Amanda and McCrae will do but she thinks they will vote to keep Aaryn.
GM retells what she told Elissa about how she's in this game by herself and she'll do whatever it takes to stay another week. "Why would they ever think I would vote you out. they are crazy" (GM is laughing like crazy)
GM: "you're my bunny forever.. ha ah ha hha hahah a"
GM warns her to be careful around JUDD because he's been talking to Elissa a lot.
GM – I don't know what the F*** he's been telling her..
Aaryn goes outside while GM showers and tells them GM just told her she is never going to vote her out. Aaryn asks them how on earth can Elissa believe that GM would ever vote her out. Spencer – Maybe she needs her processor updated..
10:24 bedroom Aaryn, Amanda and Andy
Andy says Elissa is back up in the HOH room hiding.
Andy – Elissa is a f** moron
Amanda – "I was told I cannot go into her HOH room"
Feeds cut
Amanda to Aaryn "We still have another 1/2 a day.. don't worry about it yet.
10:44pm bedroom Andy and Aaryn
Andy – I don't get it she's hated GM for 9 weeks I've been her friend since day one I don't get it
Aaryn – She thinks you Amanda and MCCrae are working together.
Andy leaves
(There was a conversation after this that included GM and Amanda. In that conversation GM tells Amanda she's been lying to Elissa the entire time and has no intentions to vote out Aaryn. She also shares her dislike for Specner with Amanda. )
You can re-watch ever second on the feeds using the flashback feature.. It's just like a DVR and is super easy to use. click this link for a Free Trial —> Subscribe to the Big Brother Live Feeds
10:40pm Backyard Andy, JUDD and Spencer
(Andy is freaking out that he is going up)
Spencer – Dude how dedicated are you to working with Elissa.
JUDD fumbles his works says he wants to work with them all
Andy – ELissa is not logical the minute she gets an idea in her head she throws out all logic
S – we sat her down in the cockpit and told her we have three votes and she still puts Andy up
JUDD says it would have made more sense for Elissa toi have put up Amanda and McCrae.
JUDD tells them he trusts them both 112%
J – if I go up tomorrow I am for sure going home
A – part of me still thinks Amanda and McCrae are trying to pull some funny business..
J – you think i could go up
A – no it's going to be me.. what happened here 30 minutes ago solidified it.
S – I think Elissa likes working with woman
A – Elissa wasn't on my radar but if I go up tomorrow i'm gunning for her.. what am i supposed to do… If she wins HOH she'll probably just put me up again.
A – I was someone completely willing to work with her.
A – what is she thinking she hated GM for 9 weeks and I was the only person that was nice to her and kept it up throughout the game.. this is the biggest f** slap in the face to me.
A – Oh my god I'm going to scream at her..
J – do not do that
Andy points out that GM also voted out Helen. He wishes they could have kept Helen last week because Helen would have never nominated him. Andy says that Amanda light the fire under Elissa's a$$ last week that is why she won't the veto
S – AManda needs to shut the f*&&* up
11:04pm backyard Spencer, Amanda and Andy
Amada tells them GM is mad and Andy, Spencer and JUDD because she thinks they are all trying to get her nominated.
JUDD leaves..
They tell Amanda that JUDD is working with Elissa.
Andy is now worried that he told JUDD Elissa is on his radar now. Spencer doesn't think it will matter Elissa is on everyone radar next week. Amanda asks them if JUDD would put Amanda up. Spencer doesn't think he would Andy adds that JUDD is pissed at Amanda and McCrae. They both have trouble reading what JUDD is thinking.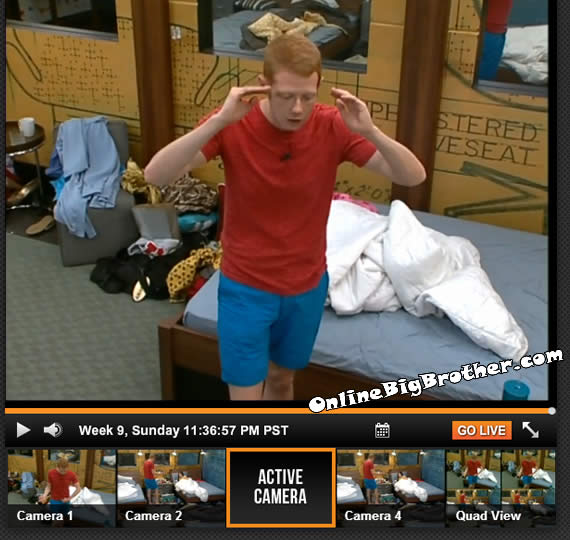 11:31pm bedroom Andy and Amanda
Andy is panicking about what will they tell JUDD after he goes up and Aaryn starts telling everyone about their scheme to get GM up on the block. (When this comes out it's going to be damaging to Andy's game.. Andy is in full panic mode seeing how he's taking the stress right now does not bode well for his chances later in the week. I'm predicting a sh!t storm to erupt once all the 3AM lies start unraveling. This is great BB going on)
Andy say they have to beat Aaryn to the punch.
Amanda – why would Aaryn tell JUDD that
Andy – when it's me and her on the block.. she's going to tell him she knew about the plan all the time
Amanda – Deny it
Andy wants it to become common knowledge in the house before Aaryn can use it.
Amanda – I really wanted this to work
Andy – I know.. F*** Elissa
Amanda – You really don't think it will work
Andy – no.. her f*** idiot stupid moronic robot mind has been programed on me and she's not going to change
Amanda – she seemed dead set on not putting you up
Andy – she was for like a second
Amanda – so why were you in that room for so long
Andy – We were trying to convince her.. She was dead set on it but GM talked to her for like 10 seconds and changed her mind
Amanda – well you have nothing to worry about.. it's just f** annoying
Amanda says that Elissa somehow knows that there is a plan to get GM up.
Amanda tells him to make it very clear to Elissa if he gets nominated he will be gunning for ELissa hardcore. Andy says he's going to make it very clear to Elissa tomorrow.
12:00AM Hot Tub Aaryn, JUDD, McCrae Spencer and Andy
general chit chat
Aaryn's Zing "in the beginning some people said you were acting mean and nasty But I disagree that wasn't acting.. zing "
Spencer says David's eviction speech and nomination speech were the worst of the season.
1) keep me in the house if you want to see me in a dress
2) keep me in the house and i'll teach you how to surf Bra
Aaryn thinks they were hilarious says that is why he was cast for his personality.
JUDD – I didn't think he had a great personality until I started hanging out with him.. then I liked him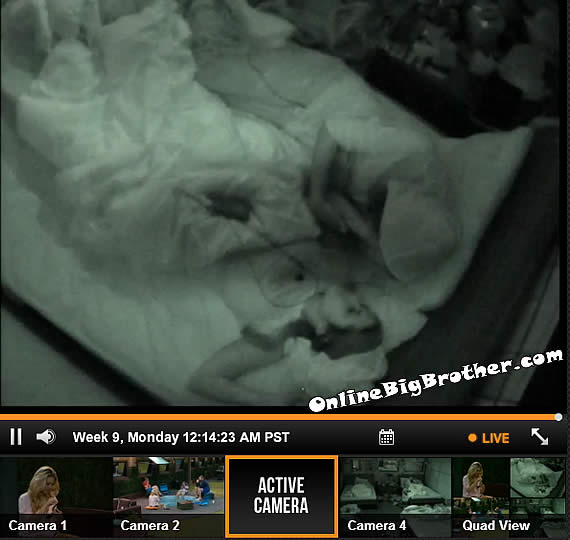 12:15AM Scheming Amanda and McCrae
They say they love each other.
MC – We have to pick up Spencer instead of Aaryn
A – I just feel bad
MC – for Aaryn..
Feeds cut
Amanda is going to tell Aaryn the day of the vote and tell her they do not have the numbers. MC says Aaryn will see through that bullsh!t because she knows all she needs is our vote and she will be fine.
A – I can tell her that you… I can throw you under the bus
MC – what is she going to do.. we'll need to figure out how to make GM on our side..
They are not going to do exactly what Andy wanted and act like he never knew about the plan to get GM nominated. (i'm not clear on what they are going to do)
Amanda – too bad that throw us under the bus
MC – You'll have to talk to Andy first