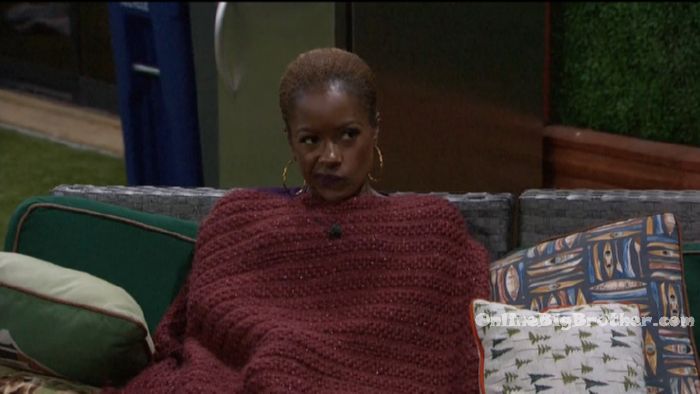 9:50pm Backyard – Kryssie – if you stay in the house with no votes against you, you can still play on an even keel. But if those motherf**kers vote for you.. Neeley – its a wrap! IT'S A WRAP! F**K Shelby she is going to do whatever those other two tell her. Kryssie – we'll see. All those are horrible people. Neeley – I don't agree with that, especially with Morgan and Whitney. Kryssie agrees – but in terms of this game, I am over all of them. Neeley – those would be the ones that I would possibly work with. Kryssie – you can't trust Alex. Neeley – no you'll see tomorrow, that will be the tell tale. Kryssie – even if she does vote with us, I sill won't trust her. I need you to stay. Neeley – everyone works on my last nerve. This will not be a waste of an HOH. Kryssie – It really can't be. I will be so f**king pissed! I feel like in my heart of hearts you're going to stay. We just need all those b***hes to be true to their word. It would be really nice to send Scott out of her to a 7-0 split. It would teach him that he came in here and really f**ked this up. Neeley – my only fear is someone is talking to Alex and I don't know who. Kryssie – don't see much of her. Neelye – I think in the weeks to follow we need to send some misdirection to find out who is saying information. Kryssie – I didn't tell anyone but Danielle and it didn't get out so its not her. Neeley – Shane didn't do if for me. Monte had the body. Shane had more of the face and the swag. Some times Justin looks good to me but then I'm like hell no, god no! Kryssie – I don't have a type. The only dude in here I would remotely be attracted to was Jason. None of these dudes did it for me. Neeley – at first look I was into Shane and then Monte took his shirt off. Kryssie – I'm into fitness.. fit this d**k in my mouth. Neeley – YES!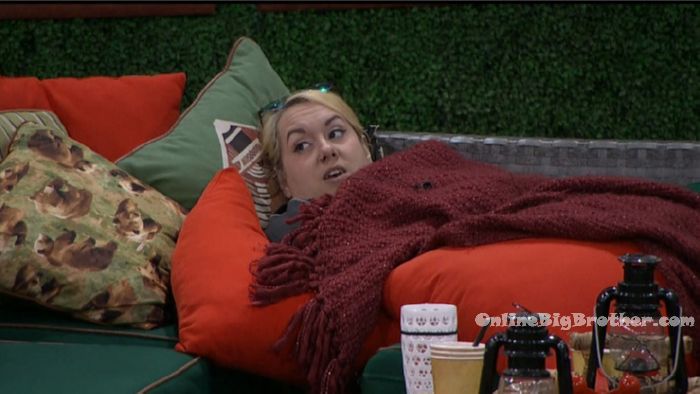 10:10pm Backyard – Morgan, Neeley, Whitney, Alex, Kryssie, Scott and Shelby are all sitting around the backyard couches. Alex comments on how she won't get rid of her costume punishment till after the next HOH. Jason and Danielle are in the hot tub.
Watch the BBOTT Live Feeds FREE for 1 WEEK!
Click here for your: FREE Trial!
10:50pm – 12am Whitney, Alex, Morgan and Shelby head to the London room – Morgan – at this point I feel like I'm breaking things with Kryssie but I feel like I would put up Kryssie and Jason and bank on America's nom. Alex – if Neeley went home there are 4 spots so almost everyone would have to be touched. Its now getting to that point. Whitney – us up with them. Alex – I think the most important thing is to just try your hardest to win. Shelby – I'm not throwing it. Whitney – if it came down to it and I had to pawn someone I would put Scott up. Alex – for sure if we knew we had the numbers. Shelby – you would have to see what the care package was too because if it was take away 2 votes, you couldn't do that. Whitney – Jason was genius hooking up with Justin who doesn't know sh*t about this game. Shelby – Jason is running that side of the house. Shelby – I don't think Monte went out for going after Jason. Alex – oh no, Monte went out because people didn't like him. They talk about Kryssie quitting in the veto. Shelby if you guys quit in the veto I would kill you. Whitney – we pretty much bullied you to voting out Neeley this week. Morgan – I guarantee you Kryssie is going to turn to me when Neeley leaves and say "You stupid blonde b***h!" Alex – I feel like we should make a plea for Scott. He don't complain. Whitney – he loves this. This is his dream. Morgan – if Kryssie does say something to me I want to be ready to say something back. Whitney – then release the chiwawa (Shelby). Morgan – you preach honestly but when I came to talk to you, you had someone hiding in the bathroom (Justin). Whitney – all you need to say is this is a numbers game. Why would I vote out one of my own when y'all are coming after us!? And she put you on the block. Morgan – I guarantee you she put me on the block thinking I wouldn't win the veto. Sucks to suck Kryssie. Alex – I am on the fence about wanting Danielle out. Jason pretty much confirmed Danielle was running her mouth about wanting me out. Shelby – if we get Neeley out it doesn't matter what happens we have the numbers.
Alex, Morgan, Whitney and Shelby get up to talk to the live feeders. They tell Ameria to vote out Neeley. Alex – out of all these people Scott does not complain. He is a fighter. Vote to keep Neeley out and Keep Scott. Morgan – if you vote Neeley out I will let Kryssie attack me for weeks and weeks and weeks. I don't care. They do the team ball smashers hair flip.
BALL SMASHERS @bigbspoilers #BBOTThttps://t.co/RlJcbe4JUf pic.twitter.com/a167OUZS3y

— Dawg (@DawgsBigBrother) October 26, 2016
12:20am All the house guests head to bed..
[polldaddy poll=9561401]
Show your support by making a donation.
Without your support this site would not be possible!