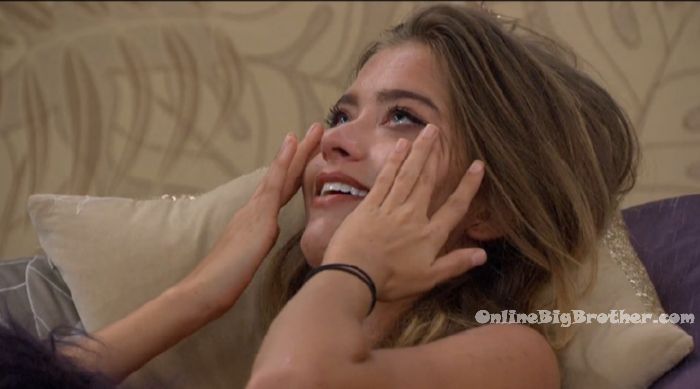 9:15am – 10pm HOH room – Shelby, Alex, Morgan and Scott. Shelby – it annoyed me that she said that. I'm already on slop you don't need to say anything else. This is another week everyone can go home, I don't care. Scott – you got to chillax. This is a long a$$ game and we're not even a third the way through it yet. Tomorrow is day 22 and we're going to be here for 60 days total. And its only going to get more boring. Shelby – No one has even approached me about who I'm voting for. Morgan – I meant to ask you Scott.. Shane's already come up to me. I said Danielle was our target last week.. put two and two together. Or is it best just to be open about Shane? Scott – I don't have a vote so I don't really care …you can be honest about it but he's got to go… he's got to GO! Shelby – I'm so bored .. like lets start some drama guys!! Scott – no, its a marathon. Not a sprint!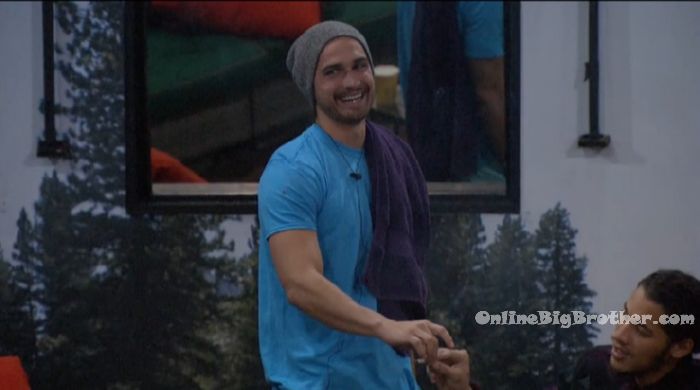 9:35pm – 11pm Backyard –
Jason, Justin and Shane. Jason – this week is hurting my heart. Shane – No matter what guys if I do leave .. get Alex and Scott's a$$ out of here! Shane laughs. You know what I mean, I already knew this whole week I was going to get backdoored. The game is going to become a girls game. Jason – that's my f**king fear. I need to keep all the pen!ses here that we can. And that's not me just being a homo! Shane – I'm not going to go down not swinging because that's who I am. I always go down with some punches. That's just who I am. I'm not going to be fake.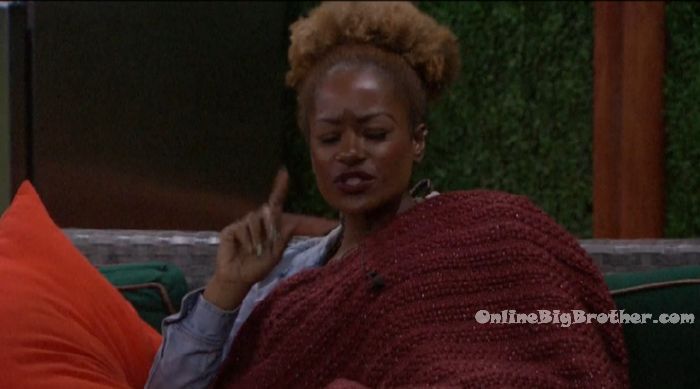 11:25pm – 12amBackyard – Neeley, Jason and Kryssie are talking. Neeley – we just have to win HOH. Thin that number down so they have to start working with us. It's Alex, then Scott, then Whitney. That's the order they have to go out. Kryssie – do we backdoor Alex. We can't let her fight for the veto. She's a good competitor. She has to be backdoored. Neeley – I'm not scared of her. If I win HOH, she is going up automatically. Jason – I would put one of them up with Shelby and backdoor the other one. Neeley – Alex is going up. No backdoor style. That's how I'm doing it. You do it how you want. I'm doing it Neeley style. I want to scare the f**k out of Shelby and Alex is going to know I'm coming for her. And if she takes herself off, then she earned it. I can't be mad at her. And then Scott is going home. But that's just me. Kryssie – that's not a bad strategy. Neeley – the thing with backdoor strategy is sometimes it doesn't work. I want to look her in the eye and says I know you orchestrated this. You (Alex) need to see what it feels like to have to fight for your life in this house. You played a sh*tty a$$ social game. You put all your pawns in front of you to play your social game for you. She has Morgan and Whitney playing her social game for her. Jason – she is using them as her social game. Neeley – I feel like we can use Morgan but then she has to go too. Shane joins them and talks about how he knows he's being backdoored. I'm not going to be crazy, I'm just going to call him out. Kryssie – if this little sh*t (Scott) is doing this for TV time then you might as well take the wind out of his sails.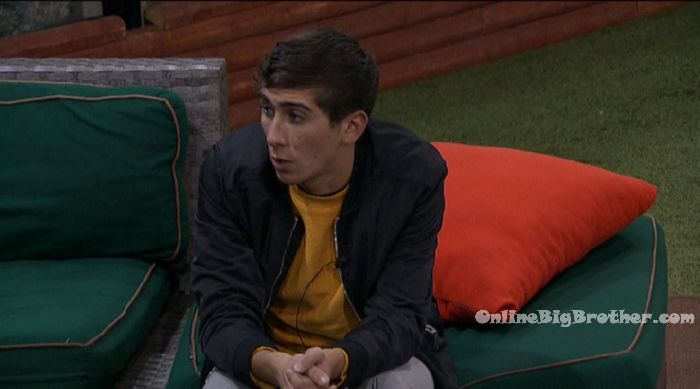 12am Jason comes up to the HOH room. Jason – they're on it.. like the plan. Scott – oh to get rid of Shane? Jason – yeah. You might get a crazy speech from him tomorrow .. so just be aware. Jason – their main goal is to keep him over her. Scott there are literally no pros to keeping him, its all cons. I find Danielle irritating. Jason – he has personally burned you. Just don't put your blinders on. He (Shane) is going to try and speech it up. Scott – that's fine. I've heard Shane's speech before. It's nothing new to me. Jason – next week if they win HOH they're going to use Shelby as a pawn and backdoor Alex. Jason heads back down stairs.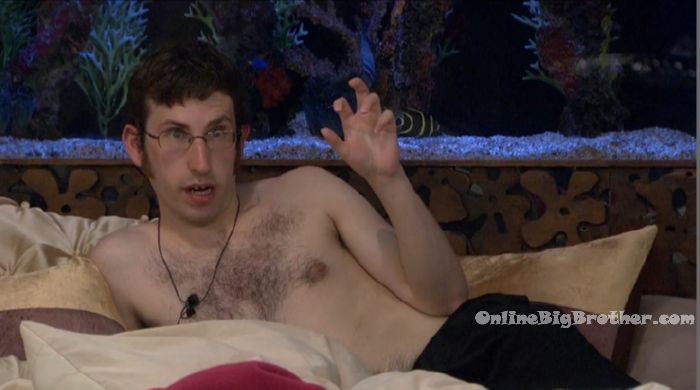 12:20am Bathroom – Kryssie – you either go out like you're leaving or you play the diplomacy card. Shane – I feel like if I did the diplomacy card and I got voted out .. I feel like I would explode. I'm playing it like I'm leaving. I don't trust Scott at all. This morning Morgan told me they're voting Danielle out. They hug and leave the room.
Watch the BBOTT Live Feeds FREE for 1 WEEK!
Click here for your: FREE Trial!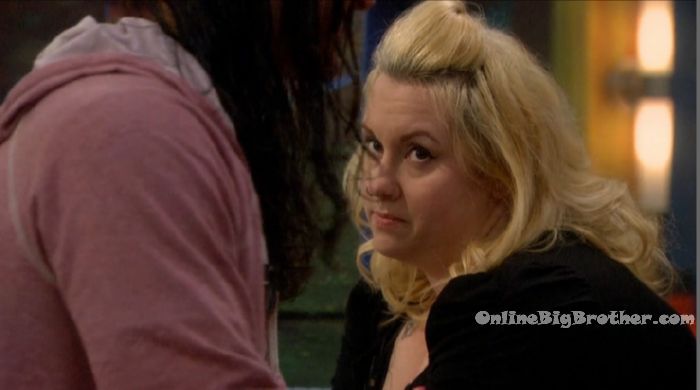 2:20am – 2:50am Backyard – Neely, Kryssie, Jason, Shane, Danielle and Justin are all chatting about random things. Everyone goes to bed. Jason talks to the cameras. Send me a sign America. Scott is acting like he's King tut! He just wants some tv time. He wants to be the star of the damn eviction show. You're already the star of the week. If Scott doesn't take the clear cut answer that Danielle is a better player, what can you tell these people. Again .. give them the key to the castle and they ain't going to open the door. There's really going to be like 3 boys in this house and 900 girls. I'm always team ladies but come on now. Why am I going to protect the two best people on that side at comps and stuff if they ain't willing to compromise with me. What is Justin doing!? Too much! Better than nothing but still too much. Boy Jesus there's a fire in my hear. America you want Danielle out .. so do it. With Shane out she is going to be even more focused. I know I must look like the rat of the universe but I'm just trying to play the game. This is not the best game decision. (voting out Shane) Its just dumb!

3am All the house guests are sleeping..
Houseguests have been up since 10am. No game talk of any substance that I can find happened.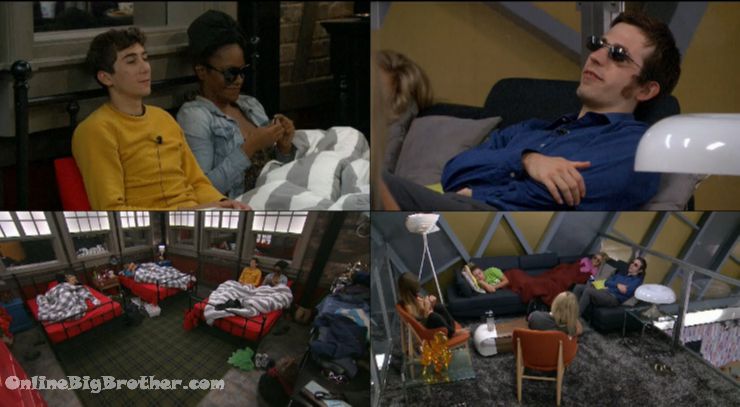 It's 3:12pm
LNC talking about Farting.. Scott talking to his girls about his bachelors degree in economics how it's kinda like 1/2 a stats degree 1/2 a business management degree.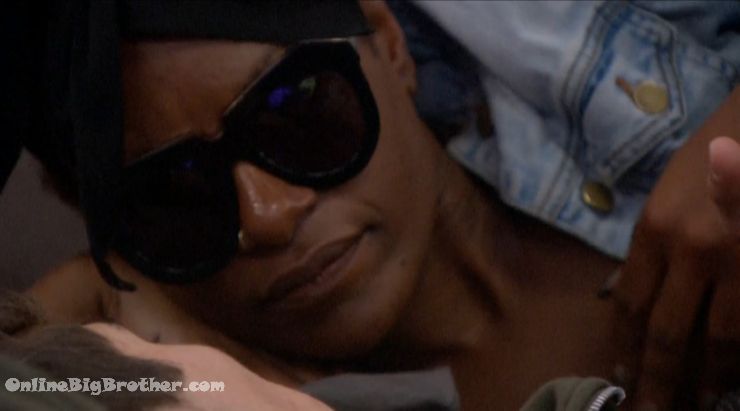 4:30pm Jason and Neeley
Neeley asks if they need to worry about Justin..
Jason says Justin vote is with them this week, Next week he's not sure.
Jason – he's just being Justin
Jason – we have to be on top of him
Show your support and appreciation by making a donation. Without your support this site wouldn't be possible.
[polldaddy poll=9552713]
[polldaddy poll=9552715]