POV Holder:
HEATHER
Next POV
April 26th
POV Used
?
POV Ceremony
April 28th
HOH Winner:
Jon
Next HOH:
May 1st
Original Nominations:
Heather and Sabrina
Current Nominations:
?
Have Nots
None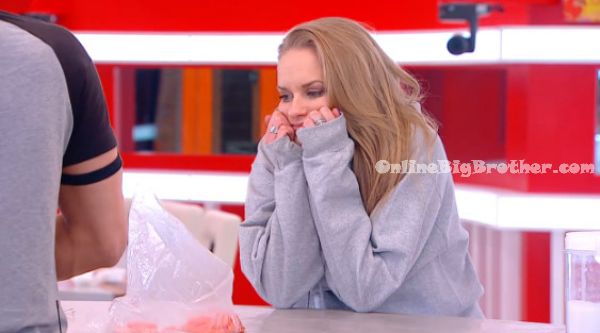 3pm – 3:20pm In the kitchen – Adel tells Heather obviously I am the same as before. I don't jump ahead and think about the final 4. I am not head of household or anything like that. Heather says plus it will be me you and Neds who wins HOH next week. Adel says I think it will be between you and Neds for sure. If its like anything like that spelling one I am done for sure.. its like my cryptonite. Heather says but your smart at other things. Adel says oh yeah I knew that coming into here. Adel says I know I'm playing for second place. I know for a fact that I can't win, no way. Adel asks is Sabs still trying any game? Heather says a little but not really. Adel comments on how he (Andrew) thinks he can tell people not to come in a bar .. when he's just a bartender working for minimum wage ya know! Do you think he would be happy for you? Heather says she doesn't know.. Heather heads up to the HOH room.
In the bedroom – Neda tells Sabrina that the decision of who goes home will come down to what Jon and I decide. We will decide together. Neda tells Sabrina we will tell you what we decide. Sabrina says okay thanks. Neda and Sabrina head to the HOH room. Neda, Heather, Jon and Sabrina are hanging out in the HOH room talking about music.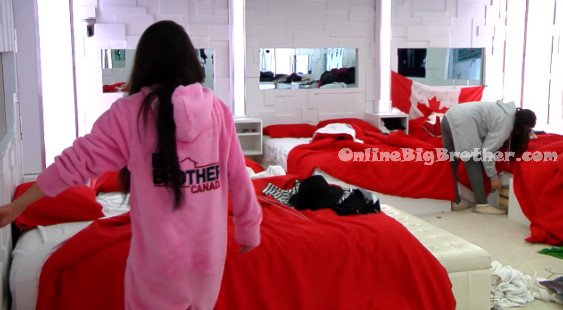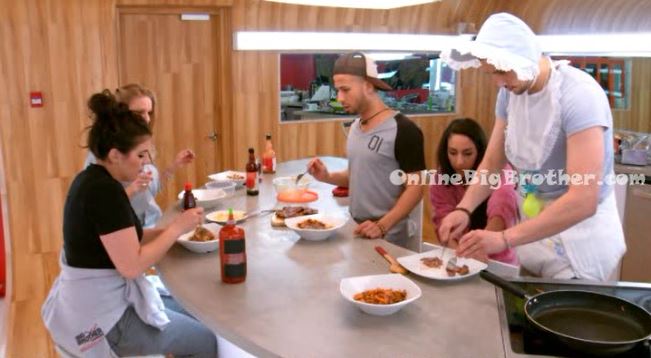 3:30pm – 4pm All the house guests head down to the kitchen to eat the meal that Adel prepared. Shortly after Big Brother blocks the live feeds.. When the feeds come back – Sabrina's in the diary room. Adel comments on how someone will be on a mission today for sure so be on the look out.. Jon says we haven't had an outright mission in a long time. Adel says it's so amazing how you guys got the gremlins out and pulled a fast one on Allison. Jon says oh yeah it could have worked out a lot different. Jon and Neda head up to the HOH room. Neda comments on how everyone knows what Adel is doing trying to get everyone to take him to jury. Jon says no yeah but its good that everyone knows. Neda says I love now that there's a threat of him going on the block he's all about getting the gremlin out. Adel joins them. He comments on how if Sabrina gets a mission today she will fail for sure. Neda comments on how Sabrina hasn't gotten one yet. Heather joins them. Jon says so everyone in the house has won a POV and HOH except Sabrina and Adel. Neda laughs everyone in the house.. there's three of us.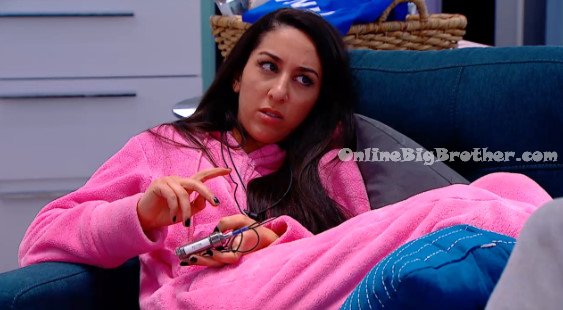 4:15pm In bedroom – Adel has laid down between the wall and the bed to sleep. The camera zooms in on him and then he looks up and laughs. Big Brother then makes him sing Oh Canada. He says wake up Canada at the end. After he finishes he takes of the Big Brother Canada clothes and says I'm done with wearing this junk .. it's back to real clothes. Adel then heads to the HOH room. Adel asks Jon did you just rise for the Canada anthem? Jon says no, did you? Adel says yeah, they caught me sleeping. Jon tells Adel that he's going to rub one out in the shower. Adel leaves the bathroom.
4:30pm – 5pm Jon finishes his shower. He smells his shirt and almost throws up then put the shirt on. He then dresses in his baby outfit and gives the camera a thumbs up. Jon holds up the pillow and says get your beautiful bird pillow straight from the brick! It's a beautiful bird pillow. It really is!! He then says maybe there's a veto in it?! He looks and says nope. I thought everywhere you look was a veto. The conversation turns to talking about Allison using her veto. Jon says what a turd! Jon says that it was the reason she went home. It was stupid for her to use it. She was 100% safe and knew that Arlie was going home. Neda says that Allison said she used it just because she had it. Neda says bullsh*t it was to use it to gain trust in you. Jon laughs that she had a little bit of power and ultimitely decided if Arlie stayed or went .. And Arlie went and she went the very next week.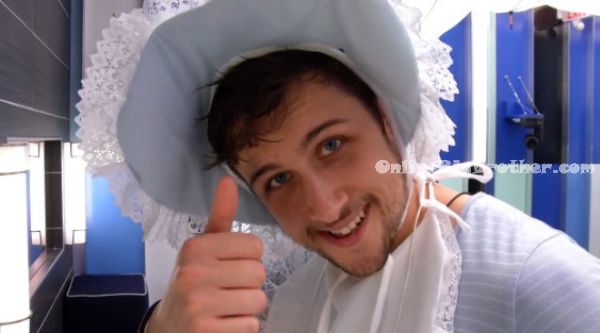 JON says when I was nominating you I was going to do what Adel did "I nominate YOU SABRINA!" #BBCAN2 @bigbspoilers pic.twitter.com/Yj3GtlE4E3

— Dawg (@DawgsBigBrother) April 27, 2014
5pm – 5:15pmThe house guests laugh about Adel's nomination speech when he nominated Sabrina and Rachelle..

5:35pm – 6pm Jon comments on the HOH lock down and says it wouldn't be cool for me to invite a bunch of people over to my house and then lock them in a room. Neda says we signed up for this though. Adel says I didn't even read the contract they got us to sign! Neda says there was some sketchy a$$ stuff in there. The house guests hear lots of noises coming from the rest of the house and they wonder what's happening. Adel says I would rather be evicted third than go to jury house. Sabrina says what you don't want to hangout with me, Rachelle and Allison. Adel says I can't stand you three!! Neda asks why don't you say what you really mean Adel. Sabrina says I was the nicest to you and you were the meanest to me. Adel says Rachelle never had the balls to say one mean thing to me or look at me before she left.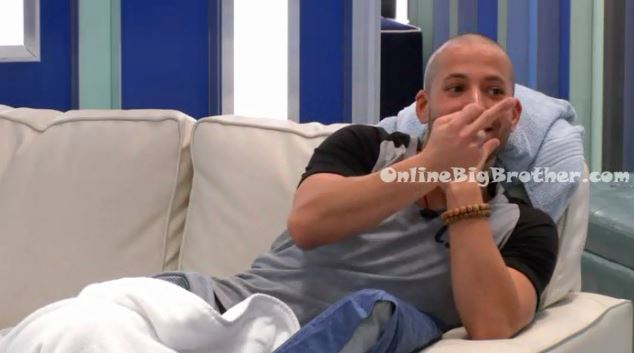 HELP keep the spoilers coming.. Show your support by making a donation. ANY amount is greatly appreciated! Simon and I work 24/7 all season long to keep you updated on everything that happens inside the Big Brother house. Your donations go directly to paying the fees required to run this site.
Stay connected and interact with other Big Brother Fans on our Facebook page.
And Follow: @BigBspoilers and @Dawgsbigbrother on Twitter for the most up to date spoilers.