POV Holder:
HEATHER
Next POV
April 26th
POV Used
?
POV Ceremony
April 28th
HOH Winner:
Jon
Next HOH:
May 1st
Original Nominations:
Heather and Sabrina
Current Nominations:
?
Have Nots
None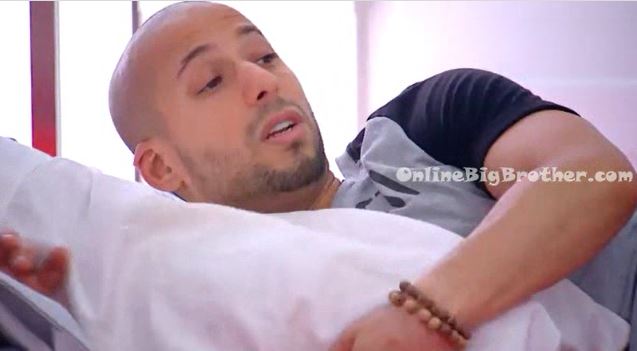 11:25am – 11:35am
Adel says you and me are literally thinking of winning the paper right?! Jon says yeah. Adel says say.. you did put her up as a pawn.. at the end of the day one of us are going to have to take her out. Jon says yeah, just a matter of when to do it. Adel says yeah, and this time its not like we would be the ones doing it to her because Heather will still have your word with her and everything right?! Jon says yeah. Adel says I just don't want us to lose the odds. Well it wouldn't even be like losing the odds .. I would go up and go home and you would still have … Jon says if you did go up, I don't think you would go home. I don't want to put you up and be like I don't think he would. Adel says but see how easy it was .. you had a final 3 with Heather and Neda.. look how quick Neda said okay! Jon says yeah real quick eh! Adel says she has Sabrina's vote 1 billion percent! She has the gremlins, the other Allison. Jon says yup that's three right there.. and she'd have Heathers too so that's four. Adel says Oh yeah she is going to be the one to go to Heather and be like Jon and Adel approached me for final 3. Adel says I am telling you bro I will start playing for second place. Jon says yeah we just got to see how it plays out in the next 24 hours. Jon says he thinks Canada will name the replacement nominee. Adel says just really think of it bro .. you're right at the money .. you never made one mistake. I know I don't have a chance ..maybe against you but I will throw that out the window if you give me the nod bro. I will make these girls cry! I want to at least win 20G's! Adel says just say the word and I'll make them cry! Neda can touch the money with her hand she has all the votes in her back pocket! You give me the nod and I will go rip everyone a new a$$hole. Jon says lets just wait to see what happens today and tomorrow. Adel asks why does she feel so good ..because she has you manipulated in her mind!? Adel says yeah its your move, you just tell me when. I just know I only want you and me to get paper man!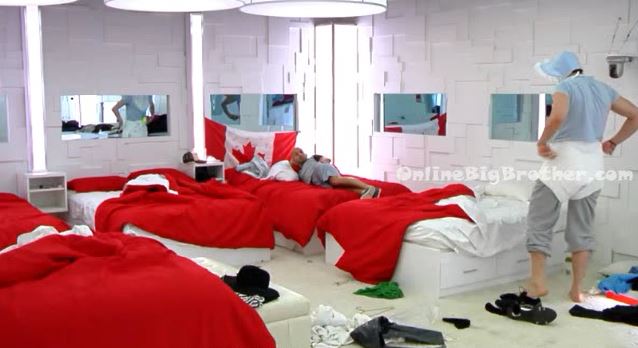 11:35am – 12pm Big Brother blocks the live feeds.. When the live feeds return Big Brother opens up the backyard. Heather and Sabrina are in the kitchen eating the breakfast that Heather made. Sabrina says oh my god it's so good! Adel heads outside to see the weather and grab towels out of the dryer. Sabrina heads out side and Jon joins her. Sabrina says if you're worried that I am going to tell her .. I'm not .. Jon says I hope not! Sabrina says no I wouldn't I'm really not a rat face!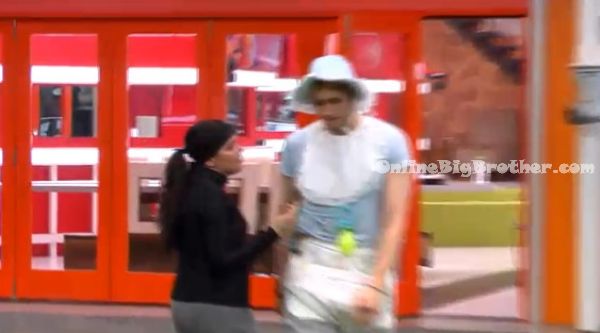 12:25pm – 12:40pm Heather, Adel, Jon and Sabrina are sitting around the living room couch talking about how they think the last couple weeks will work. Sabrina says today is episode 24, one person leaves this Thursday, then another person between this Thursday and next. Sabrina says considering certain things .. maybe we're seeing family today? Jon asks what certain things? Sabrina says I can't say… are you missing someone? Jon says Oh! That one.. that was yesterday. Sabrina says mine and Neda's was today. Sabrina starts talking about the freeze challenge with Andrew and his twin brother Pete that happened last season. Neda, Jon and Sabrina talk alone in the living room. Sabrina asks them to just please tell her if she is going. Neda says I will need to think about it before I say. Sabrina questions if what they told her before about final 3 was a lie then!? Neda says no not at the time I just like to run through all possible scenarios before I say. Jon agrees and says that he doesn't think that things have really changed for me. The conversation turns to talking about how Sabrina and Neda won money during last nights POV. Neda comments that the money is enough to pay off her credit cards.
12:40pm – 1pm Big Brother blocks the live feeds.. when the live feeds return Heather, Adel, Neda and Jon are in the living room talking about random things while Sabrina is in the diary room. Big Brother warns the house guests that they will be on a backyard lock down. Jon comments on how he can't believe Arlie predicted there would be a final 5 girls alliance. Jon holds up his baby soother and says this is Arlie right here! A DUMB T!T! Jon then gives Neda a piggyback ride upstairs to the HOH room and main bedroom.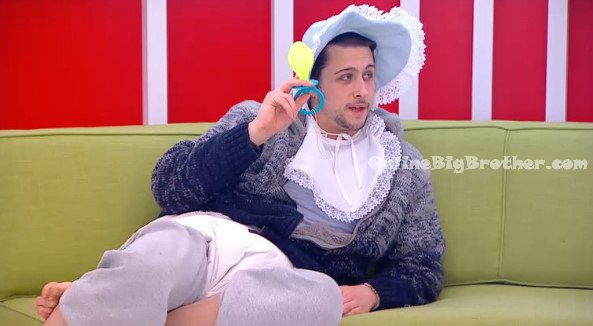 1:10pm – 1:50pm All the house guests head out by the pool for the backyard lock down.. The conversation turns to talking about the meaning behind dumb t!t. Sabrina says that its offensive. Jon says its not. The house guests talk about how they had to watch a video of them being disrespectful to big brother. Adel said the c-word… he says I wasn't saying it to anyone I was saying it to the sky. Jon says I hate the c-word. They all head out to the hot tub room to talk about random things..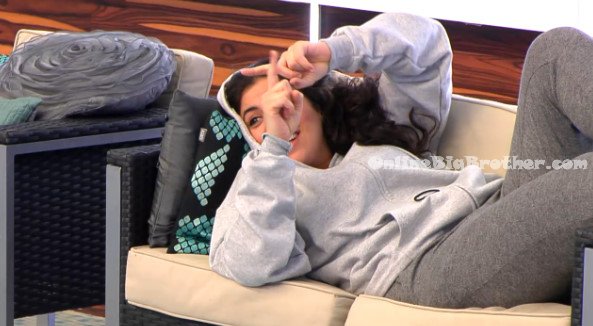 2:15pm – 2:25pm Jon heads inside … Adel asks so do you think Heads and Ned's are.. you know .. do you think I'm good? There's so much whispering going on. Jon says no matter what I'm keeping you. Adel brings up how Neda was going for the money. Jon says that Neda is pissed that Heather isn't leaving and even said she wished she would have gone for it. Adel says I saw her all she was going for was the money. Jon says so was I. JOn says that Neda said her ultimate final 3 would be you, me and her. Jon complains about having to go to the bathroom really bad. Jon says I am actually debating on getting in the pool and letting one go.. Adel laughs. Big Brother blocks the live feeds ..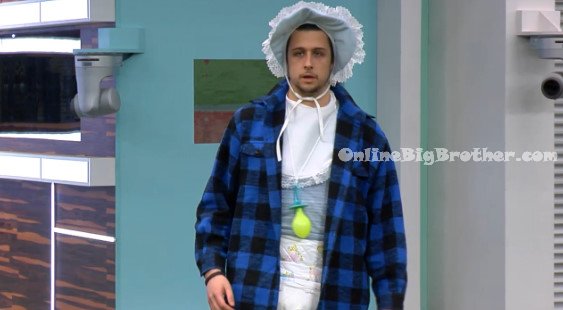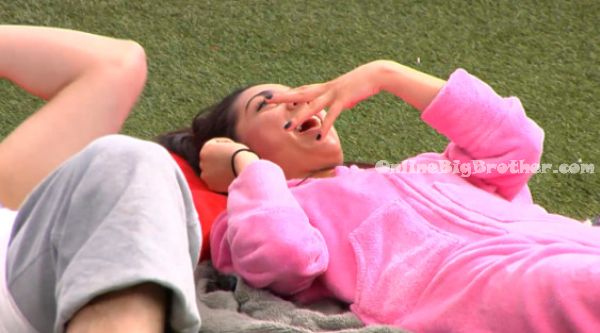 2:35pm Adel is laying in the hammock. Jon and Neda are laying on the backyard grass. Jon wipes his hand on Neda's mouth. Jon says that was down my pants. Neda says eww! Jon says its not like you haven't had that in your mouth.. Jon yells out to Heather and says congratulations on being final 4! Over by the pool – Sabrina and Heather are talking. Sabrina tells Heather that there something she needs to tell her but can't right now. Sabrina asks who would you take to the final 2? It stays between you and I. Heather says probably Neda. Sabrina says that would be stupid. Heather asks who should I take? Sabrina says you would win over Adel. Against Neda it would be 50/50. Against Jon he would win 100%. Big Brother opens the backyard and the house guests head inside.
2:40pm – 3pm Neda lays on the stair landing and Jon goes over to a camera and says lets play a game call find NEDA! He then goes to each camera and says to each of them lets play a game called find Neda! The camera each zoom in on her. Jon finds Neda's ipod in the storage room. (He had requested a different ipod because he was bored of his music.) Neda and Jon run up to the HOH room to listen to the music. Jon listens to it first..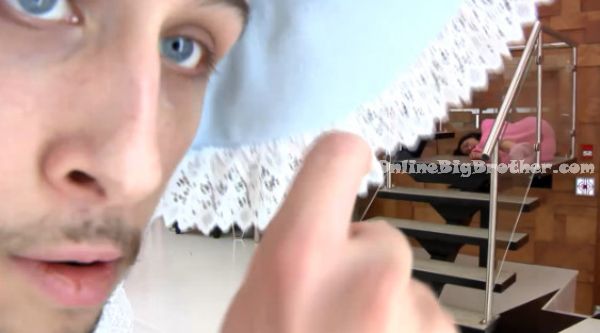 HELP keep the spoilers coming.. Show your support by making a donation. ANY amount is greatly appreciated! Simon and I work 24/7 all season long to keep you updated on everything that happens inside the Big Brother house. Your donations go directly to paying the fees required to run this site.
Stay connected and interact with other Big Brother Fans on our Facebook page.
And Follow: @BigBspoilers and @Dawgsbigbrother on Twitter for the most up to date spoilers.
Share it YO!!
Tweet