POV Holder:
Neda
Next POV
April 26th
POV Used
NO
POV Ceremony
April 21st
HOH Winner:
Adel
Next HOH:
April 24th
Original Nominations:
Sabrina and Rachelle
Current Nominations:
Sabrina and Rachelle
Have Nots
Neda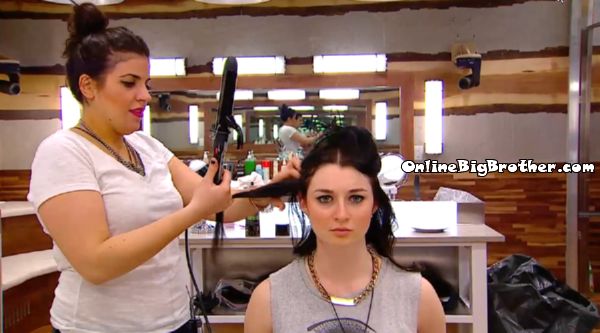 7:46pm Gremlins
Sabrina – "If I could lose weight I would be a commercial model"
Rachelle says Sabrina doesn't have to lose weight
Sabrina scoffs
Rachelle says Sabrina could be a face model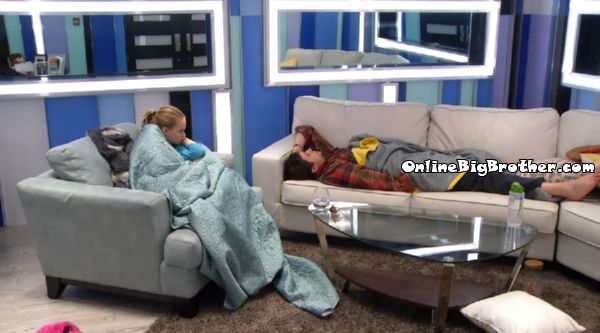 7:56pm JOn, Heather and Neda
Heather is surprised they were out of the house for so long today. Neda thinks it had something to do with tomorrow's show.
Heather – "I can't believe theres only 2 of everything left.. 2 vetoes 2 HOH's"
Heather saying that Sabrina must know that they want her out next.
Neda leaves.
Heather is worried something "F***ed" is going to happen tomorrow. Neda suggests maybe Canada gets to pick the HOH again or Canada Is the HOH.
Heather doesn't think Canada will pick Sabrina. Neda doesn't know wonders if she has maybe redeemed herself. heather doesn't think so.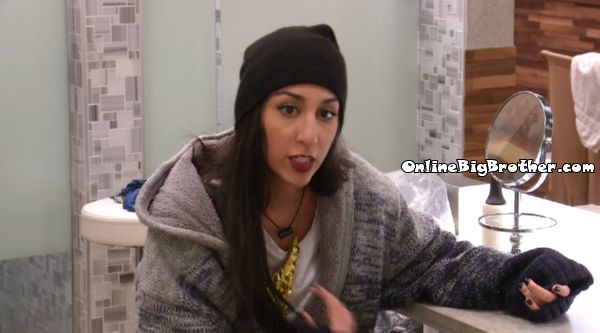 8:17pm Jon and Neda Bathroom
Jon says they have to stop telling Sabs they are not going to throw the HOH.
Neda – "I talked to her and told her"
Jon – "AHHH you went without ME "
Neda – "I told her I want to win HOH because i'm scared of the twist"
Neda says she hasn't told Sabrina it's Heather they want to get out not Adel.
Neda – "I'm not throwing this.. I Want to win it it's stupid if we throw it.. it's at that point in the game where we can't throw competition anymore"
Neda – "If it ends up being that we piss off Adel and Heather f** it we have to do it because that's only 2 votes in jury right.. we already pissed everyone else off" Neda thinks the risks outweigh the rewards if they throw the HOH, If they need to get Heather or Adel out they will do it themselves.
Neda – "We have to win HOH tomorrow and that ensures our safety 100% .. next week one of us has a chance to win and both of us can play for Veto"
Jon is pissed at Neda for going to Sabrina and talking to her without talking to him first.
Neda says she gave Sabrina no information other that they do not want her gone next week.
Jon – "what is heather saying to you"
Neda – "the same old sh1t"
Jon – "I think she should go"
Neda says she's not convinced what is better sending Adel or Heather home, 'You clearly want Adel to stay and that is because you think Heather will put you up"
Jon – "Do we stick with the final 4 thing and send sabs home"
Jon – "I don't give 2 f*** about that final 4"
NEda feels the same.
Neda says if they f** over the final 4 deal they have it's only 2 people mad at them.
Jon says Heather is sketchy as f*** and its driving him insane.
8:40pm Gremlins giggling
Rachelle impersonates Adel's nomination speech.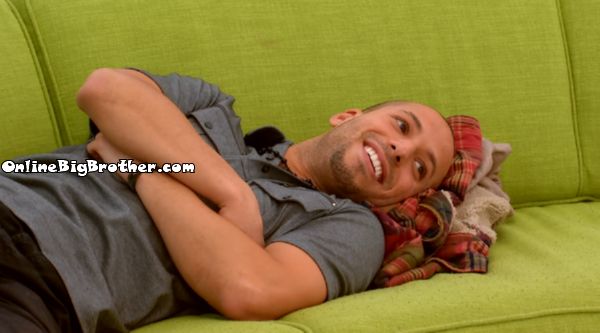 8:50pm Neda, Jon, Adel and Heather Kitchen
JOn – "Neda told me she saw Deli in his underwear he's got a little t1ny h@mmer"
Adel – "Well She can just put it in her m*uth to find out"
Neda – "You are not allowed to hang out with JOn anymore he's corrupted you"
Heather – "Jon corrupted Deli"
9:45pm Feeds been on hush hush for the past 30 minutes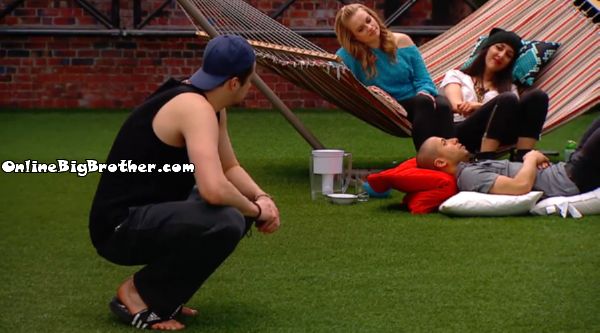 10:40pm Feeds back everyone outside
Share it YO!!
Tweet