POV Holder:
Paul
POV Competition
Aug 20th
POV Used
YES
POV Ceremony
Aug 22th
HOH
Natalie, Meech
Next HOH
Aug 25th
Original Nomi1nations:
Victor AND Paul
After POV Nominations:
Victor AND Corey
Have Nots
Victor and James
Watch the next week of the feeds for FREE – 1 week Trial!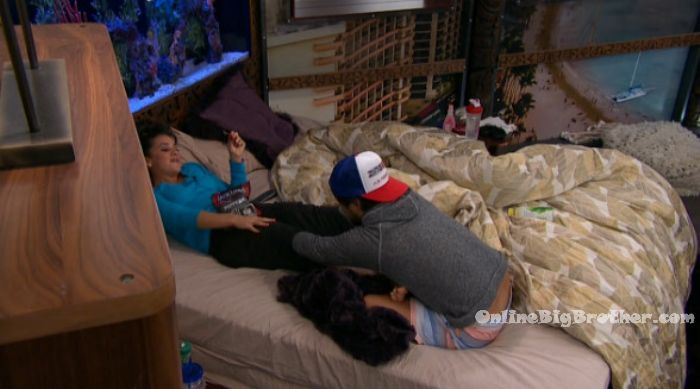 12am – 2:45am HOH room – James, Nat and Meech. Natalie says I love how he was like sabotage them, sabotage them, pots and pans … and then he was trying to be best friends with them. Michelle says he was like I want to be the one to do it. Nat says I was like its not a good idea to blow sh*t up right now. Michelle says I am all for blowing sh*t up but he wants to do it all the time. Like even with Nicole… that was a bad idea. Nat says I was not for it, I knew it was going to be bad. Then he starts blowing up everyone`s spot. Michelle heads downstairs. Nat tells James you better watch out for that boy Paul babe! Nat says if anyone wins Paul will pull himself down. There is a high probability I'm going home. Is Corey and Nicole still after him? James says yeah. Nat says I'm not as concerned.. Paul just can't win. I love Meech! Meech gives me life. How funny is this girl. Meech joins them again. James tells Meech Paul was mad at how she acted when Paul touched her clothes. Meech asks when he dumped my clothes out? I don't care. Meech leaves. James tells Nat if I win (HOH) I am going to be like Nat 10 back massages. Nat says I'll give you a make out sess in the HOH room. James says don't lie. Don't lie to me all the time. Nat says I can spot a liar a mile a way. I can spot it on their face. I play dumb. James says I knew you were playing dumb. I was testing you. I was giving you tid bits of information to see if it would come back to me. Michelle and Vic join them. Michelle says Paul knew about Da .. and he still lies to my face about it. The conversation turns to talking about prisons, conjigal visits, Nat's work and other random things.

1am – 1:20am Kitchen – Nicole and Corey are asking each other questions the Julie Chen might ask them during the live show. Nicole asks how do you feel being on the block for the second time? Corey says I'm not even sweating it … lets get honest no one in this house is voting me out. Being up on the block is a lot like a second home to me. Nicole says what her speech would be if she was sitting next to Vic. I don't know why I am sitting on the block next to Vic? It would be absolutely crazy for you to vote me out, this dude has won what 8-9. Literally stupidest game move if you guys vote me out. Corey jokes what his speech would be if he was next to her. Guys, she's a snake! She was coached by Derrick. She played with Derrick. She knows this game. Nicole says I was not coached by Derrick. Corey asks Are you really going to let her float all the way to the end?! Nicole says OOHHHHHHHhHhhaaa.. SHOTS FIRED! I am not a floater. Corey says she is very strategic, look she teamed up with the coolest guy in the house. He's going to try and take her to the end, you've got to take her out. She is a floater. Corey said it himself she better win HOH or she is going home next week. Nicole says jerk.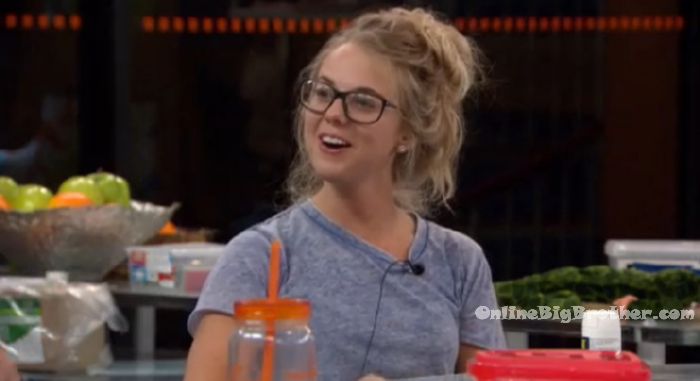 2am – 3:30am Nicole and Corey head to bed. They talk about scenarios. Corey says you get a text from your friend saying Corey's at The Olive Garden with this chick right now. Are ya'll okay!? Nicole asks what does this chick look like? It could be your sister. Corey says its not, its another chick. I'm on a bumble date right now. Nicole says you're dead to me. Corey says but we're just dating.. dating around. We're not even official Nicole. Corey says this is us in an argument about it. Nicole I don't even like that girl, I'm literally just dating around. I like you. Nicole says if you liked me, you never would have taken her out. Corey says but I'm single? Nicole says then be single BRA! Why do you even have bumble!? Corey says I want to meet new people. Nicole says you're disgusting me right now. Nicole and Corey laugh about it.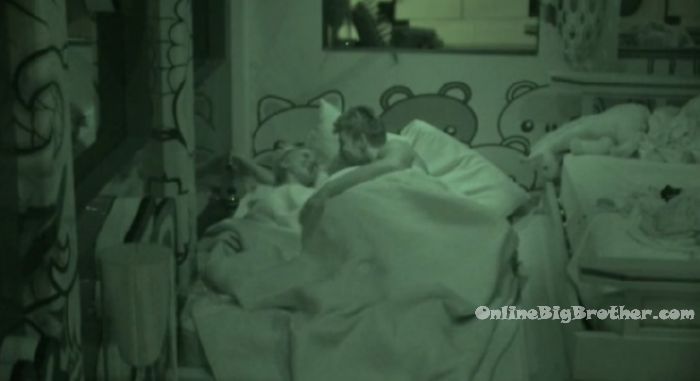 4:10am – 5am HOH room – Meech and Natalie. Meech says I feel bad about Victor. Natalie says me too.. it like hurts my heart. If you want Corey to go over him we can make that happen, just know that. Meech says I know. I can't believe Paul is still mad at me about the clothes. Nat says Paul is a master manipulator if he is in the final 2 he is not getting my vote. Meech says me either. Nat says he knew Da was getting evicted. Meech says I know, he knew. Meech says I'm ready for Vic to go home. Like mentally prepared. He doesn't seem nervous does he. He hides his emotions well. Nat says they both have an idea it could go the other way. Meech says I feel like they might try to take me out next. Nat says nope, they want Paul out.
5am All the house guests are sleeping..
Why no morning updates?
everyone but Paul was sleeping for a while. Paul did a 5 hours Friendship session in Safari room.. it's 1:36pm in the big brother house and the feeds are on fish.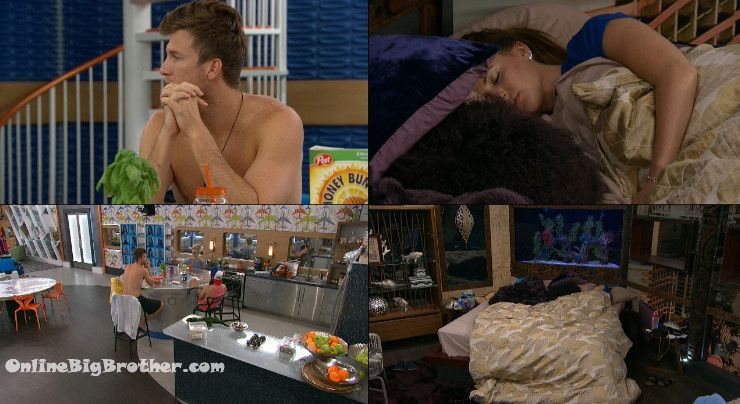 2:00pm Kitchen Nicole, Paul and Corey
Nicole – do you know Corey's favorite picture is
Paul – the one with the puppy..
Corey says he gets between 250 to 400 likes but this one got 900.
Paul says he had one picture that got 3000 but each picture averages about 2000.
Corey going on about going to "Dylan's ranch" where they have a pool and diving board. they would do fun Instagram posts while diving..
Corey – pretty funny captions..
Show your support by making a donation.
"BB BRIBE"
WEEK 5 – August 25 to August 26th
The winner gets $5,000 to bribe one house guest. Bribes my influence voting, competitions, vetos or nominations. The bribe can only be given to one house guest, for one action, within the week leading up to the next eviction.
[polldaddy poll=9501597]
[polldaddy poll=9503412]