POV Holder:
Corey
POV Competition
Sept 3rd
POV Used
?
POV Ceremony
Sept 5th
HOH
Victor
Next HOH
Sept 8th
Original Nominations:
James AND Nat
After POV Nominations:
? AND ?
Have Nots
None
Watch the next week of the feeds for FREE – 1 week Trial!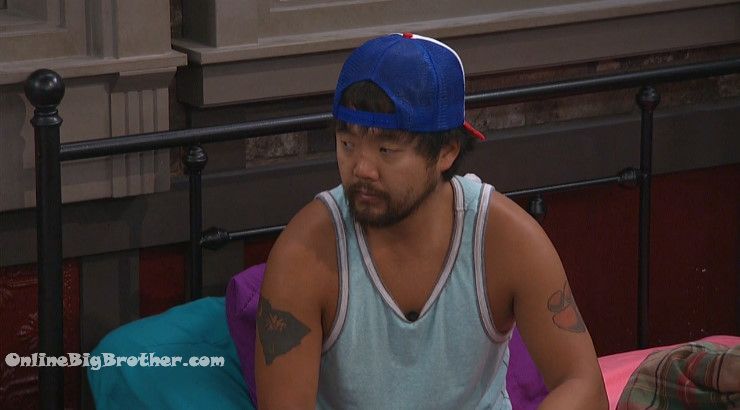 2:00pm James and Natalie London room
Natalie says he should go outside and hang out with the rest of the house.
James says he doesn't need to do that.
James- you are my friend.
James wants to hang out wit her especially since 1 of them is going tomorrow.
Natalie – I'm so excited to get back to my life.
Nat – can't wait to go to jury
James – Jury is pretty sweet I'm not going to lie
Nat – I'm pumped for it.. Do I get my own room
James – mmmm hmmm
Nat – YES
James- you need some girl time
Nat – I need some me time
James- you need me time but you also need girl time.
Nat – sure i'm going to kick it with Paulie too never cared.. I know i'm going to be really friendly to everyone on this shose.. Well on my end.
Nat- it's called being tolerate and being an adult
James- I know about that I have a slot of responsibilities at home.. I have a 4 year old that looks up to me that I have to take care of.
James says having a 4 year old has taught him to not quit on people
Nat – I'm so excited to meet Julie .. so excited .. I'm glad I lost a couple pounds before leaving..
James – ya
Nat – we'll always be friends you know that right..
James – yeah I know that..
Nat – I should have told you that time in the bumper cars when I was hurt that we should just be friends.. I know I wasn't ready.
James – I knew you weren't ready when you told me about it.. The bumper car thing and Corey
Nat – I liked you.. I just didn't want to be hurt
James- it's safe to say we hurt each other
Nat – yeah.. Don't worry i'm leaving tomorrow so it doesn't matter.. I'll be rooting for you in Jury
James – i'll be coming in next right behind you
Nat – I hope you don't.. You still have my vote for Final 2
James – I appreciate it but.. If you sit next to someone that is better vote for the best player
Nat – I'll do what I want.. I'll be rooting you on in Jury and fighting..
Nat – god knows what all these people have done and what I have done.. James Karma gets everyone I don't need to shit on people to get ahead.
Jame s- Villains do win this game sometimes
Nat – Villains do win this game sometimes and I'm glad i'm not winning cause I'm not a villain
Nat – note to self don't date anyone that won Big Brother.. Don't date anyone that's playing Big Brother because everyone lies and cheats.
James- you can't really judge people in this game
Nat – it was a joke
Nat – James, you're a standup dude. That is why I liked you. You are a great guy.. You have been honest with me you've made me happy. I had so much fun with you.. It was me looking for you all the time.
Nat says back when nobody wanted to be her friend but Bridgette and Bronte James was there for her. "You stuck by my side.. You defended me you kept me off the block.. I've appreciated you since day 1 since we've become close"
Nat – When i laid in this bed I told you i had your back I knew Paul and Victor were coming for you.. I would have never worked with them to get you out
Nat – I had Bridgette's back, your back and Bronte's back in the end I had Michelle's back.. Corey and Nicole backstabbed her that is why she was so biuter..
Nat – I know the person you are and I'm very thankful I get to go to Jury tomorrow and you get to stay, I do want you to make it far and I do want you to win this game
Nat – I will be fighting for you because you are my ride or die
Nat – I feel sad because I am defeated.. I'm just ready to go. If you can stay 1 more week that's all I can ask for.
Natalie is claiming the truth when she says if she had won the veto she would have used it on James.
Natalie – I don't want to be in this house with these people..
Natalie says she doesn't care if "america" loves her or hates her she only cares about what her family thinks.
Nat – Paul called Michelle a c***t on TV
James – I know I was there… I didn't want to work with Paul and Victor there was a lot of reasons.. Paul shitted on you he shitted on Michelle I guarantee he talked about backdooring me ..
Natalie says the only reason she put paul up was because she thought he was targeting James, "I did what I had to do"
Nat – I liked you and I never used you, that's what I'm really hurt about Last night things you said just really .. kinda sucked. kinda broke my heart a little bit.. I know I hurt you cause how I am but you really hurt me last night.
Jae s- I can't go back in time to change things, like I said none of my intentions were never to make you upset I was really hurt at the time.
Nat – you called me catty
Jame s- that is a word that is gettign tossed around all summer.. My roomate would say I never use the word in my life catty
Nat – I didn't know who you were last night it was scary
Nat – you think I can fake my feelings for you
James – no I didn't say that .. just hot and cold
Nat – thats how I am this game has brought out the craziest emotions for me.
Nat – I wasn't strong enough for this game.. I'm sorry
James blames a lot of the drama on the block and miscommunication.
James- I apologize as a human being and as a friend.. I didn't come in here I was looking for a showmance… I told America.. told my Family.. I'm coming in here for that 500K it's business.
James- but hey I got into a showmance.. things change.. I met a really cool special girl.. I didn't think one of you existed
Nat – most girls use guys for what they have most girls use guys for money.. I know a lot of girls that say no to guys that get them a small ring..
Nat – never cared about the ring never cared about money if someone treats me well that all.. I never ask for anything
James- if I could change things I would
nat – I don't want to change this.. I don't want to be here anymore..
Nat – people in this house think I'm a secret genius that's amazing.. feels nice.. when I'm really not.
Nat – a showmance was fun.. it's sad sometimes but it's fun, in this game it's very tough.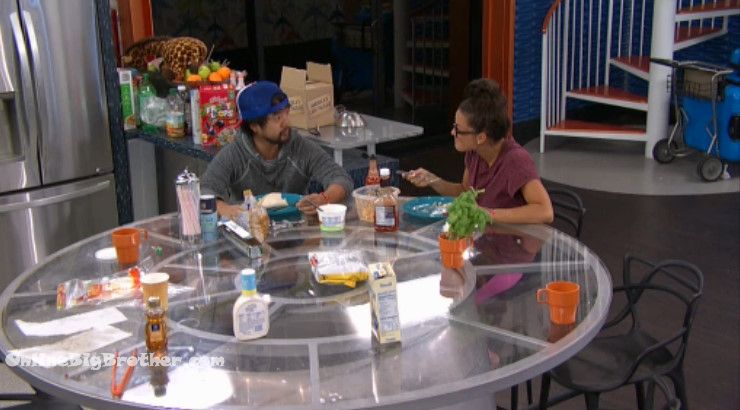 3:21pm Kitchen
Natalie – I think i'm going to write a book when I get out of here
James – I'll buy it
James says his roommate always tells him he should write a book.
Natalie says she would buy it.
Nat – my life is so outrageous and crazy.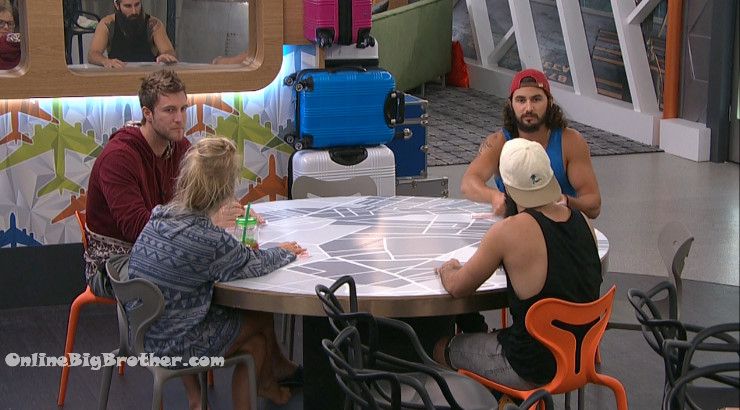 4:18pm CARDS!!!!!!!!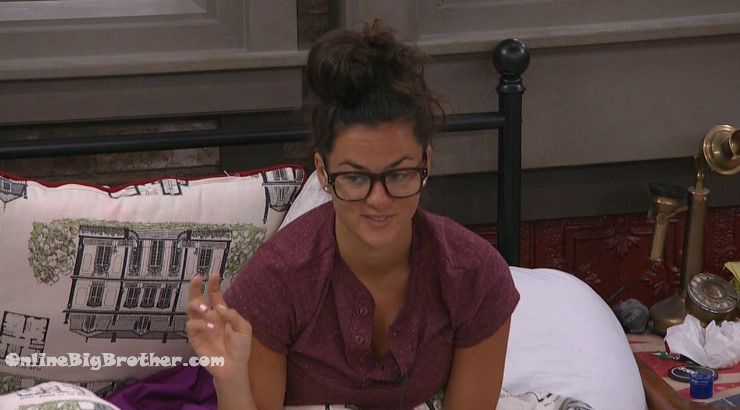 4:24pm Natalie and James
Natalie is claiming that she didn't toss James under the bus to Paul and Victor she implied that Nicole was the one telling her things not James.
Nat – just by campaigning to keep you it already sounded like I'm going home..
James says that is why he was telling her not to be so hard on herself because Natalie going home could have been plan from day 1.
James – just because i'm a vet doesn't mean I know everything.
Natalie is going to tell Victor he's the worst liar in this game because she knew she was the target after his nomination speech.
Natalie is going on about "making a HUGE game move" by putting Victor and Paul
Natalie claims that Victor is the only one that gives her a run for her money in competitions.
Natalie – you guys made fun of me and called me FT's all summer..
Natalie thinks that everyone is "shitting" on her during their DR's and she's sure everyone will "Shit" on her when she leaves.
James says he'll stick up for her.
Natalie is going to call Paul, Victor and Nicole out she's looking for closure.
James- everybody is calling Nicole out what's 1 more person
James says she should reach into her pocket and say "I blew Paulie's game up… "
Natalie says she blew Zakiyah, Paul's and got the biggest competitor Victor out.
James suggests that Victor jury buyback was staged for drama. Production waited until Victor was in trouble before they pulled the twist.
Natalie says "they" are making a "TV show"
Natalie thinks there's things they do for ratings.
Natalie says she went to school for PR she's not goign to call anyone a snake she'll present everything in a clear cut mature way.
Nat – I'm glad I ended up being myself.. being myself made me a threat..
Natalie says Corey and Nicole wold never vote against James because that blows them up she knew once they were nominated she was going home unless Veto was played.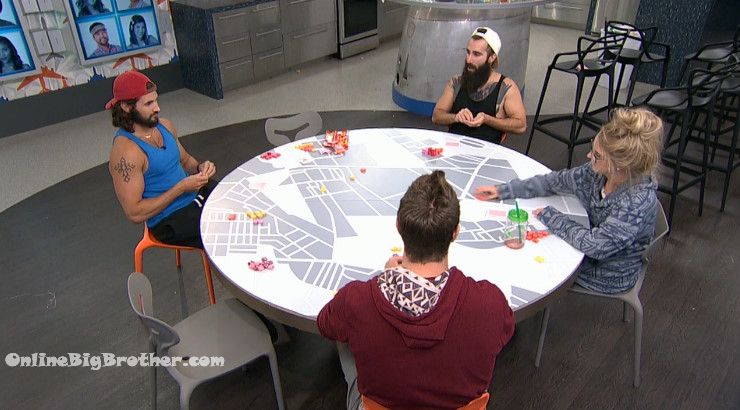 4:50pm CARDS!!!!!!!!!!!!
It's either James and Natalie having the same conversation on a 90 minute loop or the "Final4" playing Cards.
Show your support by making a donation.
Donations support this site more than anything. If you dig our spoilers please find a way to support us.