POV Holder:
PAulie
POV Competition
July 30th
POV Used
Yes
POV Ceremony
Aug 1st
HOH
Paul
Next HOH
Aug 4th
Original Nominations:
Bridgette AND Paulie
After POV Nominations:
Bridgette AND Da'Vonne
Have Nots
Natalie, Paulie, Corey, Zakiyah
CBS All Access: Live feeds are only $5.99 per month – Try it FREE for 1 WEEK!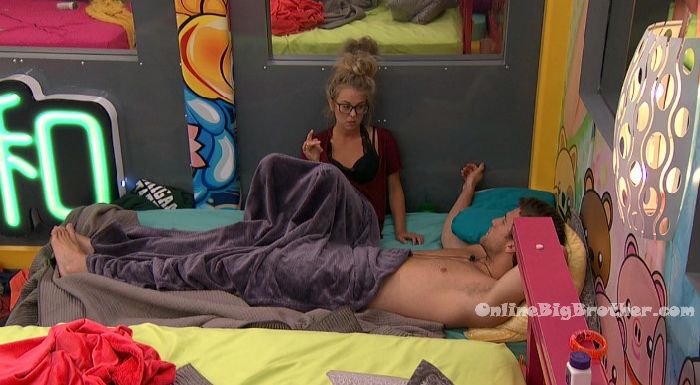 5:25pm Nicole and Corey. Nicole tells Corey that last night she told Michelle she was being weird. Michelle says she felt like we didn't include her. We talk to her for 5 hours the other day. Plus she sleeps all the time. I said if you're feeling some type a way I would prefer if you just came to me rather than go to other people. She said I don't talk game to her. I said we haven't talked game up to this point and what game is there to talk about. She said yeah you're right. I told her you do understand that my gut tells me Da is coming after me, Corey and Paulie. She looks at me weird. She had a smile on her face and asked where did you hear that? I said I didn't I just have a gut feeling. Corey asks why didn't you tell her who. Nicole says because I don't want to give her any information. This morning Da asked to talk to me … clearly because I just talked to those girls (Z and Michelle) last night. It literally just showed me. They said she (Da) isn't going to do anything to upset the house. I said its crunch time. I told them I'm going to vote Bridgette out and how I'm taking a chance that Da wins HOH and puts me up. They are making me so mad. I don't get why they lie. I basically told Da there is no mending our relationship. I've just heard too much. She said I hold on to things. I said I've just heard too much to not hold on to it. If I ever made it to final 2 it would be very hard for me to win.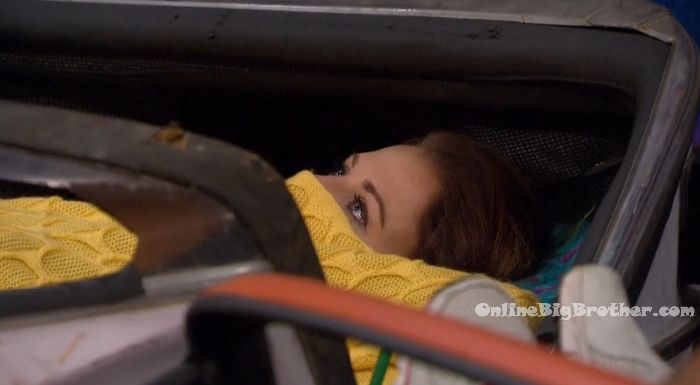 5:45pm Havenot room – Michelle and Paulie. Michelle is upset. She says I'm not myself any more. I'm so stressed out. Everyone is getting to me. I'm super annoyed. I'm not worried about you or double eviction. I'm worried about me snapping on people. Paul and James I can't take them any more. Paulie suggests she have a conversation with them and just let them know. This is a pressure cooker environment. Michelle says people hate me and I'm not going to be able to get a job after this. Paulie says I wouldn't worry about that. Michelle says people could be calling me a bully when I wasn't. Paulie says I would fly you to my gym and you could give people nutrition advice. The term bullying gets thrown around way too much. Michelle says I just don't want my family to be disappointed in me. Paulie says we're in here and its a game that has to be played. You're not yourself. If anyone wants to say I'm a sexist, racist, misogynist.. or whatever .. that's not me. Not that I am those things but the people that really know you, know who you are. In here it is not real. I love everyone in here.. at the end of the day its a game. Z and Paul join them. Paul asks what is bugging you. Michelle says this game. Paul says you love this game. Paul says You're going to look back and say god I was such a pu$$y. Even if I s**t on your chest you will look back and laugh at it. Michelle says I just need a break. Paul says there are no breaks. Paulie says yeah, I cry behind closed doors. Paul says yeah he's a b***h! Michelle says Vic is annoying me. Paul says bone him. Na, don't you'll get boo'd. Michelle laughs and says the worst boo in history.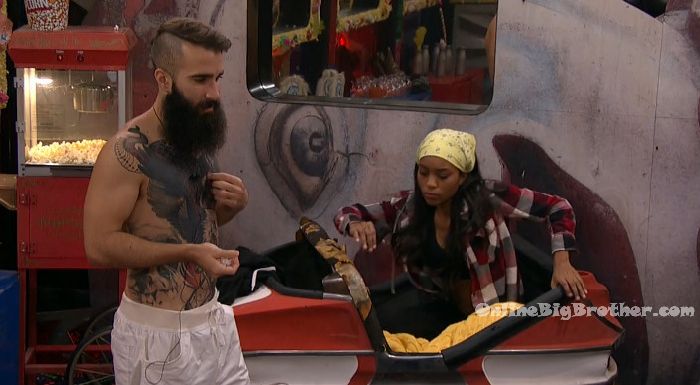 6:15pm London bedroom – James and Natalie. Natalie says I miss having a best girlfriend. I'm having fun win you though. I'm definitely voting for Bridgette to stay. James asks oh you're voting for Bridgette to stay, ok! Natalie says me winning this game is like a miracle happening. James says this is my make a wish. Nalalie says you can't say that. Make a wish is for terminally ill children. James says I'm mentally ill.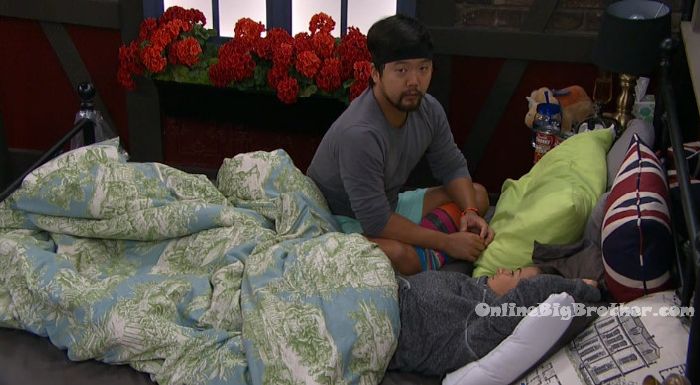 6:20pm – 6:50pm Big Brother blocks the feeds.
7:50pm Still no feeds… they're likely getting their half-way party… POW POW!

8:26pm NO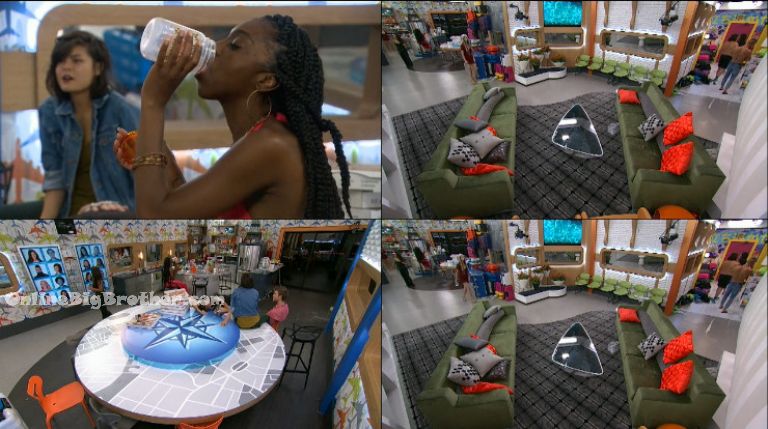 9:02pm Feeds back
Paul – Your boys wasted..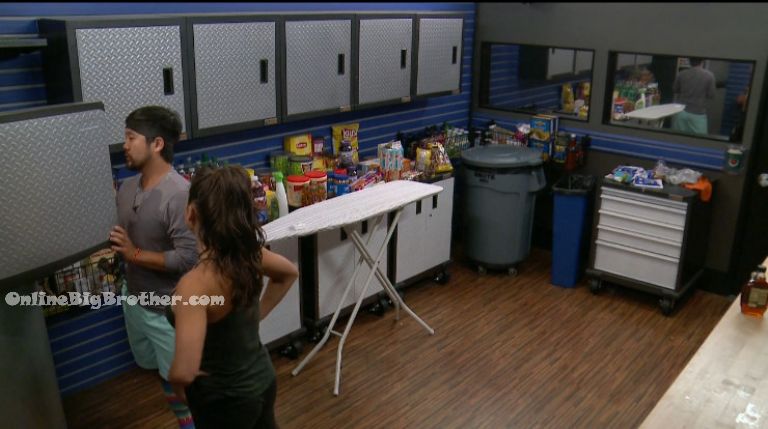 9:06pm Storage room James and Natalie
Natalie – Why was she mad at you what did you do (Michelle)
James says they made up yesterday it's cool. James told "Meech" the truth.
James wonders who is at the centre of this. Natalie says it's Paulie, James agrees.
Natalie asks why Paulie told Michelle James told him that. James says Paulie threw him under the bus.
James says the truth was Michelle came into the have nots and said Nicole, Paulie and Corey were whispering, James ran to Paulie and Told him this than Paulie told MEECH what James did. She's not denying it, "I fixed it"
[polldaddy poll=9486231]
[polldaddy poll=9485811]
[polldaddy poll=9485817]