8:30pm In the lounge room. Tom deep in thought.. Meanwhile out in the kitchen the house guests are talking about dancing with the stars. Natalie says she can't dance. Tamar tries to get her up to show her some moves but Natalie refuses.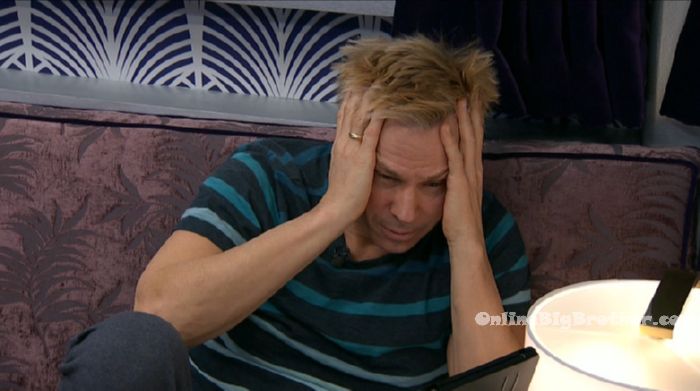 9pm Lolo's art work on the kitchen table..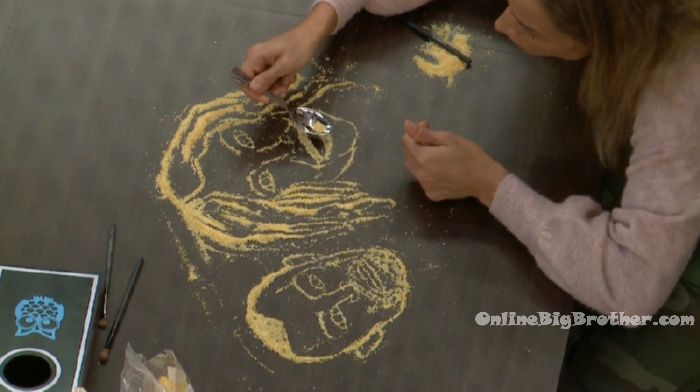 10:42pm Lounge room. Tom and Natalie. Tom – we need to do a 5 way snails McGails and then say Team Fun. Natalie – yeah! Natalie runs out of the room. Kato joins them. Kato – so here is what I think is happening. They're trying to see about the rules or something. This is weird. Kandi is going to come in next ..I guarantee it. Something very strange is going on. Joey went into the diary room for awhile ..after not being called. And then they called Ryan immediately after. Something strange.. Big Brother switches the feeds.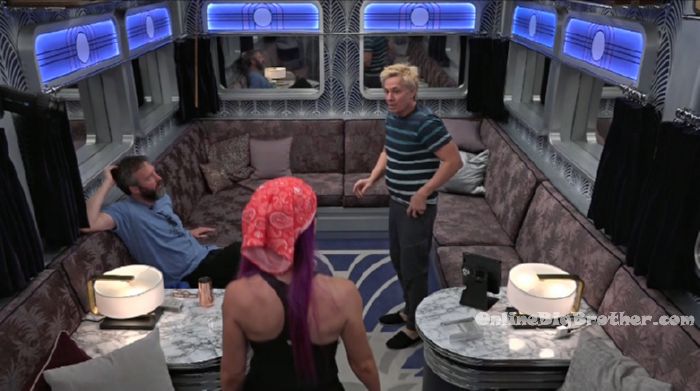 The feeds switch back to the lounge room. Tom – they're going to fight pretty hard for this veto.. as we are. Natalie – we will be okay no mater where it falls. Kato – we have to decide tomorrow for sure .. if its Dina off the block .. or Ta-Ta. It really doesn't matter. Tom – it also depends on if Ryan wins the veto or not. Then we have to match him up with whoever would get less votes than him. Lets just count the votes. Natalie – 7 people are voting tomorrow. We have 4 of them. So it doesn't matter .. those 3 .. f**k'em! Kato – is there any possibility of Dina and Ta-Ta still up there? Tom – yes, if Ryan wins the veto and doesn't use it. Kato – oh god. Then what do we do? Tom – then we all vote to send Ta-ta home I guess. Kato – then I need to tell Dina that. Natalie – not until we see what happens with the veto. Kato – we're still in a really great power position. Natalie and Tom agree. Natalie fist bumps them and leaves. Kato – I want to get Dina in here and let her know whats going on. Tom – No, No, no… poker face. We don't know .. she sleeps beside them.. they get talking.
11:43pm – 11:50pm Backyard. Tom is talking to himself and says that he is going to take a break from cereal box osprey because he is questioning whether or not its a good thing to be doing. Whether or not doing that is a sane thing to do. Having a couple boxes of froot loops in each hand and flapping my arms like a bird. There is no way that is a smart idea.
Click here for your CBS All Access – Live Feed 1 Week Free Trial!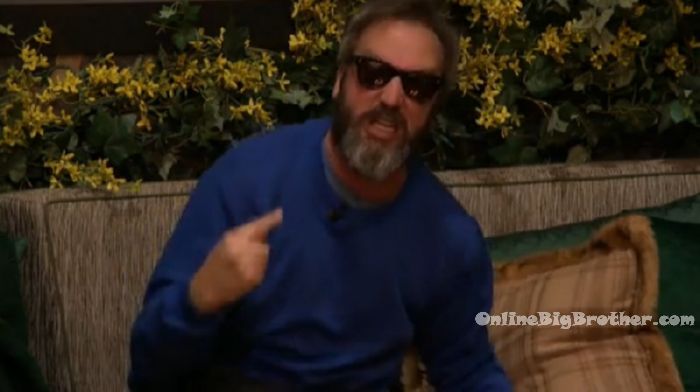 12:24am Ryan and Joey studying the features / colours / count of things in the house. Ryan – we have no choice we have to win the veto. Joey – we have to win EVERYTHING from here on out.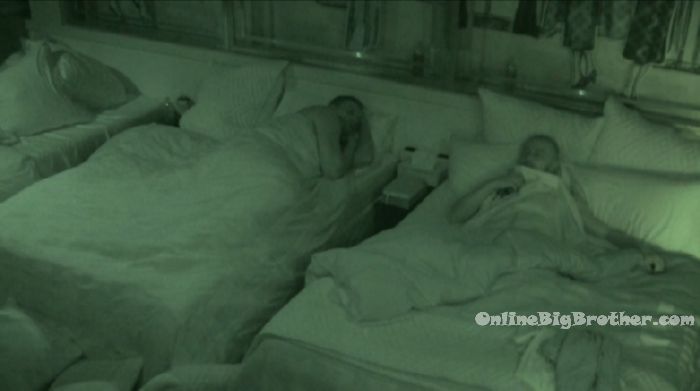 Support the site and purchase your Amazon goods through our link below. It doesn't cost you anything and we get a small commission off your purchase.
Amazon Canada
Amazon USA