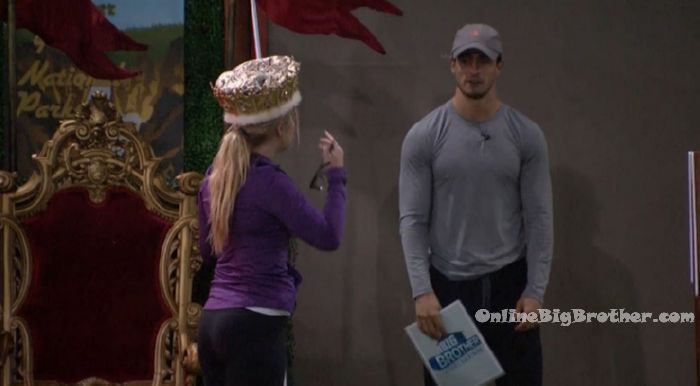 HOH WINNER: ALEX
11:30pm After Alex wins Monte crowns her. Monte tells Alex congratulations! That was huge. I was nervous there for awhile, I thought Justin was going to get it. Danielle is up. Alex – she is done! Monte – her and Justin are UP! Alex – I'm so glad the head of household is mine!! That was literally my motivation. Big Brother blocks the feeds and then opens the door to let the house guests back in the house.

11:32pm In the bathroom – Justin congratulates Alex on winning. Justin leaves. Jason congratulates her. Alex – thanks, I hope my boyfriend is proud of me. I was thinking of him the whole time. Jason leaves. Shelby talks to Alex. Shelby asks if Alex made a deal with Neeley. Alex – I didn't make a deal with her. She just said she would keep me safe if she won. Shelby – are you going to keep her safe? Alex – yeah. I've got bigger fish to fry! Morgan joins them. Alex asks are you proud of me? Then hug. Morgan jumps around all happy. Shelby – I don't care about being secretive about it…. the lines are drawn. I don't care. Monte – we need to. Power can change like this in this game. Screw all of them in there. They were so obvious they wanted Justin to win. I wanted to tell Justin to shut the hell up. Morgan – that's what you get for dancing around. Monte – I freakin hate him. I want to see him out of this game. I've had enough. I'm tired of him down grading women. I've got two sisters. F**K HIM! Shelby – did you hear the b***h sucked my d**k story. Shut your f**king mouth! Neeley and Kryssie join them. Alex tells Neeley she is safe this week.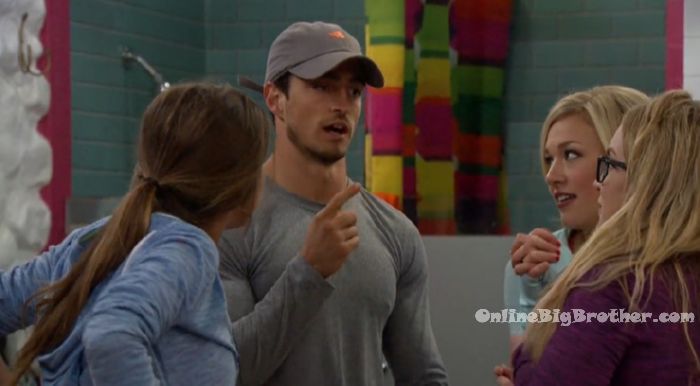 11:35pm Storage room –
Jason, Justin and Scott. Jason – its going to be us again. I'm cool with her but I know she's going to do what the other girls want and what Monte wants to do.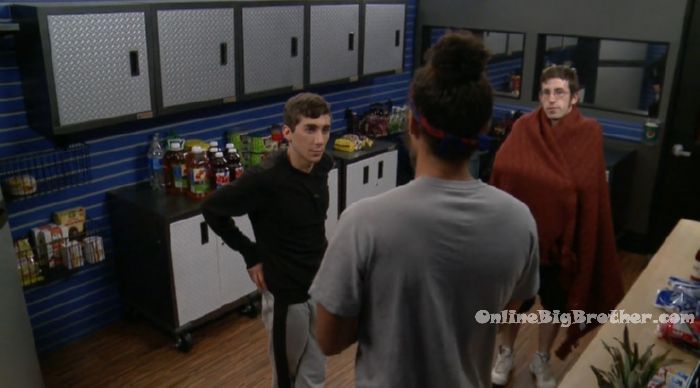 Watch the BBOTT Live Feeds FREE for 1 WEEK!
Click here for your: FREE Trial!
11:40pm – 11:50pm Storage room – Shelby and Alex do a happy dance and Alex sings "THEY ARE SCREWED! THEY ARE SCREWED! THEY ARE SCREWED! THEY ARE SCREWED! THEY ARE SCREWED! THEY ARE SCREWED! THEY ARE SO SCREWED!! Like they are literally so screwed. They can come talk to me all they want but… Shelby – Neeley didn't take the deal. She didn't drop. Alex – she didn't take the deal. She gets one night up there. Shelby – it will be so interesting to see how loyal Scott gets after this. Alex – I was listening to hear who people were cheering for. Shelby – you don't have to let me sleep up there but I want to be up there .. I don't even like anyone else in this house. Alex – you can sleep up there. Shelby – thanks, you were a beast!!! I'm excited for people to be nice to us. Shane was one of the first people to drop. Alex – I know.. he is obviously not that big of a threat. Shelby – GOD YOU ARE SUCH A F**KING BEAST!!! You have to tell her (Neeley) she didn't take the deal. Alex – I will. I don't even want to go talk to these people. Shelby – worst case is if America puts one of us up as America's nom. Alex – please do not put Shelby, Morgan or Whitney! Shelby – Scott will vote with us I think. He told me he wants us. He is playing both sides. Right now you've got 5 votes. Alex – I think I can get Kryssie and Neeley to vote with us too. Shelby – at least half the stuff that Jason was yelling out I was whispering to him. Whitney joins them. Alex – please America don't nominate one of us. We can KILL THIS GAME!! Whitney – Neeley is for us girls running this game.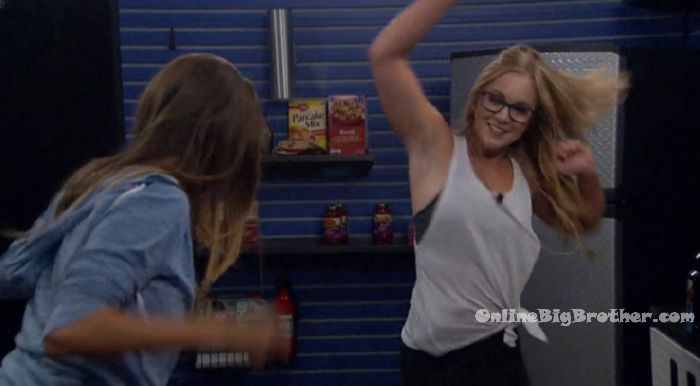 12:10am Storage room – Scott congratulates Alex. Scott – you can't give her (Neeley) one of your nominations. Alex – no, she didn't take the deal. Scott – good. Alex – That was a freaking good deal. Scott – it doesn't even matter if America puts one of us up. We have the votes. Alex – so you're voting with us? Scott – yes, I'm doing whatever you guys want. We have 5 of the 4 votes. Whoever you want out, we will get out. They high five. Scott – all you need is me, Monte and the three girls. The second person to win HOH has never won the game. They also say the first person to walk into the house never wins. I was the first person in the house. Curse breakers! Alex – no one cheered for Neeley until after Justin dropped which tells me she is at the bottom of the totem pole. I'm not here to float through the game. I'm here to make big moves. Scott – I'm just so proud of you.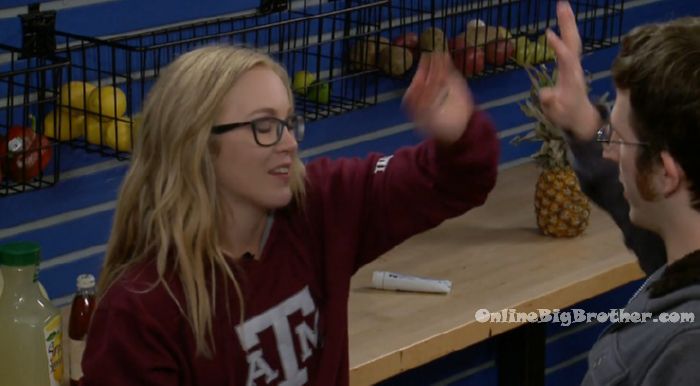 In the bathroom – Justin – I need to win the veto because I know they're coming for me.
Storage room – Scott tells Monte – I've already run the numbers we can get out whoever we want this week. We have the numbers. Monte – its over! Scott – did you notice how I was cheering for Justin? Monte – yeah.. I was like dude you flippin? Scott – no, just in case Alex lost. I didn't want her to get f**ked. But of my god! It's so f**king good. I love this game! I'm willing to do whatever Alex wants. They leave the room.
12:15am – 12:30am Bedroom – Monte, Whitney, Shelby and Morgan are talking. Alex – Shane was eaves dropping on us. Monte – I don't trust Shane. Alex – that group.. Danielle, Shane, Justin are the targets. I don't know who in the group but the three need to be worried. Monte I hope all three get put up. Alex – can we start begging? (for America to put one of the three up.) Monte – Danielle is so conceited. I don't find her attractive at all. Monte – I'm about to win that POV. If I'm in it I'm going to win it. Alex – we need to do this to turn this game around. Monte – Neeley likes me. Me and Morgan will work on Neeley. America thinks I'm the biggest genius right now. Justin and I are polar opposites. You can fool the girls but you can't fool me. You're playing a game .. running around listening and sh*t. He is the biggest brown noser. When I was HOH, he stole my jerky. I hated Justin the moment I started talking to him. Shane is feeling safe just because he talks to me. We have to be careful of Scott, I don't trust him.
Alex – my gut instinct is to put up Shane and Danielle. Monte – Let America put up Danielle. They tell him America won't do that. Monte – we could have gotten Danielle out.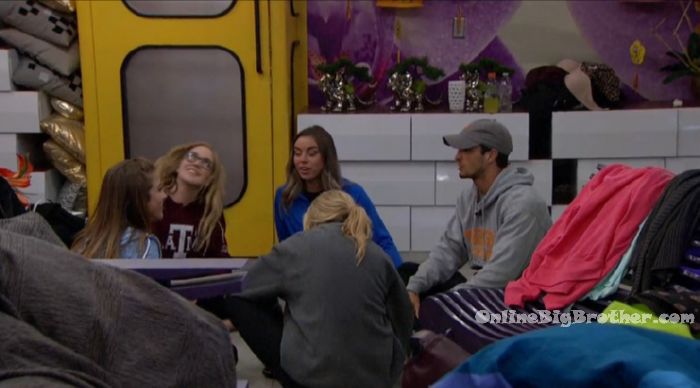 12:50am – 1am Scott explains to Shelby how they have the votes. Shelby – if you flip… Scott – I'm not flipping on you or Alex. Scott – we just have to make sure she doesn't put up a big threat and then she go out next week. I'm not down with that. Scott – this is a fun a$$ game! You're going to be a havenot probably ..so eat a lot tonight. (First HGs to drop out of the HOH Competition)

Shelby tells Monte about how Scott was telling her about Cornbread fingering her and calling her a b***h when she left the room the other night. I want to ask Alex why she didn't tell me about it. I don't know Scott is just trying to plant a seed. Monte – I don't trust him. Monte – as long as she puts up two people from the other side. Not Kryssie. As long as its someone like Danielle and Jason. America will probably put one of us up.
1:30pm Alex is in the diary room. All the other house guests are laying around chatting and joking around.
2:15am Bedroom – Alex – I want the food and the bed .. everything else I don't care about.

3am – 4:40am Lounge room –
Danielle, Shane, Justin, Jason, Scott and Kryssie are hanging out chatting about random things.