POV Holder:
Liz
POV Competition
Aug 15th
POV Used
?
POV Ceremony
Aug 10th
HOH
Liz
Next HOH
Aug 20th
Original Nominations:
Johnny Mac and Becky
After POV Nominations:
? and ?
Have Nots
Vanessa, Johnny Mac, Steve
2:38pm Austin and Liz HOH
Liz – Wheres Julia
austin – umm Sleeping
Liz – you going to work out with JM
Austin – last work out buddy left they all dropped like flies
They are hoping they can use "Mac" to win HOH nominate the gremlins and Backdoor Vanessa. (ZONG!)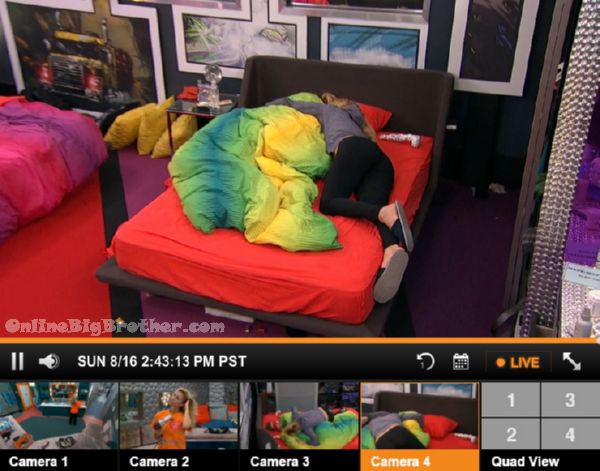 2:43pm Liz tries to wake up Julia using James' tin foil d1ldo
Liz – "It's 2:30 b1tch"
Liz – You pinch my nose and you get mad at this Dick slap
2:58pm I had a dream there was Zombies
Basic twin/Austin banter
3:03pm Jmac and Austin working out
[envira-gallery id="128769″]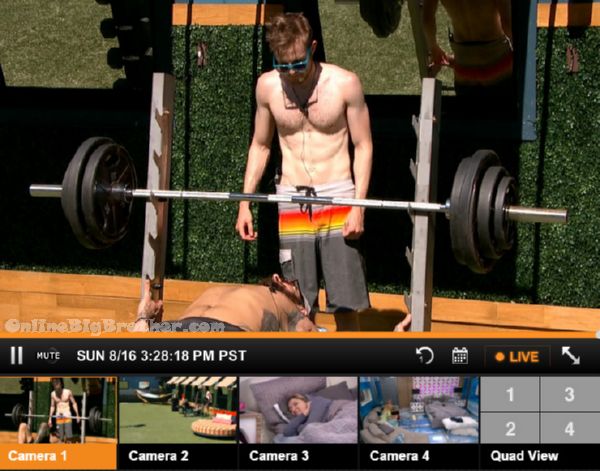 3:16pm HOH Vanessa and the twins
Vanessa pushing for Becky to go this week.
Vanessa – She' the high school cliche type of person she give you the cold shoulder if you're not close to her
Julia says Meg doesn't like Becky
Liz is happy how this week turned out she doesn't have to change the nominees
The twins ask Vanessa who she would like to come back
vanessa – Shelli by Far
Vanessa proposes that they should all make a deal the person that comes back they get out right away.
Liz – If Jackie comes back meg and James will do whatever it takes to keep her
Vanessa – Ya it's a bullshit deal
Liz – we gotta do what keeps us safe
Vanessa – I really really think next week we go after the other side, We can control Jmac better he's a extension of Steve
Twins talking about getting Becky out "You've won 10 thousand it's time for you to go"
They make it clear they want Becky out. Julia highlight how Becky is targeting Vanessa.
Becky joins them They start talking about Last season. (BB16 was the worst season ever)
[envira-gallery id="128774″]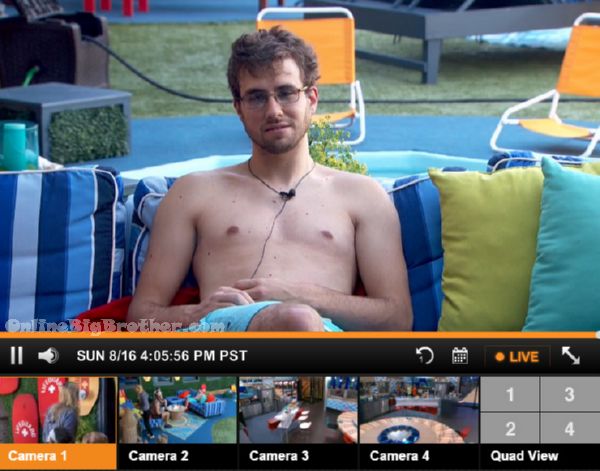 3:59pm Austin and Steve
Austin saying they made it further in the game than he thought.
Steve agrees says they are the dominate alliance this Season.
They start talking about Season 8 and agreeing Dick would not have made it so far if Eric was not America's player.
JMAC joins them.
They go over all of Evel dicks nasty things during season 8
Austin – the show would play it up as a comedic thing
Steve – he would go into the Diary room and ask permission.. they would warn him and they would give him rule.
Austin – it's smart
Steve fdoesn't think dicks strategey would have worked if America's player want' on the game.
LIz joins them "It's HOTTTTTTTTTTTTTTTTTtttttttttttttttttttttttttttttttttt"
Austin – you just missed an amazing workout
4:25pm Sunday Banter (Austin and James are pro irish Springs the girls are pro seventh Generation. Steve aka BOY is pro seventh generation it's a Freudian thing don't ask.)
Austin – Seven generation and they still can't get it right. Irish springs 12 hours it's good for
Austin – Irish Springs don't use it in your eyes
James rubs Irish springs in his eye. It doesn't feel comfortable you can tell. See gif below.
Austin – Irish spring don't use it in your eyes
joking around between Seventh Generation and Irish springs.
"Irish Springs feel the burn" #BB17 @DawgsBigBrother pic.twitter.com/cRmQ0hMUAi

— OnlineBigBrother.com (@bigbspoilers) August 16, 2015
4:34pm Kitchen Kitchen Twins and Vanessa.
Julia – I'm really mad Liz I'm going to yell at him, You're on national television and he's giving you Hickeys
Julia – I haven't gotten a hickey since middle school since highschool it's inappropriate.
Liz – I know
Julia – What is he doing I'm really pissed
Julia- I'm sorry i'm looking after you
4:39pm Shark and the twins
Julia is freaking about Austin given her a hicky "Is he in mother f****g highschool.. the girl with hickey's look like their slut"
Julia – the first one was hilarious it's really disparestful now
Julia – we're on national television and you have a hickey on your neck
Liz – I know that bro what the f**k
Julia – they will play that stuff, think about Mom and Dad
Liz- I KNowwwwwwwwwwwwwwwwwwwwwwwwwwwww
Liz – whatever I'm not going to lie to you I kinda do like him
Julia – Liz I know you like him I like him too he's a great guy I don't want hickey's on your neck
Liz says she was embarrassed about it at first but she likes him
Julia says Jeff wasn't a great guy Austin is a great guy she just doesn't want Liz to be portrayed as a slut.
Julia calls Austin over.. "Sit down"
Austin – it was an accident I'm sorry I won't do it again
LIz and Julia both are pissed at him for giving Liz hickey's "Hello it's so immature "
Austin – Hello. It's a weird environment
Julia – It's disrespectful
Liz – do you have any respect for me
Austin – Liz please do you think I have no respect for you
Julia and Liz tell him it was funny the first time but after that it's getting weird
Julia- Mouth away from the neck
Austin – since i've been 18 I never gave a girl a Hickey.. I don't know YOu have a really nice neck..
Liz – You've given me two
Julia- Not now we're on TV
Liz – NO MORE
Julia – no more marking your territory
Julia suggests Liz gives Austin a hickey see how he likes it "Eye for an eye"
Liz – Under the covers
Kulia — is this when all this happens under the covers jesus.. it's really not that bad but you can tell.
They finally agree no more hickeys. (We learn that Liz likes Austin. )
[envira-gallery id="128789″]
4:50pm Awwhh summer

ALLIANCES:
Goblins/Gremlins = James and Meg
Generals = anyone allied with Becky
SOS = Steve and Vanessa
Rockstars = Steve and Jmac
AUS-Twins = Austin, Julia and Liz
"Brass Tacks"  Gobins and Austwins
The new "Brass Tacks" = Aus-Twins, Meg, James + Vanessa
"Freaks and Geeks" "The Scamper Squad" – Aus-Twins, Vanessa, Steve
[polldaddy poll=9025485]