POV Holder:
James
POV Competition
Aug 29th
POV Used
Yes
POV Ceremony
Aug 31st
HOH
Vanessa
Next HOH
Sept 3rd
Original Nominations:
Meg and James
After POV Nominations:
Meg and Julia
Have Nots
Johnny Mac, Julia, James, Meg


2:20pm In the havenot room – Meg and James are talking. James says that Vanessa has been saying you can't trust James because of what he did to Jace but that was the first week when we didn't know anybody. Meg says but look at who's here now, you're going to be the only one left that had any part of that. Meg says that she told Austin she didn't want to walk out without any regrets. I said I know you're feeling like you're in an awkward position but you have a vote just like anyone else and you came in the house along. Then he said I know there's going to be a time when I have to vote one of them out but I feel like its too early in the game. I feel like I am really worried what will happen with Liz and me after all of this. James asks if he votes Julia out? Meg nods and says after the show. James says sh*t. Meg says so I didn't even go into it. James asks what do you think he meant. Meg says that he is more worried about their relationship after if he votes out Julia. James says oh sh*t. Meg says I said just looking at your game you're going into next week with a huge target on your back. I said you have to realize that you're part of a threesome and that Vanessa is seen as a part of that. Meg says you've got to win this week. James says yeah but its going to be a crap shoot. Meg says or you have to win veto. James says that is why I said to get a feel for it and if you get a bad feeling then pull out. Meg says I know either he was going to be down with it or not. Meg says I am already out the door in my head. I will talk to Steve because I feel like I deserve him the respect to do that. James says if Austin isn't on board with it then there's no point. It kind of pisses me off because I talk to Johnny Mac about it and now he has a piece of evidence. Meg says that doesn't matter, you didn't say anything bad about him. You just said it would be really smart for his game. You didn't say that Austin said anything. James says yeah that's true. I hope Vanessa doesn't use it against me. Meg asks what does she think you're going to do, sit back and let me go?!
Watch the NEXT WEEK of the Live Feeds for FREE! Click here for your: 1 Week Trial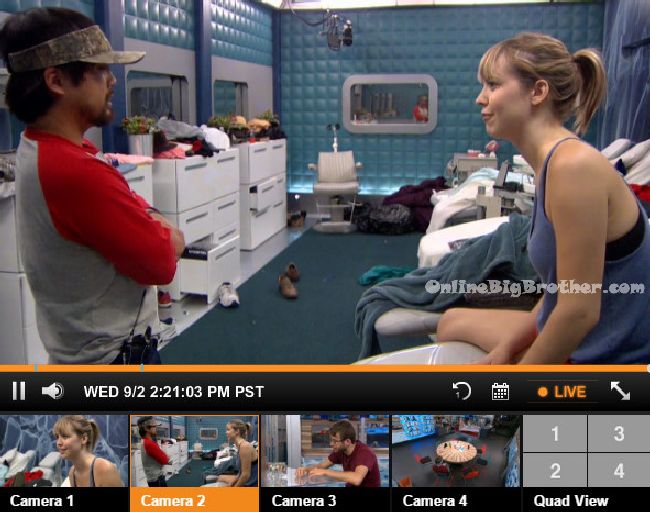 2:25pm – 3pm James I am just going to lay low. I know I am probably going to get thrown up if the whole house is working together. If my face pops up, I'll know what the deal is. Meg says I think they're going to try and backdoor you. They know if you see your name on the wall you're going to fight even harder. James says it depends on who is HOH. Johnny Mac won't put me up. Steve will. James says I know Austin has just been trying to butter me up in case I win and if I don't he won't talk to me again. James starts packing his things in case there's a double. Meg laughs you're going to have your things packed for the next two weeks. There won't be a double tomorrow. James says probably not. James says that Austin thinks he's so safe with Johnny Mac… but from my talks with Vanessa she said there are going to be some big changes this week. Unless Julia, Austin or Liz win HOH. Meg says you're really good under pressure. James says my whole life I've been under pressure. Meg asks you going to help me pack tonight? James says yeah I'll pack your goodie drawer. What am I going to do when you leave? Meg says the good thing is there are many days left. Meg tells James he is screwed for the days comp. That's why you need to win this crap shoot. James says I'll need to make deals this week. James says Steve is not putting Johnny Mac up or the twins. I am going up for sure.
James tells Meg to say in her speech if you don't want to sign that 500K check over to Austin & the twins y'all need to do the right thing. Meg says I can't say that.
Meg says I think I'll say:
"I lost a lot of friends in the game and it reminds me that you're playing this game as an individual so when you go into vote today remember that you're playing the game as an individual and it doesn't matter… Some thing like that.
2:45pm – 3pm HOH room – Austin joins Vanessa & Johnny Mac in the HOH room. Vanessa says that he was good at it. Juju was too. James was but he throw too hard. Austin brings up his talk with Meg. She said if I was up on the block next to Julia it would be dangerous. That I would be a big target if she goes. Vanessa says its more like the twins would be targeted over you. She was even painting it like if one of them come down I would be the backdoor target. Vanessa says if its you or Julia you have my vote. Austin says thank you. If they go after the three of us I would be reasonable to work with the next week whereas either of them would not be. Vanessa agrees. Austin says its almost like she is leading what James might do. Vanessa says James is someone you don't want to work with because he is going to win. James is the most likely to win of everyone here… he has a kid, he's won the most comps, made the biggest moves in the game, the most likeable funny guy, he's got it all .. and the most friends in jury. Wouldn't Liz kill you. Austin says there is no way I would do it. I would look terrible on television when I don't have to make the move. I'm not being forced to do it. It would ruin my relationship. If it was in the final 5 and it would help me win the game then maybe we could talk. Vanessa says I am willing to talk it out with you if you need someone to talk it out with. Steve joins them. Johnny mac leaves. Austin talks about his girlfriend outside the house and how they used to fight a lot about things that didn't matter.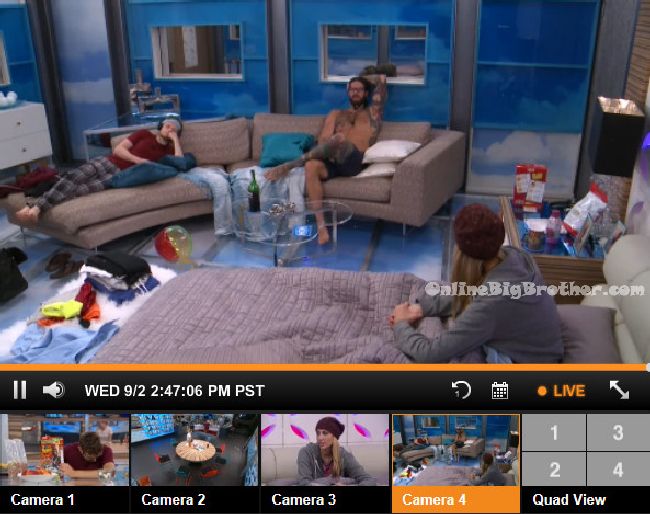 3:05pm – 3:25pm Comic bedroom – Liz helps Julia create a speech for tomorrow night. They go over different points for her to say. Liz keeps correcting Julia.
"First of all I want to send love to my family – mom, dad, Angela, Nana. I love you guys so much and I miss you more than words could describe. And of course to my better half as mentioned by Zingbot .. Liz! I walked into this house 78 days ago pretending to be another person and that was the greatest challenge for me in this game. I won the minute I was able to come into the house as Julia and getting to know each and everyone of you as myself. I have a lot more fight left in me and I've got to prove ZingBot wrong. So I would truly appreciate your votes. Thank you.."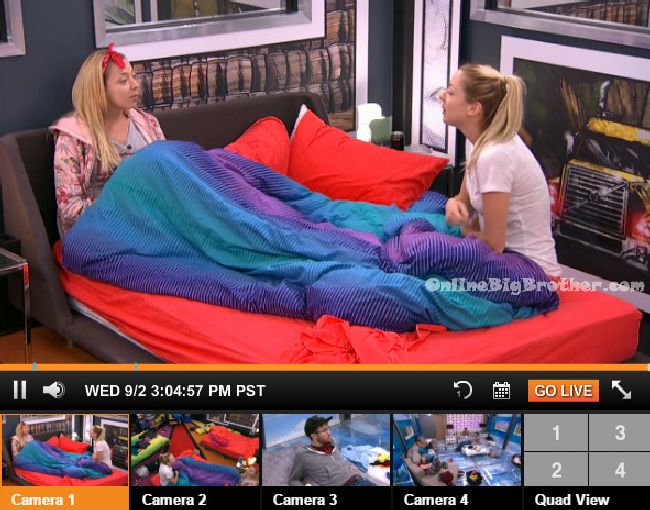 3:15pm – 3:30pm James and Meg are talking in the bathroom. They talk about the final veto and how you can save yourself and one other person. James says I could create some loyalty with that. I would never use it on Julia because she would never keep me. James says I think I would put up Johnny Mac again. Meg says he needs to go. James says Steve needs to go too. Everybody needs to go!! Meg laughs. They head to the kitchen.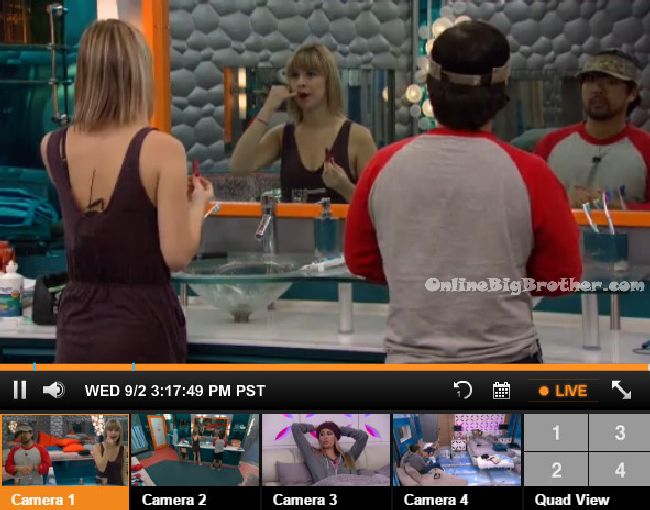 3:30pm – 4pm Austin is talking about having a girlfriend coming into the house. He says that her and I knew it wasn't working but her family didn't. So now they have to see this. Vanessa tells Austin what you can do for her is be the bad guy. Don't try to come out of this squeaky clean. Austin says he wants to talk to her when he gets out but doesn't know if she will want to. Austin says that no one understands what its like being in here. Being in here I became more self reliant and I decided I knew this is what I wanted to be with Liz. Vanessa says you're going to have to come out and do a bit of a PR campaign. Austin says the best thing about Wrestling is it doesn't matter if you're loved or hated. Vanessa asks if his girlfriend signed a waiver. Austin says she did. Austin says that he hopes his relationship with Liz developed in a sweet nice way on the show and that we're not hated. Vanessa asks did you live with her? Austin says no. Vanessa asks would you want to live with Liz? Austin says yes. Vanessa says that's huge. That should tell you something. Austin says he's never lived with a girlfriend before. Steve leaves.
They talk about the finals. Vanessa says that she think one of the twins will be at the end. One of the three of you for sure will be. Austin says it depends on what people are thinking in terms of the break up of the team thing. Vanessa says you can influence that a lot. If you can do that people will understand it because they don't want to piss off 3 people. Austin says of the three of us I would be the one that wouldn't still be pissed if we were put up. Vanessa says if I was off the block I could make good arguments for you to stay and I think I could make it happen. Austin says I don't know what the twins would do without me or without your advice they would be lost. They are always shocked to find out someone lied to them. What do you expect we're all here for the money. Vanessa tells Austin he needs to win HOH. Austin says I still have people to protect. Vanessa says its better for you if they're still here. If we got to the top five and you threw it to Steve or I you could throw it to us and we could do it (take out a twin) for you. Austin says if he won HOH he would put up Steve and Johnny Mac with James as the backdoor if he didn't win veto.

4:10pm In the bedroom – Julia starts packing her bag.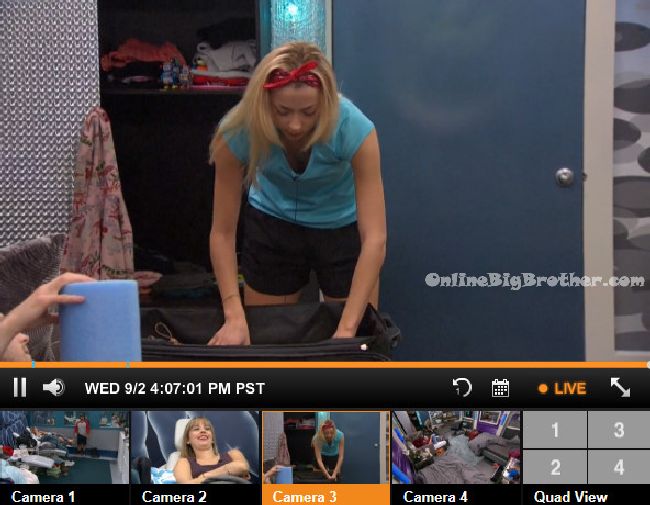 4:05pm – 4:45pm James says hopefully people just suck at it (HOH comp)… everybody but me. I think a lot off people are going to throw their balls off the first time. Meg says thats why if its a knock out comp, just go safe. James says I just can't crack under pressure. Meg says there is no way Steve will flip hes scared. James says everyone in this game is scared to make a move. Lets make a big move, lets make something happen. Its late in the game, you've got to make a big move. James says I guarantee you the first one to go out of their group .. it won't be the twins. Meg says she thinks its going to be either Steve or Johnny Mac to make it to the final 2. James says and then me or Austin. James says if I was about to go out it would be a fight to the death. Meg says I don't know what else to do. I feel like there isn't anything else left to do. Meg says Julia hasn't had to do any campaigning all week. James says everyone did it for her. Meg says I don't want people to think I'm not fighting. James says people on the outside don't see some times there's no options left. If they knew I was going to win HOH .. things would be different. Meg says she hopes he wins. James says I would have reasons to put people up too.
Try the Live Feeds FREE for 7 DAYS! Click here for your: Big Brother 17 FREE Trial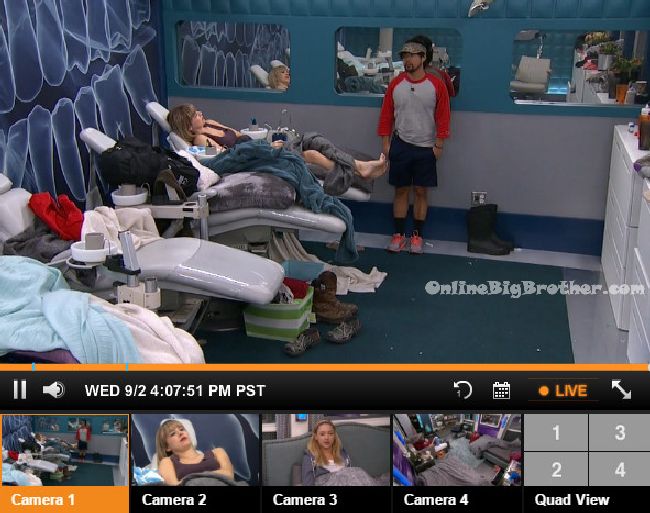 Sneaky Sneaky @bigbspoilers #bb17 pic.twitter.com/r3M758TQFH

— Dawg (@DawgsBigBrother) September 2, 2015

4:35pm – 4:45pm Austin and Johnny Mac start a game of chess. Steve brings up his food to watch. Austin gets called to the diary room.

If you've enjoyed the spoilers please consider a donation using the drop down box below. Simon and I work 24/7 all season long to keep you updated on everything that happens inside the Big Brother house.
ALLIANCES:
"Goblins/Gremlins" = James and Meg
"The Generals" = anyone allied with Becky
"SOS" (Students of Sound) = Steve and Vanessa
Rockstars = Steve and Jmac
AUS-Twins = Austin, Julia and Liz
"Austin's Angels" = Austin, Liz, Julia, Vanessa
"Brass Tacks" = Gobins and Austwins
The new "Brass Tacks" = Aus-Twins, Meg, James + Vanessa
"Freaks and Geeks" "The Scamper Squad" = Aus-Twins, Vanessa, Steve
"The new Freaks and Geeks minus Vanessa" = Austin, Liz, Julia, Steve, Johnny Mac
"The Authority" = Austin, Liz, Julia, Steve
[polldaddy poll=9046808]