POV Holder:
Nicole
POV Competition
Aug 27th
POV Used
NO
POV Ceremony
Aug 29th
HOH
Nicole
Next HOH
Sept 1st
Original Nominations:
Paul AND Big Meech
After POV Nominations:
Paul AND Big Meech
Have Nots
Corey and Victor
Care package
Corey
Watch the next week of the feeds for FREE – 1 week Trial!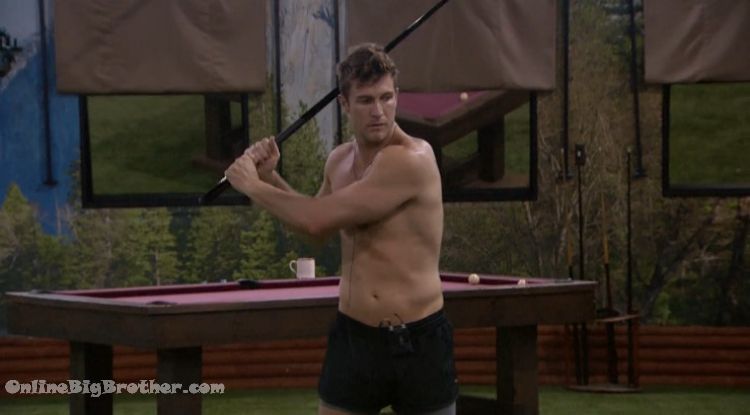 8:11pm Pool Corey and Vic
Victor thinks they're will be no more have nots on Thursday because it'll be something they'll want to say on the live show.
Vic asks Nicole if the final have nots on her season ended on Thursday.
Nicole says they did but their have nots ran thursday to thursday
Vic – that would be dope.. I wouldn't bank on it
Corey is equally as happy.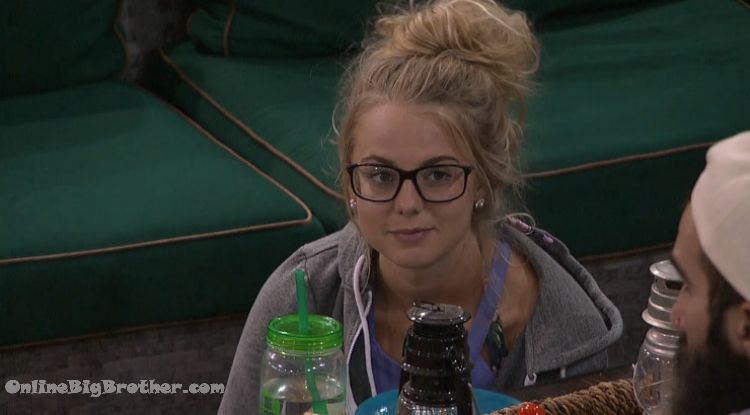 8:32pm Paul and Nicole join them..
Paul – I was up until 6 with Meech.. We talked about stupid sh1t but she did ask about what's going on this week..
Paul adds that he said he hasn't heard anything he thinks he's going home. Meech was shocked by this and told him heshe wants to know who's going home so she'll know what dress to wear.
Nicole points out that nobody have asked her about what is going on. .
Paul says Michelle thinks in her gut that Nicole and James have a deal.
Nicole – that's crap.. She's trying to instigate things with me before she goes.
Paul says Meech is claiming that James and Natalie never talk to her about what's going on
Nicole says "those three" talk all the time
Nicole is shocked that none of those three have talked to her.
Nicole – all James said to me was does Paul know you aren't using the veto..
Nicole – I can't believe he hasn't asked Corey
Nicole – Paul, let me know if you've heard anything..
They talk about how Michelle has made it "Obvious as sh1t" that she's targeting Nicole. She's said it in 3 speeches called Nicole a snake.
Paul – If I win that HOH they're done… if Vic wins they're done..
Paul brings up Michelle telling him all he does is hang out with Nicole and Corey. Paul mentions how insane this is as that side of the house tried to get him out last week.
They both feel good about being "on top of the situation"
Nicole thinks James and Natalie aren't talking to her because they know Michelle is going and they're going to play dumb.
Victor and Corey having done their pool game sit with them.. They go over the reasons why James, Natalie and Michelle haven't talked to anyone for votes.
They agree their (James/nat) votes don't matter and if they all vote Meech out they'll lose a bit of Respect for James and Natalie. .
Chit chat about the season having laughs..

8:41pm Kitchen Natalie and Michelle
Eating a watermelon.. Talking about the tan Natalie got today etc..
Michelle – has everyone been up all day pretty much..
Natalie – I've been up all day..
Michelle – hopefully they go to sleep early..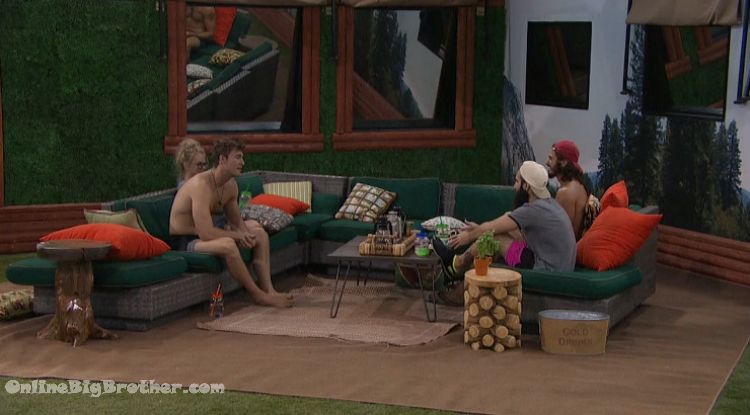 9:00pm Backyard FINAL 4
Talking about the season..
Victor impersonates Michelle when she was crying that Bridgette went home over her during the double eviction.
They talk about every jury member doesn't like James.
Vic – and he doesn't know it, that's what's funny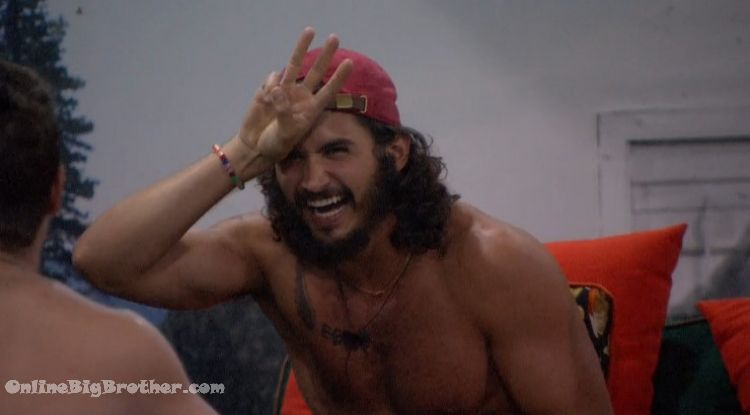 They tease Paul that if he sees this special hand signal he's in trouble.
Corey – you see this here that means a 4 – 0 vote..
Nicole and Paul head inside for food.. Victor and Corey have a good laugh at paul saying he's going to start campaigning to James and Natalie..
Paul comes back hears them teasing so teases back.. . "You better hope I don't win HOH.. you're going up next with James.. There's a strategic move he's trying to sell me"
Paul says if Natalie wins HOH he'll just laugh and self evict save them all the drudgery of the week.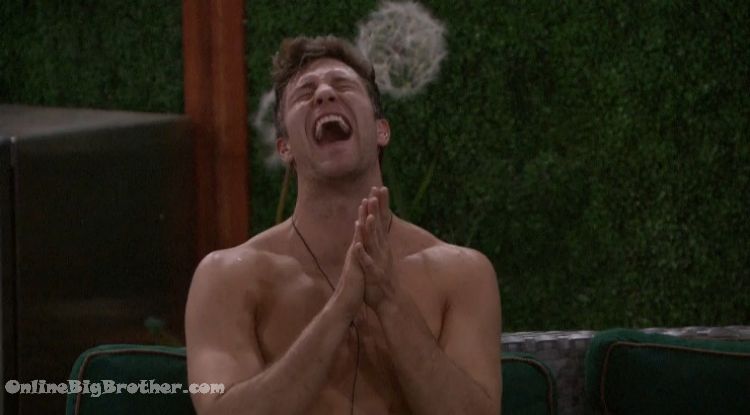 9:07pm Corey leaves, Victor and Paul talk about trusting Nicole and Corey till final 4. They will be going after James and natalie, "Fuc** them"
Victor and Corey #BB18 @DawgsBigBrother pic.twitter.com/hHsdlMSmo8

— OnlineBigBrother.com (@bigbspoilers) August 31, 2016
9:18pm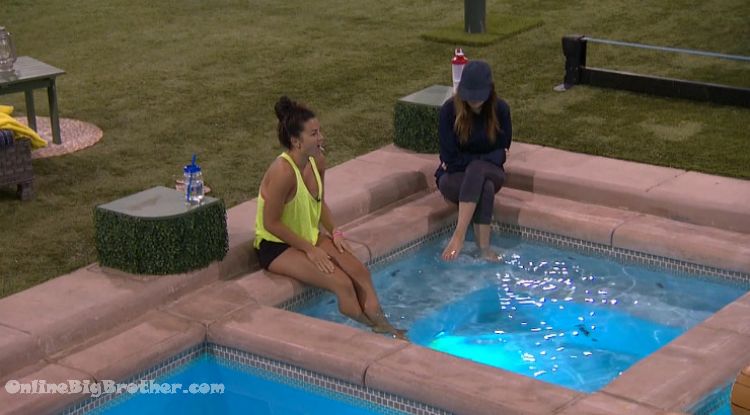 9:25pm Nataile and BIG MEECH
Michelle wishes she was a fly on the wall in the HOH.
Meech asks if Victor know what is goign on.
Natalie doesn't think they are telling Victor anything.
Natalie says if Meech goes home it's a waste of a HOH.
Natalie – the original plan with everyone has been to get Paul out.. you see hoe he chilled out so much..
Natalie about Paul – he hasn't even campaigned for a vote..
Michelle says she's not Going to bother with Victor..
Michelle says Paul is treating Thursday as he's going home. she adds that Corey never talks to her anymore he's always talkign to Paul.
Michelle says if Corey votes her out Nicole is the deciding vote. Natalie says Corey won't vote her out.
Nicole and Corey join them in the backyard..
Meech starts claiming she can hear talking..
9:28pm Bathroom Nicole tells Corey that Michelle purposely sleeps all day to avoid her during the day.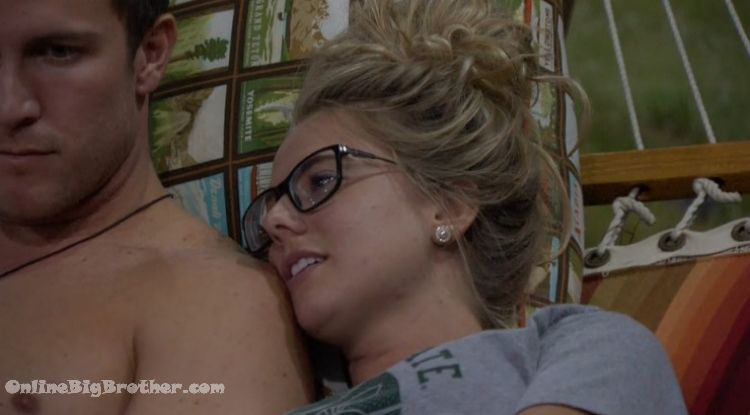 9:31pm Nicole and Corey
Nicole says Michelle is telling Paul she has a secrete alliance with James.
Corey says after James dropped off the wall he's become a different person
Nicole – timid..
They cannot understand why James hasn't talked to Corey about his vote.
Nicole doesn't think they can work with James moving forward he'll put them up if he wins.
Nicole is bothered by Michelle saying she's got an alliance with James.
Corey is thinking about giving the bribe to Nicole.
Nicole says that James and Corey were best bros in the beginning.
Corey – he's so far up Natalie's butt..
Corey says James doesn't go out of his way to hang out with anybody..
Nicole – I don't either.. maybe it's a vet thing..
Corey – hopefully they don't win.. and hopefully if they do Vic or Paul go home.. as long as it ain't us I'm fine..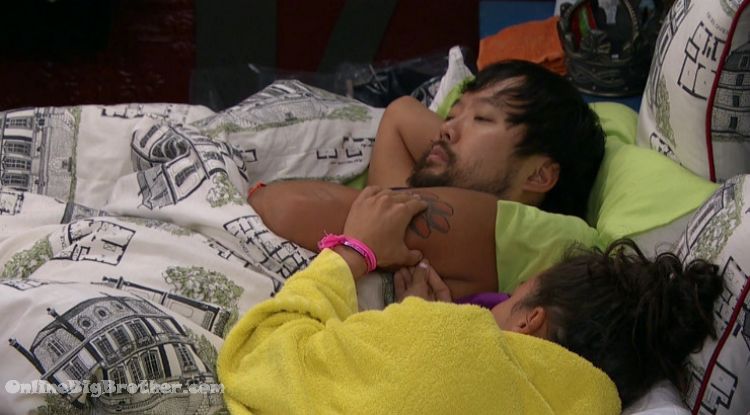 9:35pm James and Natalie
James is saying Victor is relaying back to them trying to get the target to swtich..
Natalie – it's annoying not knowing.. If Paul stays that means Paul and Vic are coming after me and you..
James – mmmhmmm
james- I'll ask Nicole tomorrow…
10:20pm London room Natalie, James and MEECH
James mentions Nicole might be close to Victor "She might be protecting him"
James says if him and Corey went to Victor and Pitched that the 3 of them need to stick together he would probably do it. James adds that Victor is a guys guy
James says the Nicole corey relationship won't work when the show is over. Corey will be "heavily influenced" by other girls when he gets out.
James adds that Corey has a lot of roommates and he's always talking about having girls over.
Michelle says Corey cheated on his girlfriend..
Feeds switch to the hammock.
When we're back.. Natalie is saying that Paul said none of the showmances will work after the show.
James says Hayden and Nicole worked out for so long because of Nicole, "She's like.. She's like natalie.. Like she's dedicated.. She's a good girl"
Natalie – that's how meech is too
James says HAyden got really athletic and got really fit. Girls really started hitting on him and he couldn't resist..
James mentions how over the last 2 years Hayden changed..
Michelle – his dad is the head of CBS radio..
Natalie – really ..
Meech – yeah she told me that
James- Hayden didn't want kids.. And she was talking about it..
James- she was talking about moving down .. and maybe he didn't want that maybe..
Michelle – she said it was mutual.. I think she was the more hurt one.
Natalie can see Nicole and Corey lasting
Meech – I don't Nat – I can see them getting married
Meech – Corey doesn't seem like a long term guy… just from the stories I've heard about him.. I think Zakiyah and Paulie have a better chance.. Really!
Nat – the chances of me and James lasting, I dunno he lives in Texas I live in New York.
They agree Corey parties a lot .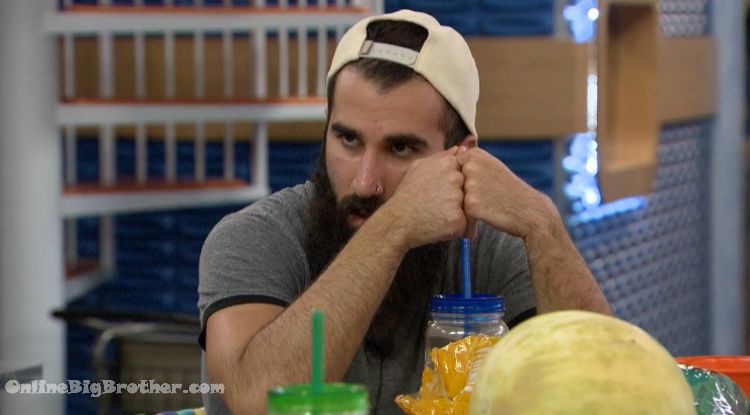 10:38pm Kitchen Paul and Victor
Victor – we should popcorn before and afters (study)
Paul – do with everybody (Final4)
Vic – everytime we go study with them.. It's later… later.. Later.. Later.. Lets popcorn in the safari..
10:55pm Kitchen Paul and Victor
Paul is saying if it's true/false and they get to a question that they are totally screwed on guessing they should have a single so 1 goes true one goes false.
Victor says he has to go with his gut..
11:06pm London room Natalie, James and MEECCh
Michelle bragging that she hasn't been up to Nicole's HOH since she got the room.
Natalie – you should go up there
Michelle – I don't like it
James – it feel awkward..
Michelle says Nicole never went up to her HOH or talked game to them
James agrees..
James brings up a past HOH when he did something strategically
James- smart games moves make smart futures..
Michelle says Nicole is lying she screwed Christine over Christine didn't screw Nicole over.
Michelle says Nicole screwed her over with the "Whispering comment" Michelle made.
Michelle says James told Paulie
Natalie – Oh James.. you see how every was kissing Paulie's butt..
Jame s- I thought we were all working together anyways..
James says he feels like something is up right now..
James- my gut feeling tells me if we don't win this HOH on Thursday we're f****D
James says his gut is telling him that Corey and Nicole are going to take Paul out.
James- I think they are goign to turn on us .. (the following week)
Meech – they are already turning on us..
James- no..
James – if Paul knew he wasn't going home they would all be hanging out 24/7 with them (Corey/Nicole)
Meech – they are aren't they
Jame and Natalie – NO
(ZOMG)
Natalie leaves to the wash room
James- hurry back babe so I can stare into your soul..
James asks if him and Nat have a shot.
Meech says they do because they are good people, she also sees Zakiyah and Paulie working out but not Corey and Nicole because of how Corey is towards Nicole.
Meech – whats your gut telling you about the bribe
James- I have no idea (The Oracle of Delphi AKA James' gut falls silent )
Meech – I wonder why Corey got it
11:56pm Meech and Natalie London room
Meech says she's seeing red she's so pissed at Core and victor.
Nataie says they will win the HOH don't worry
Meech – James should study too
Nat – he doesn't have a goo memory
Meech – he should try.. OK..
Natalie says it's dumb for Victor to study in front of everyone because it makes them want to study more
Show your support by making a donation.
Donations support this site more than anything. If you dig our spoilers please find a way to support us.