POV Holder:
Next POV
Aug 24th
POV Used
POV Ceremony
Aug 26th
HOH Winner:
Elissa
Next HOH:
Aug 29th
Original Nominations:
Current Nominations:
Last Evicted Houseguest
David, Nick, Jeremy, Kaitlin, Howard, Candice, Jessie. Helen
Have Nots
1:15pm Judd leaves the lounge room and Spencer tells Andy that Judd was just talking trash about Amanda just now before you came in. Spencer says that Judd knows that there were two people that didn't want him out. He knows I was one of them and he wanted to know who the other person was. Andy and Spencer laugh about how Elissa said her husband was so sexy. Spencer says he's ugly he looks like Mr. Bean. Andy laughs. I am so glad you are here so I can laugh at these things. Andy tells Spencer that we could vote out McCrae and keep her (Aaryn). Aaryn joins them and the conversation ends.
1:20pm In the kitchen – Elissa tells Judd just please if you, me, Spencer and Ginamarie can work together we can go far and get out Amanda and McCrae. Judd says yeah. Judd talks about ever since Julie said that the jury members weren't out of the game, I just couldn't stop thinking about it. Elissa tells Judd that she was the only one that was excited for someone to come back. Everyone else was freaking out. Judd comments that he likes Candice she is fun and always up to do stuff. He says but she really does like Howard, like really likes him. Elissa asks still even in jury. Judd says yeah.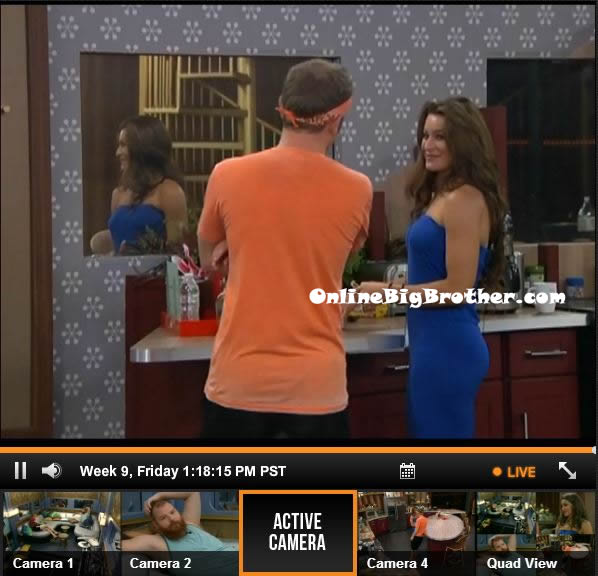 1:30pm – 1:55pm Up in the HOH room – McCrae is talking to Elissa. He says that Aaryn controls Ginamarie. Putting me up against Aaryn gives her too much of an opportunity to get off. If Aaryn get house guest choice or gets picked then Aaryn has two people voting for her. Elissa says if Gina uses it then she knows she will be the target next week for everyone. McCrae says I took the heat for you for the MVP that one week and I didn't even have to do that. Elissa says if I win the veto I would take you off. McCrae says Gina has a better chance of winning the veto than I do. Elissa asks so what should I do? McCrae says put up Ginamarie up with Aaryn and if she wins the veto, then you can put me up as the replacement. McCrae says if you put me up first you are risking me. Elissa says you have risked me every week. I know Amanda was convincing Aaryn to put me up. Elissa says Aaryn is way more dangerous than you are. I just can't risk a pawn going home. McCrae says we don't want that either. Elissa asks if Andy was a part of wanting me to go home. McCrae says no. Elissa says you have Amanda and Judd. McCrae says I don't have Judd, I voted him out. Elissa says Judd would vote out Amanda but not you. McCrae says that Spencer wants to break up me and Amanda too. Elissa says it doesn't matter I am putting you up against Aaryn. I can't risk Aayrn not going home. McCrae says that Gina talked mad sh*t about you last week. Elissa asks like what? McCrae says I don't want to get into specifics but they wanted you out bad. They hated you for voting out Nick and David. They talked sh*t about you having the blanket in the havenot room. McCrae sasy I am not trying to talk sh*t about Gina because she is a great person. McCrae says you need Gina up against Aaryn so that they are fighting for themselves and not each other. It's likely that the veto will be luxury were we don't know who takes them so they aren't going to play hard for it. If you don't put me up I am going to fight hard for it because I have volunteered to go up as the replacement so I will want to win it to not go up. If I go home this week, Amanda will be pissed and who knows what she will do. If she doesn't go up against Gina, then there is a really good chance she will stay and she is your target. Elissa says I don't know, I just.. I want to work with you. I just want a chance to play the game how I want to play it. McCrae says with me, you and Amanda we have the numbers, we just don't want to sacrifice that. Elissa says you're really smart McCrae and I will take what you say into consideration. McCrae says I am not really smart I think we just made good moves in the beginning getting out David and stuff. McCrae says okay I just wanted to talk to you, I just want her (Aaryn) gone really bad. Elissa says you'll get an opportunity to play in the veto. McCrae leaves.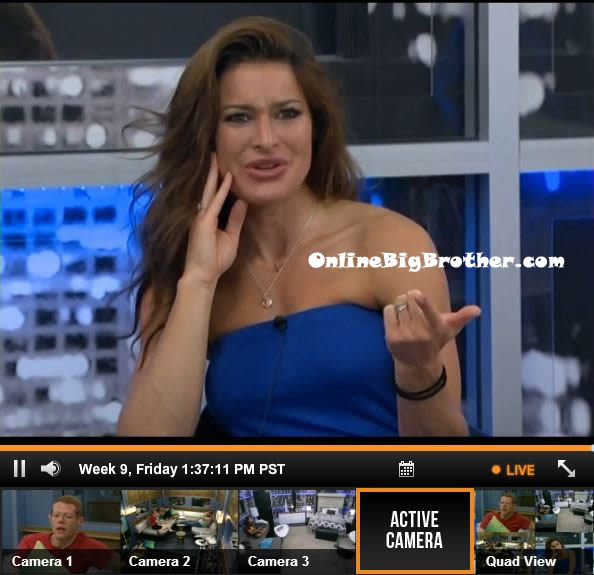 2pm – 2:10pm In the storage room – Spencer, Andy and McCrae talk. McCrae comments that he needs to upload new code into Elissa to get her not to put him up on the block. McCrae says that he tried to talk her out of putting him up there is no convincing her. Andy says that he was terrified being up there that if he looked at her weird or didn't compliment her yoga mat he was going to be put up on the block. Spencer brings up how Elissa said they bought a hockey rink and how their 12 year old has a car and can't even drive yet. They talk about how Elissa talked about her husband being hot but not in the same way that Brendon is hot. McCrae says he wanted to swallow a bunch of pills while talking to Elissa up there last night. McCrae says that Elissa wont even entertain the idea of putting you up. Spencer says why were you bringing my name up. McCrae says he wasn't, there is just no way she will put up anyone else. Judd joins them and they talk about the period blood sheets that he has to sleep in and how gross it is. You need to wash those sheets. Judd and McCrae leave. Spencer tells Andy that Aaryn is scared sh*tless. I still don't think that she is the target, I will know more after Monday when the veto is used. I think it is a plan for her to get closer to Aaryn to get out Amanda. Andy says that he is worried if he plays in the veto and has the chance to get a $10,000 luxury prize .. I don't want her to think I didn't play hard enough for the veto but that's half a years salary to me. Spencer agrees. Andy says to Elissa that is nothing.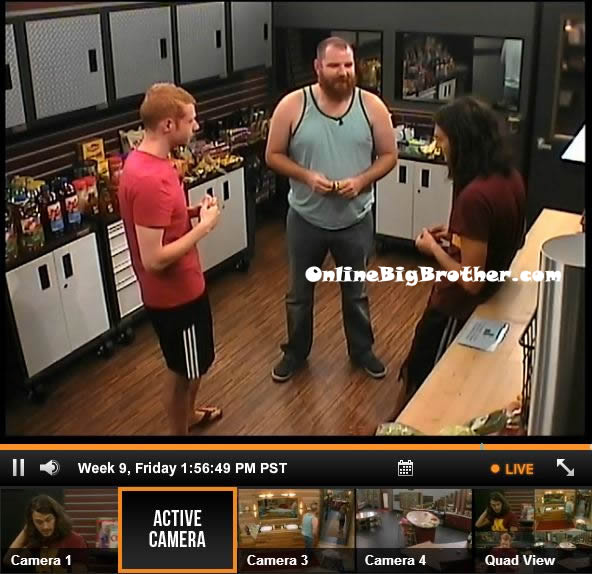 2:10pm In the rainbow room – Aayrn, Andy and Gina are talking. Aaryn says that anyone that I have stayed loyal to and protected doesn't vote for me to stay I will not vote for them in jury. I will pull a keeping a real with Candi. I don't care how many competitions they win, they can go f**k themselves. Andy leaves. Gina says well you got me and I tried to win the HOH. Gina says Spencer owes us after we kept him here over Helen. Aayrn says then tell him that, he needs to hear it. Gina says Amanda and McCrae need to go I am tired of them. I like them I am just tired of them kissing everyone's a$$. If this is the veto where we have to wake up in the middle of the night .. Gina asks oh like wake up and run out side to answer questions. I hate that sh*t. Aayrn says if she doesn't put me up and I don't get a chance to play in the veto and I get put up as the replacement, that makes me even more sick just thinking about it. Aaryn says it's amazing that I have 4 HOH and a veto under my belt. I don't blame people for going against me because if I make it to the end I would win. Gina says that's good. Aaryn says but I am not going to make it. Aaryn says the only thing I have going against me is that Candice and Elissa would never vote for me. If people vote to evict me I will take it as a compliment that they can't beat me.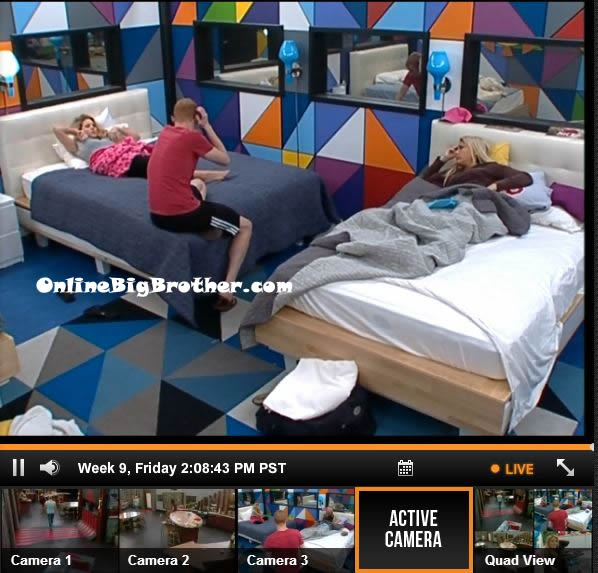 2:20pm – 2:55pm In the other bedroom – Amanda, McCrae, Andy and Spencer are talking. Amanda says I have never felt so defeated as I do right now. I was playing such a great game until now. I just want to lay in bed and never get up. The conversation turns to talking about past competitions and laughing about how Helens campaigning was that America loves moms! They continue to laugh and talk about past big brother players and seasons. Like Jodi who got evicted day one last season. Judd comments that its weird being here now because there were 3 more people here when he was here last. Spencer asks does anyone remember if I told Marilyn I loved her yesterday. Amanda says yeah you did. Spencer says good I am trying to stack up those booty points. Andy says that he is going to go shower. Judd goes into the rainbow room and says he is going to take a nap in the period blood bed. Aaryn questions why there's period blood in it. Judd tells her that is why he is sleeping with another sheet over it.
Big Brother 15 Live Feeds FREE TRIAL: FLASHBACK FEATURE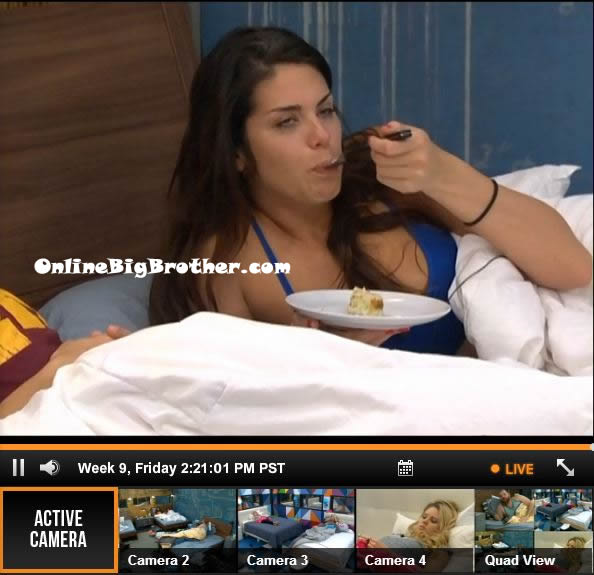 3pm Andy heads up to the HOH room to use Elissa's shower. He tells her that McCrae was mad about being put up and saying that he didn't understand it but that was about it. Elissa asks but you understand right? Andy says Oh yeah I totally understand. I am scared of Amanda because she will say and do anything to stay. Andy says Helen would be so pissed if we went against each other. Elissa tells Andy that he just needs to stay strong and not be so easily influenced. Andy says I am not. You will see when you watch that I am a thinker and I think weeks ahead. Elissa says we just need to make sure she (Amanda) goes, so if she doesn't go this week then she has to go next week because she is a manipulator. Andy agrees and goes to shower.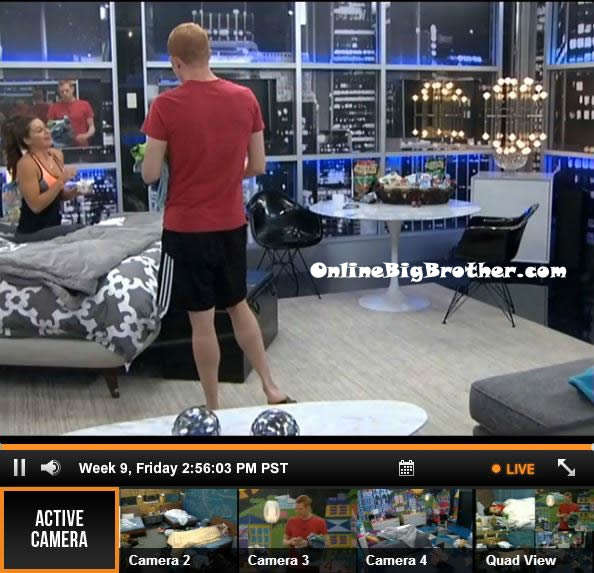 3pm – 3:15pm Big Brother ends the lock down and Andy/Elissa are curious if anything is different in the backyard. The go and check and realize that they have a canopy. Judd wonders why. Aaryn says maybe so that we can't see banners flying over head. They comment that it's like a sweat box out there now and cant understand why BB put in up. They hope it's not staying. Judd says you don't know how awesome it is to be back in here. Judd says people probably think it's not fair. Aaryn says you fought hard to get back in here, if it was a vote it would be unfair. Judd tells Aaryn that he isn't mad at her. I just don't understand why you said I lied to you. Aaryn says I have been manipulated by everyone in here like Helen. Aayrn says I was left in the dark about it till the last minute. Aaryn says it did nothing because now I am the target. Judd says I am just going to be playing for myself now. Aaryn says it was only Spencer and Gina that didn't want to go with getting you out. Spencer was on the block and Gina didn't want to vote you out but had to. Judd says it was like beating on a glass window and no one seeing you, you know. Aaryn says it was the most painful thing I've done in this house. Gina joins them and decide to go back inside.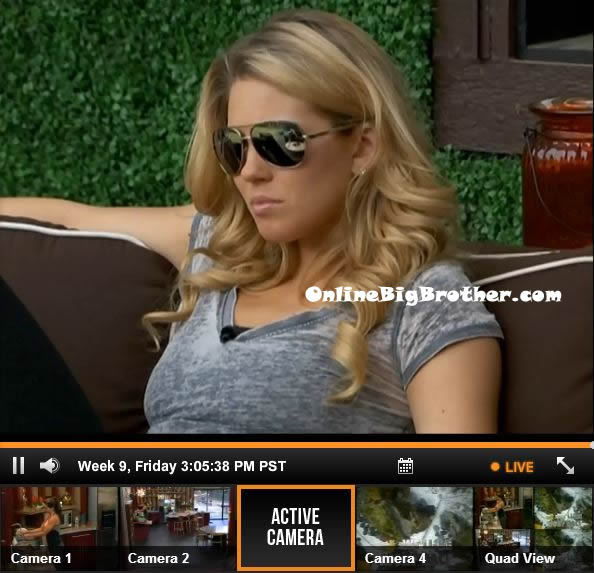 3:15pm – 3:55pm Gina, Aaryn and Judd are in the kitchen talk about how hard its been to get to this point. Judd leaves. Aaryn says that Amanda has been manipulating everyone. Gina says she sucks, so does McCrae they can't win anything. Elissa joins them and they talk about the canopy out in the backyard. Aaryn says it's like a bio-dome. Aaryn heads outside and Andy joins her. Andy wonders if the canopy has to do with Pandora's box since they like to have sh*t flying down from above (So they put the canopy up to protect the backyard couch?).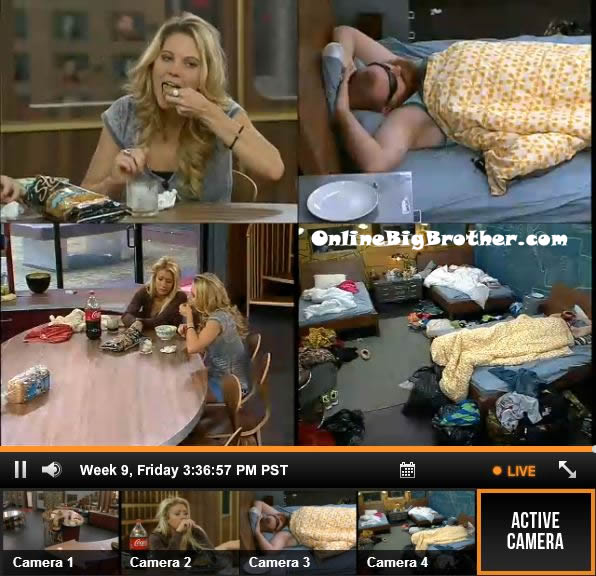 3:55pm – 4:13pm Elissa comes into the rainbow room and asks Judd if he wants to go outside an lay out. Judd says yeah. Elissa and Judd head out to put their feet in the hot tub. Elissa says so I am going to put up Aaryn and McCrae, do you think that's good? Judd says yeah. Elissa says once Aaryn is gone we can get rid of Amanda because she can't win anything. Elissa says Aaryn is so easily influenced. She put you up in an instant and talked bad about you once you were gone. Judd says that Amanda is so pissed that I am back, she tries to hid it but can't. Elissa says I am so happy you are here, it's best for my game. They wanted me to put you up. Judd asks McCrae wanted that? Elissa says that's their plan next week, to put you up. Elissa says Aaryn just offends me and she doesn't respect people unless they look like her. Judd says I feel like she lies to me. Elissa says oh definitely. Elissa says they said I was your number 1 target. Judd says never, you never were. Elissa says McCrae is starting to lie just as bad as Amanda. Gina joins them. The conversation turns to talking about random things.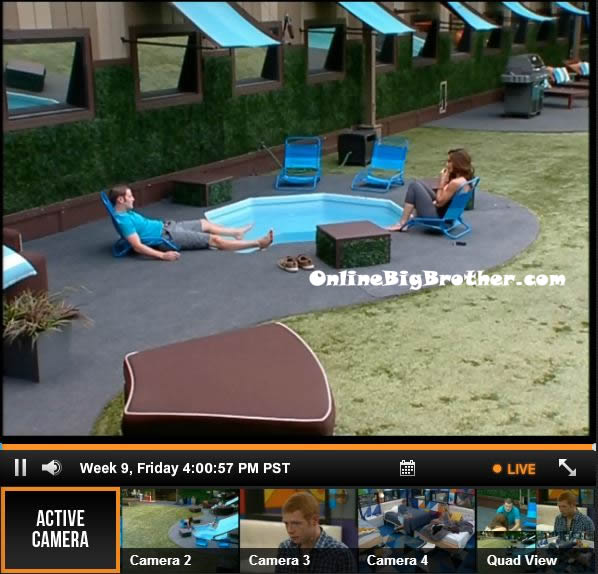 Use the Big Brother Live Feeds to FLASHBACK to SEE what they can't show you on TV: