POV Holder:
McCrae
Next POV
?
POV Used
POV Ceremony
Sept 9th
HOH Winner:
Spencer
Next HOH:
Sept 11th*
Original Nominations:
Gm and McCrae
Current Nominations:
Last Evicted Houseguest
Aaryn, Amanda, Elissa
Have Nots
6:06pm Everyone in the bedroom.. Random chit chats
They all agree Helen was ruthless in the game and it's a good thing they got her out. Andy says she use to tell him her GoodBye messages and they were brutal.
Spencer brings up that Elissa said they pumped a gas into the Big BRother house to keep them healthy.
McCrae says it pisses him off when she said that because it was complete BS.
6:23pm JUDD and MC playing pool
JUDD says he hadn't had a chance to play pool since he's back so he decide to today.. "Take it all in.. incase you all get shady on me at the end of the week"
JUDD – 'Nothing is changing your vote right'
MC – 'No'
JUDD – 'no way no how'
JUDD – 'I wouldn't freak out if you did.. if you weren't going to.. you are going to right'
MC – 'what you say'
JUDD – 'you are going to keep me right'
MC – 'ya'
JUDD – 'Don't think i'll flip out or something'
MC – 'ya'
JUDD – 'I want to start running tomorrow do you want to'
MC – 'F*** no'
JUDD – 'I'm outta cigs… pointer to people on Big Brother 16 brings twice the smokes.. and stronger ones'
Big Brother 15 N*de flashback times here
6:37pm Backyard the boys
Chatting about avoiding bars filled with afliction shirt wearing a$$holes. JUDD says he much rather drink around older people. Andy says his favorite bar is a dive bar. McCrae's favorites are always dives to.
MC leaves to use the washroom. JUDD apologizes for losing his cool yesterday he admits to being a sore loser. JUDD says they had it all figured out to final 4 and like usual something derails it. Andy say that happens every time, He mentions how Amanda won the Zing Bot veto.
JUDD leaves
Andy says the being on the block blues has shifted from JUDD to GM. Andy asks Spencer if anything has changed. Spencer says no nothing has changed JUDD is still going up tomorrow. Spencer- 'Dude we can F*** do this make it to final 3″
MC – "I'm worried i'll go out 4th'
Spencer – 'not if I have the power bro"
Andy – 'Ya'
MC – "I want that next HOH so bad"
Andy -same"
Spencer – "And I can play in it'
Spencer and Andy say MC doesn't have to worry about going out fourth they want to take him to final 3.
MC says that JUDD had a second chance and GM was in the dark the entire time. MC doesn't think GM played as hard as they all did because her best friend won HOH 4 times and she won HOH 2 times this means she had 6 weeks of safety.
Andy – "It sucks because both of them feel i'm 100% solid"
MC – "Ya that is how they feel about me to"
Spencer says their decision on who to get out should be based on who they cannot beat in the next HOH and Veto.
MC – "I keep seeing GM win this next HOH in my head and it's really scaring me"
MC says it's going to be the step up step down competition. He would bet money that the competition will be like that. Spencer thinks they can Beat GM easier than JUDD in the before or after competition.
MC says he doesn't want to push JUDD because he doesn't want them to think he's with him. MC says personally he would rather have JUDD in the house.
Gm joins them.
7:08pm BAckyard GM, Spencer and Andy
GM – "If JUDD says something stupid about me i'm going to have to crack his f*** skull open"
Spencer and Andy tell her she has nothing to worry about. GM says JUDD had a second chance and he quit that last POV he doesn't deserve to be here as much as her.
Andy – "I wonder what this final HOH will be.. I think it'll be questions"
GM -"It's gotta be questions"
Andy – "I wonder if days is this veto.. or in the final 3"
MC joins them says days is final 4 veto.
You can re-watch ever second on the feeds using the flashback feature.. It's just like a DVR and is super easy to use. click this link for a Free Trial —> Subscribe to the Big Brother Live Feeds
7:20pm Kitchen Andy and Spencer
Andy says he has 100% in GM and only 90% in JUDD
Spencer wonders that maybe Andy can make a deal with JUDD to throw the next HOH.
JUDD comes in jokes around "You guys talking about voting me out.. "
Spencer leaves. JUDD asks Andy if he's keeping him. Andy says yes gives him a hard time for asking him the same thing all the time.
JUDD says he's going to ask Andy 3 times a day maybe even 5. Andy laughs says he understands.
7:29pm Backyard the boys McCrae says his mom pays for his cell phone otherwise he wouldn't have one. He usually just uses his tablet and find a free wifi hot spot. Andy is shocked he doesn't have a iPhone, JUDD says McCrae needs to get one after the show. MCCrae doesn't see the point because he can do everything with his tablet.
Spencer says he doesn't have a iPhone he has the Nokia windows phone and he really likes it.
GM tells them her mom knows her Facebook login. JUDD doesn't use Facebook anymore, "I hate Facebook.. I like Twitter"
GM – "Twitter is boring"
Andy really likes Facebook
GM like Facebook
JUDD – "I hate Facebook.. it;s so slow"
GM – you need a faster computer
JUDD – I use it on my phone
Andy – "I think it's rare to meet someone that doesn't use Facebook"
JUDD says he deleted his Twitter because he thought they had to
MG says it was optional they didn't have to.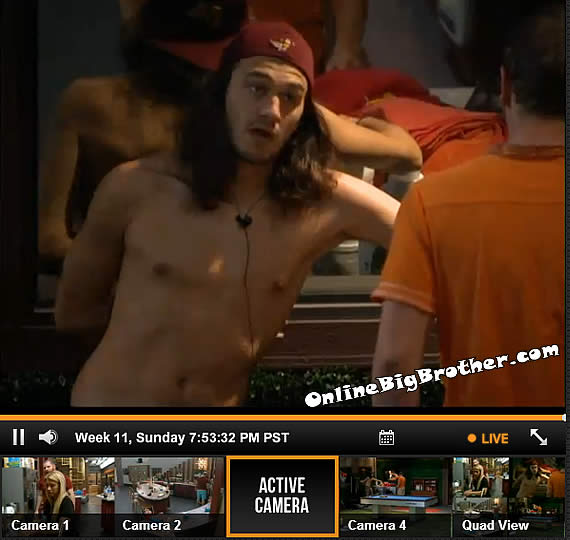 7:55pm BAckyard JUDD and MC
MC says Andy and Spencer have some deal it's obvious because Andy put Spencer up yet Spencer refuses to put Andy up. MC doesn't want them to catch on how close they are so he suggests JUDD throw MC under the bus.
8:08pm Backyard the boys
Gm is in the kitchen cleaning the fridge.
Andy – Did Jody have a picture on the memory wall..
MC – That's what I've been trying to figure out.
Spencer gets up to leave "I'm going to go check on those f*** dogs"
8:37pm HOH Andy, Spencer and MC
Trying to decide who to vote out this week. Sounds like they are leaning more to getting JUDD out. MC says he keeps tells JUDD that Andy and Spencer are working together.
Spencer – 'I Wish there was a clear cut choice'
MC – "I'll do whatever you want"
Spencer – "This point of the game we have to put all the bullshit behind us I need you more than you need me"
They all agree GM has been really b!tchy towards JUDD. She keeps harping on JUDD giving up on the POV contest. Spencer ways GM always approaches sportsmanship yet she's the biggest poor sport out of them all. MC says GM doesn't understand the concept that they do not need to win every competition.
Spencer says he thought it through last night and the 18th must be the finale. They are all expecting Elissa to win the 25K, Andy says he's going to be sick.
Spencer – 'If you can trust JUDD and say throw the HOH and we'll keep you.. but you can't trust him"
MC – "I dunno.. you guys can decide"
Spencer – "I really want you guys to decide"
Andy – "JUDD can do better in the next competition"
Spencer – "I agree"
MC – "Ya yup"
MC – 'we've all had our facets of the game that we played really well" MC start saying how JUDD and GM do not deserve to be in the house.
JUDD comes in for awhile.. things seem uncomfortable for a couple minutes and JUDD decides to leave. McCrae, Andy and MC cannot understand why JUDD is acting so jumpy.. Andy says he's acting like a baby.
9:30pm Andy and Spencer They agree that it's getting tough having to see people they like in the game go. Andy wishes the house was filled with people he hated that way evicted them would be easy.
MC joins them and they start talking about Elissa wanting to quit the game if she was going to be in jury. MC says even Helen started to really dislike Elissa after she said that.
MC brings up a time when Elissa told him and Amanda how much she cared about the game, CBS and the opportunity of being on the show yet she was telling everyone she was quitting if she was sent to Jury.
Andy and McCrae agree ELissa was the only person in the house that they personally didn't like.
MC – "Those are the people you actually want to puke on"
Spencer – "I wish there was a way to get JUDD and GM to agree to throw the HOH"
Andy thinks there's no way anyone would do that.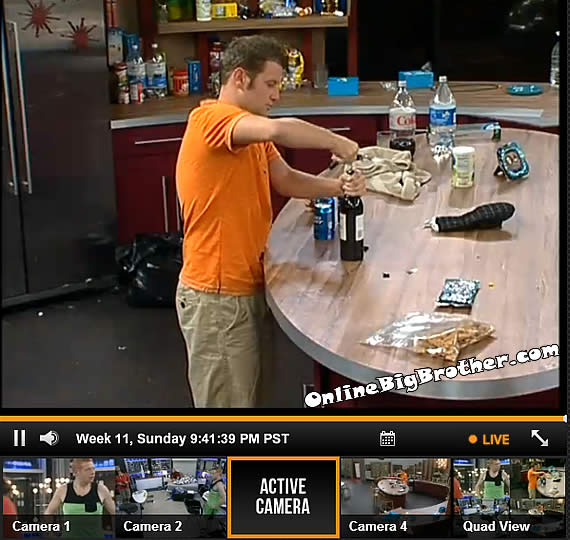 9:44pm JUDD screams down "HEY C***Suckers" they get Alcohol
9:46pm JUDD and MC MC tells him that Andy and Spencer have noticed JUDD is really worried. JUDD says it understandable anyone would be worried if they are going on the block this late in the game.
JUDD – 'You know me I got tricks up my sleeve brother.. you're not telling them things I tell you"
MC – "no"
JUDD – "don't get mad if things get crazy.. something just doesn't add up.. I sound like Amanda right now
MC – "Just as long as I don't get in trouble i'm fine"
Spencer and Andy join them
Spencer says Jeremy told him he made all his money for his boat selling drugs. MC thinks it was a true story.
10:00pm Spencer and Andy are cautioning McCrae about moving to Florida.
JUDD offers MC a beer for some smokes.
MC says sure he'll throw in a fourth bonus cig.
10:08 backyard the boys
McCrae is talking about a girl that he broke up with right before coming on the show.
MC – 'I feel that I am totally a lover .. Im f**ing like what I said before.. I never feel like I have loved because I don't know what the F*** means, what it is.. what is love.. all that stupid sh!t"
MC – 'I don't know what I feel for anyone ever at any given moment.. I don't know what the F*** i'm supposed to like… I dunno.. to me it's weird.. I feel like here we're in this vacuum.. no one knows what the f*** is happening in the outside world all there is is this.. theres nothing else outside of this world'
(Spencer and Andy are really working McCrae to be extra careful with Amanda)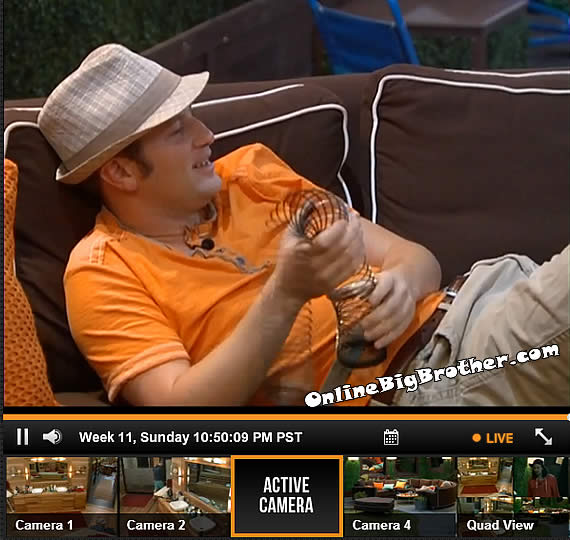 10:51pm Andy is running, McCrae playing pool JUDD chatting to them both.
Spencer joins them in the backyard with a pair of pliers he tries to fix the slinky.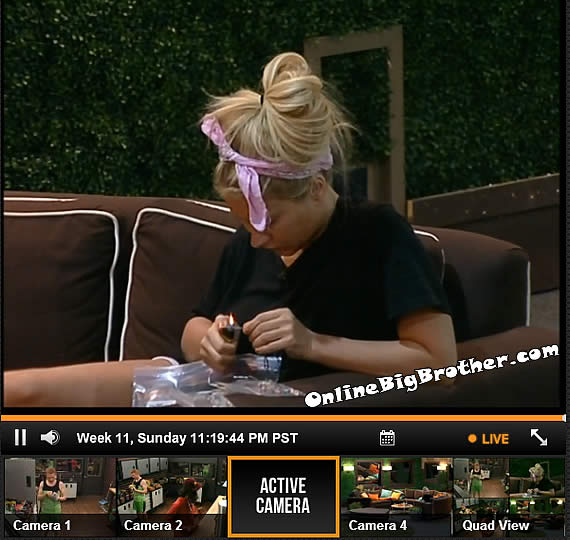 11:21pm Storage room Andy and McCrae Andy claims he doesn't know what to do he feels that he keeps flipping between who to get out. McCrae mentions Spencer is right if they can convince GM to throw the next HOH it would be perfect. McCrae doesn't think this is possible though. Andy says he wishes GM would have won the HOH and gotten GM out that way it would be all three of them playing in the next HOH.
11:23pm Bedroom JUDD and Andy
Andy says JUDD is safe this week he doesn't have to worry. JUDD is worried that McCrae and Specner had planned something. Andy says he trusts Spencer 100%. JUDD – "I don't know what McCrae is going to do i'm banking on Spencer"
Andy – "Ya you should"
11:37pm HOH Spencer and Andy
They are joking around in a perfect world they could get McCrae to use the veto to save GM and they would vote MC out. Spencer says in return for MC using the Veto on GM she would throw the next HOH competition.
Andy – "his cocky a$$ thought he would make it to the end with Amanda"
Spencer says if McCrae uses the veto on GM he's a dumba$$ and McCrae isn't dumb. Andy thinks McCrae is suspicious of them.
Spencer says if something could be done and save the exterminators I want to do it"
JUDD joins them.
Spencer "You can come in dude you don't need to knock"
Spencer brings up all the weird sh!t GM has to do with her hair. Andy knows he's never been around hair extensions before.
JUDD leaves..
Spencer – 'I feel bad for him.. we've almost made our decision but we haven't told him 100% this is what we are doing"
Andy – 'McCrae is such a wild card in my mind.. I don't know what he will do'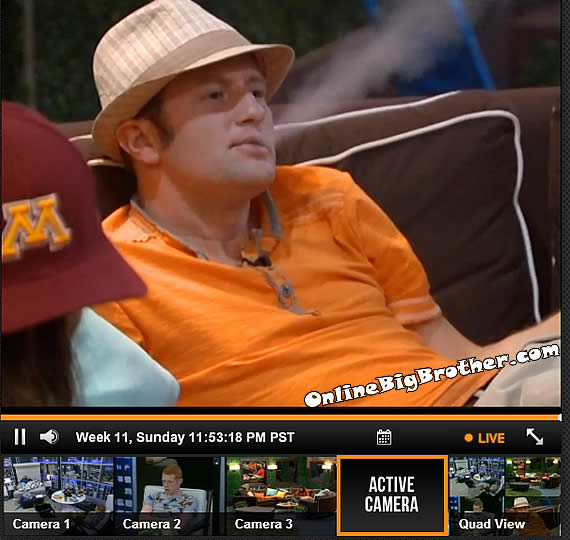 11:54pm McCrae and JUDD
MC says Spencer and Andy think they are working together.
JUDD – "I'll stop that real quick tomorrow (JUDD winks).. are they thinking they want me out"
MC doesn't think so
MC – "You have to make f*** sure they don't think we are working together"
JUDD says GM has been acting funny lately. He thinks GM is actually a really good game player. MC agrees.
MC – "You have to make them think you will always take them"
JUDD – 'ya for sure everyone is making deals right now"
JUDD – "I got your back I know you have mine"
MC – "YUUUUP"
12:00AM HOH Spencer and Andy
They decide they are going to try and convince McCrae to use the veto on GM. They will tell McCrae its the only way they can make a deal for GM to throw the next HOH. The hope would to make MCCrae think they are loyal to the final 3 with him and they would vote to keep him. Secretly this is the only way they can think of to keep the exterminators in the final 4. McCrae would go home. Andy and Spencer don't think it's going to work but are going to try a bit anyways
McCrae joins them.
If you enjoyed the site this season please consider a donation.