POV Holder:
?
Next POV
Aug 31st
POV Used
POV Ceremony
Sep 1st
HOH Winner:
GM
Next HOH:
Sept 5th
Original Nominations:
Current Nominations:
Last Evicted Houseguest
David, Nick, Jeremy, Kaitlin, Howard, Candice, Jessiem, Helen, Aaryn
Have Nots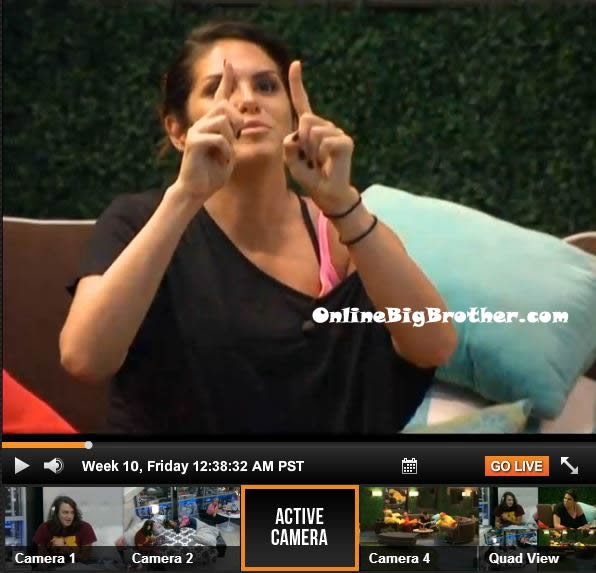 12:35am Out on the backyard couch – Amanda, Judd and Spencer are talking. Amanda comments that while up in the HOH room Elissa asked GInamarie if she would help her put sheets on a bed because she didn't know how. Spencer and Amanda laugh. Amanda says that Ginamarie sees it though she's not stupid. Amanda says god if we were not in this house what I would do to that girl! You've no f**king IDEA! Judd asks so Aaryn said she would like me outside the house? Amanda says yeah. Spencer says yeah I heard her say that too, she wants Jessie to try and steal David at finale so she can f**k you. Judd asks so she can f**k me? Spencer says I don't think she said that but I think it will head there. You play your cards right brother because you're going to get drunk and she's going to get drunk and there's going to be hotels! F**k yeah! Judd says it will be weird though because we will be with our families. Amanda says she (Elissa) followed her (Gina) around like a puppy, like a little bit*h. Amanda says if I got handcuffed I would handcuff myself to Elissa and I would smoke right in her face. Amanda leaves to go follow her around. Judd comments I don't even think we need to campaign. Spencer says well Ginamaire is loyal to us now that poopy is gone that's for damn sure. Spencer asks Judd if nominations stay the same who do you want out? Judd says McCrae because he is better at comps and if he got to final 2 he would probably win over her. Spencer asks you think? Spencer say see I don't think anyone can beat Amanda in the final 2. Judd says if Elissa had just put both of them up we could have had one of them out. Spencer and Judd agree it is their Exterminators alliance (Judd, Spencer, Andy, Gina) all the way. Spencer and Judd complain about Amanda and McCrae wanting them to pledge their allegiance to them all the time.
Big Brother 15 Live Feeds: FREE 2 DAY TRIAL
1am Up in the HOH room – Gina, McCrae and Elissa are hanging out. Amanda joins them. Amanda asks McCrae how the Britney Spears CD is. McCrae says it's really good, it reminds me of the old days. They head down stairs. Out in the backyard – Amanda, Judd, McCrae, Spencer and Andy are talking. Amanda is upset and crying. They tell to not even try tonight to get along. Spencer says it's just a character flaw that you're dealing with. Amanda says it's like constant stress. I feel like I am 13 again. I have never dealt with an adult like that before. Yeah I dressed up as an old lady and bugged her but I apologized. I have never met a more infuriating person in my life. I can't even sit and have a normal conversation without her trying to antagonize me. I can't even say anything. McCrae tells her to let it go, don't let it bother you. Amanda says and I look like the bad guy! Amanda says to have her sit up there and this entire time she has been taunting a 22 year old, Aaryn and she is going to sit up there and say I miss Aaryn so much! Like what this entire time you have been talking sh*t about her. She tortured that girl the entire time she was here. I just don't like walking around the house and her talking sh*t about me!! Amanda is crying. She says we apologized and I was over it. Spencer, Judd and McCrae tell her not to worry about. Amanda says it's stressful. Spencer says we know what type of person you are trying to deal with. Gina joins them. Amanda tells Gina that Elissa is trying to torture and antagonize me. I am over it, it's like we are in high school all over again. Her sitting up in your room, how f**king dare her. Amanda reminds Gina how before Elissa didn't even want you to sit next to you and now she wants to sleep in your bed (Nick's bed in the rainbow room).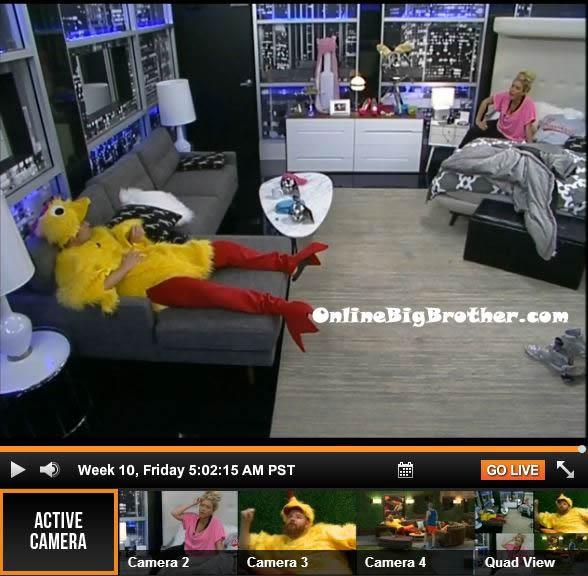 1:30am – 1:55am Up in the HOH room – Gina and Judd talk. Gina says that Amanda always tries to play the victim. You want an Oscar, go to a f**king movie! I ain't giving you an Oscar! I don't feel bad for her! She did it to herself like she has been antagonizing, I know Ellissa has her parts too but Amanda has always been doing this and she will be doing it to the end and I don't feel bad about it. That f**king grandmother this was ridiculous. Judd tells her that they keep using Aaryn to pull on your heartstrings. Judd says they're trying to use Aaryn against me, trying to say that she liked me. Judd says it's no ones business but ours. Gina says I am putting them both up (Amanda and McCrae). Gina says I will lie to Amanda and McCrae until the nominations and tell them I am putting Elissa up and then tell them after I changed my mind. If we don't break them up now it will be win win for both of them. As long as you guys will protect me next week. Judd tells her we all have your back. Judd says he want McCrae out this week. Gina says that's what I was thinking too. Gina says then if Amanda stays she will go after Elissa. Judd says if you get house guest choice for the veto you should pick Andy or I. Gina says this is a big move and I just need backup from you guys. Andy and Spencer join them. Andy says he needs to keep being chummy with Amanda and McCrae to not tip them off. They talk about what the different POV competitions it could be. They think it will be the reward/luxury competition. Spencer heads down stairs. They all head down stairs. Spencer heads to bed.
2:25am Amanda, McCrae, Andy, and Gina are in the backyard. Gina kills a huge cock roach in the corner of the yard. That's proof there are real cock roaches in the house. Amanda asks Gina what do you think about this, a final four? Gina says whatever's clever, I am good with it. Amanda asks you want to do it? Gina says I just didn't think about it, like who I would put up next to Elissa. Amanda asks who it's between. Gina says I am not sure we will just have to wait until tomorrow to see. Andy says at this point it doesn't even matter. Andy says yeah. McCrae says but me and Amanda will always be going up before you guys next week, we are huge targets. Gina says we do nominations tomorrow and we will see. Amanda asks do you think Judd would take Elissa off the block if he won. Andy says no. Amanda says well that's easy then. They talk about Elissa. Gina plays it up and says that it's weird that Elissa is up her (Gina) a$$. Amanda says you know we got you, you got us. Amanda says if we, us four just keep it under wraps we are good. McCrae says we are all so f**king strong too. Amanda says and we (Amanda/McCrae) are the targets. McCrae says I will probably talk to you tomorrow. Amanda says Elissa will be up you're a$$, just don't listen to her. Gina says no I don't. Gina talks about Elissa following her around. Gina heads inside. Amanda and McCrae talk about how at least Gina knows it that Elissa is up her a$$. McCrae says I will just go up there tomorrow and go over the points again with Gina. Amanda says just tell her what she needs to hear about how we've got her. They talk about how they think it will be the how bad do you want it veto. McCrae says I will take every damn punishment in the history book. Amanda says if it is me and Spencer up on the block and Judd and Elissa, they will both vote me out so it will be two to two and Gina will break the tie. Amanda says we will tell Gina that if she does that then she would have two targets instead of just one. Amanda asks McCrae if he is nervous. McCrae says yeah. Amanda says I really don't think she will put me up. Amanda says that Gina smiled and liked our final four deal, she smiled about it but wasn't 100% down with it. McCrae says I think I can sway her if I get to talk to her alone. Amanda says you have to go slow though because she gets confused. McCrae says as long as week don't go up, I don't give a f**K. Amanda says I really hope she puts up Judd.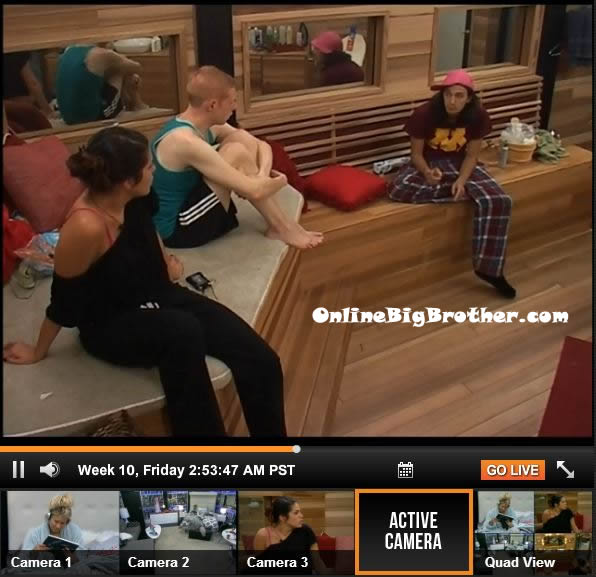 2:50am – 3am Andy talks to Amanda in the bathroom. Andy says he kept pushing for Judd to go up but that she kept saying she would think about it. Andy says she told me I was good, but that's not good enough, you know. Amanda asks do you think she will put me up? Andy says I don't know, I genuinely have no idea who she will put up next to Elissa. Amanda says hopefully Spencer. Andy says she never said no about Judd either. Amanda tells Andy to tell Gina about how Judd has promised everyone safety if they don't put him up this week. Andy says long story short even if one of you guys do go up, Elissa cant win the veto. But I honestly don't think she will put up either of you. Andy says he has tried to talk to her. Amanda says it's going to get harder and harder but we've done it for 8 weeks. Andy heads to bet. Amanda says it's okay we will figure it out as long as Elissa goes up on the block. Amanda and McCrae head to bed.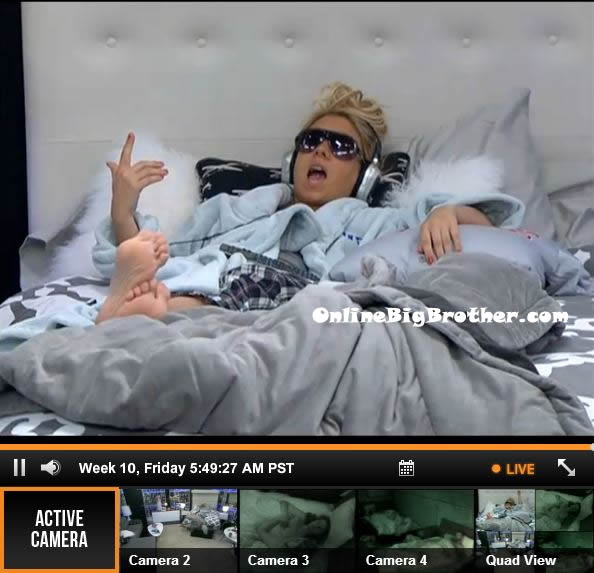 3:20am – 3:55am Amanda says that the house will be so much better without Elissa here next week. She doesn't deserve to be here. McCrae agrees. McCrae says Oh my god, so much better! McCrae says and I wouldn't say that about anyone because everyone deserves to be here but nepotism isn't a good reason. Amanda asks what that means and McCrae explains it to her. Amanda says well at least she (Elissa) is going up on the block. Amanda says even if I'm on the block with Spencer and Gina will break the tie, and she will send Spencer home. Gina says that she doesn't want to piss off you or Andy. Amanda says that Gina has made no big game moves, she is just going with the flow, she hasn't made any big moves. Amanda says that she wonders if Andy will vote her out over Spencer to break up the couple. McCrae says I don't know. He has been distant lately. McCrae says what a c**t. What a stuck up c**t. Amanda says that Elissa thinks she's god, she literally thinks she can do no wrong. That's what happens when you are spoiled, she is so delusional. McCrae says she is so f**king delusional. Amanda says I don't even want her jury vote. McCrae says my goodbye message to her would be this (McCrae holds up his middle finger). Amanda and McCrae talk about how if Amanda has a bad reputatioin it is because of the editing. McCrae says I was here I know what happened. McCrae says he will laugh and be so happy when Elissa goes. He says this will be the best eviction ever! McCrae bring up how Julie Chen commented on how messy the house was. He says that Elissa said up in the HOH room that she didn't even talk about the worst of it with all the condom wrappers. I just wanted to be like we f**ked and came all over your bed. We thought it would hurt your skin and you would have a breakout but you didn't. Amanda says I would love for you to c*m in her bed. Amanda says that Elissa is the most evil person in this house, she picked on a 22 year old this whole game, just picked on her.. McCrae says just play the victim and cry about it. Amanda says see I am feed lines. McCrae tells her not to talk about that. Big Brother cuts the feeds. Amanda and McCrae talk about needing this veto to ensure Elissa leaves. McCrae and Amand head to bed.
Big Brother 15 Live Feeds FREE TRIAL: FLASHBACK FEATURE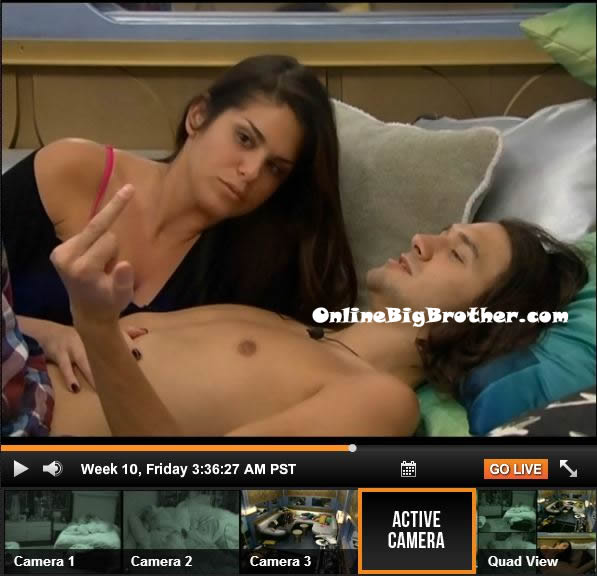 Use the Big Brother Live Feeds to FLASHBACK to SEE what they can't show you on TV: